The headliner double feature of Logic and Halsey was always primed to be one of the hottest shows at Summerfest, something the weather took all too literally Friday evening at the American Family Insurance Amphitheater.
Pushing near triple digits outside, somehow things felt even worse inside the Amp, locking the balmy heat underneath the stage's roof along with the packed crowd, while not allowing anything resembling a breeze. It was going to take a pretty impressive effort to distract the sweat-soaked audience from the sensation that they were all melting like somebody had just opened the Ark of the Covenant.
Thankfully, the evening's two young showcase stars were up to the challenge, powering through two personality-rich, hit-filled sets that cut through the abysmal muggy summer heat like a cool breeze.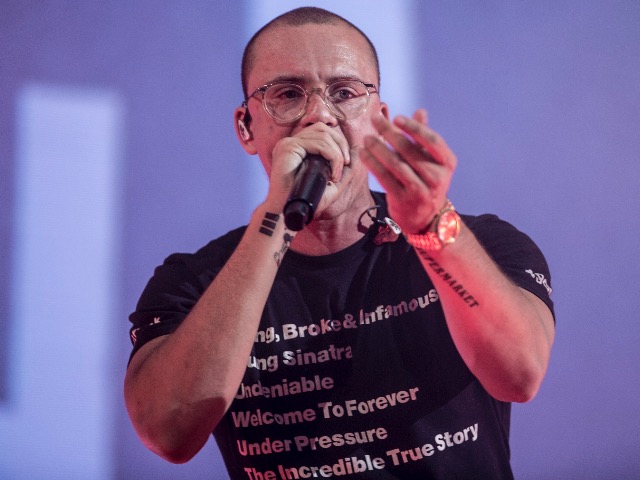 Rapper Logic was first of the two to face the heat, coming out to a fairly sparse stage setup – featuring two big screens looming over a small, slightly raised square floor after an introduction by a bickering "Rick & Morty" clip (the real deal too, starring Justin Roiland's voice profanely debating Album Logic versus Mixtape Logic). Unfortunately, since the fast food joint of choice at the Amp is Wendy's, there was no Szechuan sauce.
There was, however, plenty of personality emanating from the stage right from the beginning of the rapper's 45-minute set. Opening with "44 More," Logic got the crowd chanting with the song's "Preach" call-and-answer refrain and moving with some playful audience interaction, directing each side of the Amp to get louder and quieter.
If that sounds a little corny, well, that's because Logic is a little corny. His on-stage persona a bit like your favorite camp counselor – complete with ice-breakers (he had the audience turn to its left and right to get to know their family in the crowd) and an overall accepting motto of "peace, love and positivity." (Except if you're a f*ckboi or if you want to go home; none of that is allowed, according to Logic.) He even took some time in the middle of his set to remind the audience to take care of themselves and drink water.
The shtick could've come off cheesy, but instead it was all refreshingly nice and genuine. As a lead-in to "Fade Away," he asked a random audience member named Ty what his favorite holiday was (his answer, Christmas, brought out a quick holiday song clip – and a pleasant reminder of colder days). Later, he shot an invisible half-court shot – complete with a fan in the stands serving as the hoop and goofy makeshift sound effects, like some Kanye-esque woopity scooping, for the dribbling basketball.
Silly? Yes. Sincere? Also yes – as well as a good balance to his sharp motor-mouthed rap songs, blasting through hits like "Everybody," "Overnight" (complemented by his music video on the screens, rapping through Japan) and "Killing Spree," a song "that sounds like it's about something but it's actually about something else," Logic cheekily teased.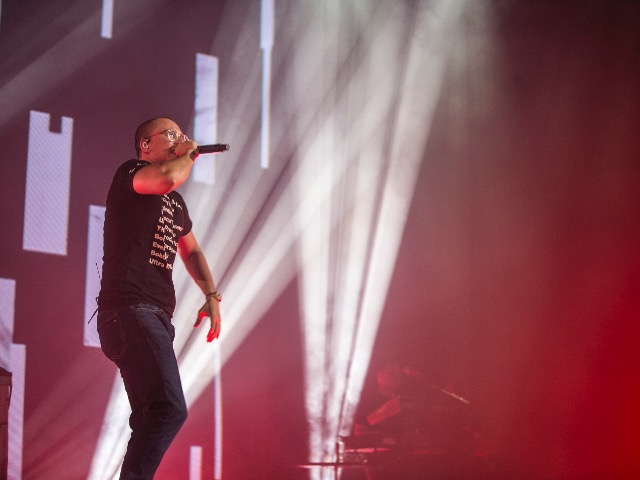 One gambit, however, landed as a misstep. After a combination of "We Will Rock You" (an unexpected Queen cover) and "Under Pressure" (an original, not a Queen cover), logic leapt into "Midnight" … only to stop a little bit in, proclaim, "I can't f*ck with this sh*t" and leave the stage in a faux harrumph. He eventually returned with some audience goading, but what should've felt like a playful bit instead felt like I was disappointing my parents or something. Plus it spent precious minutes that could've been music instead.
Still, living up to his three-word creedo, Logic came back goofy and good-natured, and nobody in the packed Amp crowd held the brief chilliness against him – especially as he ended his set with his emotional, all-too-resonant suicide awareness tribute "1-800-273-8255" and his sing-along hit "Everyday."
Then it was Halsey's turn to battle the elements – as well as her own stage. While changing the stage over, a big dramatic curtain hiding the entire stage lost its grip and fell to the floor, forcing a clearly flustered crew to bring the lighting rig down and reattach it. Then when the show actually began, it failed to release right, missing its big reveal and briefly dangling and blocking the opener "Eyes Closed" for a few nervous seconds. Stupid curtains.
(PHOTO: Matt Mueller)
Things quickly improved after that inauspicious start, though, thanks to Halsey, a commanding presence on the stage. Bounding, slinking and punching her way across the stage, side to side and up and down some glowing, foggy bleachers, the New Jersey-based singer owned the headliner slot, charging through hits early on like "Hold Me Down" and "Castle." The bass very occasionally muddied the sound – mainly on "Heaven In Hiding" – but even then her powerful voice and kinetic performance carried through the night, her brief scowl on "Strangers" and charmed smile on "Closer" reaching all the way to the back of the Amp.
The powerful performance was made all the more impressive after a mid-set admission. Throughout the night, the singer disappeared backstage. Sometimes it was for a costume change (three in total) but other times she returned completely the same. What's the deal? Chatting casually with the crowd after "Alone," she revealed she was escaping backstage for not shots of tequila or something else rock star, but her inhaler, as she was battling asthma throughout the night.
It was a moment of candidness not expected at a massive Amp show – as well as far from the only one like it during the 80-minute set. She gave a shoutout to the LGBT community before getting into "Strangers." Later, leading into "Roman Holiday," she told the story (supposedly for the first time!) of when she bonded with a stranger online over a Boba Fett Tumblr sketch. The stranger? Bobby himself, the man who'd just graced the stage, Logic.
The highlight, however, came when she sat down to talk about "Closer" (which she sang as a stripped-down, beautiful and even chill-inducing ballad) – and how it was a "huge pain in the ass," getting into cars with Uber drivers annoyed with the omnipresent hit, unaware the singer was their passenger. It was an unplugged and honest burst of personality that made the night feel that much closer (pun unintended) and intimate – and not just because of the sweaty heat.
It wasn't all conversational charm. Previewing "Bad at Love," Halsey also got those in the crowd who believe in true love to cheer … only to tell them they're "f*cking idiots." Between that, a early heckle during "Castle" that we must've been feeling tired and Logic's mid-song stomp-off, I felt like I did a lot of disappointing Friday night.
But Halsey sure didn't, ending the set on a solid run of hits – from "Him and I," featuring a bit of G-Easy's ghostly disembodied voice helping sing through the bridge, to "Now or Never" and "Colors," which brought the singer out into the first few rows of fans as if the night could get more intimate and cozy. Cue "Young God," one last costume change – and possible inhaler puff – and a pair of powerful final songs, "Gasoline" and "Hurricane," the latter a fitting thematic end to a night dominated by the weather.
(PHOTO: Matt Mueller)
Some might've harrumphed at Halsey leaving with no encore. Then again, I don't think anybody was complaining about getting out of the heat. Plus the two artists had just spent almost three hours battling the oppressive air with realness, uplift and authenticity – and, at the end of the night, totally won.
Setlist
Logic
"44 More"
"Everybody"
"Overnight"
"Killing Spree"
"Like Me"
"Fade Away"
"Indica Badu"
"We Will Rock You" (Queen cover)
"Under Pressure"
"Midnight"
"1-800-273-8255"
"Everyday"
Halsey
"Eyes Closed"
"Hold Me Down"
"Castle"
"Heaven In Hiding"
"Strangers"
"Roman Holiday"
"Walls Could Talk"
"Bad At Love"
"Alone"
"Closer" (The Chainsmokers cover)
"Sorry"
"Him & I"
"Now or Never"
"Colors"
"Young God"
"Gasoline"
"Hurricane"
As much as it is a gigantic cliché to say that one has always had a passion for film, Matt Mueller has always had a passion for film. Whether it was bringing in the latest movie reviews for his first grade show-and-tell or writing film reviews for the St. Norbert College Times as a high school student, Matt is way too obsessed with movies for his own good.
When he's not writing about the latest blockbuster or talking much too glowingly about "Piranha 3D," Matt can probably be found watching literally any sport (minus cricket) or working at - get this - a local movie theater. Or watching a movie. Yeah, he's probably watching a movie.