Lollapalooza came to a close on Sunday, as headliners Jack White and ODESZA wrapped up the four-day weekend.
Whether you came for some of the day's big names in hip-hop – including Lil Uzi Vert, Gucci Mane and Nav – or you came to catch sets from some of music's most talented female artists like Jessie Reyez and Kali Uchis, Lollapalooza was the place to be yesterday.
Here are ten awesome moments you missed at Day 4 of Lollapalooza 2018:
1. Bazzi proves he's headliner material
Bazzi is a star on the rise, so it's only fitting that an LED star served as the "Mine" singer's production backdrop on Sunday.
And although he recently performed in Milwaukee as part of Camila Cabello's "Never Be The Same Tour," Bazzi's Lolla set proves that he won't be merely opening for artists much longer. The talented artist put on an impressive performance, which made it seem like he's been performing for huge crowds his entire life.
While his singles gain traction on the radio, Bazzi is becoming a better live performer every minute – and his Chicago fans got a taste of just that.
2. Gucci Mane opens his set with "Both"
It's Gucci!
Perhaps drawing one of the largest crowds of the entire day, rapper Gucci Mane entertained the Windy City with performances of his biggest hits and collaborations, including his Drake-assisted track "Both," which Gucci chose to kick off his Lollapalooza performance.
Gucci doesn't tour much, so fans refused to miss the opportunity to see the Trap God perform. Gucci Mane brought the ATL to Chicago and fans couldn't have enjoyed it any more.
3. Sabrina Claudio represents the A+ female talent at Lolla
Although Lollapalooza's 2018 lineup received some backlash on social media for the lack of a female headliner, Sunday's schedule helped demonstrate that this year's Lolla has some of the best female artists it's ever had.
While she certainly doesn't claim to be an ambassador for all female-related issues, singer Sabrina Claudio was one of many awesome female artists on yesterday's lineup. Known best for her track "Belong To You," Chicago belonged to Sabrina during her Sunday evening set.
Claudio has one of the most soothing voices in R&B today, so fans at Lollapalooza were able to forget about the heat while Claudio helped fans escape with her beautiful vocals.
4. Jessie Reyez shatters gender norms through her original tracks
Emerging artist Jessie Reyez stands out and steals fans' attention for several reasons. She's a fireball of energy with almost no filter.
Reyez also makes it a priority to give her male fans a window into what it's like to be a woman – and in doing so she completely breaks through any conventional gender norms.
Singing openly about sex, with a confidence society typically only accepts from a male artist, Reyez has no problem being raunchy through her lyrics. And she delivered that – and more – and in her Sunday set.
5. Nav delivers a second dose of XO to Lollapalooza
Hitting the stage less than 24 hours after The Weeknd delivered his memorable performance on Saturday night, Nav (who is signed to The Weeknd's XO label) gave a second dose of XO to the label's Chicago fans.
Although Nav certainly didn't have the elaborate production that The Weeknd had, he made up for it by knowing how to work the crowd from start to finish. Nav dubbed his visit his first true time in Chicago, and with yesterday's performance, it will definitely be a memorable one.
6. Anderson East rewards fans for their early attendance
Anderson East rewarded fans for showing up early, as the Alabama singer put on a great 2:30 p.m. performance.
The "All on My Mind" singer performed a number of cuts off his 2018 LP, "Encore," and whether you're especially familiar with his music or not, his set was more than enjoyable.
Chicago fans should already be counting down the days until his next visit.
7. Kali Uchis survives the dust storm
Moments before singer Kali Uchis took stage at Lolla's Lake Shore Stage, the conditions were anything but favorable. The wind was kicking up sand and dust from the grounds, with speeds so heavy that parts of the stage were beginning to come undone.
Stage crew was quick on their feet however, and as Kali's band was performing her intro, crew members were able to take down a number of tarps to avoid any parts from falling.
As the set move on, the wind began to die down, and Uchis performed her set to perfection irregardless of the weather. Her dancing wasn't half bad either.
8. Dylan Minnette gives us "13 Reasons Why" we should go to Lollapalooza
OK, well, maybe he didn't actually give me any reasons, but actor/musician Dylan Minnette (Clay from Netflix's "13 Reasons Why") showed us that even the artists love Lollapalooza.
Although he was off the clock, as his band Wallows performed the afternoon before, Minnette decided to stay in town and enjoy the rest of Lollapalooza.
It doesn't matter who you are: Everyone loves some great live music.
9. Portugal. The Man weren't just another brick in the wall
Although they are numerically just one band of 100-plue at Lollapalooza this year, Portugal. The Man isn't just another brick in the wall at the Chicago festival.
After Beavis and Butthead gave the intro for the Alaska rock band, the band showed off their guitar skills before covering Pink Floyd's classic 1979 track, "Another Brick In The Wall, Part 2."
John Gourley and company went on to perform their original tracks, including their smash hit '"Feel It Still," to complete the memorable performance.
10. Surviving Lil Uzi Vert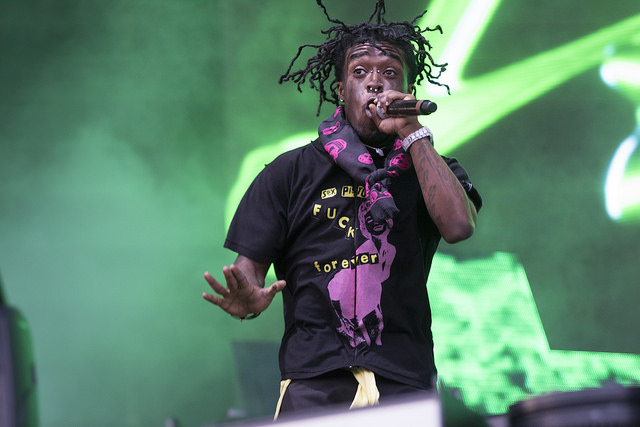 One second you're enjoying a Lil Uzi Vert concert, the next you're waking up on the ground after briefly being knocked out by a garbage bin that fell from the sky after being catapulted into the air like a beach ball. That may not be the most relatable feeling, but that was my experience at Lil Uzi's Lollapalooza set this year.
After his set was cut short last year due to a thunderstorm, fans stored that energy for a whole 12 months and raged when Lil Uzi Vert took stage on Sunday. Sorry, Travis Scott; Lil Uzi Vert had the wildest and craziest crowd at Lollapalooza this year, and it wasn't even close.
It certainly wasn't my favorite moment of the festival (for obvious reasons), but Lil Uzi Vert certainly knows how to get the absolute most out of his fans. I'm just happy I survived to tell the tale.