Chicago's Lollapalooza is one of the world's biggest and most famous music festivals – and this year's lineup helps explain why, as artists like The Weeknd, Dua Lipa, St. Vincent, Logic, LL Cool J, Vampire Weekend and more all took stage on Saturday alone.
The entire lineup has something for everyone and yesterday's festivities were no exception. Whether you are a fan of EDM, rock, old school rap or new school rap, Lolla was packed with moments that kept you entertained.
Here are nine awesome moments you missed at Day 3 of Lollapalooza 2018:
1. Daya starts the day off right
One thing that makes Lollapalooza so great is that it spreads the talent throughout the entire day. From start to finish, noon to ten, the artists that hit the stage at any given time may be some of the biggest names in music today.
And Daya was one artist yesterday that rewarded fans for showing up early. Despite performing in the afternoon, fans that made their way to the Lake Shore Stage enjoyed performances of Daya's big singles, including "Hide Away" and her Chainsmokers collab, "Don't Let Me Down."
2. Dua Lipa returns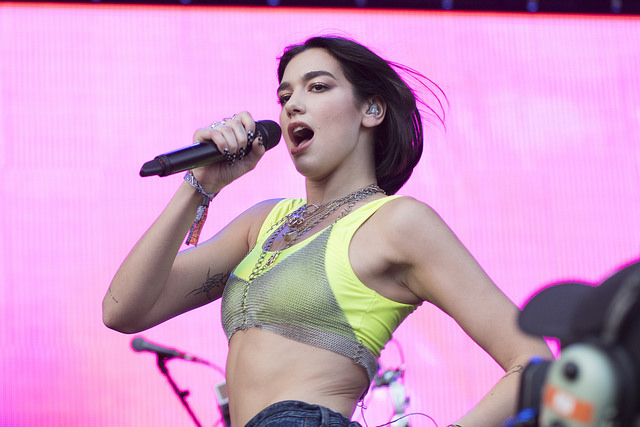 Although she was just in Chicago for a summer radio concert, singer Dua Lipa returned for a full set for her Windy City fans.
Dua Lipa was just a shell of herself when she performed at Lolla in 2016, but just two years later, she is one of the biggest names in pop and has performed in Chicago more times than we can count.
While Dua Lipa's unique style and charisma on-stage is a constant during her Chicago performances, each time she returns she brings with her a brand new hit single. Today fans enjoyed her hits like "IDGAF," "Scared To Be Lonely" and, of course, "New Rules."
She may have a list of rules for relationships, but the only rules for her live shows are to have a good time and dance your butt off.
3. Lil Pump avoids a complete disaster
Fans who caught Lil Pump's "performance" at The Rave this year know that he shows up late and his sets are especially short. Unfortunately many fans at Lollapalooza didn't get the memo, as they began to chant "bullsh*t" when Pump hadn't yet hit the stage for a set scheduled to end a half-hour later.
Technical difficulties and crowd control issues appeared to be the reasons for the delay – which only caused the crowd to get more frustrated, with many throwing objects on stage. At a point, it seemed likely that Lil Pump wouldn't take stage in Chicago at all.
He thankfully did and although his performance wasn't very long, the Florida rapper managed to pump in ten tracks, dedicating one song to controversial XXXTentacion, who was recently shot and killed in their home state.
Did Lil Pump deliver the best performance of the weekend, or even the night? Certainly not. But he made lemonade out of lemons, and all things considered, the set could have went 1,000 times worse.
4. LL Cool J's awesome mic stand
Few artists take advantage of the opportunity to show off their style via their mic stand. One artist who does, though, is rap legend LL Cool J, who performed at Lollapalooza on Day 3 with his sleek mic stand that reads his name top to bottom.
Performing just a few hundred feet across from Lil Pump's set, seconds after the set was finished, LL Cool J contrasted Lil Pump's new school raps with some classic hip-hop.
The rapper turned actor had a massive setlist and kicked things off with his classic "Mama Said Knock You Out." Although the mic stand initially caught our attention, the music is what made the set so memorable.
5. St. Vincent shreds
Annie Clark – aka St. Vincent – is highly regarded as one of the best female guitarists in music today, and arguably of all time. And just minutes into St. Vincent's Saturday evening performance, it was clear that she can indeed shred with the best of them. As her crew kept handing her different and unique guitars through the band's 13-song set, Annie Clark kept killing it.
This year's Lolla lineup is one of the best when it comes to showcasing some of the biggest female musicians – and St. Vincent just may be at the top of that list.
6. Logic's "Rick and Morty"-assisted video intro
Fans of Logic and the popular TV series "Rick and Morty" alike were cracking up as the animated characters kicked off Logic's set with a video intro. In the clip, Rick and Morty compare and contrast the two different sounds and styles of "album Logic" and "mixtape Logic." While one delivers a message and one raps about "throwing stacks," both are great, according to the two.
Fortunately for Logic's Chicago fans, both versions of himself came out yesterday, as Logic delivered a performance full of tracks from his latest mixtapes and albums – including his big single, "1-800-273-8255."
7. Z-Trip live on the ones and twos
Z-Trip is a legend when it comes to spinning records, so it was an added bonus for the hip-hop heads in the crowd when Z-Trip backed up LL Cool J's entire set and played some records to get the crowd warmed up.
A former recipient of the "America's Best DJ" award – and even referenced in Frank Ocean's track "Novacane" – Z-Trip has been stacking accolades and co-signs for decades, so it's no surprise that he and LL Cool J make such a great team.
8. Carly Rae Jepsen is a really, really, really good replacement
Carly Rae Jepsen was a late addition to the Lolla lineup after singer Jessie Ware was forced to cancel her set.
Although fans would have loved to have seen Ware perform as well, Jepsen is a steal of a replacement if you ask me. The "Run Away With Me" singer performed tracks like "I Really Like You," "Cut to the Feeling" and, of course, her mega-single "Call Me Maybe."
Let's hope that Carly Rae subs in anytime an artist is forced to cancel their set in the future!
9. The Weeknd versus Vampire Weekend
Fans who saw The Weeknd's recent Summerfest performance know that the "Starboy" singer is an exceptional live performer – and his headlining Lollapalooza performance on Saturday night was even better than his Milwaukee performance just weeks ago.
Now accompanied by his new stage design, which was noticeably missing at Summerfest, The Weeknd showed his fans why he was the only weekend worth seeing on Saturday (as Vampire Weekend was performing a competing set at the Bud Light Stage). No offense to any Vampire Weekend fans out there, but in 2018, when you hear the word weekend, you think of "I Can't Feel My Face" and "The Hills" even before you think of Saturday and Sunday.
You really couldn't go wrong no matter which performance you caught yesterday, but The Weeknd certainly did not disappoint.