This year MPS' H.W. Longfellow School, 1021 S. 21st St., turns 132 years old, making it the second-oldest schoolhouse in service in the district.
When I went to check it out I found something even more remarkable.
On my visit, six teachers with nearly 200 years combined experience in this very building took me on a tour. In a public district with plenty of teacher mobility (to say nothing of layoffs, excessing, etc.) this tally is nothing short of astonishing and inspiring.

(Left to right: Rosa Rivera-Beck, Margarita Maldonado, Rosa Cerda-Castañeda, Beth Dominguez,
Drunell Lewis Carter, Santa Griego and Karen Steele.)
And I haven't even told you yet that joining us was principal Rosa Cerda-Castañeda, who not only has served many years as a teacher, assistant principal and now school leader, but began her association with Longfellow when she first walked into a basement classroom in 1977 as a kindergartener!
Once again, I went to look at four walls and a roof and found so much more housed inside.
I found Rosa Rivera-Beck, who has 36 years at Longfellow, which offers a Head Start program through eighth grade. I found Margarita Maldonado, who has been there 32 years). There were Beth Dominguez (31 years), and Drunell Lewis Carter (30 years). And there were Santa Griego (29 years) and Karen Steele (30 years).
That's 188 years teaching the children of Milwaukee's South Side at H.W. Longfellow.
That is amazing.
And, yes, I know what you're thinking. And it's true: One of these teachers was here when the principal was a student.
"I remember her," says Rivera-Beck, who had Cerda-Castañeda is her class when the latter was just 9 years old. "I remember her frilly dresses."
That's the kind of place Longfellow is. These teachers don't just know each other. They KNOW each other. They know how to work together, and as I learned as we sat around the table in the principal's office, they know how to laugh together.
"It was a nice way to end the day, just sitting at the table laughing and enjoying each others company," Cerda-Casteñeda tells me later, echoing my feeling about spending time with this group.
"There are three kinds of teachers here," says Cerda-Casteñeda, "the veterans, the almost veterans and the young teachers."
When I ask if they can tell which of the young teachers will grow into the almost veteran and ultimately the veteran group, a murmur arises and everyone nods in agreement.
"We can tell," says Cerda-Casteñeda. "This is a working building. The veteran teachers know what time the milk delivery man comes."
What she means is that her dedicated staff knows the secret to getting into the building as early as possible.
"If we knock on the window, the kitchen (staff) opens the door for us," Maldonado says.
I ask if they start their day by arriving at 6:30 and they all chime in, "6:15!"
"Not me," says Cerda-Casteñeda, "but I work later," to which Maldonado adds, "she's always still here when everyone else is going home."
The fact that six teachers stayed late to show me around long after their work day was done says something in itself. And only one had to excuse herself before we were done. They were not in a hurry to leave this place.

An old postcard view of Sixteenth Avenue School. (PHOTO: Courtesy of Karl Bandow.)
"This is like our home," says Griego.
You don't have to spend much time in a school to know that this kind of culture at the top doesn't just trickle down to the students, it cascades.
There are more than 850 students this year at H.W. Longfellow – nearly 75 percent are Latino – and one hopes they know what a special place they're in.
"Longfellow truly has been blessed with a great group of dedicated educators," says Cerda-Castañeda. "They all are resilient individuals who have embraced our community and our children. They have been leaving their seeds of kindness in all that they do."
Others have left seeds of a different kind at the second-oldest still-operating MPS schoolhouse, erected in 1886 as District 23-1, with a major addition that added a third floor to the original building and a matching three-story wing to the south eight years later.
In 1912, the school was renamed for its location – as were most MPS buildings – which was then called Sixteenth Avenue. In 1931, it was renamed in honor of poet and educator Henry Wadsworth Longfellow.
Henry C. Koch (architect of City Hall, The Pfister Hotel, Turner Hall, Gesu and Calvary Churches on West Wisconsin Avenue and numerous old Milwaukee schoolhouses, including the oldest – Eighth Street – and the third-oldest, Maryland Avenue) designed the initial phase and his faded, hand-tinted floor plans (above) survive in the MPS facilities and maintenance archive, as do the 1894 expansion plans (below) drawn by architect Charles Lesser.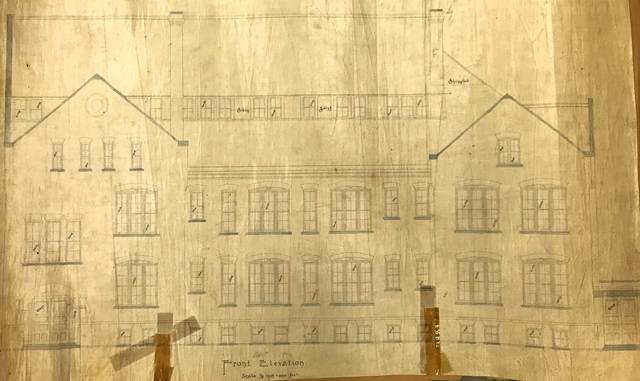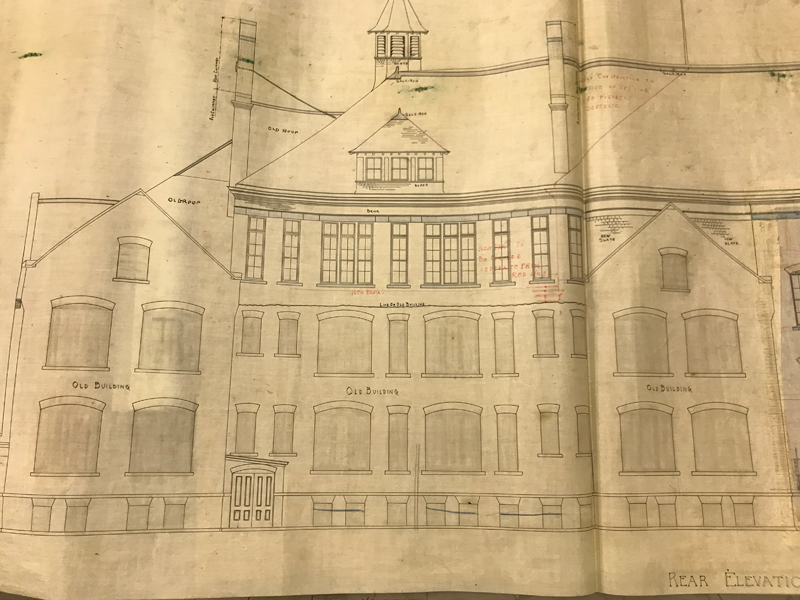 A boiler room was built onto the back in 1915 (Van Ryn & DeGelleke, architects) and numerous other additions followed, most recently in 2005 and then 2011 (Eppstein-Uhen Architects), when another large wing was added to the south, with classrooms, a new gym, space for Journey House and more.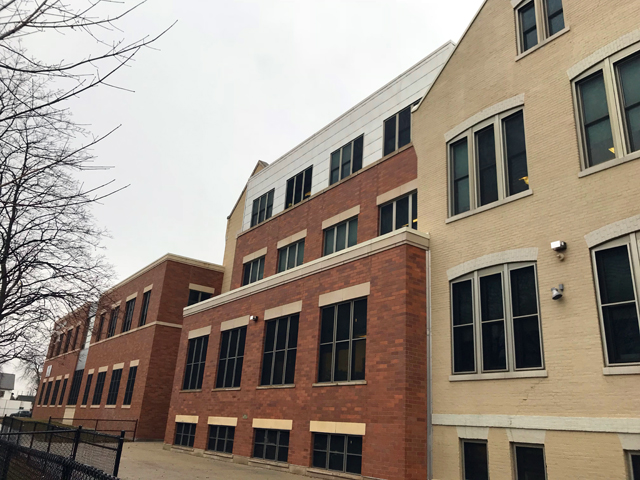 This wing is shared by the school and by Journey House and is used after school by the school's CLC after-school camp.
With the arrival of this new wing, the old gym (on that third floor that was added to the original section in 1894) was converted into a large art room (pictured below) and a series of smaller specialized rooms.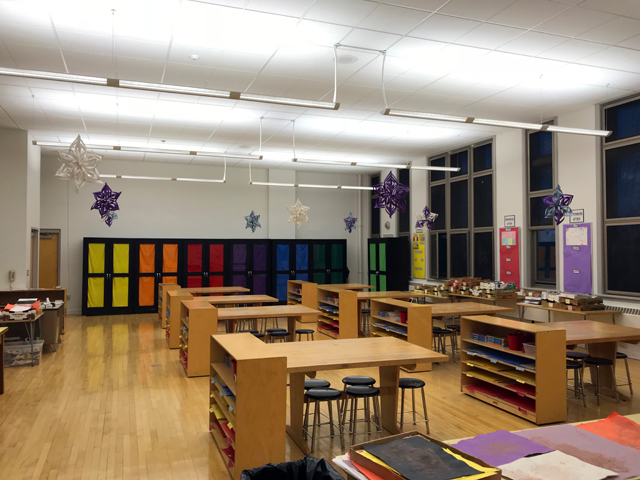 Upstairs in the attic of the section that was built in 1894, we found graffiti not only from the first decade of the 20th century (and later), but a few from the 19th century and one dated 1895, the year after the building was completed.
While the attic isn't covered in graffiti like the one at Maryland Avenue School, there is quite a bit scattered around up there, including a section that a previous principal initiated hoping to dedicate a part of the attic to each future graduating class. Alas, that tradition lasted just a single year (2015).
Despite their tenure on the floors below, the teachers were surprised to see the graffiti that's been above their ceilings for decades, and couldn't resist the urge to add their names for posterity. Let's be honest, if anyone deserves to have their names immortalized up there, it is this group.
Born in Brooklyn, N.Y., where he lived until he was 17, Bobby received his BA-Mass Communications from UWM in 1989 and has lived in Walker's Point, Bay View, Enderis Park, South Milwaukee and on the East Side.
He has published three non-fiction books in Italy – including one about an event in Milwaukee history, which was published in the U.S. in autumn 2010. Four more books, all about Milwaukee, have been published by The History Press.
With his most recent band, The Yell Leaders, Bobby released four LPs and had a songs featured in episodes of TV's "Party of Five" and "Dawson's Creek," and films in Japan, South America and the U.S. The Yell Leaders were named the best unsigned band in their region by VH-1 as part of its Rock Across America 1998 Tour. Most recently, the band contributed tracks to a UK vinyl/CD tribute to the Redskins and collaborated on a track with Italian novelist Enrico Remmert.
He's produced three installments of the "OMCD" series of local music compilations for OnMilwaukee.com and in 2007 produced a CD of Italian music and poetry.
In 2005, he was awarded the City of Asti's (Italy) Journalism Prize for his work focusing on that area. He has also won awards from the Milwaukee Press Club.
He can be heard weekly on 88Nine Radio Milwaukee talking about his "Urban Spelunking" series of stories.