Milwaukee is lucky to still have so many beautiful 19th century and early 20th century schoolhouses – designed by the most respected and talented Milwaukee architects of their day.
But some have also been lost to time, thanks to fire, demolition or replacement. Here, excerpted from my 2012 book, "Historic Milwaukee Public Schoolhouses" – and augmented with a few more "bonus" gems – are 11 lost Milwaukee schoolhouses.
Detroit Street/Jackson
Henry Koch's Neoclassical Andrew Jackson School (previously called Detroit Street School and District 3 before 1912) had an imposing Flemish-inspired tower nearly six stories high that was a beacon in the Third Ward community, which was initially settled by the Irish and later the Italians. The school survived the great Third Ward fire of 1892, and in 1915, a public natatorium was added, making it even more a locus of neighborhood activity. Though it was built in 1879 at a cost of $30,700, MPS records suggest that a school occupied the site from at least 1851. That it had become educationally inadequate was perhaps already clear by 1927, when the 24-classroom building had an enrollment of 1,010 pupils. The building was demolished as part of the urban renewal, also sometimes referred to as "slum clearance," that erased entire sections of the old Third Ward in the late 1950s and early '60s.
Eighteenth Street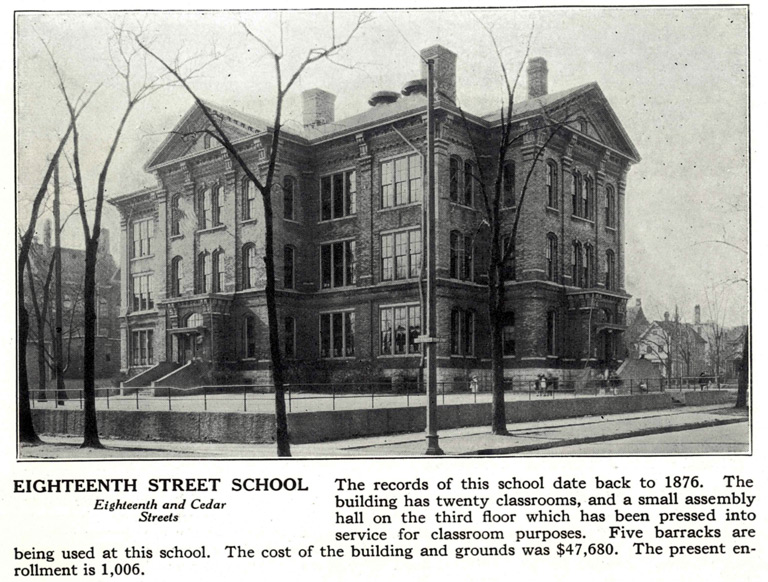 Also designed by Henry Koch, Eighteenth Street School was built in 1876 and had 20 classrooms and a third-floor assembly hall on three floors. It marked a new era in Milwaukee public school construction as it was better heated and ventilated than its predecessors. Its classical features made it popular in its day and reviews of the building, which stood behind Girls' Tech/Wells Street Junior High until it was destroyed by a spectacular fire during a brutal winter storm in 1973, were glowing. Gone for much long was the building's "twin," on Cass and Kewaunee Streets, replaced by the current Cass Street School building at the dawn of the 20th century.
Gaenslen
The original Gaenslen School in Riverwest, built into a bluff on the west bank of the Milwaukee River in 1939, was an Art Deco gem, with long wings projecting from a central rotunda. Designed by Alexander Bauer of Eschweiler and Eschweiler Architects Associated, it was a marvel of its day. But perhaps due to its specialized needs, it was doomed to a short life span. Its replacement, unfortunately, cannot boast the same charm.
Grand Avenue
Ferry and Clas' absolutely gorgeous Victorian schoolhouse at 27th and Wisconsin was decimated by a blaze in 1918 that led to its destruction soon after. It was soon replaced by the current building. You can read more about both structures here.
Jefferson
Demolished after a fire caused by faulty wiring in 1978, Jefferson wasn't large. Designed by Milwaukee's Ferry & Clas – which created, among other buildings, Milwaukee's historic Central Library – the Cream City brick structure had two three-story wings and a central section, all with low-pitched roofs, that contained sixteen classrooms and a small assembly hall. Built in 1899, it was a more decorated version of the next school built by the district, Van Ryn & DeGelleke's Bartlett Avenue (erected in 1902, demolished in the late 1980s), with ornate brickwork, including arches above the windows and diamond-shaped decorations in rectangular boxes. The entire roofline was adorned with dentil molding. It was most unusual for being a rare school building in the heart of downtown Milwaukee, and by the time it was razed, it was dwarfed by the neighboring Juneau Village apartment towers.
Lisbon Avenue
This small school wasn't built by MPS but rather was acquired by annexation in 1907. It stood in a small triangle at the intersection of Forty-seventh Street and Lisbon and North Avenues. Eight years after the district acquired the school, it was closed when Hi-Mount School opened a few blocks away. But the area was growing so rapidly that Hi-Mount itself was soon bursting at the seams, and Lisbon had been brought back into use by 1920. It was finally closed at the end of the academic year in 1932 and was razed soon after. The two-story building, which appeared to possibly have attic rooms, too, was a small but stately schoolhouse of symmetrical design, with dual arched entrances flanking the central section and a pair of tall chimneys towering above the multisectioned, high-pitched roof. But for the lack of religious ornament, it could have almost been mistaken for a house of worship.
Prairie Street/Highland Avenue
After MPS sold the old Jefferson School to Pabst Brewing (read more about that here), it commissioned Edward Townsend Mix to build a replacement on 10th and Highland. That building was closed by 1964 and later torn down. (Another District 2 – built in 1902 as a replacement for a school erected on the site in 1869 – building stood on 7th and Highland until 1951.)
South and West Division High Schools
Built at the same time, these were among Milwaukee's first enduring high schools, and their buildings – like others such as North Division, Washington and Riverside – quickly became beacons within their neighborhoods. Decades after their disappearances, these structures live on in the memories of Milwaukeeans old enough to have seen them. South's dome, figuratively and quite literally, towered over its neighborhood in a way that the sprawling 1970s replacement can't even aspire to. Meanwhile, iconic Milwaukee architects Schnetzky and Liebert, who drew the plans for Brumder's Germania Building and a number of landmark churches, created a timeless Neoclassical home for West Division (above) that, like South (below) and North, was replaced with a modern box that inspires little passion.
21st Street School
Henry Koch's cream city brick 21st Street School, with an addition by Van Ryn & DeGelleke, was torn down in 1977 to make room for the current Gwen T. Jackson School, built the following year. A stately Romanesque Revival schoolhouse was replaced with a shoebox that turns its back to Center Street.
Walnut Street
A twin to the extant 5th Street School, Walnut Street, at 23rd Street, was a Romanesque Revival schoolhouse designed by Herman P. Schnetzky and built in 1888. Unlike 5th Street is was never expanded and it was also never modernized. Despite being located across the street from a firehouse, arsonists apparently set multiple fires in it, destroying the building in 1978. Read more about it here.
Born in Brooklyn, N.Y., where he lived until he was 17, Bobby received his BA-Mass Communications from UWM in 1989 and has lived in Walker's Point, Bay View, Enderis Park, South Milwaukee and on the East Side.
He has published three non-fiction books in Italy – including one about an event in Milwaukee history, which was published in the U.S. in autumn 2010. Four more books, all about Milwaukee, have been published by The History Press.
With his most recent band, The Yell Leaders, Bobby released four LPs and had a songs featured in episodes of TV's "Party of Five" and "Dawson's Creek," and films in Japan, South America and the U.S. The Yell Leaders were named the best unsigned band in their region by VH-1 as part of its Rock Across America 1998 Tour. Most recently, the band contributed tracks to a UK vinyl/CD tribute to the Redskins and collaborated on a track with Italian novelist Enrico Remmert.
He's produced three installments of the "OMCD" series of local music compilations for OnMilwaukee.com and in 2007 produced a CD of Italian music and poetry.
In 2005, he was awarded the City of Asti's (Italy) Journalism Prize for his work focusing on that area. He has also won awards from the Milwaukee Press Club.
He can be heard weekly on 88Nine Radio Milwaukee talking about his "Urban Spelunking" series of stories.