Dynamic duo Robby Hauldren and Freddy Kennett performed a show at the Harley-Davidson Roadhouse that just might have outdone the Fourth of July fireworks.
With their emblematic gold crown and ever-so-appealing analogous colors of teal and pink, the Louis The Child groupies bounced as the beat dropped and swayed as the lights projected. Graphics were constantly changing, illuminating the crowd with different shapes, lips, outlines of women's bodies and occasional lyrics. Through both visuals and lighting effects, the crowd was entranced by the youthful and energetic DJs – without overwhelming the music.
Hauldren and Kennett aren't just your typical EDM seizure-causing performers; they know when to slow it down or pick it back up with the songs they play. Bouncing off each other – both musically and physically – Hauldren and Kennett know how to get the crowd hyped while mixing into the next banger, keeping the audience in the palms of their hands. (That the crowd roared at the same volume to their old music as their new speaks for itself.) Songs ranged from original hits like "Love is Alive" to their remixes like "Blasé" and "Love Lies." Drops were edgy and audibly inspired by different genres of music.
Songs like "It's Strange", "Weekend" and "Fire" encouraged the crowd to continue to lose their voices and keep jumping. Jolts of excitement ran down my spine all throughout the concert.
The last time I saw Louis The Child live was a few months ago in Madrid, Spain at a small, intimate venue. Only 50 other people were there amongst me, but the energy in the room was still raving. The crowd, consisting of young teens and adults, connected to Hauldren and Kennett on an exhilarating level – and little changed in that regard seeing them in the States.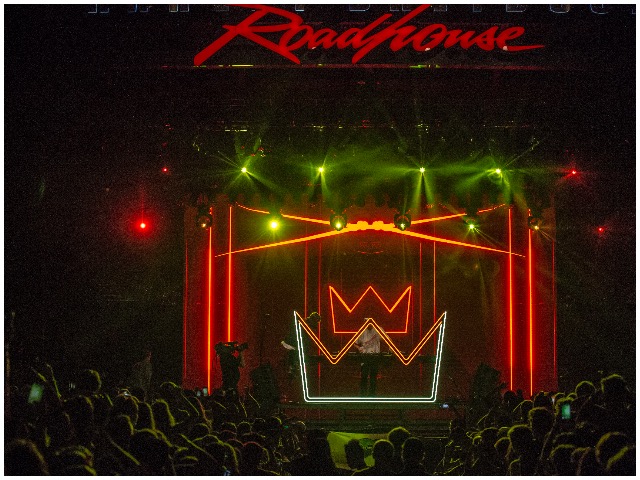 As two college aged kids, Hauldren and Kennett know how to cater to their fans, which they learned at an early age. In high school at New Trier in Winnetka, Illinois, Hauldren and Kennett devoted their time to the school's radio station, WNTH 88.1, where they mixed beats, kept conversation and slowly gained a fan base. Now, they travel around the world showcasing their talent.
Being my third time seeing them, I can undoubtedly say that they never disappoint. I've been following their music for a while now and, with a lot of recycled beats and repetitive music getting lost in the mainstream, they always come out with fresh, unique music and mashups – including their most recent six-track EP dropped with fellow Midwesterner, Whethan, titled "Honey."
With one of their latest hit singles, "Last to Leave," as well hitting an unreleased song, their performance at Summerfest tonight was a hit, a perfect summer's night for some Louis The Child jammin' at the Harley Davidson stage. Everyone around – myself included – sang at the top of their lungs to hit lyrics and made sure to bust a few moves when the drops ensued. Fans inched closer to the stage, reaching their hands out and spreading their palms to get as close to the DJ duo as they possibly could. Our feet vibrated along with the music, and hours later, I feel like my ears are still radiating their songs.
We lived tonight well – and in the words of Louis The Child, we treated the weekday like the weekend.