One of the unspoken benefits of the craft brewing boom can be seen at work in Burlington, on the western edge of Racine County, where two breweries have opened in the past year – the first breweries to operate in the city in over half a century.
The second to open (by just a few months; The Runaway is a block away), Low Daily Beer, 700 N. Pine St., was opened by Tim and Claire Sullivan in autumn in a building owned by Sullivan's parents.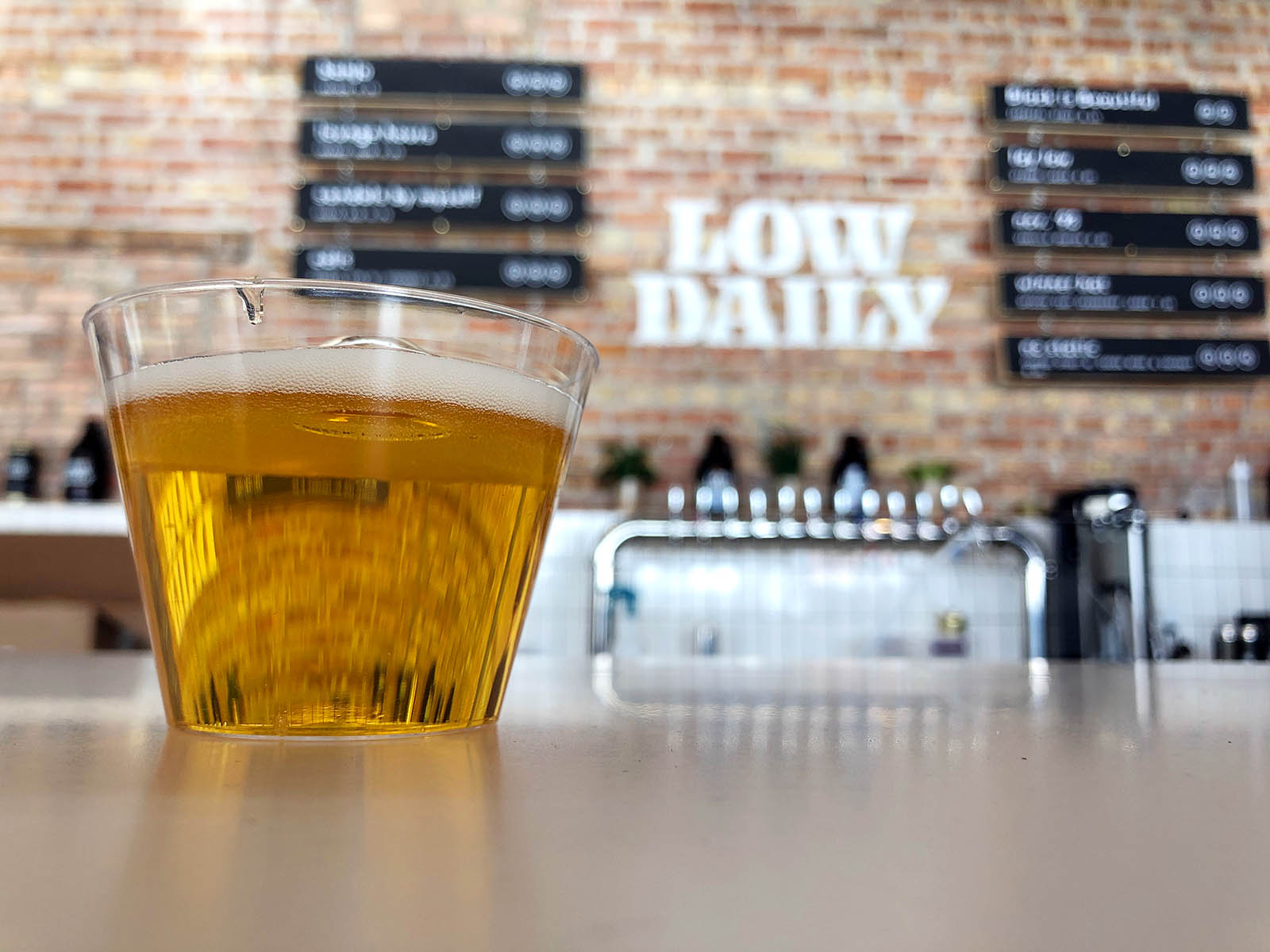 Tim honed his skills as a brewer at Karl Strauss Brewing in San Diego and Ecliptic Brewing in Portland, but instead of opening his own place out west, he came home to launch a brewery in (relatively) small town Wisconsin, helping to bring high-quality craft beer to a thirsty and welcoming community.
And the community has responded.
"We opened in September," says Tim, "we've still got the new car smell."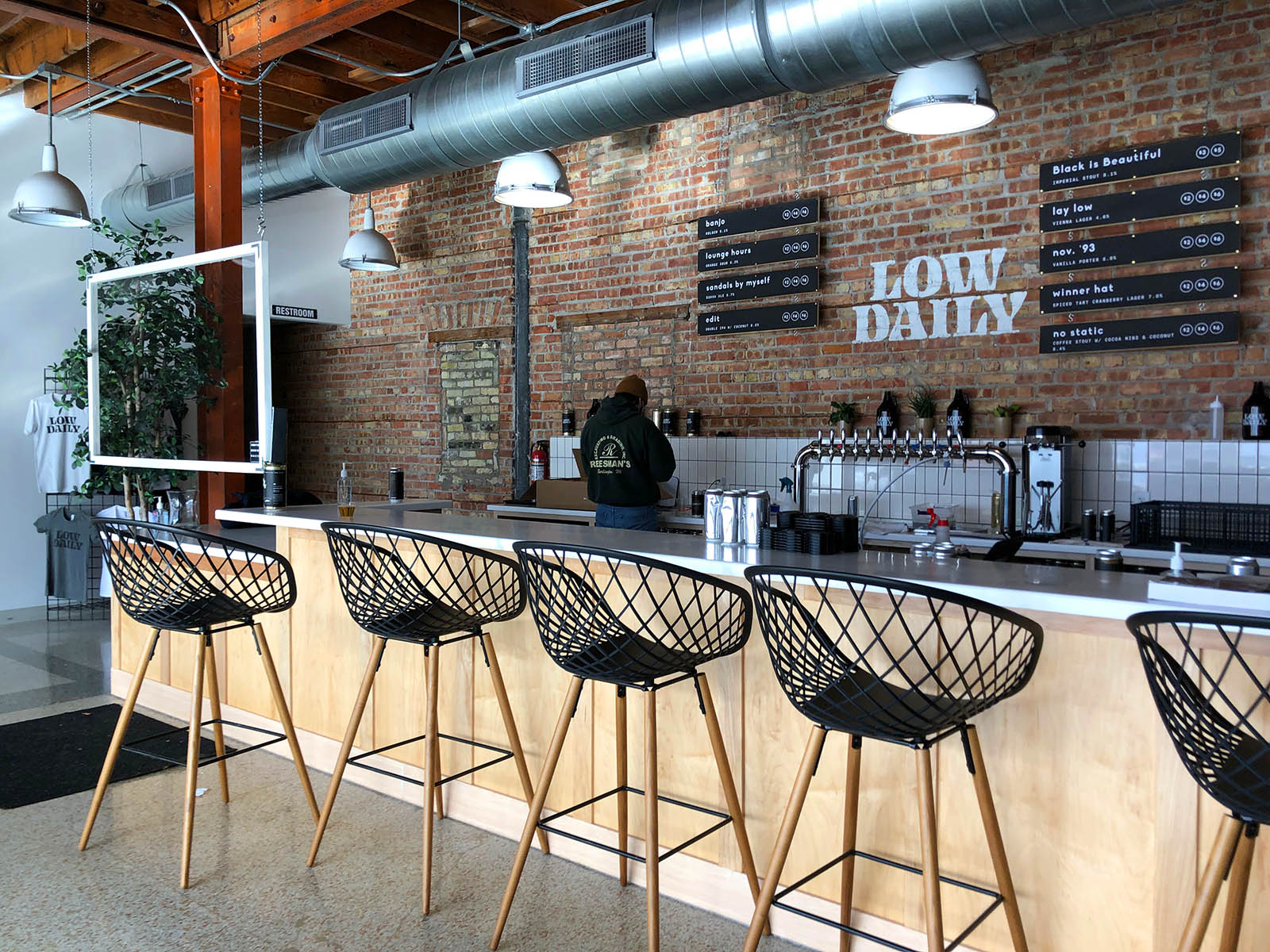 You have to have a sense of humor if you're going to build out and open a brewery during a pandemic shutdown, right?
"As soon as I found a bank that would give me some money, the whole process wasn't as bad as I thought," he says. "Like the build-out. It went surprisingly well for as old as old this building is."
The building, which looks like it might've been built in the early '60s as an appliance store is actually a 1926 depot built by The Milwaukee Electric Rail Light Co. as a stop on its interurban line connecting Sheboygan, Milwaukee, Waukesha, Watertown, East Troy and Burlington, into the late 1930s.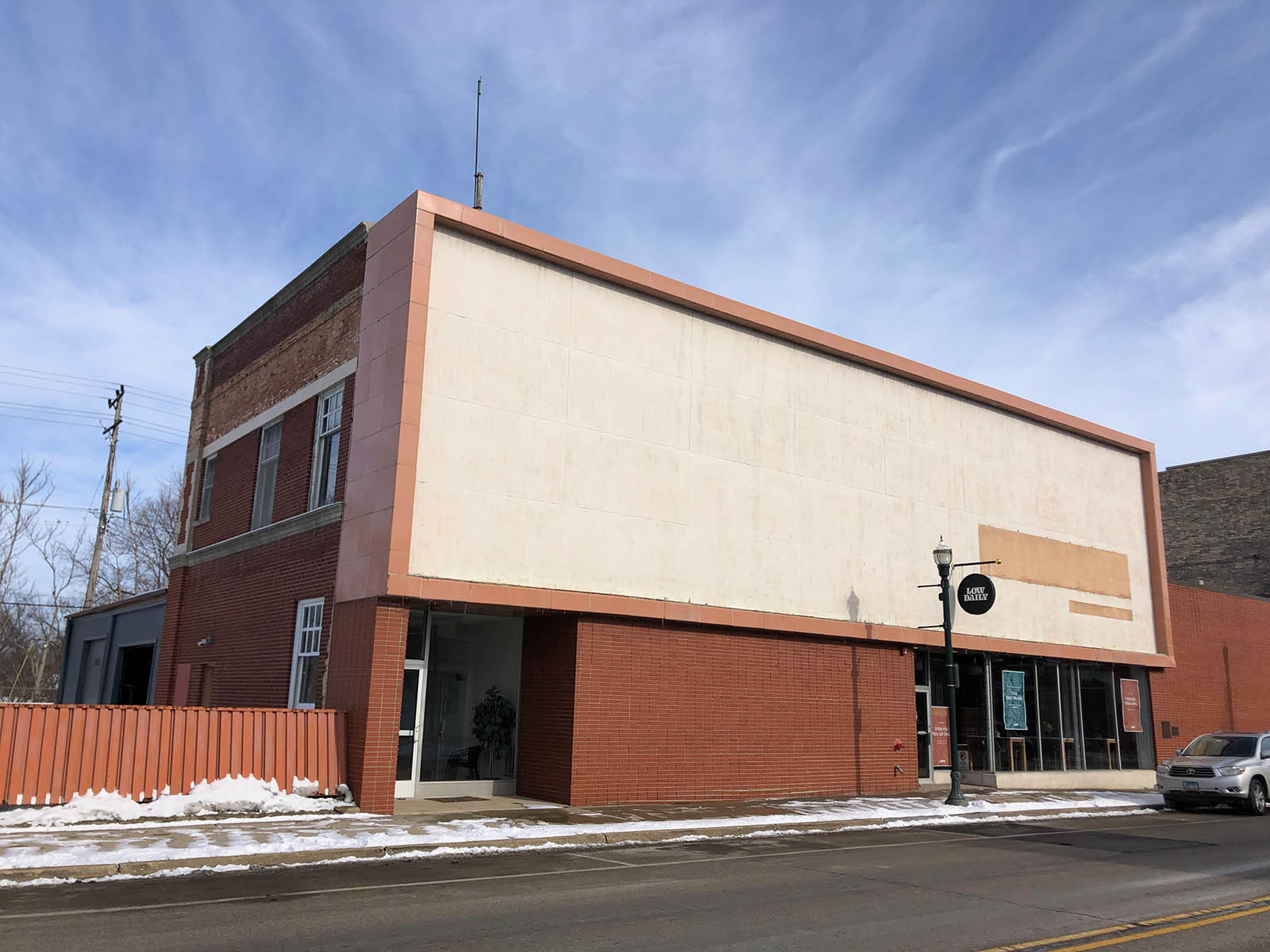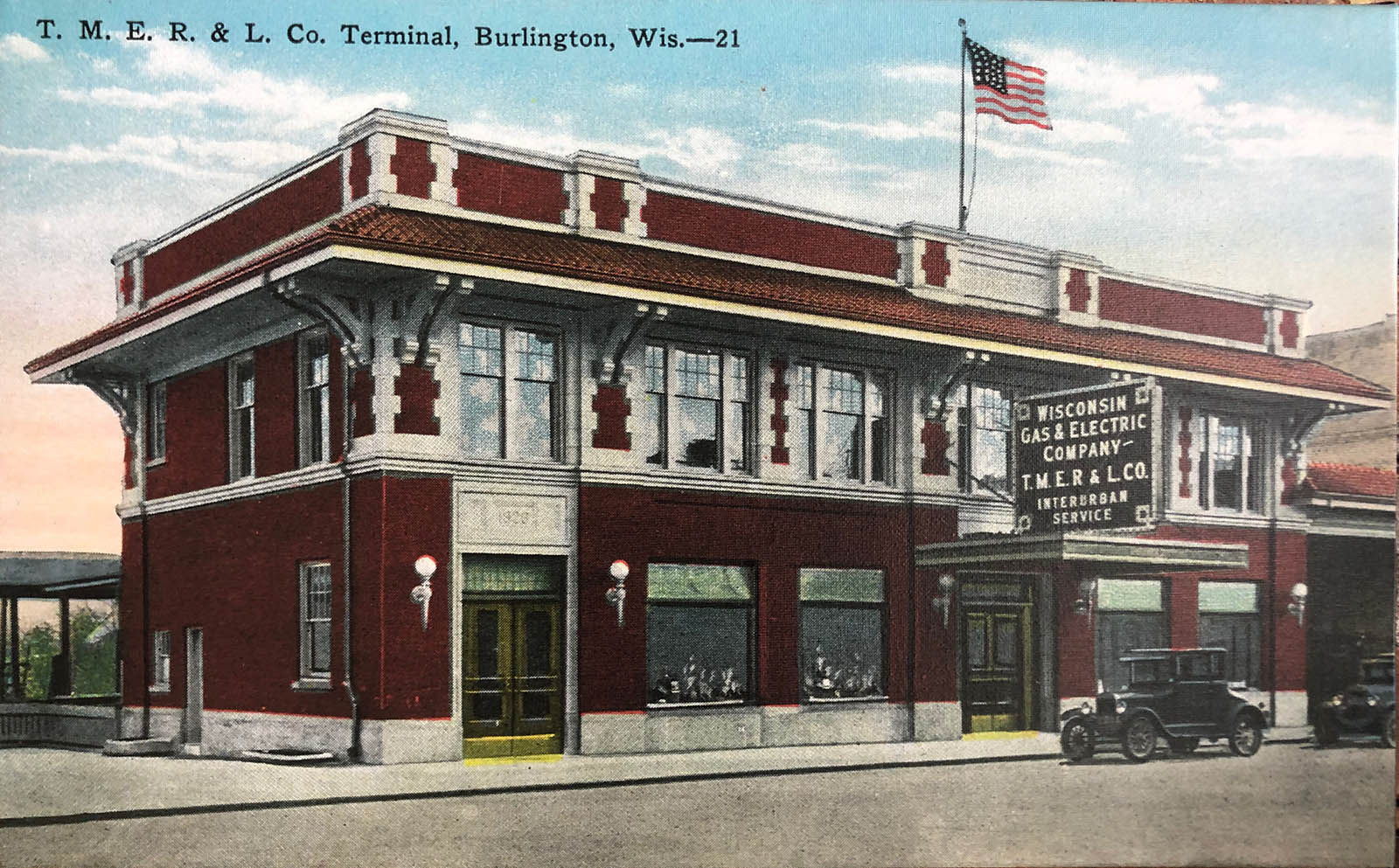 The only part of the line that's still operational is the seven-mile East Troy Electric Railroad Museum segment.
Sullivan says that the building's original exterior still exists beneath the later veneer that was added, at least on the second floor.
Inside the taproom, which housed the ticket desk and waiting room, the are still great terrazzo floors. A once-open, but now-covered area through which trolleys would pass is now the brewhouse.
Out back stood a boarding platform on an area that is now the brewery's patio. You can just see it peeking out at left in the postcard view above.
"We started doing a little work, ripping some walls down here in January," Sullivan says. "(When the shutdown happened in) March is right when we brought the contractors in, and there were a couple of weeks where Claire and I were like, 'do we press pause on this, can we do that?' But also at that time we were like, 'OK, by the end of the summer, this may be over. So, that's about when they'll be done with construction so, full speed ahead.'
"Yeah. So it was just kind of a weird thing."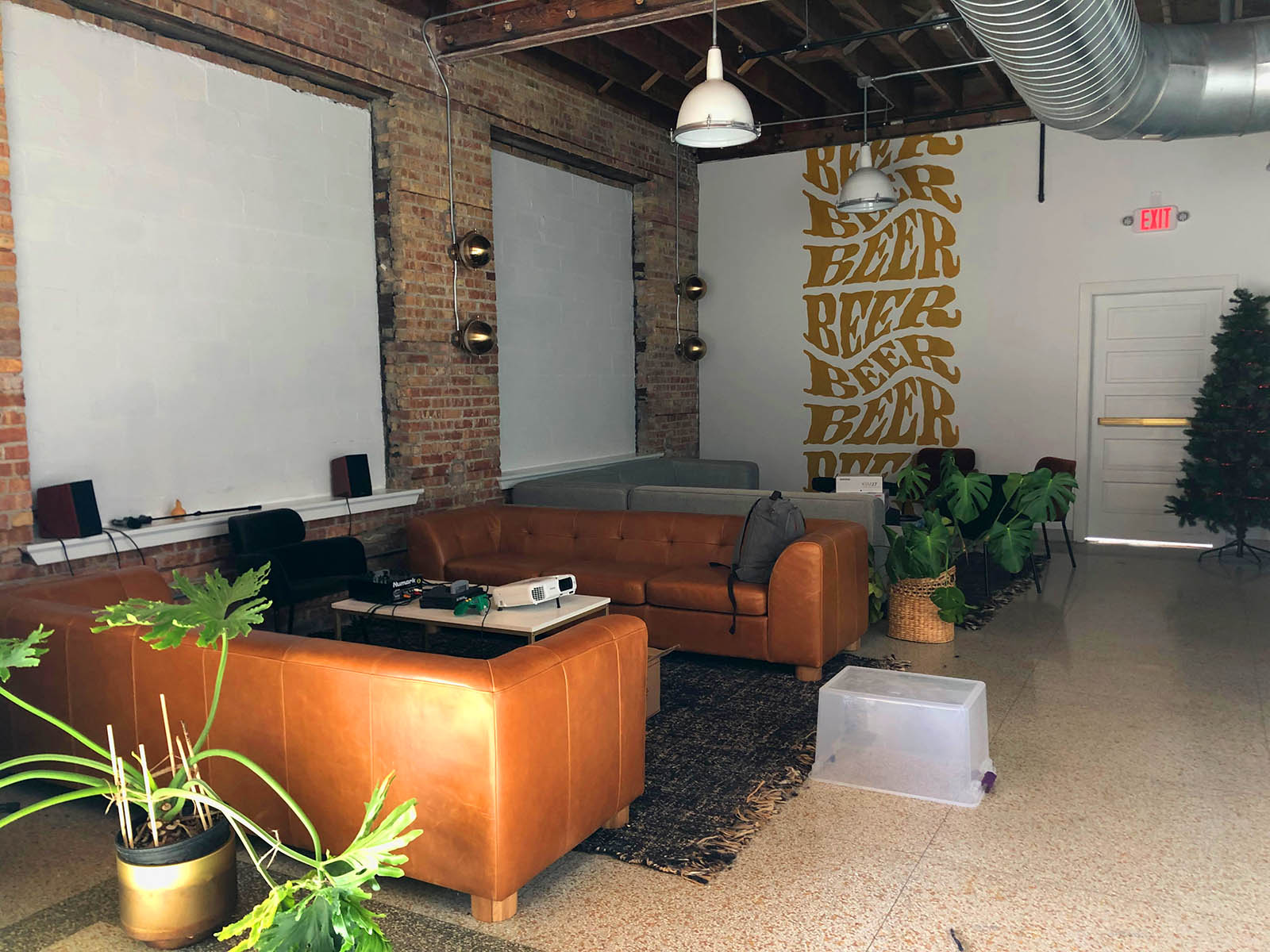 But, says Tim's brother Patrick, the community has showed support.
"It was really nice. The fall was great. We had a great fall weather-wise, so people just hung out on the patio, the tables out back and that went almost through October, even into November."
But, when the weather turned, the Sullivans decided to pivot to carryout orders only, putting growlers and a crowler sealer to good use.
"When we switched to-go only it definitely slowed down," says Tim. "I think the first few months of having the beer garden open, we were able to make a few fans and, and the community kind of liked what we were doing and how we were doing it. Now, it's been slow, but it's been all right."
The day I stopped in, the Sullivan brothers – Tim, Patrick and Mark – were running the crowler sealer overtime, sanitizing cans one by one, purging them with CO2 and filling and sealing them with Thum Phuk, the sticky rice lager inspired by Lao cuisine that they're making in partnership with their friend Alex Hanesakda, who runs SapSap, a Laotian food business that does popups and catering.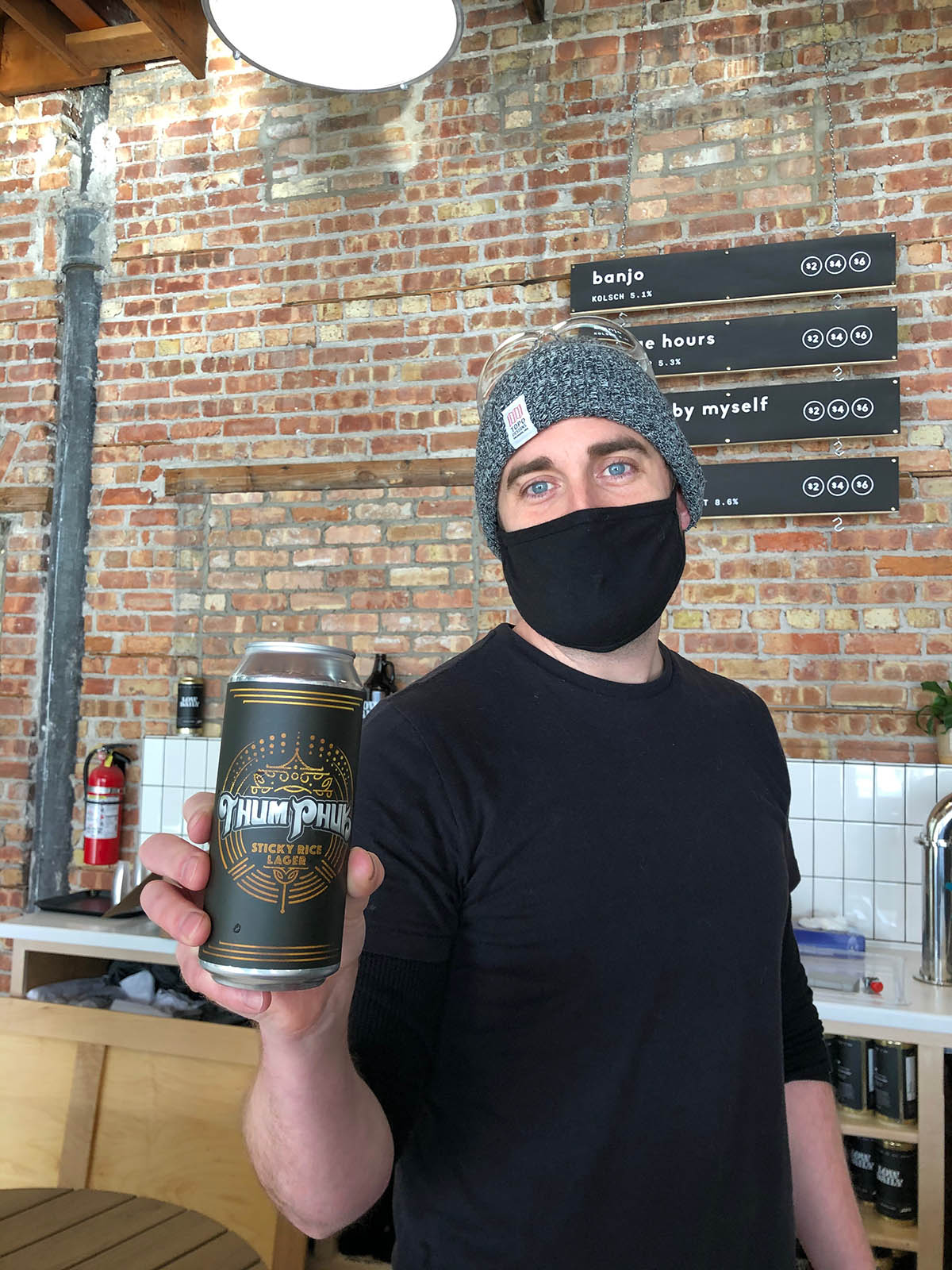 "You walked in on our very first little DIY, doing some test batches," says Tim. "Just to test the market a little bit. I didn't want to commit to the size of the run that a professional mobile canner wants, I didn't want to can all this beer and look around at it all (sitting around).
"So it's going to be canned up, a few cases, getting them in the car, and Alex and I have been talking about driving up to Madison, Milwaukee in the coming days to get it to to the people that have expressed interest in carrying the product, and just good old fashioned door to door sales. It's how you build.
"I'm just kind of shaking my head at this whole situation, but I have a strong feeling that for the next batch we'll just call the canner."
They're using Thum Phuk as a way to test the market for selling packaged beer at retail.
"Just dipping toes in the water," says Tim. "We're certain we will be packaging this year."
A glance at the nine brews currently on tap at Low Daily show a nice variety: a kolsch and a Vienna lager, a guava ale and an orange sour, a double IPA with coconut and a vanilla porter.
Sullivan is definitely straddling traditionalism and experimentation.
"I'm not starting with flagships," he says. "I'll let people decide that for me. An IPA I made in the fall sold out very quickly, so I made a second batch of that, and we're sold out of that one, too.
"I know people have been disappointed that we're out of that one. So I'll probably make another batch of that. Something like that could very well be just always in the arsenal.
"But other than that, I just want to always have something for everyone. And then just kind of within those different styles experiment a little bit, try out some different things, because in my experience, the shift brewer is making largely the same thing every day. It's been kind of nice to ask myself, 'OK, what do I want to bring next,' and balance that with, 'OK, how is this going to complement the full menu, and are people going to like it?'"
The beer is brewed onsite in a 15-barrel brewhouse that's a little more than the Sullivans had initially bargained for, says Tim.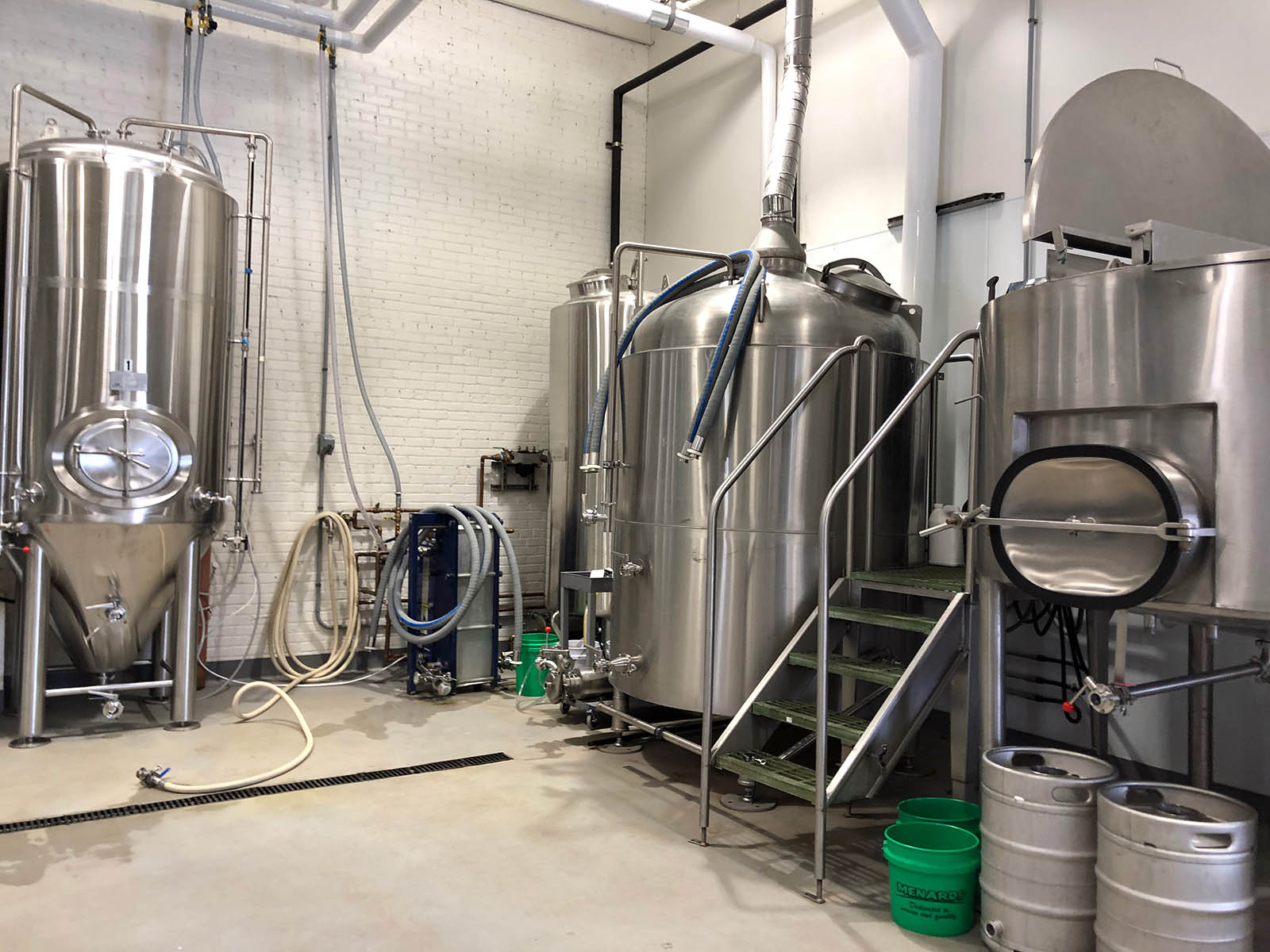 "I had my mind made up for a seven-barrel system," he says, "but my old boss at Ecliptic was selling this, and I brewed quite a bit of beer on this one. During my tenure Ecliptic scaled up from this to a 30-barrel system. This was just sitting there and he wanted to get rid of it.
"So I figured, 'OK, I'll get a 15.' I treat it like a seven-barrel system right now, doing small batches on it; half batches. So I figured, 'I got a great deal on it, let's just start a little bigger than I thought' and I already have the capacity to make more beer."
He's got five fermenters in the brewhouse that he built out himself and he's primed for expansion.
"We have spaces for more tanks right here," he says. "We've got it all plumbed in so that'll be useful – kind of plug and play."
Though Low Daily is not brewing a ton at the moment, Sullivan will make a few batches to replenish stock and expects that he will ramp up production in the next couple months as warmer weather hopefully begins to return.
At that point, the Sullivans hope to be able to bring back their 10 employees to start serving customers again out on the patio, where last autumn they hosted food trucks, screened movies on a sheet against the back wall and offered other entertainment.
"I even set up my turntables up there," says Mark Sullivan, pointing to the top level of a fire escape at the roof, "and we had music, too."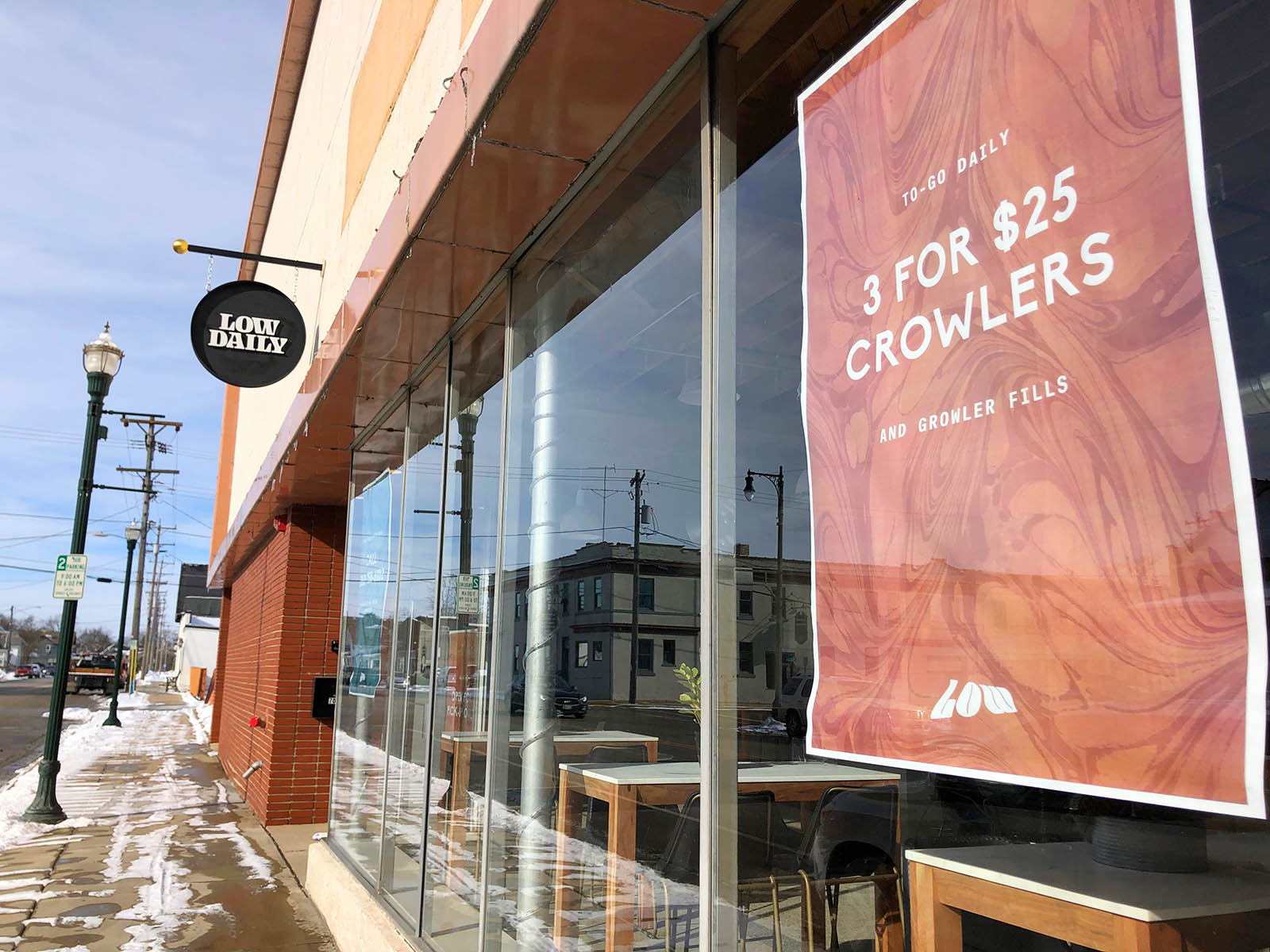 In the future, the brothers hope to build a deck up on that roof.
Interestingly, via his brother Patrick's wife, Low Daily has a connection to Burlington's previous brewery, Finke-Uhen, which opened in 1865 and operated into the 1950s.
Since that closed, Burlington was without a hometown brew. But not anymore.
"Yeah," says Tim, "this town went 50 years without a brewery and then they got two at once."
Born in Brooklyn, N.Y., where he lived until he was 17, Bobby received his BA-Mass Communications from UWM in 1989 and has lived in Walker's Point, Bay View, Enderis Park, South Milwaukee and on the East Side.
He has published three non-fiction books in Italy – including one about an event in Milwaukee history, which was published in the U.S. in autumn 2010. Four more books, all about Milwaukee, have been published by The History Press.
With his most recent band, The Yell Leaders, Bobby released four LPs and had a songs featured in episodes of TV's "Party of Five" and "Dawson's Creek," and films in Japan, South America and the U.S. The Yell Leaders were named the best unsigned band in their region by VH-1 as part of its Rock Across America 1998 Tour. Most recently, the band contributed tracks to a UK vinyl/CD tribute to the Redskins and collaborated on a track with Italian novelist Enrico Remmert.
He's produced three installments of the "OMCD" series of local music compilations for OnMilwaukee.com and in 2007 produced a CD of Italian music and poetry.
In 2005, he was awarded the City of Asti's (Italy) Journalism Prize for his work focusing on that area. He has also won awards from the Milwaukee Press Club.
He can be heard weekly on 88Nine Radio Milwaukee talking about his "Urban Spelunking" series of stories.