Last Thursday, OnMilwaukee.com commemorated the 40th anniversary of the 1974 NBA Finals between the Milwaukee Bucks and Boston Celtics, and most couldn't believe it was four decades since that series – especially those who played for the Bucks.
"It seems even longer," Kareem Abdul-Jabbar said with a laugh. "It's like it happened in another – well it did happen in another century, so that kind of puts it in pretty good perspective."
Memories were vivid and plentiful, and not everything was able to make the story, so here are some highlights off the cutting room floor.
The missing man
One man who did not even participate in the 1974 series perhaps made the most impact: Bucks guard Lucius Allen.
Allen was a 26-year-old guard who had steadily improved each season, and was having a career year in the backcourt with Oscar Robertson, averaging 17.6 points, 5.6 assists and 2.1 steals per game.
"I thought that that was kind of a breakout year for Lucius and how well he was playing before he got hurt," Bucks reserve guard Dick Garrett said.
Allen had an incredible chemistry with Abdul-Jabbar, as the two spent their college years as teammates at UCLA. Allen was often the beneficiary of double teams on the center, scoring on easy layups and hitting mid-range jumpers at will.
"The big thing, more so than anything, he and Kareem had a relationship, a basketball relationship that oftentimes allowed Lucius to get easy baskets because they had been teammates for so long," Bucks forward Bob Dandridge said. "It gave us different weapons so that Kareem could not be double teamed. That was the key. You couldn't double team Kareem with Lucius in there."
On March 15 in Detroit, however, many feel the course of the NBA Finals played nearly two months later was altered when a towel had been left unattended on the floor.
Allen landed on it as he came down from a block attempt on Pistons guard Dave Bing and his knee gave out, tearing his medial collateral ligament.
"That was so sad," Allen said.
When he looked down, Allen saw his knee and foot weren't lined up the way they should've been.
"When something like that happens, obviously everybody is upset and disappointed, but the way it happened was really kind of a tragic thing," Bucks play-by-play man Eddie Doucette said. "You take an important piece out and then try and fill in, that's a huge loss. So, I think yeah, that let a little air out of the balloon."
Box scores alone don't do the impact justice. Allen had led the fastbreak for the Bucks that year, along with Dandridge, which took pressure off Robertson. He also was a finisher in the transition game.
"It always made us dangerous because we had the quickness, we had the athleticism with me in the lineup," Allen said.
While the Bucks lost that game against the Pistons, they finished the year winning five of their last six. They rampaged through the Western Conference playoffs at 8-1.
But Allen's teammates – and more importantly, the Celtics – knew just how big a void was created by his absence.
Celtics coach Tom Heinsohn was able to turn his full attention to 35-year-old Robertson, who was playing in his final season. The future Hall of Famer had played only 70 games that year, dealing with a painful groin injury.
"I have to say that we were given a stroke of good luck when Lucius Allen got hurt because he was a heck of a player and would've added a lot more scoring punch to their assault, but with him being out we were able to harass and try and wear Oscar out as much as possible," Celtics center Dave Cowens said.
Without Allen as a complement, Heinsohn directed guards to harass Robertson with a full court man press.
"That played a part in it because Lucius Allen was terrific," Heinsohn said. "He was a speed guy who could motor the ball up the floor, so some of what we were doing might have been negated with him in there."
"Boston full court pressed the entire game. It wasn't a zone a press," Dandridge said. "It wasn't any type of sophisticated press. It was just a straight out, hard nosed, one-on-one, man-to-man, full court press. And, Oscar's ability to endure that is something that ever stays etched in my mind."
All these years later, every member of the Bucks interviewed were convinced things would've turned out differently had he been.
"In my mind, with all due respect to the Celtics and I give them respect all day long, if we had Lucius Allen I don't think there's any way we lose," Davis said. "I don't think there's any way we lose."
And it's not just a feeling the players had.
"They have every right to feel that way," said former Boston Globe beat writer Bob Ryan, who covered that series and in 1996 was honored by the Naismith Memorial Basketball Hall of Fame with the Curt Gowdy Award. "I think if you look at how it went, it's reasonable to assume that if they had their weapons, which includes Allen and (a healthy Jon) McGlocklin, that it could have very easily been a different story. I don't have any doubts about that."
Allen appreciated the sentiments from his teammates, and opponents, because "it's really great to have the peer respect. Ultimately as a ballplayer, that's what we crave."
But, 1974 still stings.
"That last one, we knew we were the better team," Allen said. "We knew we could beat Boston. But, the fact that I wasn't there ... it's more painful because of the fact that I knew we should've had it."
Davis steps up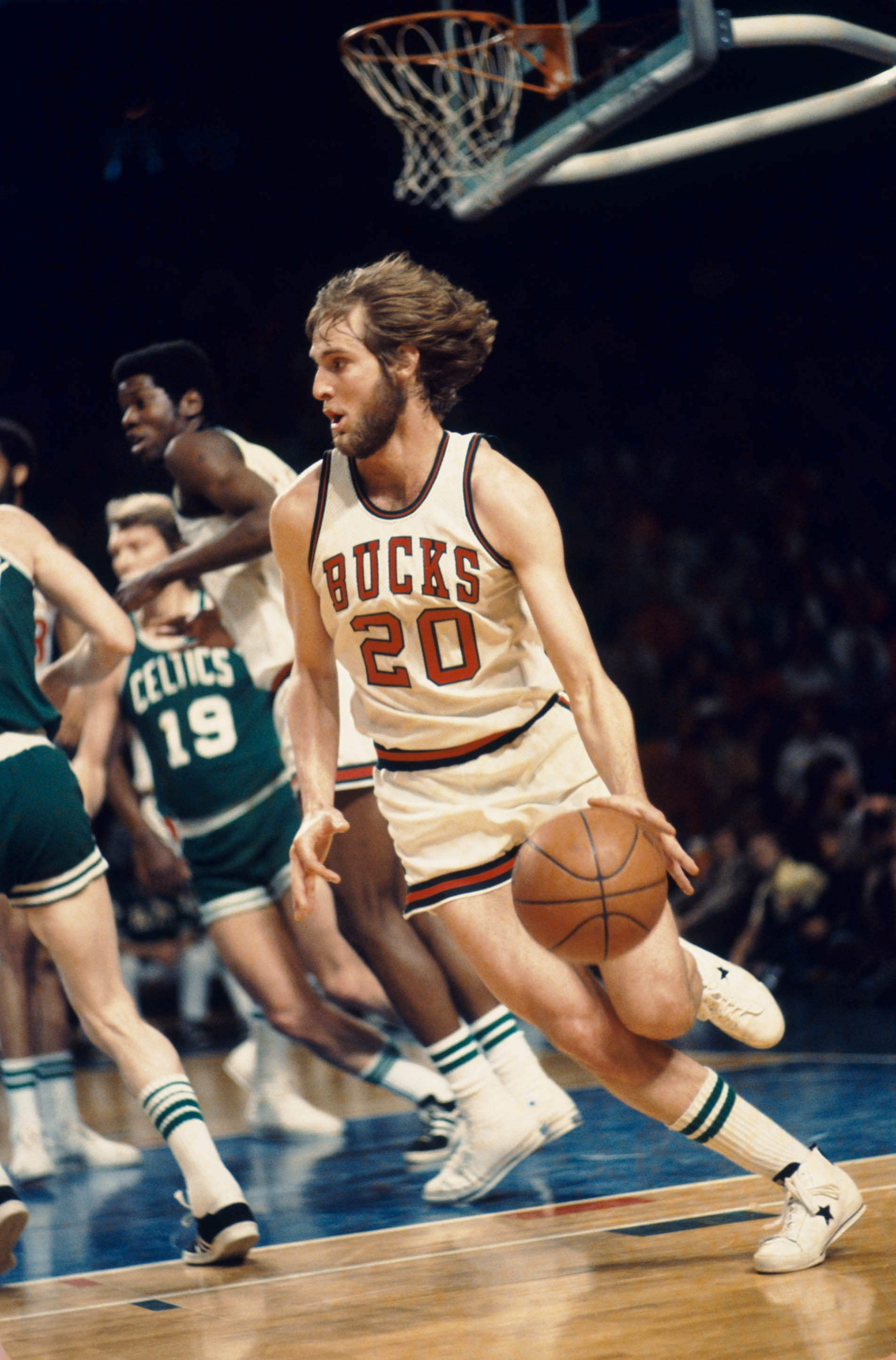 In order to combat Heinsohn's strategy on Robertson, Bucks coach Larry Costello inserted 6-foot, 7-inch forward Mickey Davis to play guard.

The third year player had averaged 5.9 points off the bench during the regular season. In the finals, he averaged 11.3 points.

"That was his finest hour," said Boston Globe beat writer Bob Ryan.

"I think if it wasn't for Mickey's play, we probably wouldn't have gotten to a seventh game," Dandridge added. "That's one of the things that I think of, the play of Mickey Davis."

In the double-overtime Game 6 victory, Davis scored 12 points on 5 of 6 shooting, including a key basket late in game.

"Because of the adjustments they had to make they had to go to Mickey Davis and he was a wild card for us," Celtics guard Paul Westphal said. "I mean, we couldn't guard that guy. He'd come in and he wasn't afraid to make a mistake and he was just taking shots all over the place and making 'em. He was a major factor in that series."

Davis would play only three more years, and it would prove to be his only shot at a championship.

"Whenever you take that trio (of Abdul-Jabbar, Robertsion and Allen) and you try and fill it with a person like myself, to push it to seven games, to have a series played like that nobody won their home court, it's such a unique opportunity to experience," he said. "Quite frankly I found it positively rewarding."
A Milwaukee bar steals the show
Bob Ryan, the Boston Globe's Celtics beat writer at the time, is now retired (though he still contributes to the paper often and remains a prominent voice on ESPN) and he fondly recalled the '74 Finals this week.

"It was a very memorable for one for a lot of us," he said.

But it wasn't just for the basketball, or the players. The series between Milwaukee and Boston was just as unforgettable for another reason: Major Goolsby's.

"The whole thing about that series for us was it was the greatest social time," Ryan said. "The socialization had taken on a life of its own. Everybody was hanging out at Major Goolsby's so much so that they decided to hold the off day press conferences at Major Goolsby's rather than that the Arena.

"Milwaukee was a very hospitable town and Goolsby's was the best bar, no question. Everybody would hang out at Goolsby's."

Times have changed, for sure – both in how the games are played (and scheduled) and how they're covered. And while camaraderie among media remains, it's never been quite the same.

"I can tell you there was never an NBA Finals where so much of the action off the court centered on one place, which was Major Goolsby's," Ryan said. "It was just hilarious. Everybody was there. That just became the focal point."
Quotables
Dave Cowens: "Here is a good indicator of how I'm perceived differently than Jabbar – Kareem makes a great, almost impossible, from an angle-wise, hook shot from the baseline. Alright. That's what you see in that particular clip. What you see of me in that same game is somebody that's falling down on the floor and trying to grab a loose ball.

"One guy is doing something very skillful and graceful and then I'm the guy that's trying to just, you know, dive on the floor and retrieve a ball. Those are the two images of that particular game that are etched in everybody'd mind."

Kareem Abdul-Jabbar: The only part of it that (series) I've seen has been me making the shot in Game 6. That's it.

Bob Ryan: It's as famous a single shot as Kareem ever had.

Tom Heinsohn: I compare it a situation where if you were going to run against the words greatest marathoner, you'd lose. But suppose you were able to organize a relay team to run against the world's greatest marathoner, the pace of the race then might take the legs out from under the world's greatest marathoner. That was the secret of the Celtics teams I played on and that's what I was trying to incorporate into what we did.

Oscar Robertson: You know, I've always said this, when you win you can talk a whole lot of smack about what happened. Like I didn't know what they were doing? Like I didn't know they were going to double-team? I'd been double-teamed my whole career. So, you double-team me I throw the ball to the open man.

Jon McGlocklin: "We weren't feeling good at all – we were so injured. So banged up. Seriously so that it was a like patching it together feeling. Honestly, I think the fact that we took them to seven, and they were completely healthy, I think that was remarkable actually.

Kareem Abdul-Jabbar: I think a lot of it hinged on the fact that with injuries to Oscar and Lucius we were shorthanded and they won because they had more healthy guys that were ready to play significant minute. I think that's what it really broke down to.

Bob Ryan (on Abdul-Jabbar): Look at his numbers for the series – the man carried the team. There's no possibility of it going more than five if he weren't as incredible as he was in those days. I think it's an amazing tribute to Kareem and how phenomenal he was that the Bucks carried the Celtics seven games when they had so much going against them.

Paul Westphal: "They were two evenly matched teams. It was a fitting that it would be a seven game series and it inevitably became that. My memory of that series was that it was just such high level basketball from hall of fame players just functioning at a high level.

Dick Garrett: I just remember how badly I wanted it and I actually thought that, was very confident that we would get it all. That's what comes to mind, that it was my second opportunity and how badly I wanted it at that time.

Dave Cowens: You can't be surprised that we won the game because we had already beat 'em twice before on their home floor, so it wasn't like it was going to be a surprise. We knew we could win there. We had just done it a couple times within a week or so. We weren't awed by the crowd or being on the road.

Paul Westphal: It's right up there at the top. It's one of the greatest things I've ever been a part of. Just playing for the Celtics with those people, with Red Auerbach at the top of the ladder, and having the memories that I have from those days and to top it off with a championship, it's right at the top. I have some memories that I'm equally as fond of, but nothing surpassed it.
Final thoughts from the Bucks
Oscar Robertson: Three or four rings (in that era), look, you've got play when the game's on the line. You can't play 40 years later.

I've played a lot of games in high school, a lot in college, a lot in the pros. I love to win but it's a game of basketball. You can't always go back and recapture the thing. When people get into you life you've got to live today and tomorrow. You can't go back and recapture anything. I'd love to do it sometime. A lot of things I think I could've done better, but it happened.

Jon McGlocklin: I don't dwell on it. I don't think about it every day. I don't think on it. I don't go away in a corner. But it stings and that one we wanted because we had to work so hard for it.

Bob Dandridge: Losing to them in game seven was a motivator for me to say that if I ever reached a game seven again, there would be nothing I wouldn't do to win because there's a lot of pain and not so good memories that goes with losing a seventh game. And sure, boston was a good team, but you could always go back and pick out something new in the series as to why we lost that game. And so it's not a good feeling to lose a game seven, but that game seven loss to Boston was motivation for me to play in game seven when the (Washington) Bullets played Seattle. So, it's not anything that haunts me, but it was more of a motivation for me to have this second ring.

Lucius Allen: I look back at that time, and I look at (how) Oscar Robertson aged. I looked at the components of our team. I was hurt. I was an unproven commodity at that time. Oscar was hurt. The only skill players that were there were Bob Dandridge and Abdul-Jabbar. They needed guard play. I believe it was Wayne Embry at the time who was our general manager, I think they decided that was the time to start to break that team up because we had failed three straight years to win that championship. It was time to break that time up and when they traded me (on Nov. 8, 1974) that signaled the start of the breaking up of that Milwaukee Buck team."

Eddie Doucette: It was classic. The media attention was there. Everything was right for something special. And it turned out that. Unfortunately it didn't turn out for the best for the Bucks and for all of us involved. I mean, I know the guys poured everything they had into this thing. From my perspective, I know what I was pouring into it. Man, it was beautiful. I mean, those were classic moment as that you don't get very often. And as a broadcaster, I'm feeling like it was the ultimate. Well, let's put it this way, the penultimate. The only thing that would've been better would've been the ultimate and that would've been a win.
Jim Owczarski is an award-winning sports journalist and comes to Milwaukee by way of the Chicago Sun-Times Media Network.
A three-year Wisconsin resident who has considered Milwaukee a second home for the better part of seven years, he brings to the market experience covering nearly all major and college sports.
To this point in his career, he has been awarded six national Associated Press Sports Editors awards for investigative reporting, feature writing, breaking news and projects. He is also a four-time nominee for the prestigious Peter J. Lisagor Awards for Exemplary Journalism, presented by the Chicago Headline Club, and is a two-time winner for Best Sports Story. He has also won numerous other Illinois Press Association, Illinois Associated Press and Northern Illinois Newspaper Association awards.
Jim's career started in earnest as a North Central College (Naperville, Ill.) senior in 2002 when he received a Richter Fellowship to cover the Chicago White Sox in spring training. He was hired by the Naperville Sun in 2003 and moved on to the Aurora Beacon News in 2007 before joining OnMilwaukee.com.
In that time, he has covered the events, news and personalities that make up the PGA Tour, LPGA Tour, Major League Baseball, the National Football League, the National Hockey League, NCAA football, baseball and men's and women's basketball as well as boxing, mixed martial arts and various U.S. Olympic teams.
Golf aficionados who venture into Illinois have also read Jim in GOLF Chicago Magazine as well as the Chicago District Golfer and Illinois Golfer magazines.