Lucky Joe's Alchemy & Eatery, 427 Underwood Ave., is set to host a grand opening the weekend of July 23.
The new venue, owned and operated by Lee Guk of Lucky Joe's Tiki Lounge in Walker's Point and business partners Chad Polczynski and Frank Harroun, will be a speakeasy-style bar and eatery which specializes in craft cocktails and small plate style fare.
Guk says he's been interested in branching out to the Wauwatosa area for some time; but timing wasn't right until the space in the Tosa village became available.
Originally, the partners looked into the building at 6502 W. North Ave.; but when plans to secure the building fell through, Guk says he thought their plans to move to Wauwatosa were dead in the water. But, when he found a listing on Craig's List for the space formerly housing One Way Cafe, things started falling into place.
"The opportunity presented us with an opportunity to go a little bit outside the city and try out a new, sophisticated concept in a brand new market," says Guk, "The vibe will be classy, but comfortable with emphasis on service and the little details that make a difference."
Those familiar with the former One Way Cafe will be impressed by the upgrades Guk and his team have made to the space. The 49-seat restaurant houses mostly booth seating with two four-tops in the front window, which can be removed to accommodate space for live music.
Black and white tiled floors evoke a playful vibe while cozy wooden booths outfitted with lights and mirrors, flank cream city brick walls. A copper ceiling sports chandeliers, and a 10-seat carved wooden bar showcases multiple built-ins, including a bookshelf with myriad cocktail tomes.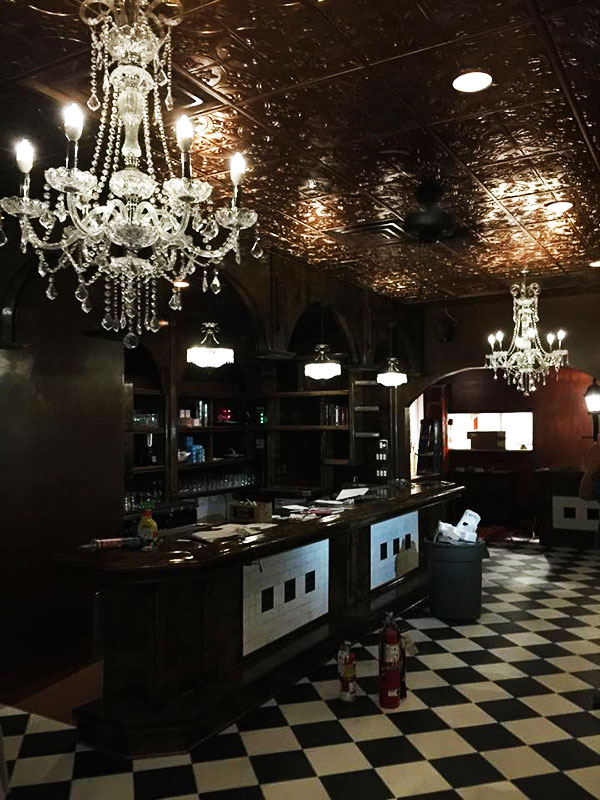 Guk says the concept for the eatery builds off of ideas he originally had for Ten Bells, a bar he opened with fellow bartender and manager Michelle Hoff in 2009, along with numerous bits and pieces he gathered from travel to bars in San Francisco, San Diego, Chicago and Las Vegas.
The seasonal cocktail menu, which will change out every couple of months, will be divided into three sections -- new, borrowed and used. "New" drinks will include Eatery originals like the Summertime Sling with gin, aperol, hibiscus, elderflower and orange liqueurs and pineapple and lime juices and the La Ciguapa, a tequila based cocktail with orange liqueur, lime, bitters and ginger.
The "Used" section will be populated with classic cocktails like the New Orleans Fizz, Aviation and Gypsy Queen, while the "Borrowed" portion of the menu will feature cocktails designed by area bartenders from other venues (the first incarnation will feature tiki drinks -- including Joe's Mai Tye, Rye Tye and Suffering Bastard -- from the Lucky Joe's Tiki Lounge menu). A larger, expanded cocktail menu will feature scads of additional classic cocktails.
As for wine and beer, Guk says they'll stock a selection of about 12 red wines and 12 whites, all available by the bottle with a selection available by the glass. Beer will be limited to about 25 domestic bottled brews, including options like Miller High life along with craft brews like Lagunitas IPA and Founders Breakfast Stout.
The bar experience, Guk says, will be interactive. Bartenders will be invested in assisting customers in choosing the perfect beer or cocktails for their palates, as well as helping more adventurous drinkers to branch out and try something new. Meanwhile, details like hot towel service at the bar, as well as an espresso machine, will pull in amenities often found only at higher end establishments in larger cities.
The small plates, orchestrated by Chef Frank Harroun, will be priced in the range of $8-12. Offerings will consist of dishes like Manhattan braised pulled pork sliders with onion and apple slaw, sous vide duck breast with frisee and spinach and Valentine coffee infused shortribs served with a waffle and sous vide vegetables, along with a selection of salads, antipasto, cheese plates and dips. Bar snacks like marinated olives, housemade "Chex mix" and mixed nuts will also be available.
Desserts will include warm brownies with rum caramel sauce and White Russian tiramisu.
Brunch, which will be served on Sundays, will be a set menu. For $14, patrons will be treated to "brunch for two," which includes hot ham and rolls, scrambled eggs, cheesy hashbrowns and a choice of mimosa or bloody Mary. Brunch service will come complete with a view of 70's and 80's vintage cartoons shown on the bar television.
Special events will include Tuesday Tiki nights and a daily happy hour featuring drink specials served to the tune of vinyl records playing jazz and American standards.
Hours for Lucky Joe's Alchemy & Eatery will be Monday through Thursday from 4 p.m. to close, Friday and Saturday from 2 p.m. to close and Sundays from 10 a.m. to 3 p.m. for brunch service.
Lori Fredrich (Lo) is an eater, writer, wonderer, bon vivante, traveler, cook, gardener and girlwonder. Born and raised in the Milwaukee area, she has tried to leave many times, but seems to be drawn to this quirky city that smells of beer and alewives.
Some might say that she is a little obsessed with food. Lo would say she is A LOT obsessed with food. After all, she has been cooking, eating and enjoying food for decades and has no plans to retire anytime soon.
Lo's recipes and writing have been featured in a variety of publications including GO: Airtran Inflight Magazine, Cheese Connoisseur, Cooking Light, Edible Milwaukee, Milwaukee Magazine and the Milwaukee Journal Sentinel, as well as on the blog Go Bold with Butter, the web site Wisconsin Cheese Talk, and in the quarterly online magazine Grate. Pair. Share.