Milwaukee, will we get a LYFT off here soon? I hope so, and all signs point to yes. Last night I was targeted an ad on Facebook that LYFT was looking for drivers here in Milwaukee. Have you seen it, too?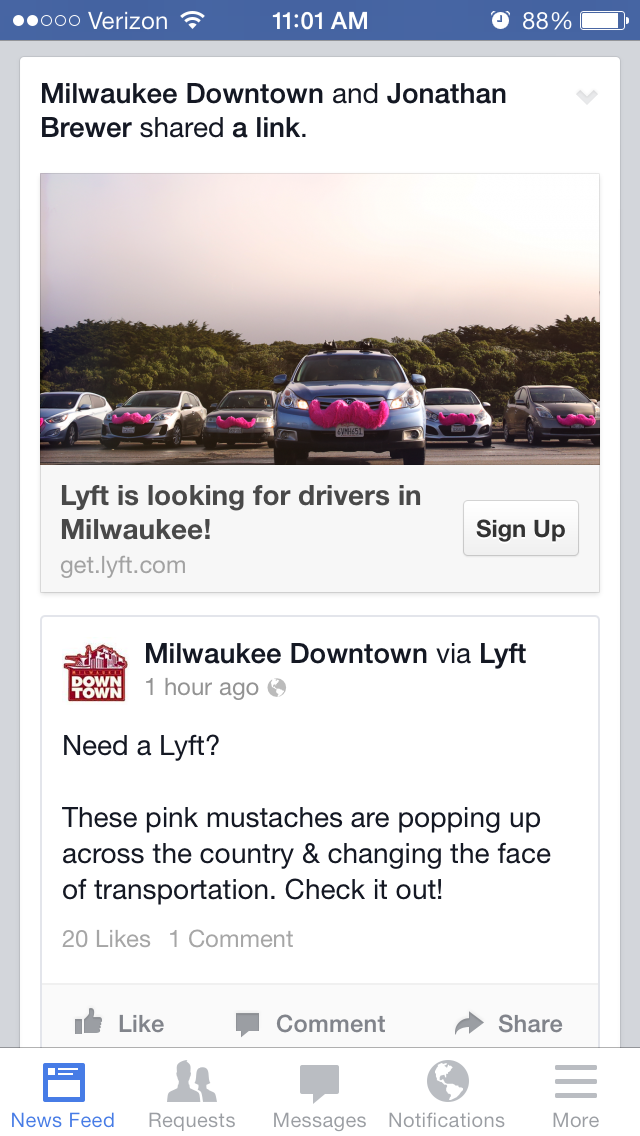 We reached out to confirm they were headed to town, and we can indeed expect them here soon. HURRAY!
At a time when the city is upping the number of taxi permits by 100, Uber has already launched its UberBLACK service here, and LYFT is coming soon. So what are the differences? Both are car services that can get you from one place to another. One has a pink mustache (I cannot wait to see these cruising around Milwaukee) and the other is sleek and black (and, in other cities, yellow). Is that the only difference?
LYFT employs regular people who become your professional driver in their own car. You can make up to $20 an hour driving your own car, and you can choose your own hours. Uber has a staff of professional drivers to make sure you get where you need to be. And they do it very very well. I think I'll use them both, way more than I call for a cab. That is, if the city doesn't make these new options not available for us. And they are indeed, trying to fight it.
I look at the addition of services such as Uber and LYFT as a sign that we are a city that is trying to evolve and change with times. Cabs aren't always easy to get, and honestly, they can be a pain to order and actually get one, though the app Taxi Magic makes it a lot easier.
Oh, and did I mention the mustaches? How can that not bring a smile to your face? Hope to see them cruising around soon!
Carolynn Buser is one of Milwaukee's loudest and most adamant cheerleaders (don't dare try to disagree). She's the primary voice behind much of OnMilwaukee's social media and content direction, and apologizes in advance if she can be too sarcastic at times.
What else? She's a wine lover, closet trashy novel reader, beauty supplies addict and devourer of cheese (shocker for a Wisconsin born and bred girl, right?). She's also a bit of a foodie, which is a word most of you hate, we know. She works as hard as she plays - and that includes in the gym! So, you've probably seen her at one of the area's newest restaurant openings (and yes, she will share her opinions good or bad) or enjoying a cold one at a local pub.
All in all, Carolynn's a believer in positive thinking and will do her best to smack down your negative ones while writing about her city, her loves, quests and more.