Milwaukee neighborhoods were once awash in movie theaters, as hard as that may be to imagine these days, when you can count the number of non-googleplex cinemas in the city limits on one hand.
While many are lost, a few remain, converted to other uses – except in the cases of the Avalon, the Downer, the Oriental, the Times and the Rosebud. The old Riviera Theater has a bike shop in it, for example. The Miramar is a live music venue and home to a recording studio. And the former Lake is photographer Mark Gubin's studio.
Others, like the Tower, sit vacant or mostly so.
At 3804 W. Vliet St. is a former longtime carpet store that's been closed the past few years. But, originally, the building was home to The Lyric Theater, which operated from 1917 to 1952 and had 575 seats.
A few years ago, painting contractor Michael Madson bought the building and has been working to get his permits in order and to do whatever needs to be done – which isn't a lot, really – to make the building a home for his business.
Madson appreciates the building's cinema past and though he doesn't currently have any designs on re-opening it to the public, he is cognizant of preserving whatever bits of theater history survive on the inside and the outside.
"We have not yet set up a spray booth of any kind," he told me recently, "so we're just a painting company using the building for office and storage."
Madson gave me a tour of the building in January and I was amazed to see the remaining facets.
There are padded and studded leather doors separating the tiny lobby from the theater. In the old men's room off to the left, there are roosters painted on the walls.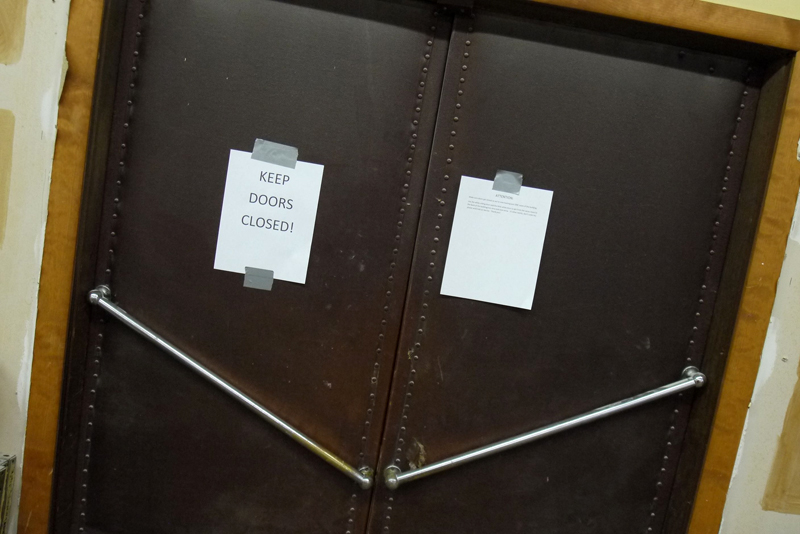 Step inside the theater, which the carpet store owners split into a number of spaces, and you'll see the floor slopes a bit and there are pilasters running along the original walls. In areas where some of the acoustic tile has come off, you can spy painted decorations – in surprisingly still-stunning color.
The pilasters are capped ornately and the light fixtures are all painted plaster. Carved moldings remain, too.
Up above, the projection booth still offers views down into the main theater space. In the basement, some old letters remain from the marquee.
Surely, there's enough here if someone should decide the location and the building warrants the kind of investment required to restore The Lyric.
And they'd have good reason, from a historical standpoint.
The theater was designed by architect John Menge Jr., who also drew the 274-seat Olympic (aka The Casino), 704 W. Walnut St. – which was razed and replaced by the Rose Theater – and nearby, the 438-seat Globe at 1220 W. Walnut St., which operated from 1907 to 1917 and still survives.
When the Saxe brothers bought a penny arcade from the Schultz brothers, they hired Menge to convert it to the Edison movie house.
And Menge drew The Grand, at 738 N. 3rd St., which was later remodeled and renamed the Princess.
In 1901, Menge designed a four-story brick and stone retail and residential building for cinema owner Jacob Litt at 318 W. Wisconsin Ave. (it was razed in 1939). For a time, the address was occupied by Hellers Clothing Store.
(Photo: "Silver Screens" by Larry Widen & Judi Anderson)
Ten years later, he drew up a store for Isaac Goldmann on 9th and Mitchell Streets. Later that same year, he prepared plans for a two-story, $5,500 home for Goldmann around the corner on Lapham Boulevard.
Menge, a German immigrant who, according to U.S. Census data, wrapped up his schooling after the eighth grade, also designed a number of residences in the city.
One of the most recognizable is the Frank Kleczka Residence, 529 E. Oklahoma Ave., across from Humboldt Park in Bay View.
Menge, who served for a time as the Town of Milwaukee building inspector, had his own practice and among his apprentices was George Zagel, who is reported to have designed more than 1,500 buildings in the city, though I'm hard pressed to name even a fraction of them. Another was Hugo Miller, who opened his own practice in 1911 and went on to design residential and commercial buildings around town.
Perhaps more impressive to your grandparents – or great-grandparents, depending on your age – is the fact that The Lyric is where nightclub entertainer Hildegarde Sell (who, like Madonna after her, plied her trade using only her first name) got her start.
Though she was born in Adell and raised in New Holstein, Sell – whom Eleanor Roosevelt called "the First Lady of Supper Clubs" – landed in Milwaukee at 54th and Vliet and, according to Larry Widen and Judi Anderson's fabulous "Silver Screens" book, played piano during silent pictures at The Lyric, while she studied music at Marquette University.
Hildegarde got her big break Downtown, however, when she reportedly went backstage at the Wisconsin Theater and was recruited by a traveling vaudeville troupe.
Later, the Gershwins wrote "My Cousin from Milwaukee" in Hildy's honor.
For now, however, The Lyric remains mute, except for the work Madson undertakes inside its brick walls.
But you can still go past and see it. While the street-level facade has been disappointingly altered, the upper half is as gorgeous as ever and reminds us of the glory days of cinema in Milwaukee's neighborhoods.
Born in Brooklyn, N.Y., where he lived until he was 17, Bobby received his BA-Mass Communications from UWM in 1989 and has lived in Walker's Point, Bay View, Enderis Park, South Milwaukee and on the East Side.
He has published three non-fiction books in Italy – including one about an event in Milwaukee history, which was published in the U.S. in autumn 2010. Four more books, all about Milwaukee, have been published by The History Press.
With his most recent band, The Yell Leaders, Bobby released four LPs and had a songs featured in episodes of TV's "Party of Five" and "Dawson's Creek," and films in Japan, South America and the U.S. The Yell Leaders were named the best unsigned band in their region by VH-1 as part of its Rock Across America 1998 Tour. Most recently, the band contributed tracks to a UK vinyl/CD tribute to the Redskins and collaborated on a track with Italian novelist Enrico Remmert.
He's produced three installments of the "OMCD" series of local music compilations for OnMilwaukee.com and in 2007 produced a CD of Italian music and poetry.
In 2005, he was awarded the City of Asti's (Italy) Journalism Prize for his work focusing on that area. He has also won awards from the Milwaukee Press Club.
He can be heard weekly on 88Nine Radio Milwaukee talking about his "Urban Spelunking" series of stories.