As a professional dancer, Jessica Fastabend exudes grace, while performing as well as teaching. For the past 11 weeks, Fastabend spent two hours every week in the Lowell International Elementary School gym to prepare 4th graders to participate in an annual dance competition called Mad Hot Ballroom.
On a cold, snowy Monday afternoon, Fastabend – a member of Danceworks – and her 25 students flow seamlessly from sitting in a circle to dancing in rows.
"You guys are amazing!" Fastabend yells out to the kids, many of whom start beaming after receiving the praise.
"I'm so proud of the students at Lowell," says Candice Wegner, the senior director of communications for Danceworks. "Ms. Fastabend from Danceworks and Ms. Benning from Lowell worked really hard with these students and it showed."
The competition took place on Thursday, Jan. 24 at the UWM Panther Arena. It's former home was the Bradley Center. The always-entertaining Van McNeil served as the emcee.
Thirty-eight schools competed in swing tap, Latin tap and, for the first time, hip hop-style dance. A panel of judges chose winners for each dance style based on attitude and energy.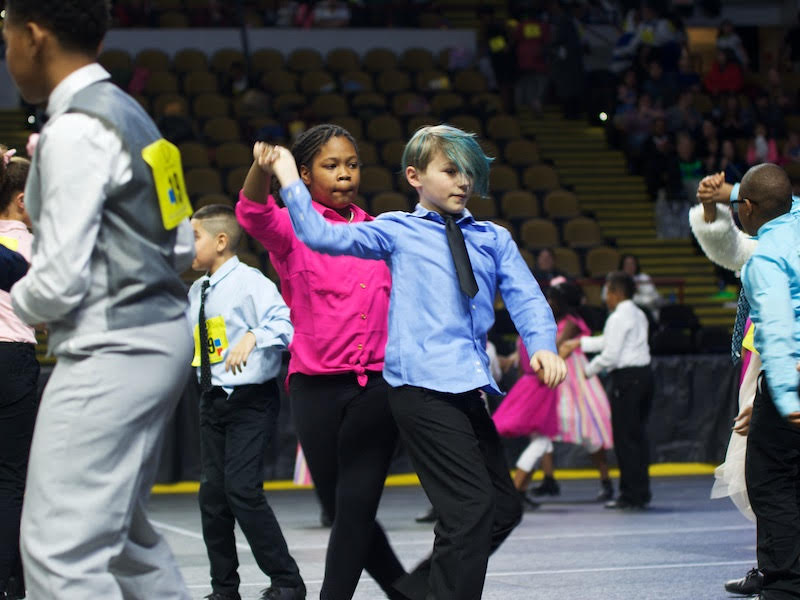 MacDowell Montessori took the top spot for hip-hop; St. Martin's came in first place for Latin and Fifty-Third Street school nabbed the highest honors in swing. Although Lowell did not place in the competition this year, winning a blue ribbon is not the sole nor main purpose of Mad Hot.
"Our goals are to help build self confidence, respect for themselves and others and to appreciate physical activity," says Wegner. "You could see confidence in their smiles and they definitely competed as a team. And that's what it means to win."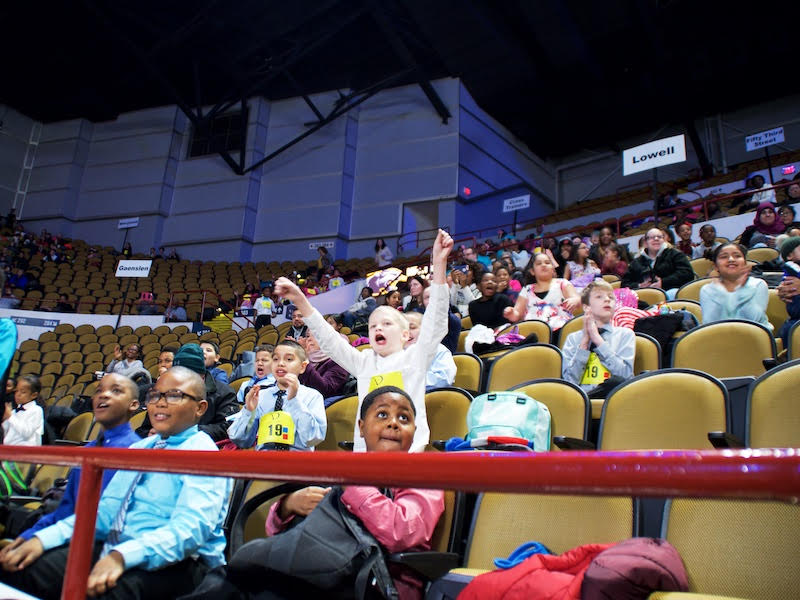 For the past 13 years, Danceworks has partnered with myriad Milwaukee public and private schools to enact the Mad Hot Ballroom program that started in New York and was the subject of a 2005 documentary.
This year, 38 schools participated in the program that runs from September to May. Participating schools select one or more 4th or 5th grade classrooms to participate in tap – from September to January – and one or more 5th or 6th grade classrooms to participate in ballroom from February to May.
"We all know that because of budget cuts the arts become extracurriculars to make sure academics are taken care of," says Wegner. "We want to make sure students still get plenty of exercise, learn valuable lessons through arts programming and have a lot of fun."

Molly Snyder started writing and publishing her work at the age 10, when her community newspaper printed her poem, "The Unicorn." Since then, she's expanded beyond the subject of mythical creatures and written in many different mediums but, nearest and dearest to her heart, thousands of articles for OnMilwaukee.

Molly is a regular contributor to FOX6 News and numerous radio stations as well as the co-host of "Dandelions: A Podcast For Women." She's received five Milwaukee Press Club Awards, served as the Pfister Narrator and is the Wisconsin State Fair's Celebrity Cream Puff Eating Champion of 2019.