Maddie & Tae came ready and raring for the Big Gig, bringing a hopeful great show to the stage. It sadly, however, seemed to not be as well-received as it could have been.
While the award-winning country artist pair aren't as well known in the industry as Tim McGraw, Blake Shelton, Carrie Underwood or Luke Bryan, they have a few hits – including the platinum-certified number one country radio hit, "Die From A Broken Heart."
Maddie & Tae, short for their full names Madison Font (nee Marlow) and Taylor Kerr (nee Dye), mentioned they're best friends and have been making music for the past 11 years. They performed at Summerfest Friday evening at the UScellular Connection Stage before the sun went down.
Kerr came dressed with silver sparkly shorts and a silver rhinestone top piece. Font was donning a sparkly belt. Clearly they were stage-ready and danced energetically throughout the show. Not once did I notice them losing any power. They told the audience a brief story of a time they previously visited Milwaukee and played a gig in some lady's garage as the reason they were thankful to be making waves in music and playing at Summerfest.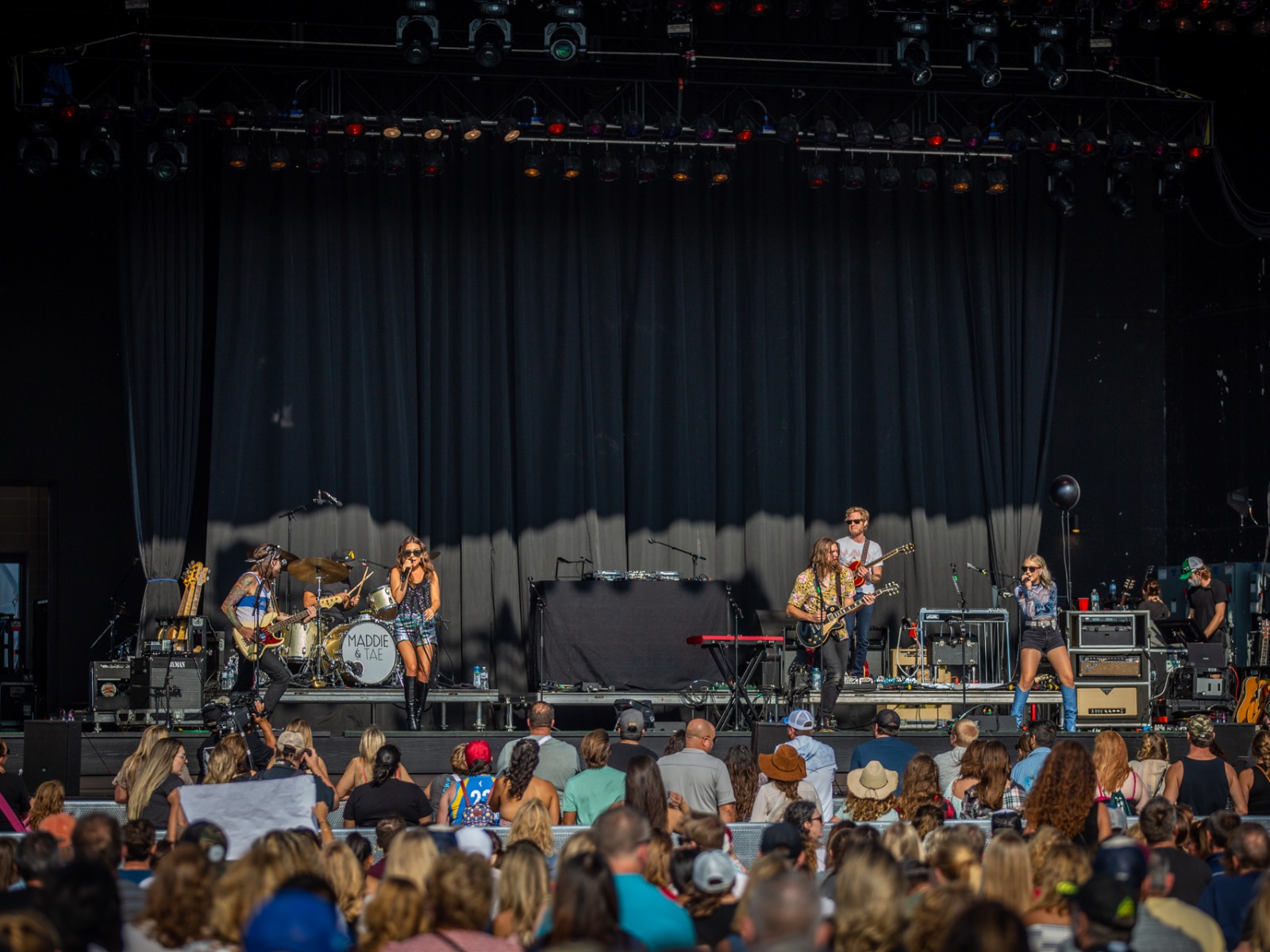 I appreciate their talent and I enjoyed the show, but it wasn't quite at the level of other country concerts I've seen. Here's five reasons I'm speculating why.
1. It wasn't a primetime show
The members of the audience had their backs to the sun during the entirety of the concert. With the warmth of the rays, it seemed like summer despite the calendar telling me it was September – which was nice. But it may not have been the most perfect setting for a concert, taking place during the mid-day and taking place without the scene-setting, looser dark late evening atmosphere. The stage and general show darkness can really contribute to the ambiance and the general vibe of the show. Obviously Maddie & Tae don't have control over when the sun goes down, so I'm not blaming them for this one. But let's hope that next time Maddie & Tae are back at Summerfest, they have a show closer to primetime.
2. They played brand-new, unreleased songs
Don't get me wrong: I always love hearing new, unreleased songs at a concert. It makes me feel like I'm a special music "insider" with a sneak preview. However, the setlist included "Madness" and "Grown Man Cry," two unlreased tracks, right in a row. The audience couldn't sing along and left some people scratching their heads.
3. They played not-as-well-known songs in general
Looking around at the audience, people mainly only sang along during the hits that they knew, which was about four total songs: "Girl In A Country Song," "Fly," "Die From A Broken Heart" and "Love On Top." "Love On Top" wasn't even a Maddie & Tae original – it was a Beyonce cover. Again, maybe this one wasn't entirely the duo's fault, because they don't have a ton of hits that everyone knows in the first place. It can be hard for artists to pick up speed and fame. But maybe they could've thrown in some more cover songs for this concert that would get more people up, singing and dancing.
4. They didn't engage the audience much
Sort of going along with my last point, the audience really didn't show much interest in the show, except for when the hits were played … but looking up and down the rows of people, even the hits didn't have everyone bouncing with excitement like I've seen at other country music concerts. Sure, there were a select few in the pit who were having a great time, and the first few rows of bleachers were practically dancing their feet off at times. But the majority of the audience didn't stand once during the show, which is an important indication of enjoyment. I wish Maddie & Tae attempted to engage the audience more, whether that be call and response type sing-alongs to encourage more singing, asking everyone to get up on their feet or do more with their hands, such as clapping or waving.
5. They played their number one song halfway through the show
The first rule of concert setlists is to save your best hit for last — or, if you already played your best hit, to play something punchy enough that will suffice just as much. Songs that fit those criteria leave a strong impression so the audience can go home happy with the best or punchiest tune still in their heads. At this concert, Maddie & Tae played "Die From A Broken Heart" twelfth in line. After I heard that song, I thought to myself there isn't a song left I was hoping I'd hear – and it seemed many audience members agreed and decided that was it. I looked around and saw plenty of people leaving. Instead, the band ended on "Life Ain't Fair," the (official) latest release, with the track debuting on Aug. 6. I can understand Maddie & Tae's excitement with playing a new track; however, the audience didn't know this song quite yet.
I would love to see Maddie & Tae again, but hopefully by that next time they'll have come out with a few more hit tracks – and figure out how to ensure the audience has a better time.
Setlist
"What It's Like Loving You"
"Mood Ring"
"New Dog Old Tricks"
"Girl In A Country Song"
"Woman You Got"
"Friends Don't"
"Everywhere I'm Goin'"
"I Don't Need To Know"
"Fly"
"Drunk Or Lonely"
"One Heart To Another"
"Die From A Broken Heart"
"Trying On Rings"
"Madness"
"Grown Man Cry"
"Write A Book"
"Love On Top" (Beyonce cover)
"My Man"
"Bathroom Floor"
"Life Ain't Fair"