For years – 77 years, to be exact – there's been a painting in museum storage that's had a question mark next to it.
The work, donated in 1941 to the Layton Art Gallery by prominent Milwaukee art collector and real estate magnate Arthur Nye McGeoch, was in a frame bearing a plaque that attributed it to English naturalistic landscape painter John Constable (1776–1837).
But, early on, experts were already skeptical. And so the painting sat in stoage, most recently for decades in the Milwaukee Art Museum, where the Layton collection has been since 1957. Now it is the centerpiece of a tiny but important exhibition tucked away on the second floor of the museum.
"Constable? A Landscape Rediscovered" opens Friday, Sept. 7 in the European Art Galleries, Level 2, Gallery S202, with just two paintings a few related objects.
"That attribution (to Constable) was essentially sort of doubted for most of the time it's been here," says Tanya Paul, Isabel and Alfred Bader Curator of European Art at the Milwaukee Art Museum. "There's a lot of early opinions in the object file that express doubt about whether this was by Constable or not."
The painting before (above), and during (below) cleaning.
(PHOTOS: Milwaukee Art Museum)

As a result, the work has only been on view in the museum for a few very brief stints, says Paul, who adds that the painting is an oil sketch on paper, later mounted on canvas – a medium painters typically used when creating preparatory sketches on their way to completed works.
Though the painting was a landscape not altogether unlike what one might expect from Constable, there were things that didn't ring true; that simply didn't seem right to experts who looked closely.
Mark Bockrath at work (above), and the cleaned painting (below).
(PHOTOS: Milwaukee Art Museum)

"The elements that kind of suggest maybe it could be passed off as a Constable are the little horse and cart, which is kind of a characteristic Constable feature, and the kind of brown-green foliage.
"But when you start looking at it more closely, there's a couple of dead giveaways, the first being the mansard roof, which is, of course, a French form of architecture, and Constable painted exclusively in England. The rock formation is not something you typically see in his work, and the paint application is much more loose, it's much more flowing, it's a lot thicker, particularly in the clouds. When you look at Constable's clouds, they don't have this kind of thick, sort of impasto. The sort of art that does is actually early French 19th century landscapes – the Barbizon school, that kind of period."
**SPOILER ALERT – If you want to find out for yourself if this is a Constable work, stop reading now and run right over to Milwaukee Art Museum.**
The Barbizon feel of the work led Paul to consider painters who were part of that school, and more specifically to Théodore Rousseau. She took her suspicions to a colleague, who nearly gasped when he saw the work she was talking about.
"I reached out to Scott Allan at the J. Paul Getty Museum, which has done a Rousseau exhibition, and he confirmed for me that it is indeed a Rousseau, and, in fact, it is a lost Rousseau."
The work, "View on the Outskirts of Granville (1831–32)," is a well-known, presumed lost oil sketch for a much larger painting that is now in the collection of The State Hermitage Museum in St. Petersburg, Russia.

(PHOTO: HermitageMuseum.org)
So, while the Constable is no longer a Constable, it is now a Rousseau.
"Oh, without any question," says Paul of the new attribution. "The last time this painting was published was in 1873. It was in the possession of Paul Durand-Ruel, who was a gallery owner in Paris, a big Impressionist booster, and he published it, and we actually have the 1873 catalog. It was published as a Rousseau and we know that he sold it to an unknown buyer – right before he published the catalog – in 1872 from his Brussels gallery. And at that point it drops off the radar."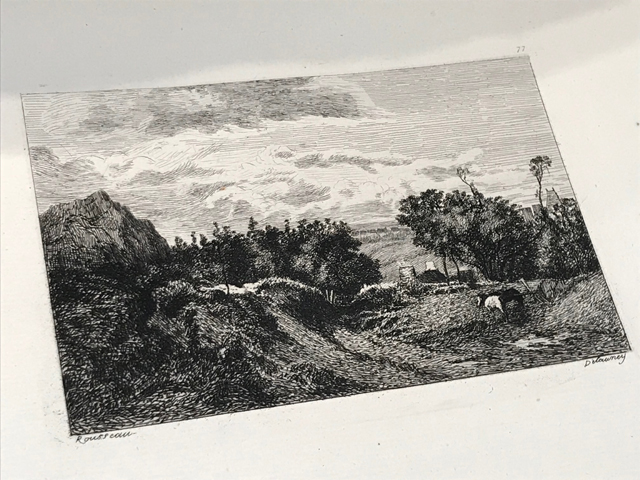 The 1873 print of the work (above) and the catalog in which it appeared (below).
Somehow – no one is exactly sure how – the painting arrived in Milwaukee in the collection of McGeoch, and for nearly 80 years, it's been part of the Layton Art Collection.
"It's been sitting in storage here, hiding as a Constable for all these years," Paul says. "It's one of those things. You never know what's hiding in the collection. You never know what mysteries there are.
"When Catherine Sawinski, my assistant curator, and I were doing the assessment of the collection for planning for the re-installation, this was a work that we looked at. We were both like, 'this is a really good picture. It's probably not what we think it is, but it's a really good painting, and in the future we want to do something with it.' And then this Layton Focus Exhibition was just a perfect opportunity to do that."
So, the time is now.
But before this important work could be shown, it needed to be cleaned.
"It was really, really dirty," Paul says. "It had a yellowed varnish, and that varnish was covered in a grime layer."
So, the museum tapped Philadelphia-based conservator Mark Bockrath to come to Milwaukee to return the sparkle to this painting.
"It's dramatic. It's one of those things where he was sort of cleaning from right to left, and he got halfway across and there's this beautiful, pristine sky (on the right) and this schmutz off to the left."
The painting, says Paul, is a nice addition to the museum's collection, though, of course, it's already been part of the collection for a long time.
"A Constable is a very different thing than a Rousseau," she says, philosophically. "I kind of love that it's a Rousseau. I think he's a fascinating artist, and we have a Rousseau in the museum's collection already, which will be in the show.
"That work is from the late part of his career, and this is from the very beginning, so this kind of shows the two poles and his arc of his career, so that's nice. I just think it's a fabulous painting. I think it's beautifully painted."
That other painting in the show is Rousseau's 1855/60 oil on panel "Sunset Landscape (Coucher de soleil à Barbizon)," a stunningly lit twilight scene (pictured below).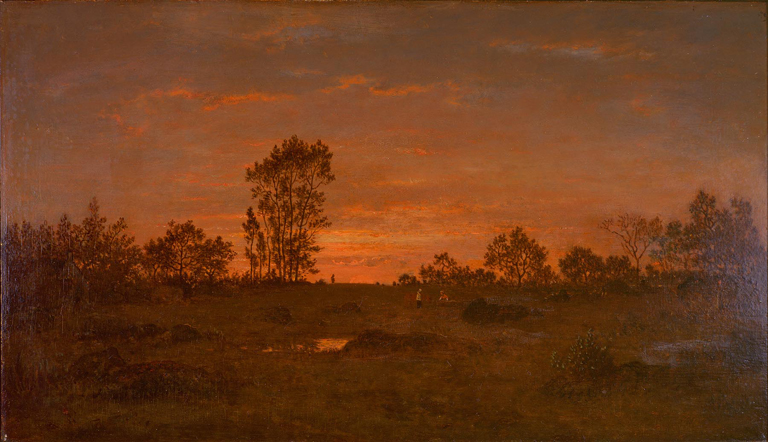 (PHOTO: Milwaukee Art Museum)
In addition to these two works, the modest but illuminating exhibition will include explanations (and a video) of the conservation process, and of the research undertaken to reattribute the work. The print of the MAM work from Durand-Ruel's 1873 catalogue will also be on display.
The museum took this opportunity to acquire a complete original copy of the catalogue for its collection. The large catalogue includes prints of a number of important works and when I tell Paul I can feel another small exhibition coming – this one focusing on these catalogues – she smiles tellingly.
The "Constable?" exhibition will be on view at the museum through Feb. 17, 2019.
"It is a beautiful work of art that deserved to be cleaned and studied," said Jodi Eastberg, a professor of history at Alverno College and the chair of the works of art committee for the Layton Art Collection, of the reattributed work.
"We were all completely prepared that we would end up with just a very beautiful and restored work of art, but instead we've solved a mystery."
Born in Brooklyn, N.Y., where he lived until he was 17, Bobby received his BA-Mass Communications from UWM in 1989 and has lived in Walker's Point, Bay View, Enderis Park, South Milwaukee and on the East Side.
He has published three non-fiction books in Italy – including one about an event in Milwaukee history, which was published in the U.S. in autumn 2010. Four more books, all about Milwaukee, have been published by The History Press.
With his most recent band, The Yell Leaders, Bobby released four LPs and had a songs featured in episodes of TV's "Party of Five" and "Dawson's Creek," and films in Japan, South America and the U.S. The Yell Leaders were named the best unsigned band in their region by VH-1 as part of its Rock Across America 1998 Tour. Most recently, the band contributed tracks to a UK vinyl/CD tribute to the Redskins and collaborated on a track with Italian novelist Enrico Remmert.
He's produced three installments of the "OMCD" series of local music compilations for OnMilwaukee.com and in 2007 produced a CD of Italian music and poetry.
In 2005, he was awarded the City of Asti's (Italy) Journalism Prize for his work focusing on that area. He has also won awards from the Milwaukee Press Club.
He can be heard weekly on 88Nine Radio Milwaukee talking about his "Urban Spelunking" series of stories.