Milwaukee fills the frame in a new photography exhibition at Milwaukee Art Museum.
"Portrait of Milwaukee," curated by the museum's Ariel Pate, the show, with 120 photographs from across the 20th century, opens Friday, Sept. 6 in the Herzfeld Center for Photography and Media Arts and runs through March 1, 2020.
"It's not a definitive portrait," says Pate, of the show. "Instead, I pulled five themes from the city's history and presented photographers who are living and working in the 20th century here in the city."
The photographers – a mix of artists, photographers and photojournalists – offer their own unique perspective of the Cream City. There are industrial photographs, retail images depicting shop owners in their stores, journalistic images of car wrecks (a la Weegie!) and protests, portraits of all kinds and a series of images documenting the Civil Rights Movement here, too.
"I picked this era, the 20th century because I really feel like it sets the stage for the Milwaukee we know today, you know, we're going through a lot of change right now," says Pate. "There's a lot of new exciting things on the horizon, but I also wanted to show us our history and so we can reflect on how far we've come and what issues are still with us."
Pate was also eager to highlight a game-changing invention made in Milwaukee that altered the way not ust photojournalists but all photographers could work.
"One of the really great things about the show was being able to do a little more of a deep dive into research of our own permanent collection," says Pate.
"One of the sort of surprises was researching Edward Farber. He was the inventor of the portable electronic flash, which was a huge milestone for photojournalists because it meant they no longer had to use flash powder, which was explosive and dangerous, or flash bulbs, which were basically single use."
Farber invented the battery-operated flash attachment while working as a photographer at the Milwaukee Journal.
"So that really meant that the Milwaukee Journal had (a) really incredible newsroom and really incredible photojournalists," says Pate. "They won a lot of awards for that. And so I was really excited to sort of showcase some of those photographs."
I asked Pate to highlight some of her favorite images from the show and these are the ones she chose.
Edward Rolke Farber, Communists Picket Nazis, 1938. Gelatin silver print. Gift of the Wisconsin News Photographers Association to the Edward Farber Memorial Collection, M1983.58. Copy photo by John R. Glembin.
"What I love about it is that the whole crowd is looking towards this one focal point. Where the security guy, who knows who he is, is restraining a woman and pushing her back. In the late 1930s the German-American Bund was an organization that had a chapter in Milwaukee that was supporting the National Socialists. And so all these people ... basically a coalition of leftists, people from possibly the ACLU, people from like the Czechoslovakian Freedom Movement, are all coming out to picket these Nazis. Actually 5,000 people came out to picket this rally. It was like one of those moments where you're like, 'go Milwaukee!'"
Erwin Gebhard, A Tear For a King, 1968, printed later. Gelatin silver print. Gift of the Wisconsin News Photographers Association to the Edward Farber Memorial Collection, M1983.70. Copy photo by John R. Glembin. © Milwaukee Journal Sentinel
"This photograph by Erwin Gebhardt ... was taken for the Milwaukee Journal at the Memorial March for Dr. Martin Luther King, Jr. And it ran on the cover of the paper on the day after the march. And it sort of sums up the feeling of Milwaukeeans and the country about the assassination of MLK.
"What's so striking about it is that behind him you can see someone's sweatshirt that says 'Milwaukee' and that 's actually a youth council sweatshirt. The NAACP youth council was a youth-led organization that organized the 200 consecutive nights of marches for open housing. And the commandos, which was sort of their security branch, managed the security for the Memorial March. The Milwaukee March was the largest peaceful march in the country and it was in large part due to their help. So this photograph not only says something about the mood of the country, but also about the incredible organizing that was happening."
Larry Chatman, Couple Outside W & L, 1979/89, printed 2019. Inkjet print. Courtesy of the artist. © Larry Chatman
"Larry Chapman moved to Milwaukee in 1976 to teach photography at the Milwaukee Area Technical College, and he started to go out to North Side bars, in search of subjects. He was looking for something to photograph and people to photograph. He would go to a local bar and befriend the regulars, and he would come back consecutive nights and he would take photographs the first night and then the next night he would come back with prints from the previous night and leave a box on the bar, supposedly for sale. But really he just wanted people to have them, and so they would take them. It was his way to kind of befriend the people, and become part of this community.
"They're really beautiful, touching photographs of young African-American people on the city's North Side in the late '70s and early '80s. And what's really somewhat tragic about them is that this is the generation that was really going to suffer from Milwaukee's de-industrialization. But in these photographs, they're so optimistic and so full of life and so perfectly stylishly dressed to go out on a Friday or Saturday night."
Mark E. Jensen, Linus Mullarkey, Barber (East Side, Milwaukee, WI), ca. 1975. Gift of Douglas C. James, Frederick P. Stratton, Jr., and Photography Council, M2001.46. Copy photo by John R. Glembin. © Mark E. Jensen
"Mark was a photographer who came here to attend to UWM. He didn't graduate from their photo department, but he was from their fine arts department, and he went around the neighborhood around Downer Avenue taking photographs of small business owners in the area and he was sort of interested in these small business owners doing their thing, running their businesses. The rest of them are storefront photographs. There's a woman with a flower shop and then a portrait studio, which is amazing."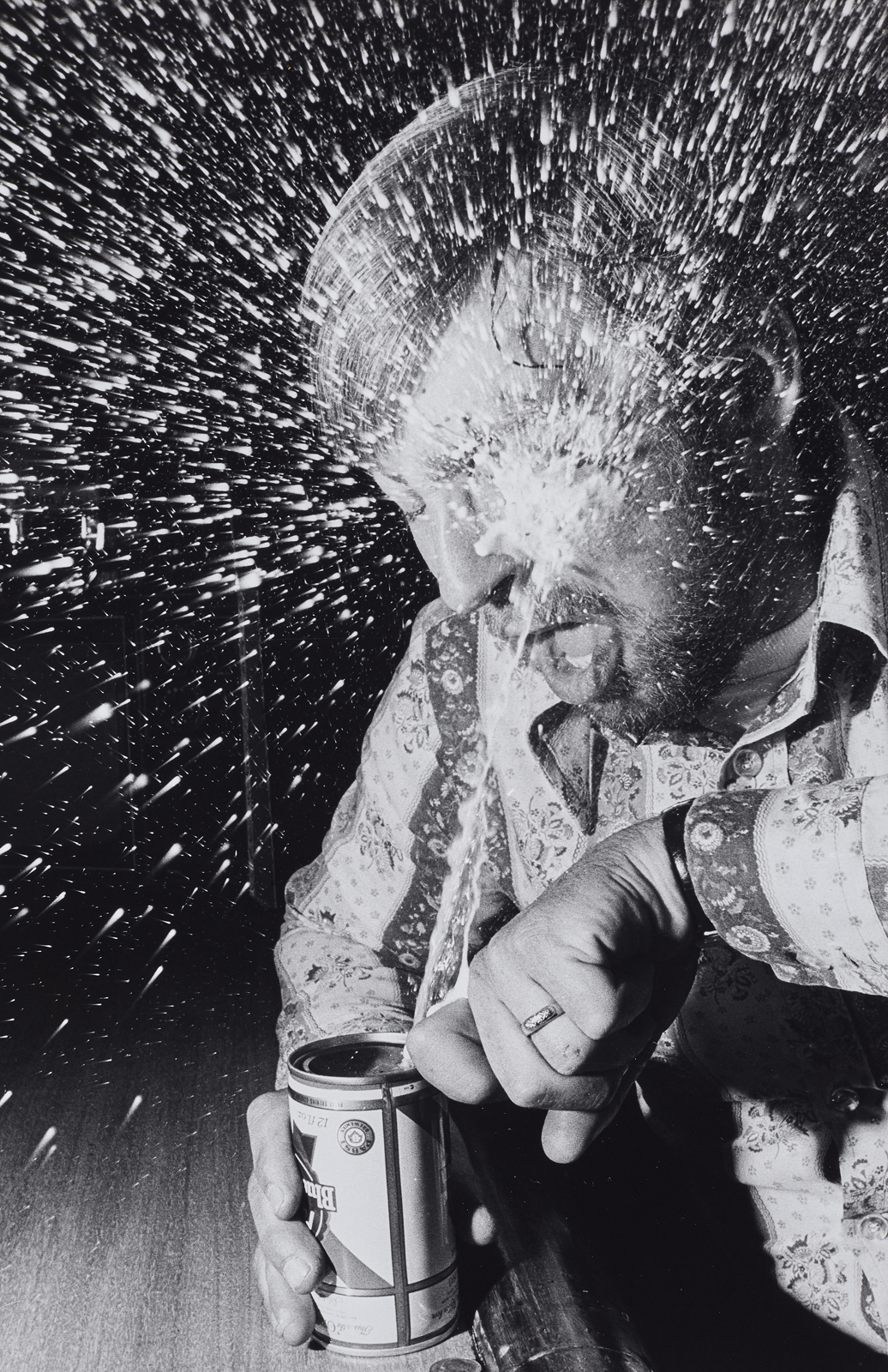 Arthur P. Haas, Beer Can Convention, 1973. Gelatin silver print. Gift of the Wisconsin News Photographers Association to the Edward Farber Memorial Collection, M1983.95. Copy photo by John R. Glembin. © Racine Journal Times
"So this is a photograph by Arthur P. Haas that was taken for the Racine Journal Times (at) a beer can convention, and this guy is actually a beer can collector, which is why he's opening the can on the bottom. Because he wants to save the can. This is in the section of the show that looks at the connection between industry and water, and brewing is a prime example for me, and this really shows how deeply the beer culture is embedded in Milwaukee's culture. And I love his flowery shirt. So '70s, so perfect."
Born in Brooklyn, N.Y., where he lived until he was 17, Bobby received his BA-Mass Communications from UWM in 1989 and has lived in Walker's Point, Bay View, Enderis Park, South Milwaukee and on the East Side.
He has published three non-fiction books in Italy – including one about an event in Milwaukee history, which was published in the U.S. in autumn 2010. Four more books, all about Milwaukee, have been published by The History Press.
With his most recent band, The Yell Leaders, Bobby released four LPs and had a songs featured in episodes of TV's "Party of Five" and "Dawson's Creek," and films in Japan, South America and the U.S. The Yell Leaders were named the best unsigned band in their region by VH-1 as part of its Rock Across America 1998 Tour. Most recently, the band contributed tracks to a UK vinyl/CD tribute to the Redskins and collaborated on a track with Italian novelist Enrico Remmert.
He's produced three installments of the "OMCD" series of local music compilations for OnMilwaukee.com and in 2007 produced a CD of Italian music and poetry.
In 2005, he was awarded the City of Asti's (Italy) Journalism Prize for his work focusing on that area. He has also won awards from the Milwaukee Press Club.
He can be heard weekly on 88Nine Radio Milwaukee talking about his "Urban Spelunking" series of stories.