According to event organizer Scott Johnson, the Mama Tried motorcycle show was founded for, primarily, one reason.
"The mission of Mama Tried is to bring together the custom motorcycle culture with the motorcycle racing culture," says Johnson.
It's also for motorcycle enthusiasts of all kinds – as well as those who just like to party like bikers.
The show, which returns for another year in a new location, will feature more than 100 different hand-built motorcycles.
"We'll be in the same place for at least the next two years after this. We've had to move it several times, and we really like this place and the folks that run it. We're hoping to stay for a while," says Johnson. "It's a huge building – the actual bike show itself is on the top floor with great views of the H-D Museum."
Most of the events take place this weekend, Feb. 19-21, in a building in Walker's Point, 126 S. Second St. The Saturday hours are from 10 a.m. to 10 p.m., while the Sunday hours run from 10 a.m. to 3 p.m. There will also be ice racing at a to-be-announced local lake on Sunday.
Tickets are $10 at the door for adults, and children 12 and under are free. The event will offer food, beer, a vendor area – including a photo booth by Gun Cotton Tintype Photography – and a free shuttle to and from the Harley-Davidson Museum.
Pre-show events on Friday include an indoor flat track race – on a sticky, coke-syrup-treated concrete floor – at the UWM Panther Arena, 400 W. Kilbourn Ave., at 6:30 p.m. The race will feature seven classes and over 150 racers from all over the country. Tickets are $10 in advance at the arena ticket window and $15 the day of. Pit passes are available for an additional $15.
Evening events include a pre-party on Friday, Feb. 19 at the Harley-Davidson Museum at 9 p.m. featuring the band Moon Curse. On Saturday night, Club Garibaldi will host Hand of Doom (a tribute to Black Sabbath) at 11 p.m.
Fore more information on Mama Tried's schedule of events, go here.
Johnson and his business partner, Warren Heir, organized Mama Tried as an indoor winter event to avoid competing with the barrage of weekend summer festivals and parties. Maureen Post, who Johnson describes as "the brains behind the operation as our event coordinator," and Jeremy Prach, the founder of the Riverwest 24 and the promoter of the Flat Out Friday race, are also driving forces behind Mama Tried.
Rockerbox, Johnson's original motorcycle gathering, took place for a decade on Center Street in Riverwest and in recent years moved to Road America for the AHRMA Vintage Motorcycle Racing weekend.
"Mama Tried was never intended as a replacement for Rockerbox. That had run its course and expanded beyond the limitations of the street and neighborhood," says Johnson.
The Brewtown Rumble – a vintage moto fest featuring an antique and classic motorcycle show, live music, pin-up girl contest and vendors – made its debut in 2015.
The Mama Tried motorcycle show is named after a song of the same name by Merle Haggard. It was covered by Johnny Cash, David Allan Coe, Willie Nelson, Joan Baez and many other musicians and is about a mother who attempted to rehabilitate her rebel son.
"At Mama Tried you can get right up close to the bikes and it brings the street bike guys and racing guys into the same room and gets them talking and then all kinds of cool new things start happening," says Johnson.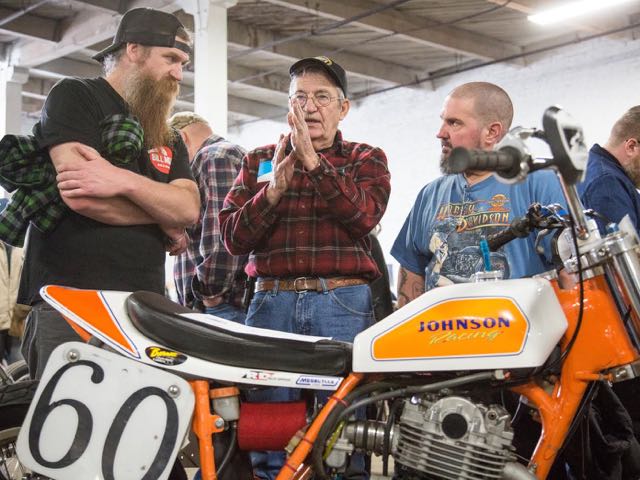 Molly Snyder started writing and publishing her work at the age 10, when her community newspaper printed her poem, "The Unicorn." Since then, she's expanded beyond the subject of mythical creatures and written in many different mediums but, nearest and dearest to her heart, thousands of articles for OnMilwaukee.

Molly is a regular contributor to FOX6 News and numerous radio stations as well as the co-host of "Dandelions: A Podcast For Women." She's received five Milwaukee Press Club Awards, served as the Pfister Narrator and is the Wisconsin State Fair's Celebrity Cream Puff Eating Champion of 2019.