Check in early and stay late during OnMilwaukee's "Hotel Week" sponsored by VISIT Milwaukee. The next seven days will be packed with stories about historic area hotels, reviews, history, food and drink, staycations and more. Find out what it's like to be a tourist in this town (chocolate on your pillow not included).
If you venture west of Downtown on Wells Street past the Marquette University campus, you'll find yourself beneath the shade of towering trees in one of the most historic neighborhoods in Milwaukee. The Concordia district is often considered a "transitional" neighborhood, but you are missing out if you don't slow down, pull into the off-street parking and take in the beauty of the Manderley Bed & Breakfast, one of the most lovely diamonds in the rough on Wells Street.
Originally the home of David and Adda Howie, this restored and beautiful Wells Street mansion was built in 1886. Today, you can make it your home-away-from-home thanks to hosts Andrew and Marie.
Though it didn't hold all the key components Andy and Marie were looking for originally in a bed and breakfast, Manderley ended up being the inn of their dreams. Seven years of painstakingly careful rehab took place, with their own sweat, grime and tears making the once beautiful eight bedroom mansion glorious once again. And wow, did that work pay off.
In a manner that perfectly captures the romantic spirit of the Victorian Era, the Manderley invites you in and wraps you with warmth and graciousness that is distinctly Milwaukee. The cream city brick Queen Anne Mansion features tastefully appointed rooms with antique furniture and art. From the handmade stained glass windows to the large grand elegant staircase – you can't miss the love and care the owners put into rehabbing this house.
During your stay, you can choose between four rooms, each with its own character and a private bathroom. The rooms – Millie, Bessie, Sophie and Franceska – are aptly named for women who inhabited the house during the Victorian era. I stayed in Bessie. The large romantic room features hand painted walls and ceiling in a design that takes you back to the elegant 1880s. However, it's been updated with modern amenities including a dual head shower and whirlpool tub. I made to sure to take a dip in the tub.
The bed was comfortable, cozy and warm – which would especially be appreciated in winter. The full length velvet curtains closed out all the world and the historic room became my own little island for the night. When the weather is crisp, they even provide a Duraflame log for the romance of a natural wood fire to help you cozy up for the evening.
Freshly homemade cookies awaited me upon arrival and a well stocked guest supply closet provided anything I may have forgotten to bring with me. A fridge stocked with waters and sodas was also available for my stay. You can explore their extensive library of books that focuses on Wisconsin and Milwaukee books and then lounge in one of the parlors to enjoy it.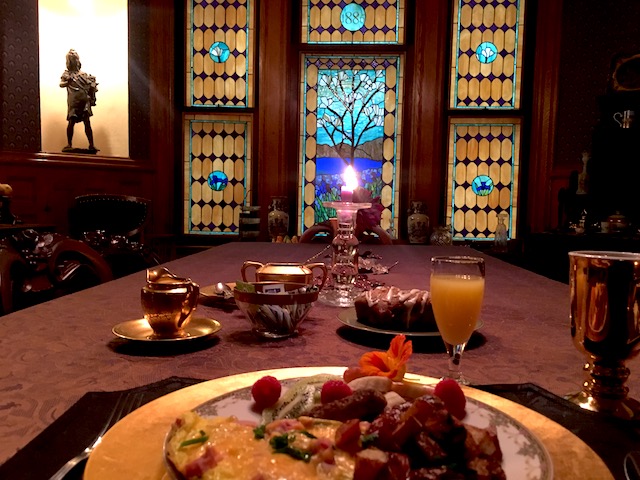 A homemade candlelit breakfast awaited me in the morning that included delicious pumpkin bread, frittata, fresh fruit and a bottomless cup of coffee. I'm one of those people who enjoy a cup or two before I actually settle in to eat, and appreciated that the coffee was ready about an hour before we sat down to breakfast.
I took the opportunity to go outside to meet the resident kitty-cats as well as the chickens, which provide the eggs we enjoyed for breakfast. The grounds are impressive and much more expansive than you would imagine. The lot is deep and includes multiple seating areas and nooks for you to enjoy when the weather is kind. My favorite was the chicken-coop viewing area – I could not get enough of those chickens.
The location is perfectly suited to a night out for a show at The Rave, a game at Miller Park and is a less than 5 minute Uber ride to Downtown. If you're looking for a restaurant in the immediate vicinity, you can choose from options including Daddy's Soul Food, The Tandem or do as I did and order in. I enjoyed a calzone from Sal's Pizza, located just blocks away on Wisconsin Avenue.
I was grateful for the opportunity to stop and sit back and take in the glorious house, gardens, history and much more. But, one of the most enjoyable aspects of the Manderley are its hosts. I chatted with Andy and Marie for hours about everything and anything and they are a wealth of knowledge.
Equipped with information about the city, its history, what to do and where to go, they have the potential to become your own personal tour guides.
When contemplating a stay in Milwaukee, you could choose a hotel just a few blocks east and be in the thick of Downtown – but you would miss out on the history and beauty of staying in a place like the Manderley and meeting folks like Andy and Marie.
Overall, the Manderley will now be among my top choices to recommend to someone when looking for a place to call home in Milwaukee for a few nights.
Carolynn Buser is one of Milwaukee's loudest and most adamant cheerleaders (don't dare try to disagree). She's the primary voice behind much of OnMilwaukee's social media and content direction, and apologizes in advance if she can be too sarcastic at times.
What else? She's a wine lover, closet trashy novel reader, beauty supplies addict and devourer of cheese (shocker for a Wisconsin born and bred girl, right?). She's also a bit of a foodie, which is a word most of you hate, we know. She works as hard as she plays - and that includes in the gym! So, you've probably seen her at one of the area's newest restaurant openings (and yes, she will share her opinions good or bad) or enjoying a cold one at a local pub.
All in all, Carolynn's a believer in positive thinking and will do her best to smack down your negative ones while writing about her city, her loves, quests and more.