Tomorrow night, after weeks of anticipation and online voting, the Milwaukee Awards for Neighborhood Development Innovation (MANDIs) will name the winners at a ceremony at the Potawatomi Event Center.
However, there's still 24 hours left to learn about these community-impacting individuals, learn about their organizations and vote for the Wells Fargo People's Choice Award – where the three highest vote-getting groups will be rewarded with $1,000 – before the polls close and the numbers are tallied up.
Here are three such nominees – all finalists Northern Trust Navigator Award, as well as for the Wells Fargo People's Choice Award.
La'Ketta Caldwell
A program manager at the Boys & Girls Club of Greater Milwaukee, La'Ketta Caldwell utilizes her theater background to help her community heal, cope and face their issues. In the past, she's helped assemble two plays – "Colors of Youth" and "Unclothed the Naked Truth: Survivor's Stories of Sexual Abuse and Healing" – as well as a documentary called "Can You Hear Us Now?" about youth effected by trauma.
OnMilwaukee.com: When was it that you discovered your interest in theater, and what really drew you to it?
La'Ketta Caldwell: I remember being 3 years old, my mother had me in ballet in Kentucky (where I grew up). We were in a recital on Cinderella, and I was one of the flowers. At the end of the recital, I went back out on stage and bowed again. And I remember at the age of three, I was like, "I want to be a famous performer." I loved the stage, and I felt like dance and the arts helped me make sense of the world. I love church, and it was almost like church, very sacred for me, being on stage and being able to walk in others' shoes.
OMC: Was that idea of the arts helping to make sense of the world why you wanted to use theater to work in the community?
LC: Yes, because for anything I've ever had to go through in my life, I would always write in a journal or read. I feel like the arts give young people a voice, but it also gives them the opportunity to walk in someone else's shoes and it's a safe way to process the things you go through.
OMC: What's your process for writing and arranging the shows and the documentary you did?
LC: For me, the documentary came because of two reasons. For one, one of the youth that we served was murdered. We went to his funeral, and a fight broke out. I was just traumatized by that because I had never had that experience before. The other one was I had a friend whose father was killed. I went to that funeral too, and watching him grieve and mourn, I just thought that was unacceptable, that is not OK for that to happen.
So, for me, the documentary was a way to pay homage to the young man who was murdered and to ask what we can do as a community because no child should have to witness violence. It was just about asking young people questions, like how have you dealt with trauma. That was one of my processes, and then it became a bigger process as a community to bring people together to view the voice of what young people face and what they want for their community.
OMC: What is the next step for you and your work?
LC: Well, our young people are doing a piece that they wrote called "We Are Roses Pushing Through the Concrete." It's going to be performed at the Milwaukee Art Museum. I'll also be doing something with my church for our women's spiritual guidance class conference. I wrote a letter that talks about my journey to womanhood, and I'll be doing that at our conference.
OMC: What, for you, do you believe is most important next step for the city?
LC: There's a lot of things, but I think, for me, hope and inspiration and love are so important. Because when you have those, you walk in your purpose. Every child and every person deserves to live in a beautiful environment; that's something that's really important for me. I grew up where it was peaceful, on a farm, and I think every person deserves to see a beautiful neighborhood, to be inspired and to have love. Because I truly believe in the power of love and inspiration, that no matter what may be going on, if you have that, you have the hope to work through those things.
Todd Hutchison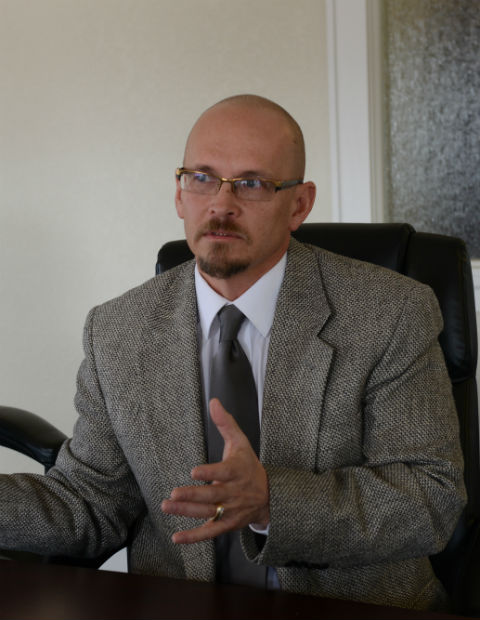 For the past several decades, Todd Hutchison of Impact Seven and Wisconsin Redevelopment has used his interest of architecture and construction to help revitalize vacant, old buildings in the city – and the entire state – and turn them into affordable places to live.
OMC: How and when did you get involved and interested in architecture and construction?
Todd Hutchison: I really got interested as a kid. I grew up in and around construction, and I worked for general contractors during high school – especially during the summers. I really just loved art and drawing and drafting classes. We had drafting and shop classes very early in the school system I went to, so it was something I really enjoyed.
OMC: When did you realize that you could use something like that to help Milwaukee?
TH: I think that came much later in my career. After I had graduated from high school, I worked in social service fields for a long time. I decided to go back to school for architecture at UWM and got an opportunity, after I'd been working for a general contractor for a while, to work with the YMCA in Milwaukee, buying vacant houses, fixing them up and selling them to first-time homebuyers. I don't know if that was the first time, but it was one of the earliest times when I realized that I could be of service to the city while still enjoy architecture and construction.
OMC: You worked as a consultant with Impact Seven in Milwaukee. How has their presence in Milwaukee helped move the city forward?
TH: In 2008, they really made a conscious decision to try and start doing some larger projects in urban neighborhoods. That's when I came on board with Impact Seven, to try to have an impact on the city of Milwaukee. Since that time, we've developed a dozen different affordable housing projects throughout the state, but a majority of them in the city of Milwaukee. So I think it's helped to improve some neighborhoods in the city and also, beyond that, improve a lot of life in the city of Milwaukee.
OMC: What is next with your work with Wisconsin Redevelopment?
TH: As for Wisconsin Redevelopment, that's going to continue on. We have a number of projects in the works. We're partners on a project with Impact Seven in Manitowoc, which will be breaking ground this summer: the Artist Lofts, a 40 unit conversion of a historic warehouse building in downtown Manitowoc. We are also partners with Martin Luther King Economic Development Corporation in phase 5 of King Drive Commons project, which will be the conversion of the Milwaukee Enterprise Center on 4th and Hadley into a mixed-use, mixed-income development, keeping much of the office and maker spaces currently in the building and adding market rate as well as affordable housing in the vacant sections of the building. Wisconsin Redevelopment is also consulting on a new affordable housing projects in Iowa, and, of course, we are always looking for new opportunities in Milwaukee and the rest of the state. We'll be on the lookout for things to do.
OMC: What do you believe is the most important next step for Milwaukee?
TH: I think that all of the Downtown development news is great and really exciting. You hear about what's happening now on the lakefront and the new Bucks arena and the new Downtown housing; it's really great. But I think that we also don't want to lose sight that that's just a small bit of acreage compared to the overall acreage of Milwaukee. There are a lot of urban neighborhoods that are still in distress and need help.
One of the primary things we can do is help those neighborhoods grow and get stronger by making Milwaukee safer and making the education system stronger. The only way we'll be able to keep and maintain and grow families in Milwaukee is by making sure they have a safe place to live with a great education system for their kids.
Venice Williams
The driving force behind projects at Alice's Garden – located at 20th and Garfield – and the Body and Soul Healing Center, Venice Williams has developed a community where food, education, spirituality and more are used to bring people and cultures together
OMC: How did you get involved with Alice's Garden?
Venice Williams: I came on board in 2006 at the invitation of 4-H and Youth Development to bring programming that I was already doing into the garden and to expand programming.
OMC: What about Alice's Garden really spoke to you and made you want to get involved?
VW: There wasn't really much of anything at the time. It was a rental garden mainly, and there was a small children's garden program and project that my husband and others were trying to get off the ground. But there were no programs and events going on at Alice's Garden before I came on board. So the draw for me was this outdoor space where I could invite people to unplug and interact with each other, as well as with nature and the rest of creation in the city.
OMC: How did that transition into the Body and Soul Healing Center?
VW: My office was already here at 3617 N. 48th St. address; I was already existed in this space, doing girls' circles, women's rights of passage courses, gardening training, a kids café that was about healthy eating. So as Alice's Garden continued to grow, it was only natural that our programming wouldn't come to an end in the garden just because it got cold. Instead, we would continue that programming at the Good Shepherd building. And when Good Shepherd began to merge with another congregation and physically moved out, we were able to bring all of the programs that were going on during the growing season into this space.
OMC: From your perspective, what is it about the concepts of cooking, meditation, healthy eating and gardening you teach that you believe really helps cultivate a community?
VW: It's really inviting people back to the table, back to being with one another and doing things that are a part of all of our ancestral roots. All of us come from people – no matter what our culture – who grew and prepared at least some of their food, people who took the time to nourish their families and themselves in ways that were meaningful, not quick and fast. So when it comes to food and health, it's really about taking the time to take care of yourself and take care of those you love.
I think the other draw is that a lot of what we do embraces the culture that you bring to the space. Whether it's a Latino culture, a German culture, an African culture, we invite people to not step away from who they are, but embrace all that is good about their own ethnic and family traditions.
OMC: What for you is the next step with Alice's Garden and the Body and Soul Healing Center?
VW: For me, with my work, I feel that I'm doing many of the things I was really born to do, that my gifts are helping people to birth what's inside of them. So anything I can do to continue to build on that is important to me. Another important thing is collaboration. Even though people see Alice's Garden and the Body and Soul Healing Center, the many ways we collaborate within the community strengthen all of us.
As much as it is a gigantic cliché to say that one has always had a passion for film, Matt Mueller has always had a passion for film. Whether it was bringing in the latest movie reviews for his first grade show-and-tell or writing film reviews for the St. Norbert College Times as a high school student, Matt is way too obsessed with movies for his own good.
When he's not writing about the latest blockbuster or talking much too glowingly about "Piranha 3D," Matt can probably be found watching literally any sport (minus cricket) or working at - get this - a local movie theater. Or watching a movie. Yeah, he's probably watching a movie.