Country music's Maren Morris renewed her "Girl: The World Tour" in Milwaukee on Friday night for the tour's second-to-last performance. Since kicking off her tour last March in Chicago, Maren Morris has experienced a world of success through the release of her newest studio album.
Yesterday's sold-out performance marked Morris' fourth visit to Milwaukee in the past few years and her biggest yet, with so much having changed since she opened for Keith Urban at the Bradley Center in 2016. In 2019, Maren Morris is one of the most exciting names in country, and her star power is bigger than ever. All of the above was on full display Friday night, giving fans no shortage of reasons to enjoy Morris' headlining tour live and in person.
Here are our six reasons why you shouldn't have missed Maren Morris' Milwaukee stop on the "Girl: The World Tour."

1. She performed the Album of the Year
Maren Morris is less than a week removed from her huge win at the 2019 Country Music Awards, where she took home the trophy for Album of the Year for her sophomore LP, "Girl." And while her Milwaukee fans have known that "Girl" is the year's best album since its March release, the sold-out Wisconsin crowd was able to enjoy the album's first live performances since being dubbed album of the year by Morris' peers in country music. "Let's celebrate it," Morris told fans on Friday. "Let's celebrate just being alive, loving music and being here tonight."
Morris' CMA win came as a surprise to no one, as the 29-year-old led all artists with six nominations, backed by an album that is beloved by critics and fans alike. Fans at The Rave were lucky enough to enjoy the 14-track album live, in almost its entirety, from the project's self-titled single to open Friday night's performance to stand out tracks like "The Bones," "Girl" and the steamy fan-favorite "RSVP" throughout the rest of the evening.
2. It could have been your last chance to see her live for awhile
Friday marked Morris' third visit to The Rave in just four years. But although she's found a second home in Milwaukee through the historic music venue, fans may not see Morris return to Wisconsin anytime in the immediate future.
This, of course is because of the big change in the Columbia Nashville's artist's personal life since she kicked off her tour in Chicago earlier this year. As her fans know, Morris is currently expecting her first child with her husband and collaborator Ryan Hurd, who opened for Morris during her last show at The Rave in 2017. Despite her album title, the power couple is expecting a baby boy, and the excited mom-to-be will have her hands full in ways totally new to her.
It's hard to imagine Morris having a busier year than her past few, but with a newborn on the way, it wouldn't be completely unimaginable if Morris didn't hit the road on tour in 2020 and perhaps longer. Either way, her fans couldn't be more excited for her, and they already can't wait for her return to Milwaukee.
3. Her live performances are better than ever
Although Morris led her peers at the CMAs with six nominations, she was left off the ballot for "Entertainer of the Year." But if Morris continues to grow as a live performer at the rate she has so far, she will win the coveted award in no time.
The "My Church" artist's infectious and charismatic personality transfers to her live performances when she steps on stage. Morris lets the music do the talking, but gives context to her records before many of her more meaningful tracks, making the crowd laugh, smile and, at times, tear up. Her live vocals are near identical to her studio recordings, and if you have the opportunity to see Morris perform live, then you know she is one of the easiest singers to root for in country music.
She stands out as one of the hardest working performers in the entire genre, and her hard work is paying dividends in her tours. Morris sells out shows everywhere, and her momentum through the industry shows no signs of slowing down. If she can blow us away with her tour stops at The Rave, which consisted of a scaled-back setup on Friday compared to previous tour dates, then we can only imagine what she will do when she headlines an arena tour with endless possibilities in its production.
4. Girl power
Morris highlights girl power with her new album and headlining tour. The Grammy-winning singer kicked off her tour with a number of talented emerging female artists including Cassadee Pope, RaeLynn, Kassi Ashton and now Hailey Whitters and Tenille Townes who opened the show on Friday night. The "Rich" singer is also in the middle of another all-female country tour, with Miranda Lambert's "Roadside Bars & Pink Guitars Tour," which will make its remaining stops later this month.
And although some of her besties weren't able to make it to Milwaukee's show, Morris recently helped form country music's newest supergroup. The Highwomen, which is made up of Morris, Brandi Carlile, Amanda Shires and Natalie Hemby, surprised fans with a self-titled debut album – as if one amazing album in 2019 wasn't enough for Maren Morris. Morris performed a scaled back version of the supergroup's track "Crowded Table" on Friday night.
There were plenty of men in the audience yesterday (as Morris mentioned men can be Highwomen, too) singing along word-for-word – myself being one of them. But Maren's current tour is all about showcasing the female perspective in country music, not only through performing but in songwriting and artistry, as well.
5. She performed all the hits
While Morris dedicated much of her setlist to her new album, the Texas-native also performed several hits from her critically acclaimed debut, "Hero."
Friday night's show included standout performances of tracks like "My Church," "I Could Use a Love Song" and "80s Mercedes" to name a few, all from her 2016 debut. And fittingly, during the middle of her set, Morris treated fans to a performance of her biggest song to date: her 2018 Zedd collaboration, "The Middle," iHeartRadio's "Song of the Year" which also scored several Grammy nominations.
6. Maren Morris is the next big thing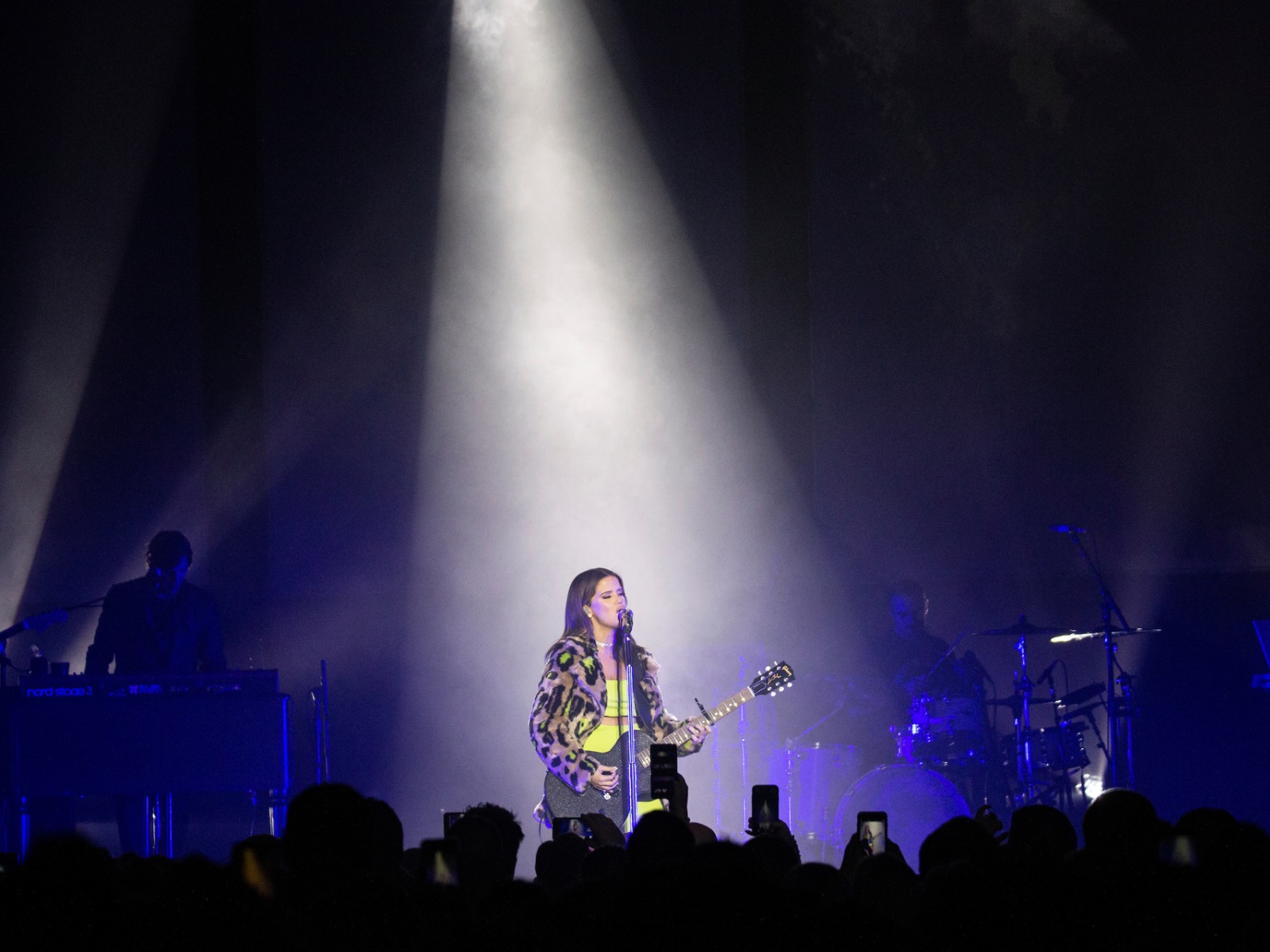 Perhaps foreshadowed by the huge success of "The Middle," Morris is music's next big thing – not only country music's next big thing, as that path is already in the rearview of Morris' Mercedes, but music's next big thing.
Maren Morris' sound, blending country and pop, casts a huge net and wins over fans of all types. Morris is loved by critics and fans of all genres, and "The Middle" will not be her biggest commercial hit when all is said and done. It's anyone's guess whether Morris' eventual third album will be country, pop or something in between, but it's going to be a hit. She already broke through the sophomore album curse, and her growing fanbase and accolades will propel her to the superstar level in the near future.
All the trophies and positive album reviews aside, it was obvious to all of those in attendance at The Rave last night that the crowd was watching a star on the rise. Morris was charismatic, her vocals were on point and her stage presence was A+, so if she continues to win audiences over one performance at a time, she will need an even bigger room by the time her next tour rolls through Milwaukee.