Though its roots go much further back, Marquette University High School, 3401 W. Wisconsin Ave., occupies a late Gothic Revival schoolhouse on the city' near West Side.
Designed by Herbst & Kuenzli and built in 1924, the building is described by the City of Milwaukee Department of City Development report, "West Side Neighborhood Historic Resources Survey" as, "a large, three-story, brick building resting on a raised foundation. It has a flat roof with a castellated parapet. Ornamentation, such as window surrounds, buttresses, and castellations, are primarily of cream terra cotta. Narrow brick buttresses topped with terra cotta capstones are spaced relatively evenly across the facade.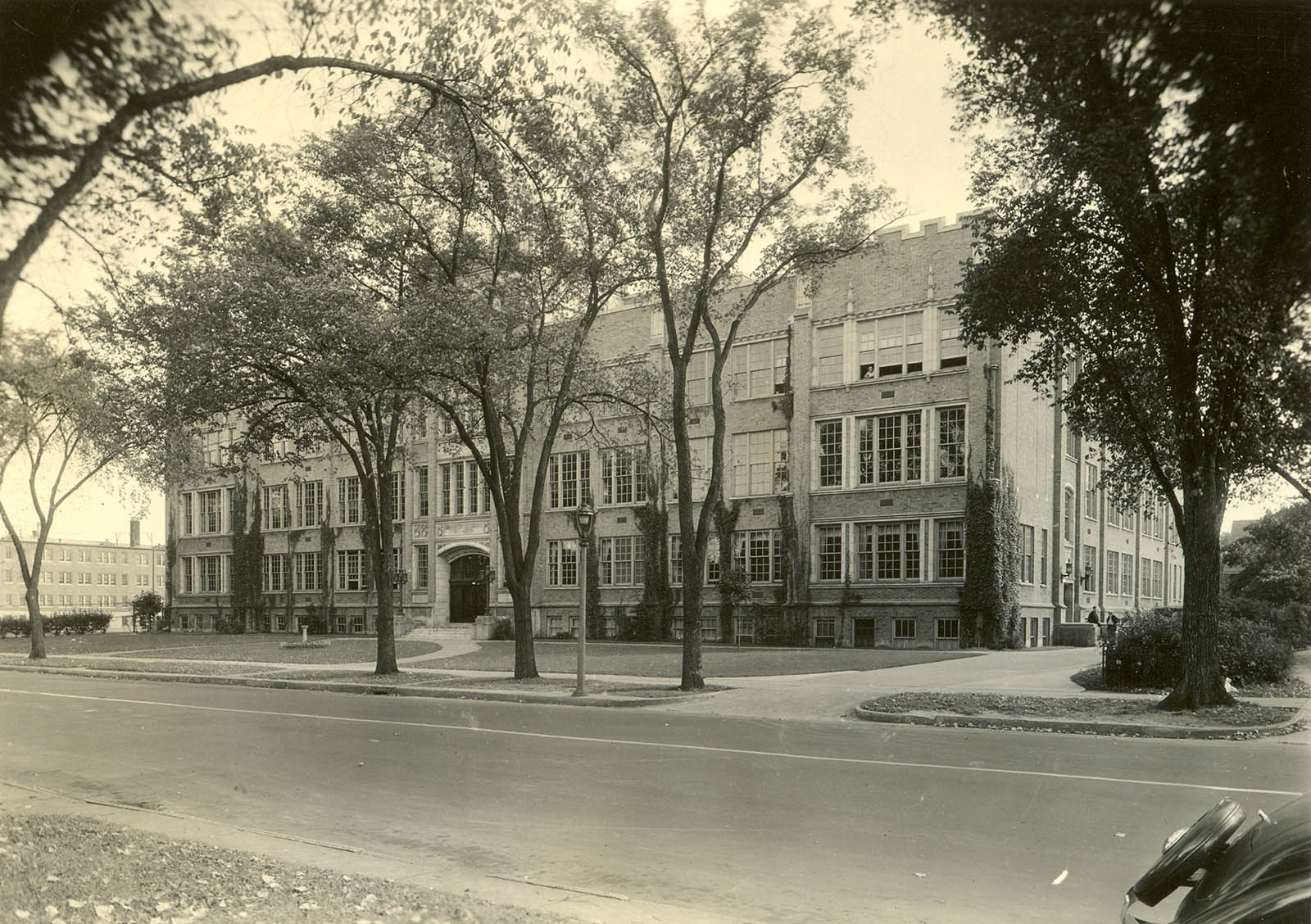 "Two large towers, one with a castellated parapet and the other with pinnacles along the roofline, house the main entrances on the primary (north) facade. The central entrance has a circular arch with a terra cotta door surround. Above the doorway a plaque reads "MARQUETTE UNIVERSITY HIGH SCHOOL."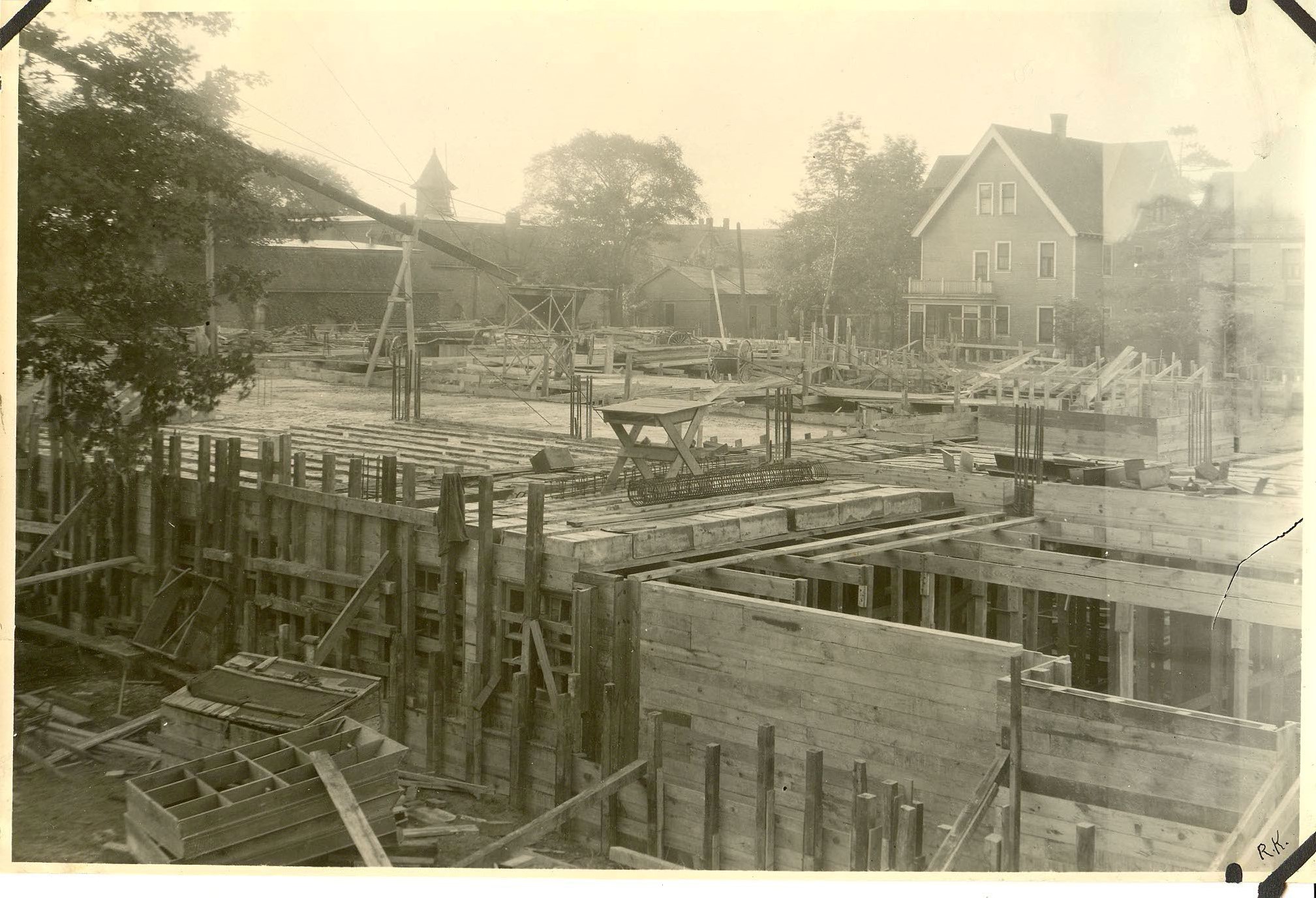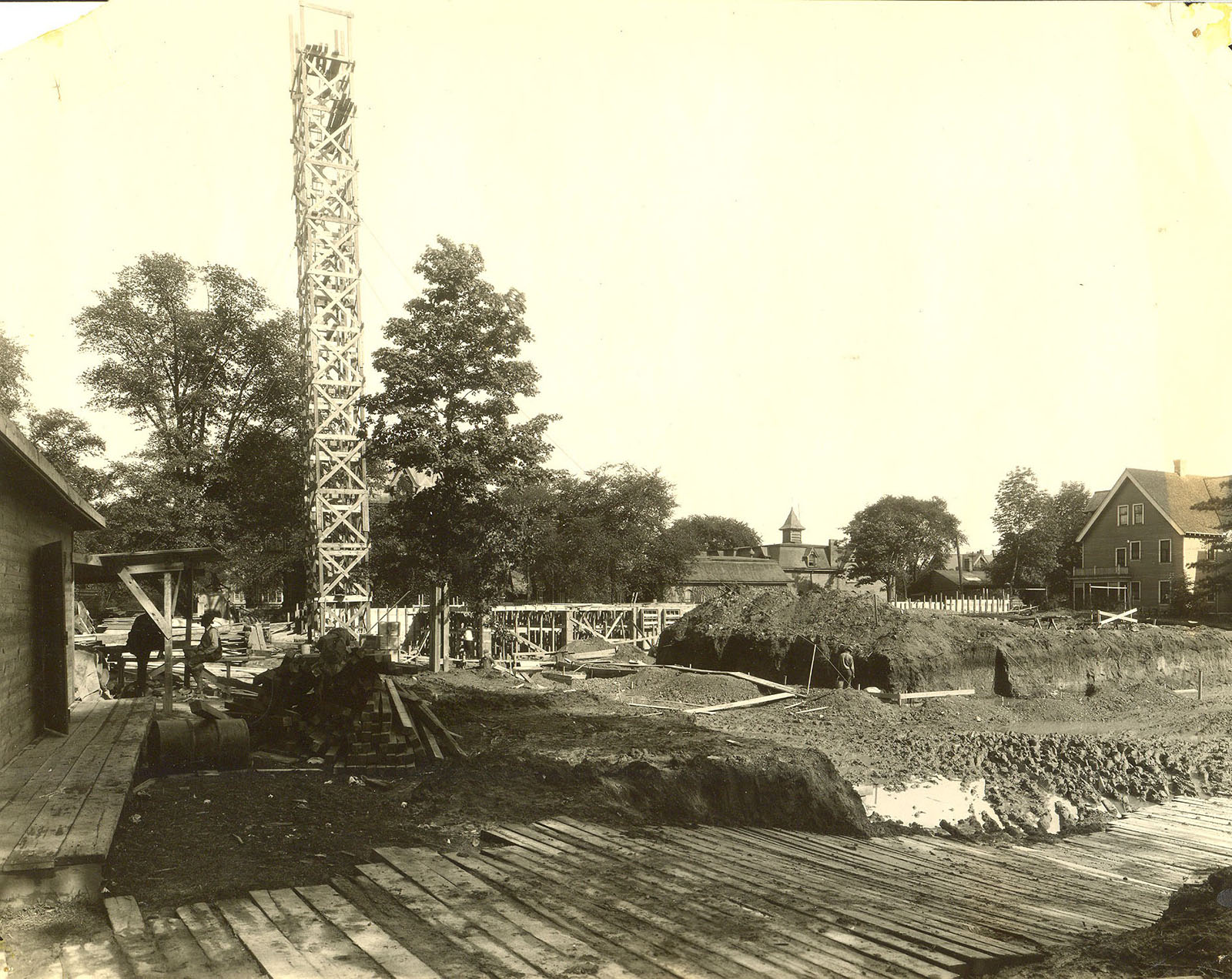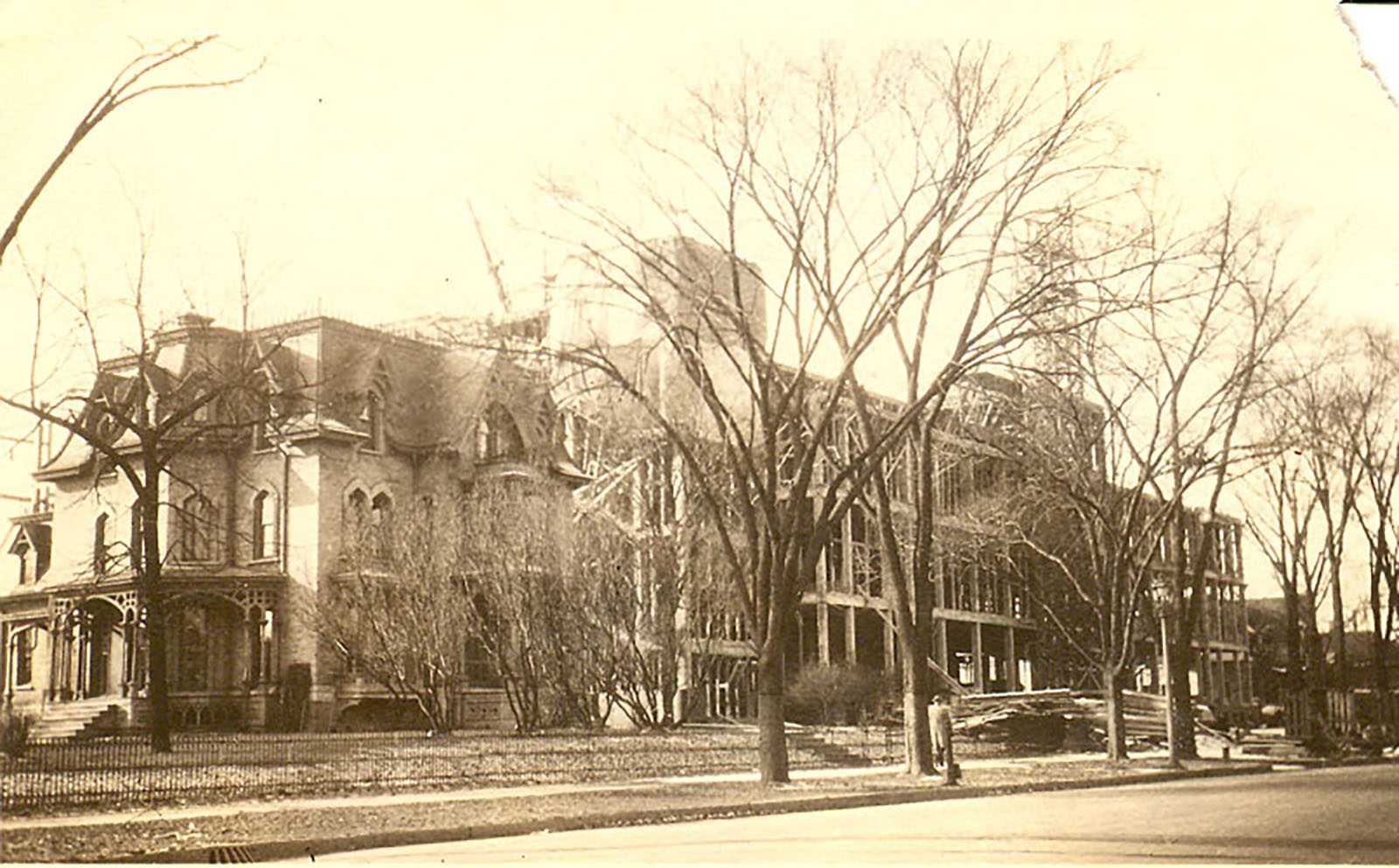 I was recently invited over to the school – founded in 1881 as part of Marquette University (as Marquette Academy), but separated in 1902 – and if I thought I'd get a fairly standard schoolhouse tour, I was wrong.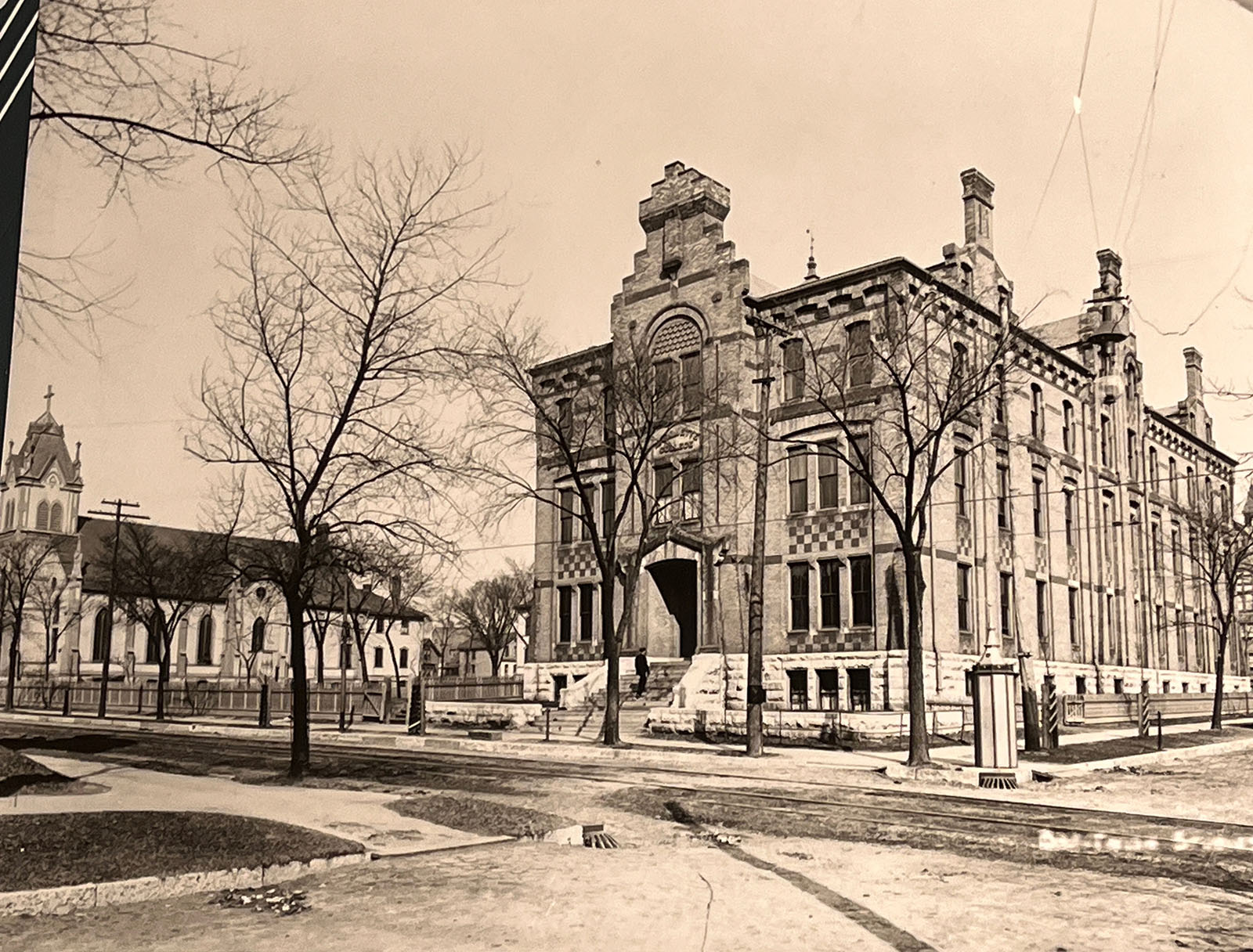 Met in the early 21st century building addition at the back by the all-boys private school's VP of Marketing & Communications Tim Cigelske and social studies teacher and alum Chris Lese – who also directs the annual student-led Follies – we made a beeline to the auditorium.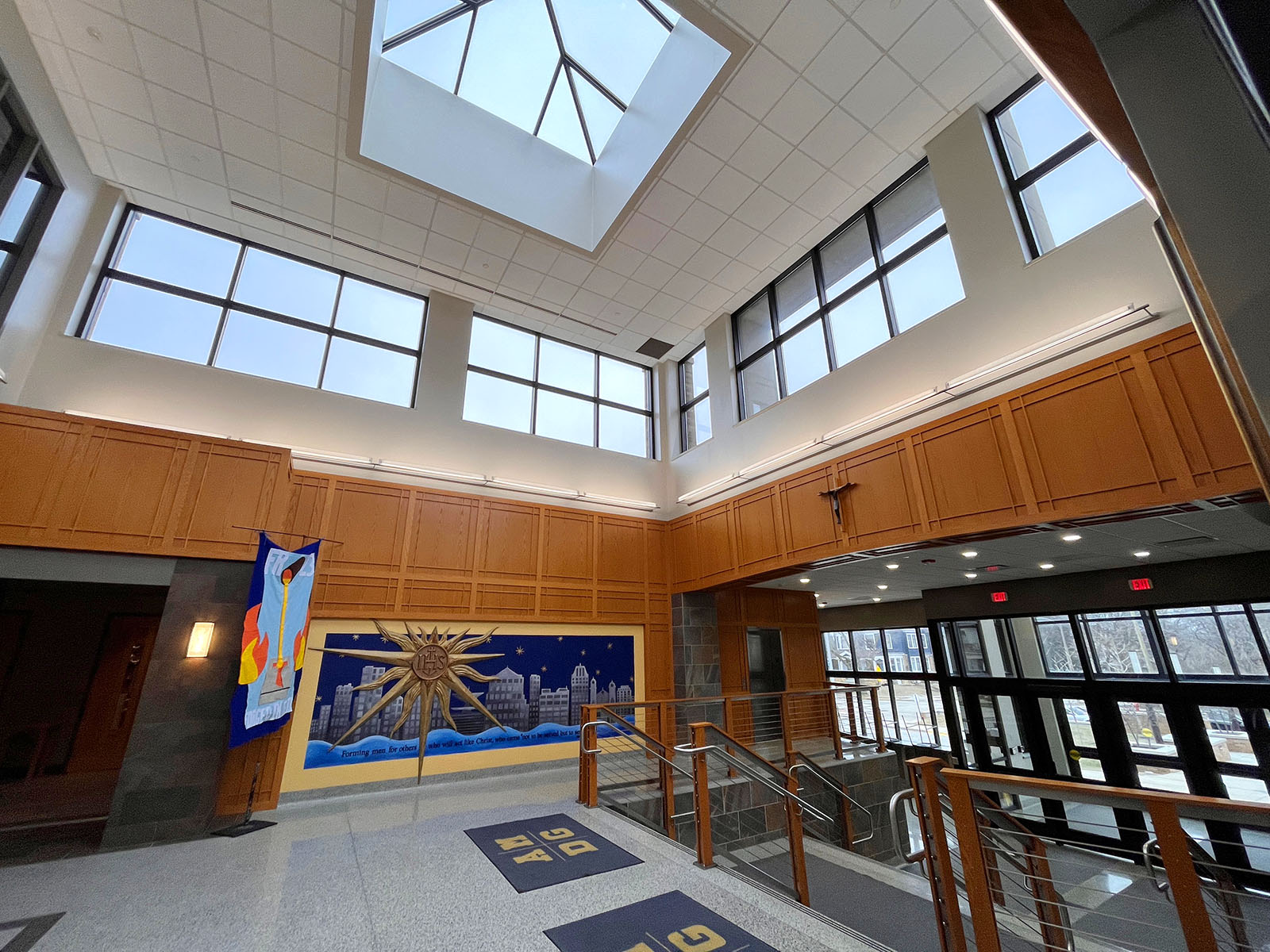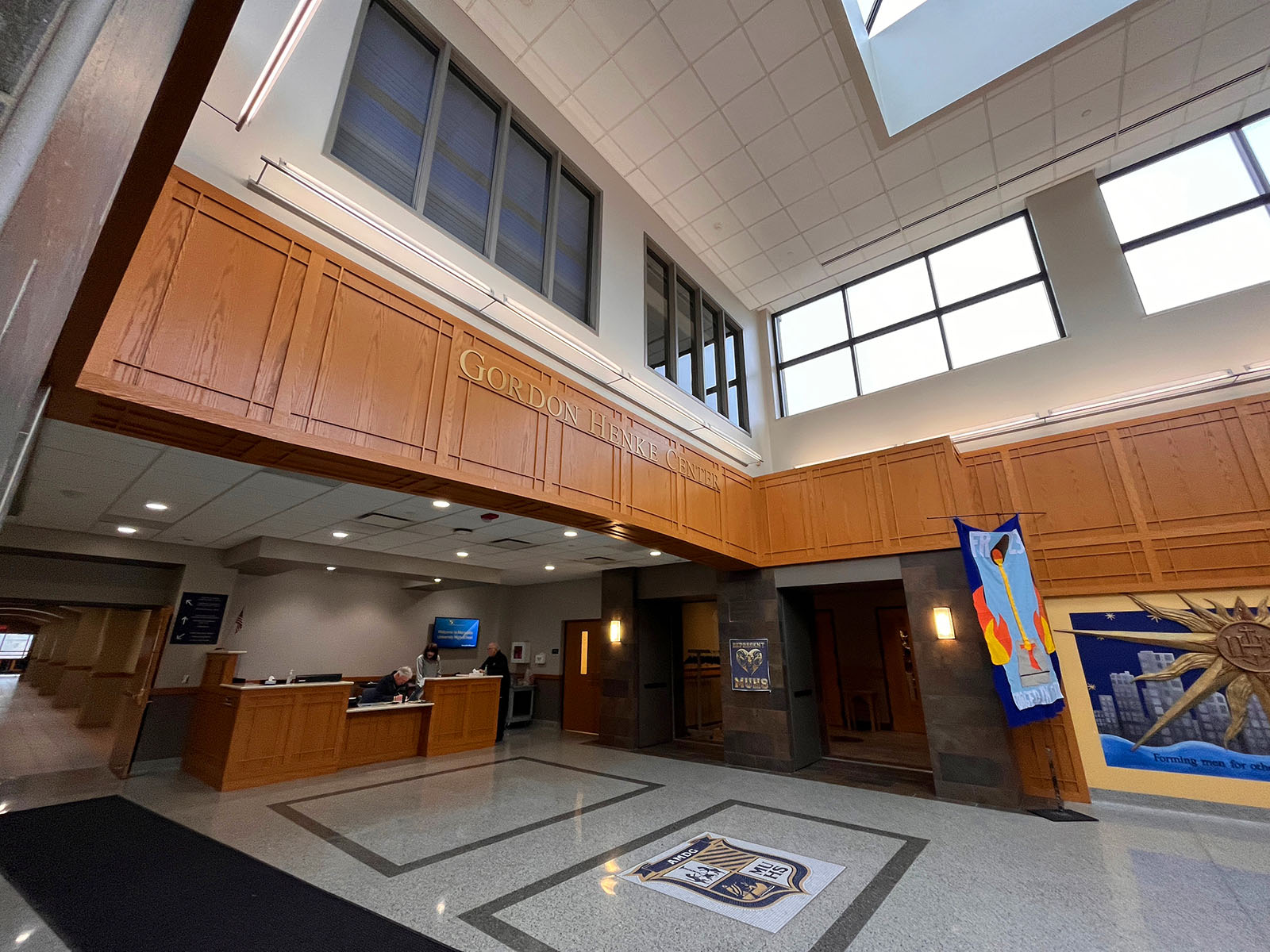 Heading downstairs we find ourselves entering a corridor beneath the stage that looks – but thankfully doesn't smell – like backstage at CBGB, with walls almost entirely covered with graffiti of all colors and sizes.
And it just goes on and on. Down another short corridor to the left, into the old dressing room, up the access stairs to the stage, backstage.
Off on the other side, it also continues up the stairs and to the backstage area in the stage left wings, too. Then it continues up the stairs that lead to the catwalk and flyloft.
Although the gate to get all the way up is locked and my guides don't have the key, we can see that the graffiti continues on the walls and even the ceiling up there.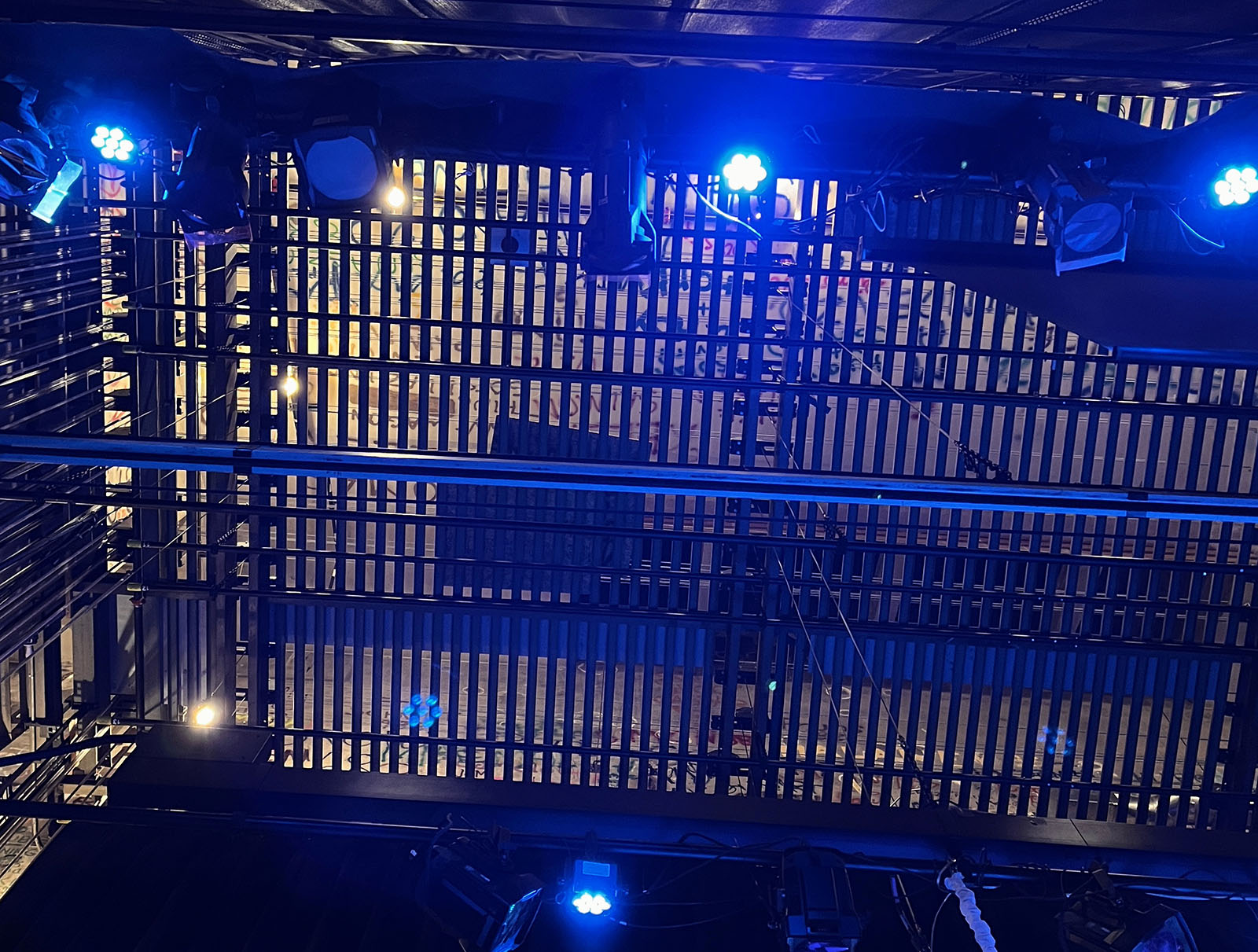 "These signatures go all the way back," says Lese. "The oldest I found is the '50s. It's just become a tradition that you do. When I was a student here you had to do three shows to get your name on the wall. Now we've lightened it up. You need to do one."
There are student names, sometimes with the year they signed or the year of their graduating class. There are names of productions – "Guys and Dolls," "Oliver," "Les Miserables," etc.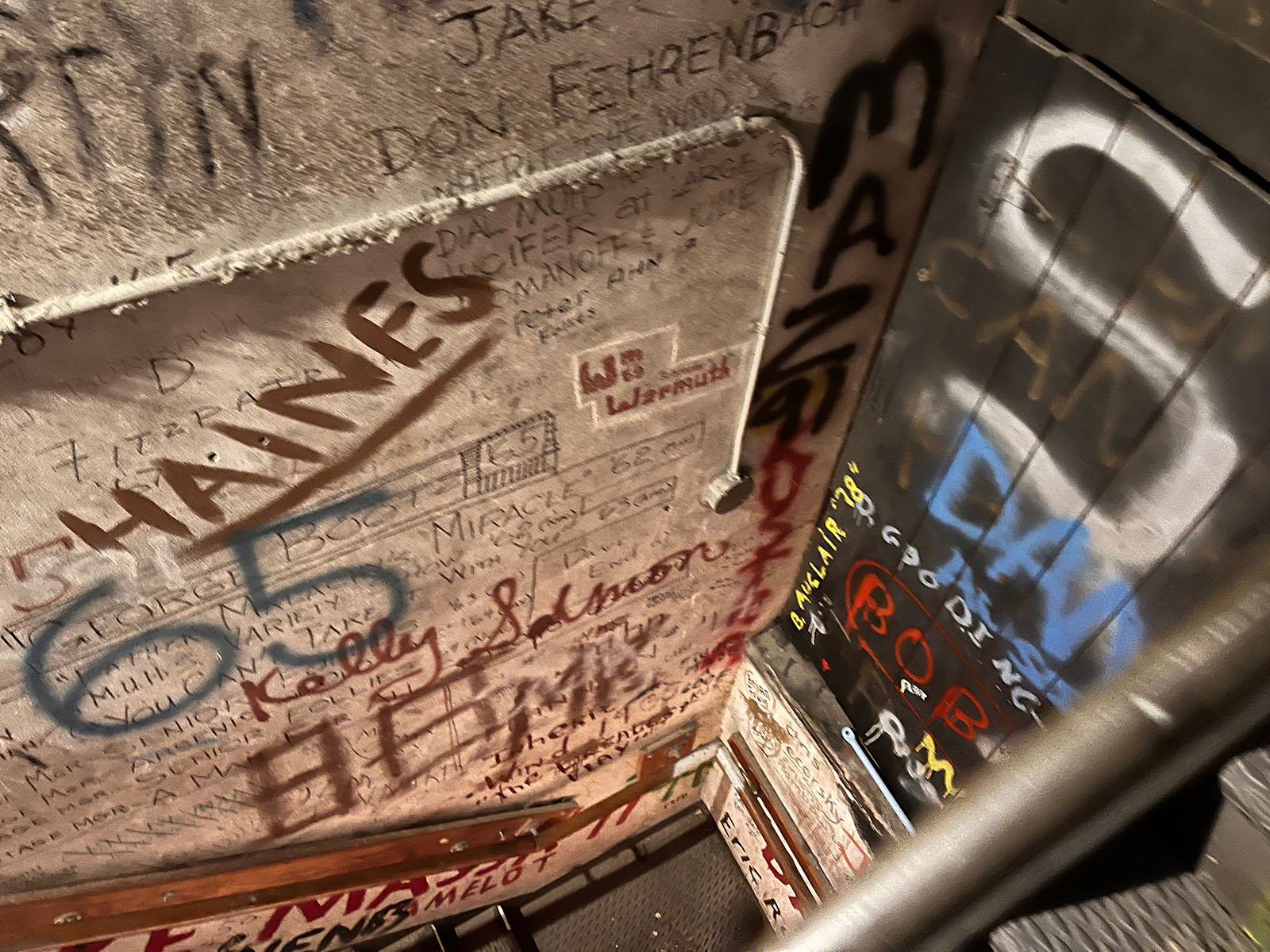 "You can see really awesome school history," Lese says. "You'll see fathers and sons and brothers and uncle, all these different names up here."
We walk into one area and Lese points up to one inscription dated 1964.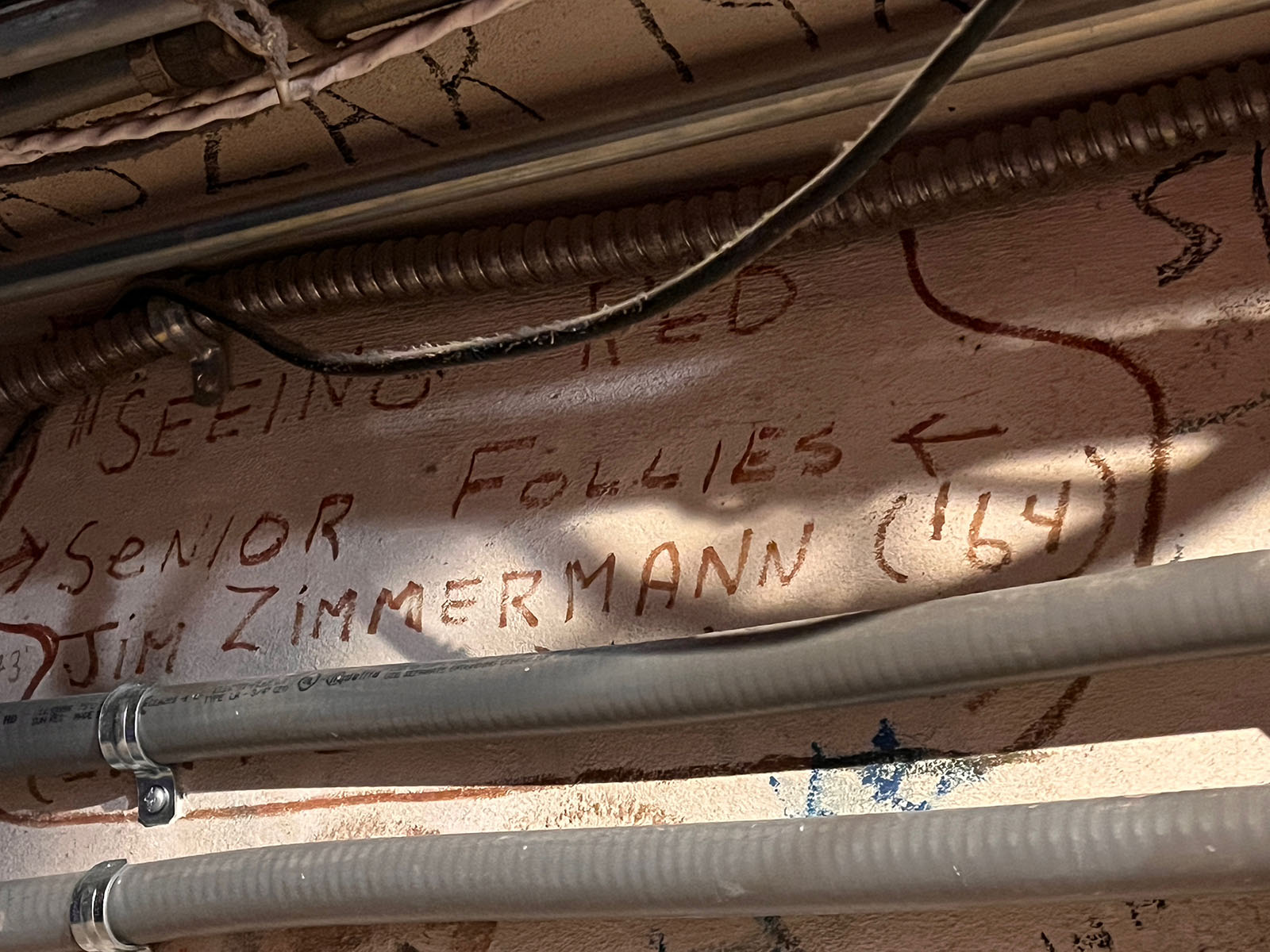 "That's most special to me here," he says. "See that? Senior Follies 1964. Follies is a student-written spoof of the school and it's been going on since 1964. So that's the first one.
"The name of it was 'Seeing Red' and it (portrayed) a communist takeover of the school. At first the students embraced communism, but you know, here we are in the Cold War, and they realize it's no good. Then the Jesuits and the students take back Marquette High."
Up on the stage now, where they were prepping for a production of "The Addams Family," which was slated to open a few days later, we gaze all the way up the fly loft to see the graffiti up there and Lese says it's a good example of how passionate the boys are to paint their names for posterity..
"We can walk up on those grates," he says of the metal walkways far above our heads. "There's a name that is all the way beyond up there. I think it's 1973. The student put a ladder and they spray painted where the ladder was. It's so scary that they got their name way at the very top."
Though we can't get that far up during this visit, we do get far enough up the steps to reach a door that leads to one of four apartments that were built into the 1924 building.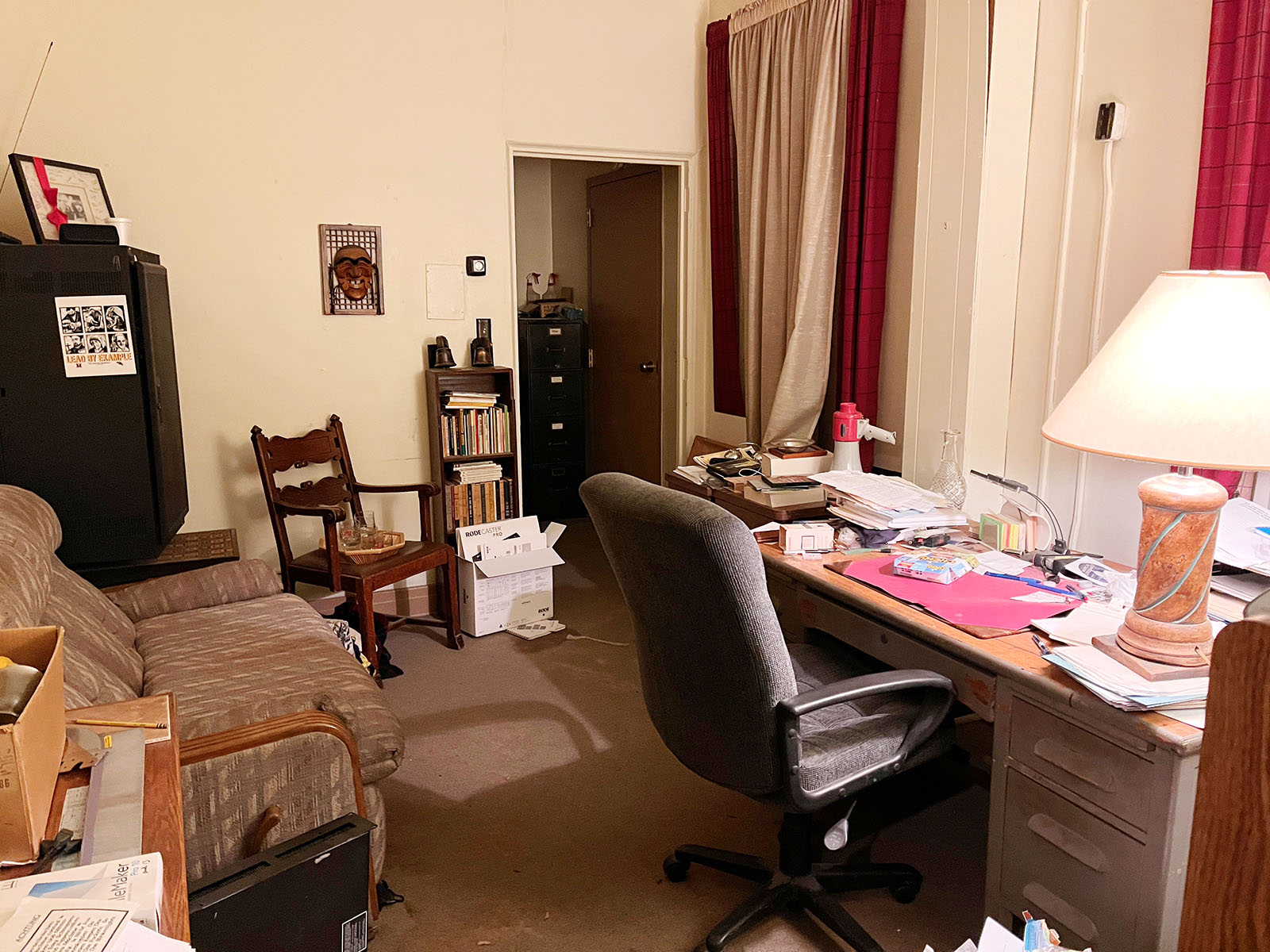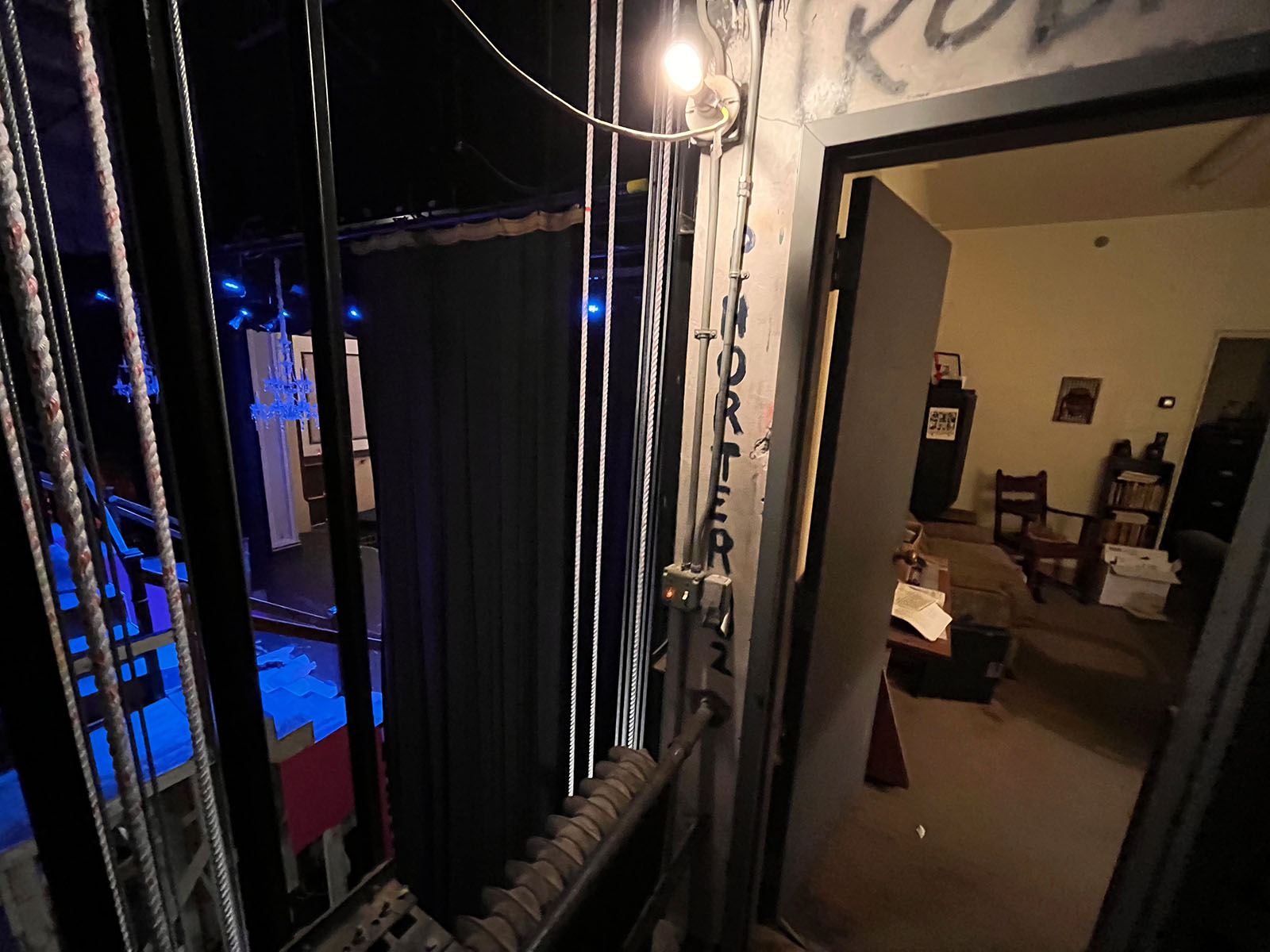 "The principal was expected to live here and his apartment became the principal'svoffice," says Lese. "The director of maintenance had an apartment in the basement."
Three of the four are basically used for storage now, but this one remains intact. In fact, in a sense, it's sort of like a museum, being more or less how it was left by its last user.
"I do not know the Jesuit who lived in the apartment when the school was opened in 1924," says Lese, "but it likely stopped use as a living quarters around 1951 when the Jesuit residence was constructed behind the school.
"At some point in the 1960s, Father Charlie Stang, SJ used it as an Stage Crew office until his recent retirement."
And Fr. Stang's books and awards and other objects are still here in this small space – which was effectively a studio apartment with a single room and an attached bathroom – giving it a sort of in situ museum vibe.
"What's really cool," Lese adds, "is not only is this one of the last original apartments, but Fr. Stang was an alum. He became a Scholastic and then a Jesuit. He worked here for like 54 years. Then when he retired (in 2011), he continued on as the stage director."
Stang left Marquette entirely in 2017 due to health issues and he passed away in October 2021.
The teacher who is currently running the stage crew now uses the space as an office.
Back down the backstage stairs, we head out into a corridor and up to the school's archives, which are about the most extensive and best-maintained that I've seen.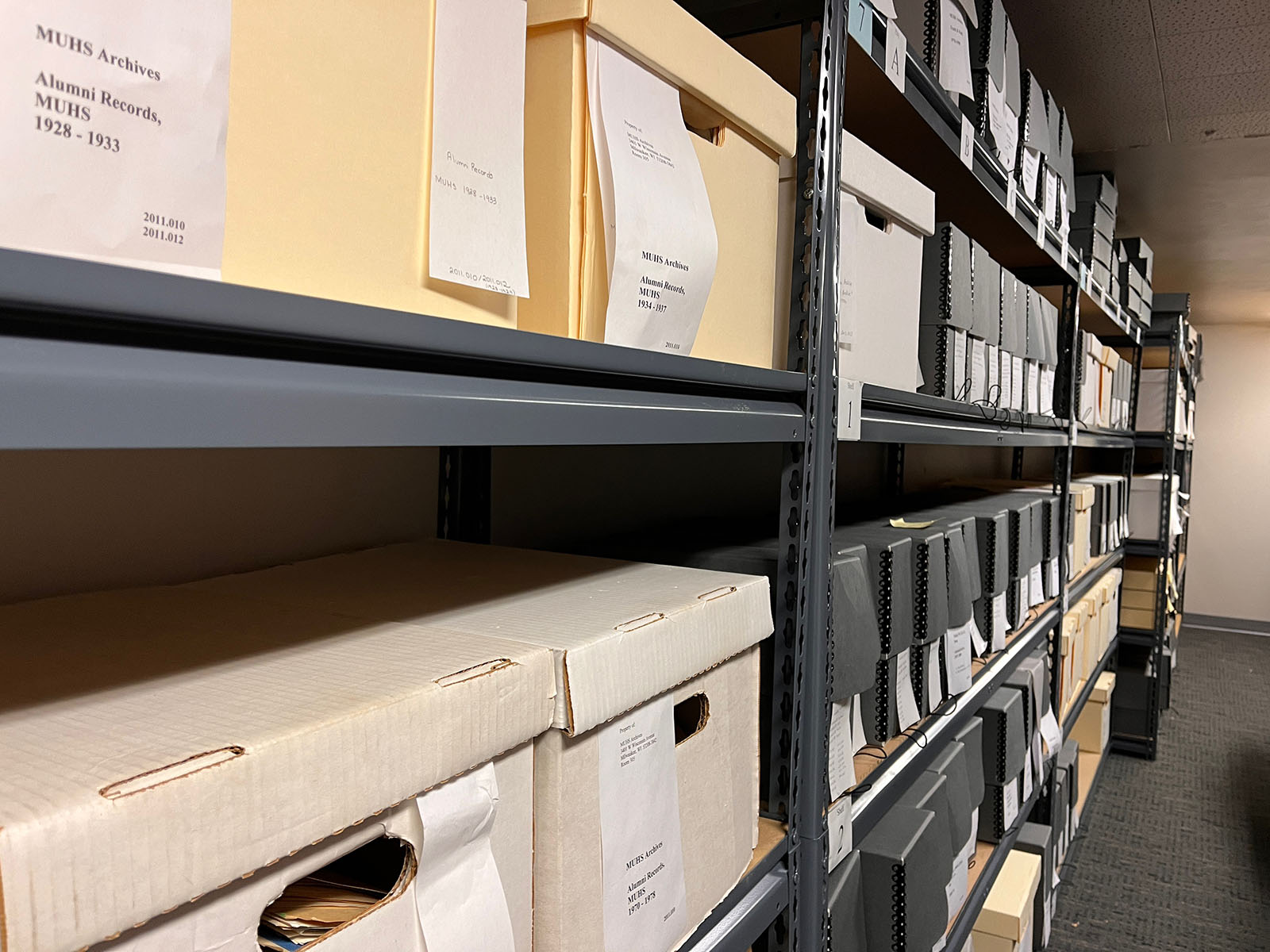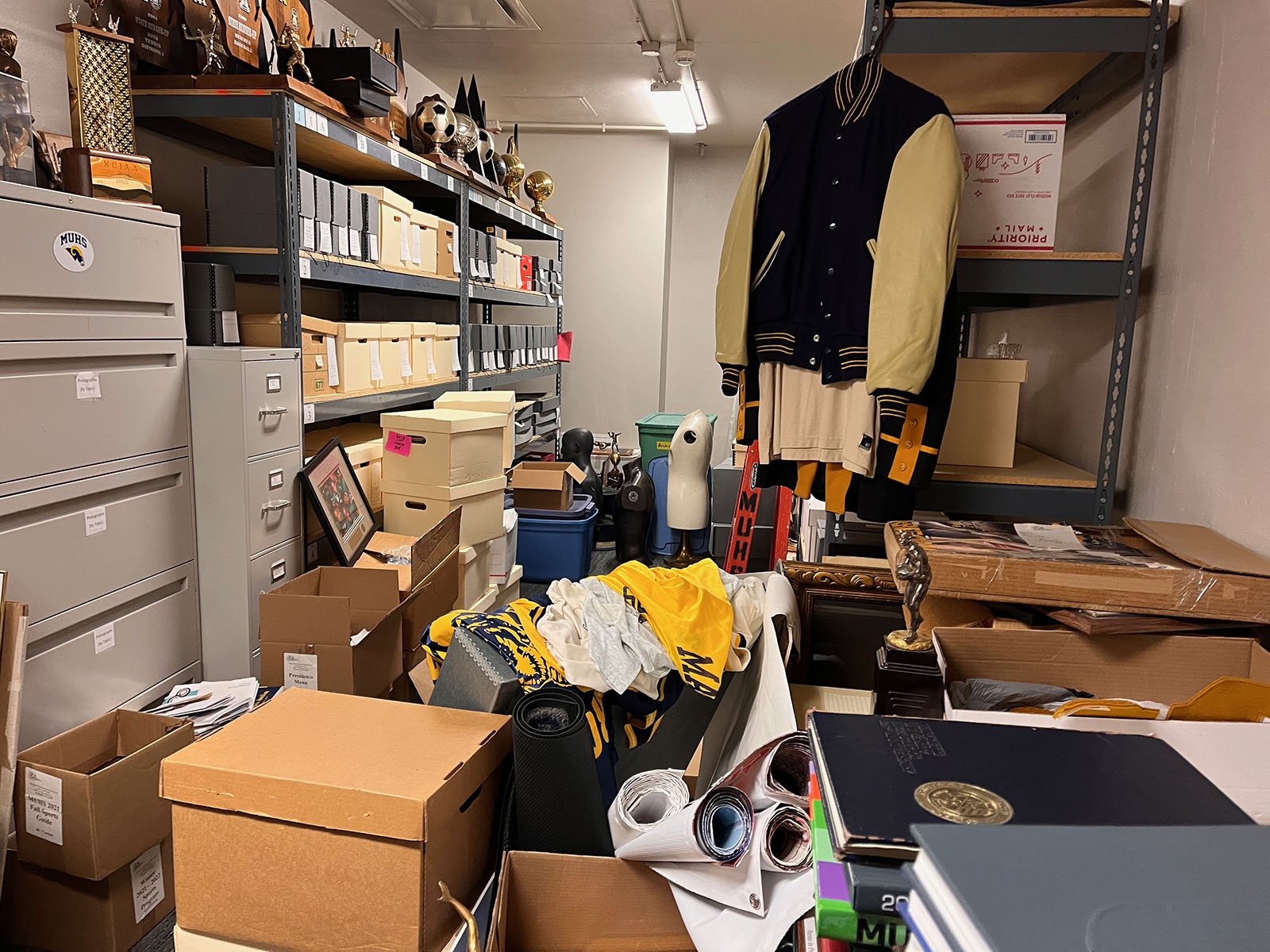 There are shelves full of old school newspapers, yearbooks and other publications; flat files with posters, architectural drawings and other papers; drawers full of photos; more shelving with objects of all kinds.
"There are some pretty neat things in here," says Lese, who currently maintains this archive. "This place is kind of dripping with history. Jerseys, pennants, posters, photos, everything.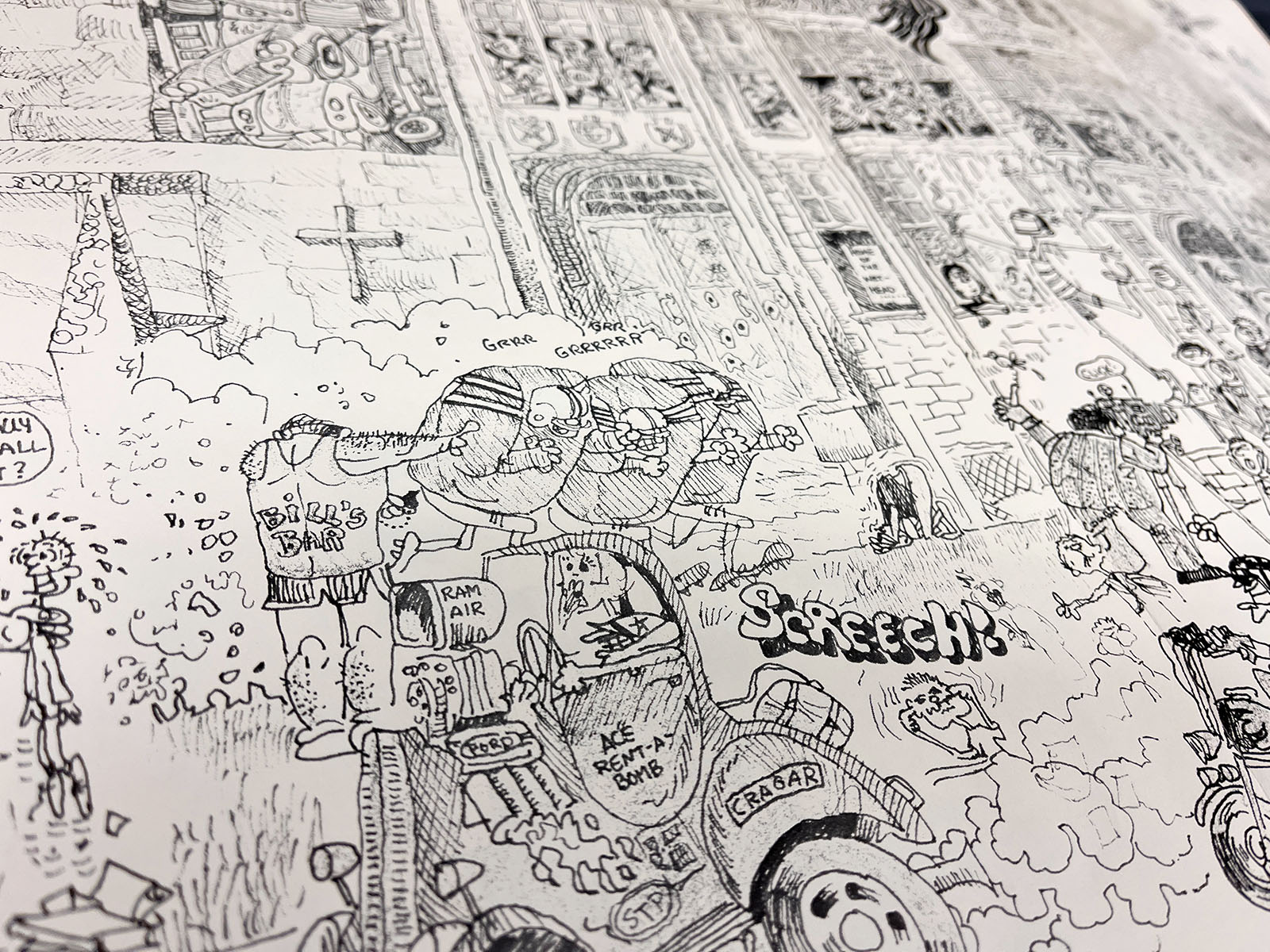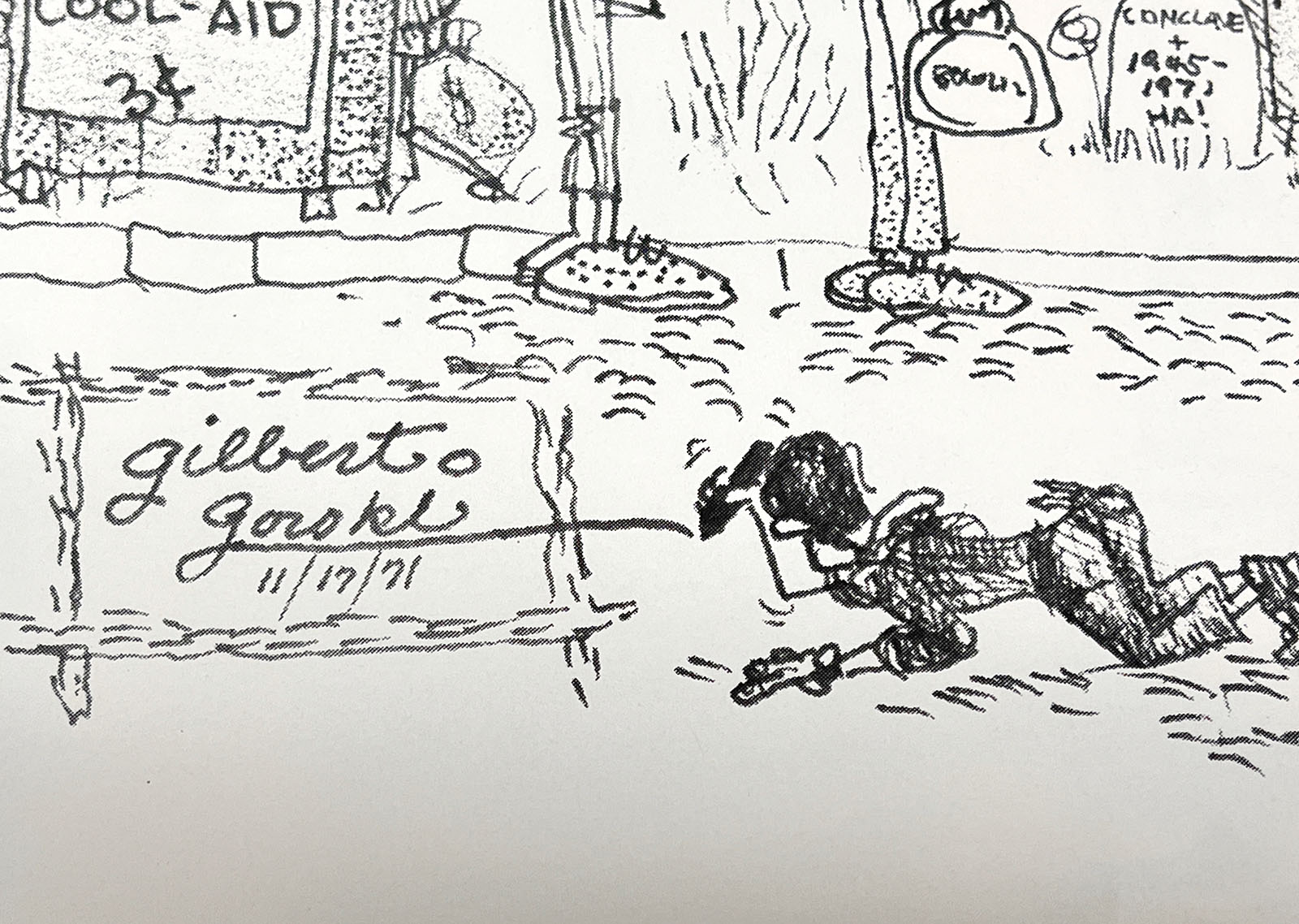 "Over time, we've actually had professional, archivists work for us," says Lese, and it shows. Most everything looks organized and maintained. "We don't have anybody right now and I'm helping the alumni director. This falls under the alumni director's domain."
As we ooh and aah over old photographs and documents, Lese tells me about how he brings his passion for history into his classroom, which involves taking his kids out of the classroom.
As a student here, Lese himself was taken on eye-opening field trips and so as a teacher he has offered the same to his students, leading an annual trip to a variety of Civil War-related sites around the country.
This June, he's taking a few dozen kids and a some other teachers as chaperones, across the Atlantic.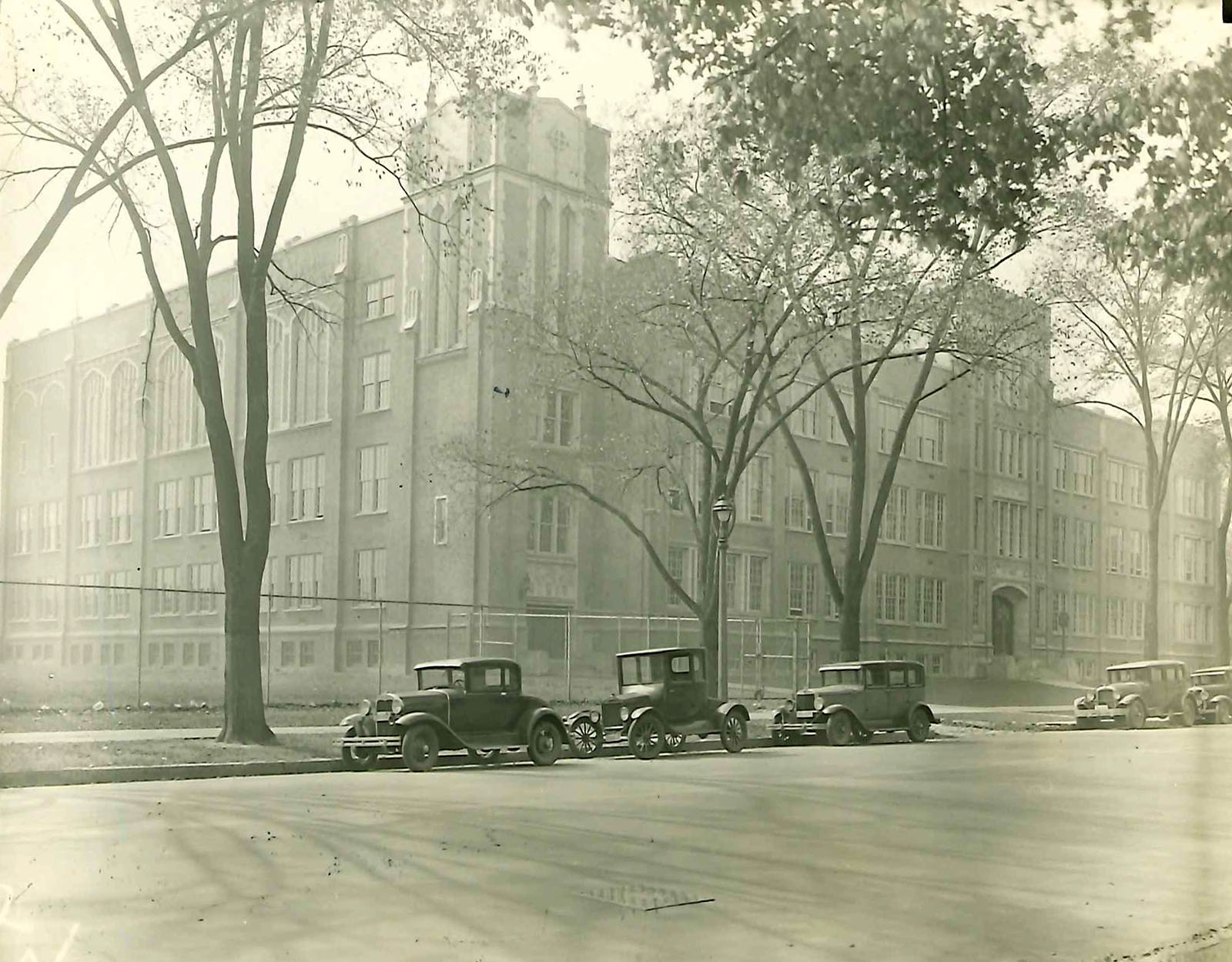 "I'm taking students on a World War II trip to Europe," he explains. "When we're there, we're going to see the graves of three Marquette High alums who are still buried there in Belgium.
"These newspapers," he says, holding a bound book full of 1940s MUHS newspapers, "during the war, they kept track of every alum that was fighting. Any news that they got, they put in the school newspaper.
"They talk about the guys who died, they talks about the prayer services they had. It's an amazing historical source here."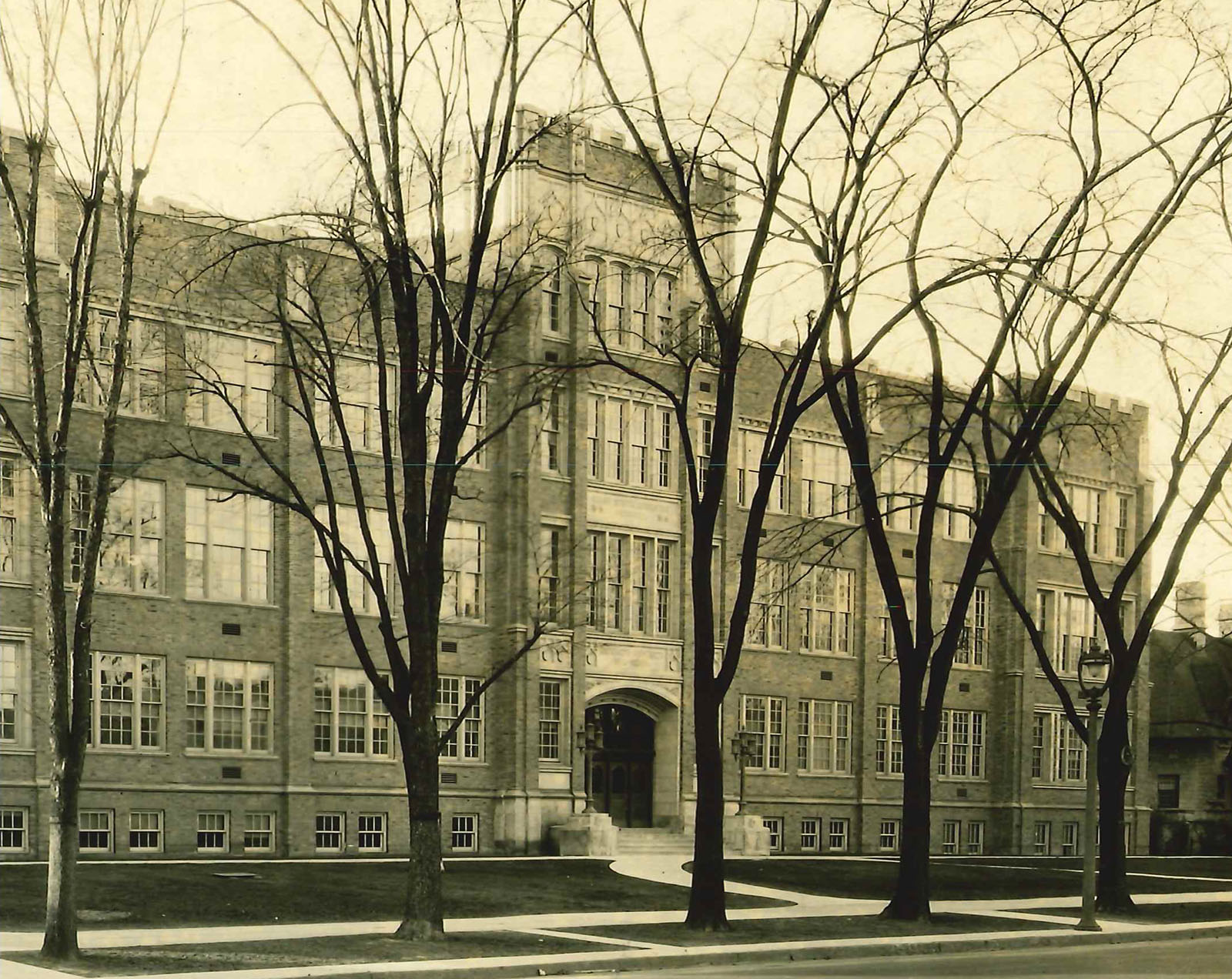 Lese also has copies of letters between two then-recent MUHS grads who had enlisted after graduation. The final one is one returned to sender, marked "deceased, died in action." That's how the alum who donated the letters found out his best friend had been killed.
"He was like 93 at the time," Lese recalls of the donation. "And he he got teary-eyed talking about when he first got this reply. Because he thought it was weird he didn't hear from his friend for a while."
Lese and his students will visit the grave of that fallen soldier.
"We're gonna bring these letters to Willie Holleran's grave to read them. Some of these seniors who will go on the trip will be almost the same age as that guy."
During the 12-day trip, the 40 students and five teachers will stay with community members and in historic buildings. In Normandy, for example, they'll bunk in a barn that was used to house American paratroopers on D-Day, June 6, 1944.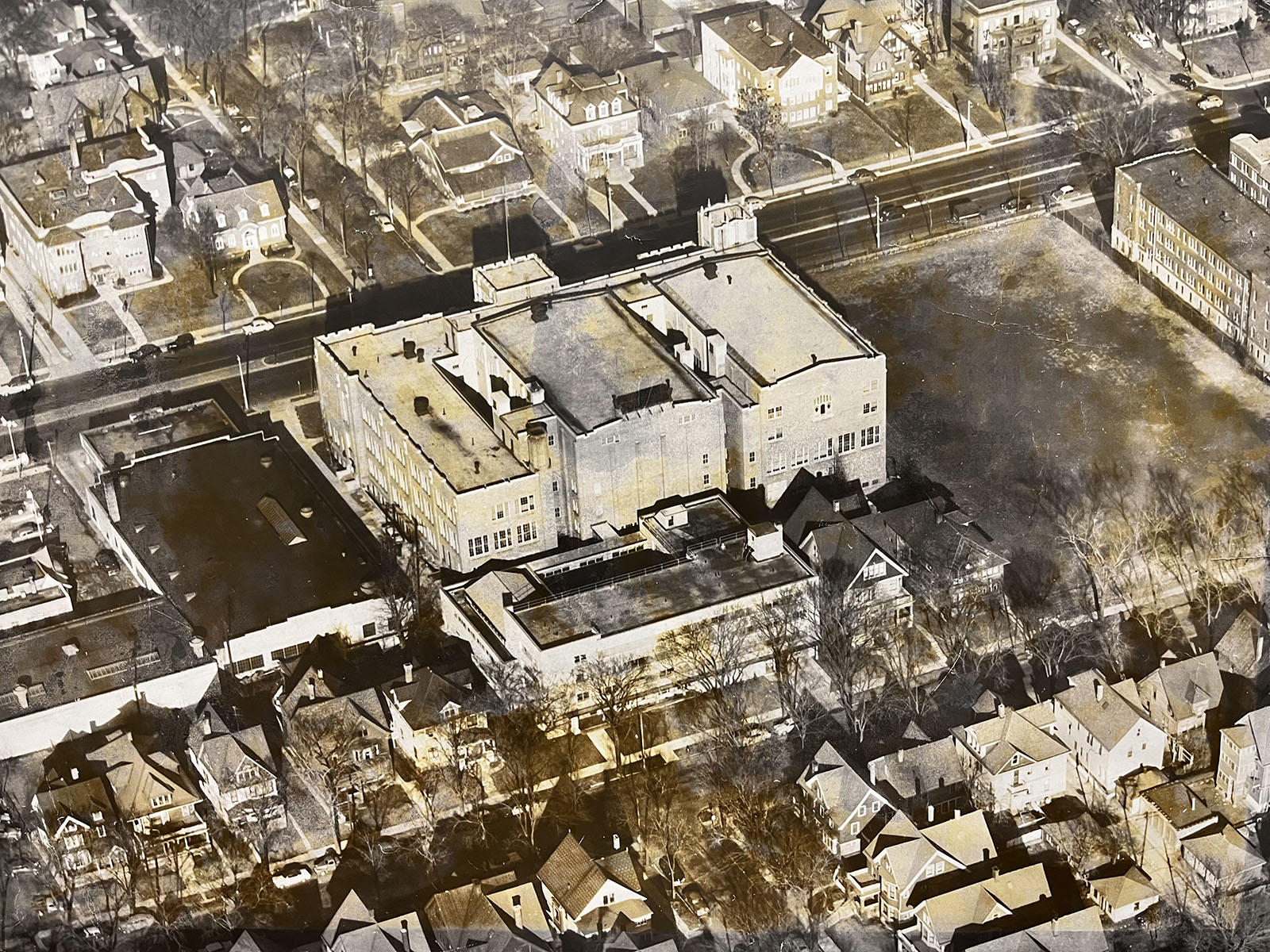 "We'll be in there on June 6," Lese says. "And then we'll be in another historic building right above Omaha Beach that American troops stayed in."
The group will land in Paris and roughly follow the Band of Brothers route before flying home from Berlin.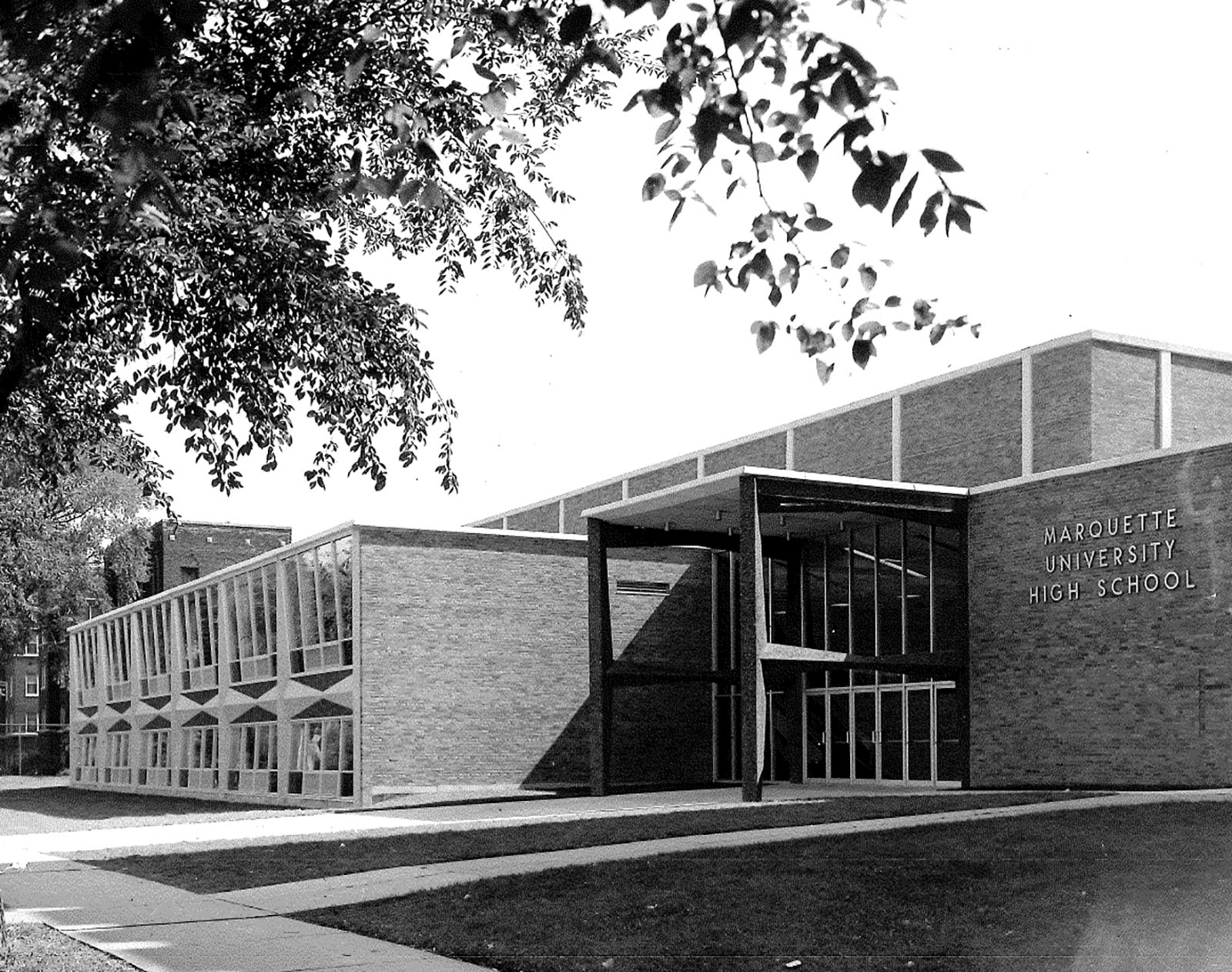 "One cool stop will be Laon, France," Lese adds. "A French historian's going to show us where Fr. Marquette grew up, where he went to school, teach us all about the Marquette family. To try to humanize the guy.
"Just this morning I was showing my class a photo of a Civil War soldier from Marquette High, and a kid raised his hand and said, 'what does Marquette even mean?' I was like, 'what?' So that is going to be pretty awesome, too."
The group will also make a stop in Luxembourg, where it will meet with MUHS alum Tom Barrett, where he is the U.S. ambassador.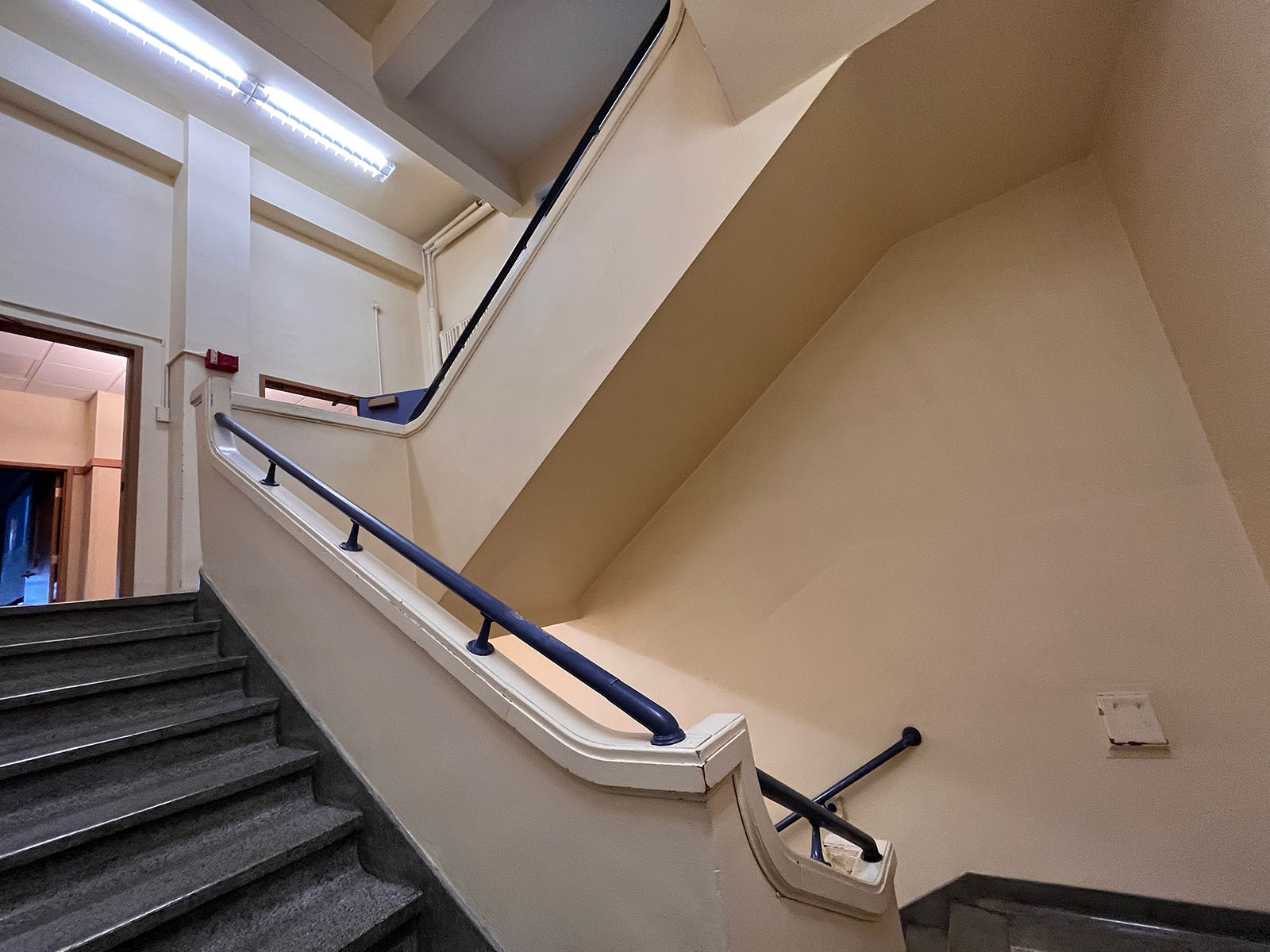 "He's going take us to either the embassy or one of the American cemeteries in Luxembourg," says Lese.
"Then in Munich the Catholic University is giving us a lecture hall and a Jesuit professor who's going to talk to us about World War II. "We'll be on like day nine at that point, and so he will talk to us about what we've seen and then what are those parallels with Ukraine and what's Europe like today?"
Now, THAT's a history class.
Born in Brooklyn, N.Y., where he lived until he was 17, Bobby received his BA-Mass Communications from UWM in 1989 and has lived in Walker's Point, Bay View, Enderis Park, South Milwaukee and on the East Side.
He has published three non-fiction books in Italy – including one about an event in Milwaukee history, which was published in the U.S. in autumn 2010. Four more books, all about Milwaukee, have been published by The History Press.
With his most recent band, The Yell Leaders, Bobby released four LPs and had a songs featured in episodes of TV's "Party of Five" and "Dawson's Creek," and films in Japan, South America and the U.S. The Yell Leaders were named the best unsigned band in their region by VH-1 as part of its Rock Across America 1998 Tour. Most recently, the band contributed tracks to a UK vinyl/CD tribute to the Redskins and collaborated on a track with Italian novelist Enrico Remmert.
He's produced three installments of the "OMCD" series of local music compilations for OnMilwaukee.com and in 2007 produced a CD of Italian music and poetry.
In 2005, he was awarded the City of Asti's (Italy) Journalism Prize for his work focusing on that area. He has also won awards from the Milwaukee Press Club.
He can be heard weekly on 88Nine Radio Milwaukee talking about his "Urban Spelunking" series of stories.