Spending her days spent as a supervisor of operations at MATC, Mary White aka Mary Morrow also maintained the title of first female blues singer in Milwaukee. She has long since retired from her full-time position – but the more highly recognized title will remain.
Born in Carol, Illinois, White married and started a family at a young age. While playing mother to two boys and one girl, she managed to play honky-tonks and small bars through Peoria and then Chicago.
It was at this time, the early 1950s, that the Chicago blues sound was being developed by such greats as Jimmy Rogers and Muddy Waters – all the while Eddie Taylor and Howlin' Wolf were separately crafting their iconic sounds. These great musicians were creating much of what we now know as the post-war electric blues sound.
White remembers her days in the crowd of these blues legends.
"Oh, it was great! I'd see Muddy Waters play at that place off Drexel (possibly Moore's Famous Door) and see Howlin' Wolf," she recalls. "Oh, that Wolf, he could sing and put on a show."
The sounds created in Chicago and the tricks of the trade bid her well when the family decided to move to Milwaukee in 1956.
The Milwaukee Bronzeville music scene in 1956 leaned heavily toward jazz and popular music. There were a few male post-war Milwaukee blues musicians, such as Mighty Joe Young, who began playing blues here in 1953.
His band consisted of C C Cotton, Alvin Hinton, Gene Pierce and Robert Jenkins. A year later, he added drummer "Jojo" and pianist Jesse McIntosh. The majority of the blues migration to Milwaukee took place in 1958-59, bringing modern day blues seniors such as Stokes, Lee Gates, Milwaukee Slim and rest of the "Blues Boys" band, including now deceased Charles Robertson as well as Herbert and Clyde Brooks.
The jazz clubs filling Milwaukee's Bronzeville district numbered so great, they would have lorded over Memphis' Beale Street today. A few clubs which White performed at included the Flame Club, Savoy Club and The Lounge. At this time, many clubs had their own house bands which would back the lead performers.
"These were jazz bands," White says. "And when I would get up there and start singing my blues, why some of the musicians would just up and walk off! You see, they felt the blues was beneath them, thought it was a poor and unintelligent man's music. But I didn't care; I just kept on singin'. They'd walk off, and I'd just keep on singin' cause I loved it!"
When White separated from her husband, she began singing as a source of very necessary income. She now had to provide for four children and times were tight. She added more great-paying gigs, which were plentiful at that time, and began her routine of working a full-time day job as well.
The community was strong and well connected. Her son Michael recalls, "Satin Doll, oh yes, she was my babysitter for a while as mom was off working."
The money was always tight, but she loved the work she was doing, and she soon began to excel at singing.
"The highlight of my entire singing career was probably when Lou Rawls was performing in town," she notes. "I showed up in the audience to enjoy the performance. Lou spotted me and stopped his song. Says Lou, 'Ladies and gentlemen, Mary White has just entered the building. Can we put a spotlight on her? She is one of the greatest singers I have ever heard.' I never felt so special as to be recognized at that moment. He asked me again to go on the road and become a big star, but I had my children at home and my life was comfortable."
When her organist, Bill Gibbs, had extra studio time paid for, they decided to cut a record. That record was released on Gibbs Records and featured sides "Outside Love" and "Prisoner of These Blues."
"It was a rushed session," she says. "We had like two hours to setup and record. I never thought it was a great record, but it was a good time."
The other existing recordings were from live radio shows. Her keyboard player, Ray Tabs, had them recorded live during the radio broadcast. Those songs, as well as her Gibbs Records recordings, can now be heard on YouTube.
Mayor John Norquist proclaimed July 22, 1989 "Mary White Day" in Milwaukee. She continued to sing tunes such as "You're Steppin' Out and Somebody Else Is Steppin' In" and "Down Home Blues" until retiring permanently in the late 1990s.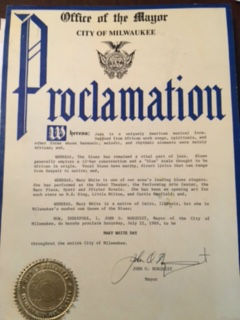 Now in her 80s, White lives a modest life, sharing a small apartment with her son and enjoying her friends and family. But even though her impact's been largely forgotten, Mary White remains a Milwaukee music legend.