Mason Crosby is the Packers' kicker.
He's been in Green Bay since he was drafted in 2007.
Earlier this season on Sept. 20, he broke Ryan Longwell's career record for points and became the franchise's all-time scoring leader. Quite an accomplishment.
In the interim, he booted a lot of footballs, endured a season-long slump, broke out of said slump and became one of the NFL's best kickers.
He also saw his hair turn gray.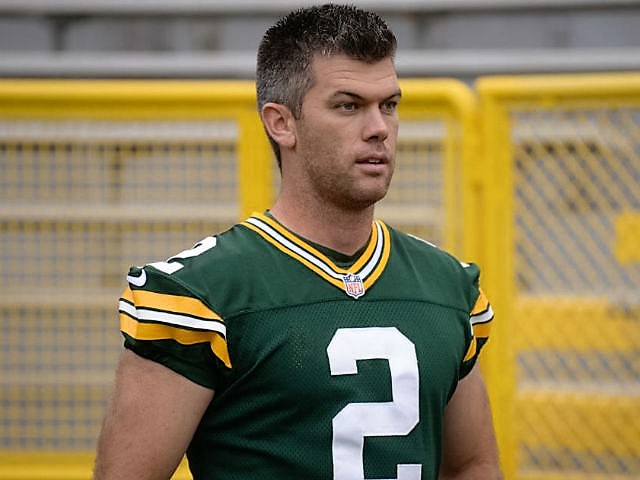 When did that happen?
Crosby is the second-longest-tenured player on the Packers – behind Aaron Rodgers – but he's still only 31 years old. Perhaps the stress of his awful 2012 season, when he made just 63.6 percent of his field goal attempts and was the worst kicker in the league, caused him to prematurely go gray.
Regardless of how or when it happened, Crosby wears his mane well, and people seem to like the distinguished look.
Mason Crosby is hot from the picture I just saw damn — Haley Grubbs (@haleyes7) January 18, 2015
Whoa Mason Crosby has some seriously great hair #GoPackGo #nfl #Packers — WellWellBrendaRuesch (@BecuzBrenSaidSo) September 21, 2015
Mason Crosby is a silver fox. Obviously should have been cast as Mr. Fantastic — That Guy (@BicBuck) January 18, 2015
Said one unnamed source via text message, "He looks like the American dream."
This seems like a good time to mention that Crosby and his wife Molly are happily married with two children.
Maybe after his playing days are over – or while they're still going on – he can get an endorsement deal with Just For Men and be a "Touch of Gray" pitchman.
In the meantime, Crosby, who's making $3.55 million, is converting a career-best 91.7 percent of his field goal tries. So let's just leave him to that.
Born in Milwaukee but a product of Shorewood High School (go 'Hounds!) and Northwestern University (go 'Cats!), Jimmy never knew the schoolboy bliss of cheering for a winning football, basketball or baseball team. So he ditched being a fan in order to cover sports professionally - occasionally objectively, always passionately. He's lived in Chicago, New York and Dallas, but now resides again in his beloved Brew City and is an ardent attacker of the notorious Milwaukee Inferiority Complex.
After interning at print publications like Birds and Blooms (official motto: "America's #1 backyard birding and gardening magazine!"), Sports Illustrated (unofficial motto: "Subscribe and save up to 90% off the cover price!") and The Dallas Morning News (a newspaper!), Jimmy worked for web outlets like CBSSports.com, where he was a Packers beat reporter, and FOX Sports Wisconsin, where he managed digital content. He's a proponent and frequent user of em dashes, parenthetical asides, descriptive appositives and, really, anything that makes his sentences longer and more needlessly complex.
Jimmy appreciates references to late '90s Brewers and Bucks players and is the curator of the unofficial John Jaha Hall of Fame. He also enjoys running, biking and soccer, but isn't too annoying about them. He writes about sports - both mainstream and unconventional - and non-sports, including history, music, food, art and even golf (just kidding!), and welcomes reader suggestions for off-the-beaten-path story ideas.