The owners of McBob's, 4919 W. North Ave., were already planning a major remodel for the beloved Irish pub and grill in the heart of Milwaukee's Uptown Crossing neighborhood.
Steve Schmich, who co-owns McBob's with Christine McRoberts, says the restaurant signed a contract with the Democratic National Convention (DNC) and it inspired them to make plans for interior and exterior changes. Although the status of McBob's contract is uncertain at this point, the massive remodel project is in full swing.
Schmich says the timing of the mandatory shutdown of his business was strangely good. They were not happy about shutting down the day before St. Patrick's Day, which is their most lucrative and festive day of the year, but they also knew they could get a lot of work done quickly if they weren't able to provide full service to customers.
"Fortunately and unfortunately, on March 16 the city shut us down," says Schmich. "This turned out to be a prime opportunity for us."
McBob's remodel plan is currently undergoing phase one, which includes a complete overhaul of the inside. The charcoal walls were repainted a pale yellow and light grey, giving the space a lighter, fresher look and feel, and new vinyl tile was installed throughout the space.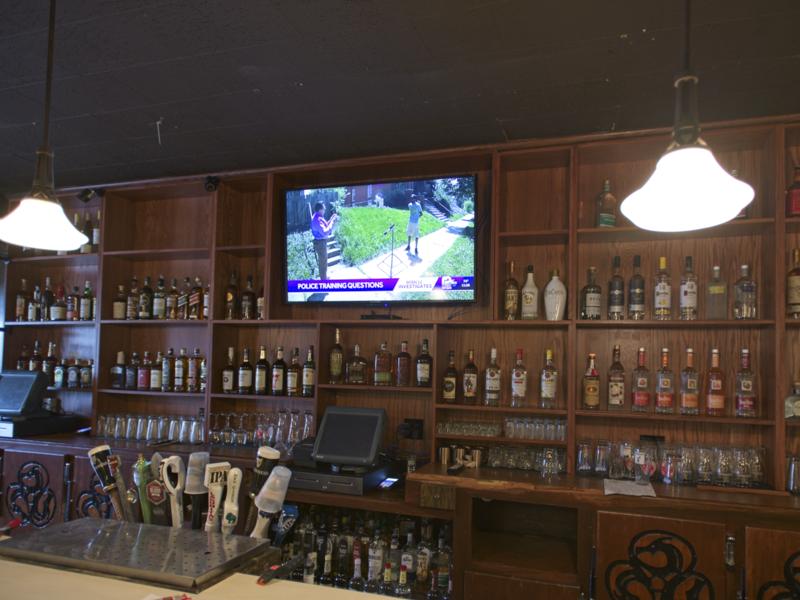 The new backbar is ready for patrons. (PHOTO: Royal Brevvaxling)
The backbar was rebuilt and the bar itself is getting a new maple front and a copper top. The six cooler doors carved with McBob's logo were cleaned and re-stained back to their original beauty, all of the tables were re-sanded and a new service station for servers was built so they have easier access to coffee and other needed supplies.
Four days of cleaning the logos were followed by fresh black paint and a coat of polyurethane. (PHOTO: Royal Brevvaxling)
"We've wanted to do these things for a while, and everything is turning out awesome," says Schmich.
The biggest job, however, is yet yo come. Phase two entails an eight-foot expansion in the front of the building to accommodate customers waiting for their pick-up orders – roughly 35 percent of McBob's business during "normal" times is carry-out, especially on Fridays for their fish fry.
The new front will include major tuckpointing, paint, more windows, and new lighting, signage and flags. The east side of the building which is viewable when driving west on North Ave will soon adorn a large new sign with the McBob's dragon logo on it.
Some of the ideas for McBob's new facade are inspired by the above photo.
"It's going to be really neat. This is an old building and it really needed maintenance," says Schmich. McBob's has been in the family since 1986. "We're really jazzed to reopen."

Molly Snyder started writing and publishing her work at the age 10, when her community newspaper printed her poem, "The Unicorn." Since then, she's expanded beyond the subject of mythical creatures and written in many different mediums but, nearest and dearest to her heart, thousands of articles for OnMilwaukee.

Molly is a regular contributor to FOX6 News and numerous radio stations as well as the co-host of "Dandelions: A Podcast For Women." She's received five Milwaukee Press Club Awards, served as the Pfister Narrator and is the Wisconsin State Fair's Celebrity Cream Puff Eating Champion of 2019.