The latest piece of Deer District has set its grand opening date – and it's just in time for the playoffs spotlight.
The MECCA Sports Bar and Grill announced today via a job fair announcement that it will host its grand opening on Friday, May 3 – aka approximately when the second round of the playoffs, hopefully featuring the Bucks, would begin. The new restaurant and bar will also host multiple soft opening dates the week prior to its grand opening.
Moving into the same central building as Good City Brewing, The MECCA Sports Bar and Grill will spotlight a 36-foot HD screen featuring state-of-the-art picture and sound for an immersive sports experience, along with two full-size bars for 600 guests, outdoor seating on both levels and arena-style seating on the second floor.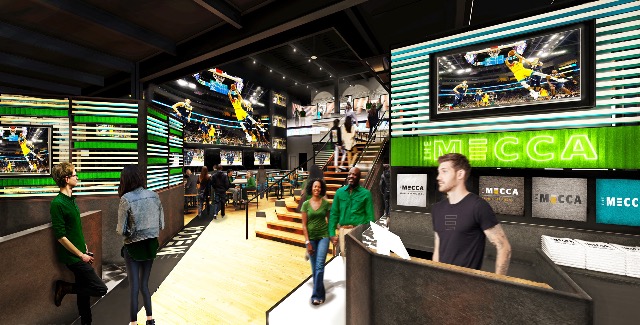 "The MECCA Sports Bar and Grill will offer guests an elevated sports bar culinary experience," said The MECCA Sports Bar and Grill general manager Cecil McGrew in a press release, "and we are looking for hard-working, skilled staff to provide a superb experience for our guests."
In order to help find that hard-working, skilled staff, The MECCA will host two job fairs – Thursday, April 18 and Thursday, April 25, from 10 a.m. to 1 p.m. at the new bar – in the lead-up to the venue's grand opening. The restaurant and bar will seek cooks, bartenders, servers, kitchen staff, runners, bussers, dishwashers, hosts and hostesses.
Stay tuned to OnMilwaukee for more updates and a first look at The MECCA Sports Bar and Grill.
As much as it is a gigantic cliché to say that one has always had a passion for film, Matt Mueller has always had a passion for film. Whether it was bringing in the latest movie reviews for his first grade show-and-tell or writing film reviews for the St. Norbert College Times as a high school student, Matt is way too obsessed with movies for his own good.
When he's not writing about the latest blockbuster or talking much too glowingly about "Piranha 3D," Matt can probably be found watching literally any sport (minus cricket) or working at - get this - a local movie theater. Or watching a movie. Yeah, he's probably watching a movie.