The Packers' 2017 season kicks off Sunday as Green Bay hosts the Seattle Seahawks in a high-stakes Week 1 matchup at Lambeau Field (3:25 p.m. CT on FOX).
In 2016, the Packers had a tumultuous year, starting out 4-2 before losing four straight games in a midseason slump and then recovering to win their last six and make the playoffs. They won their first two postseason contests before being blown out against the Falcons in the NFC Championship Game.
Here is a look at Green Bay's officially listed starters on offense, defense and special teams for 2017, along with some key stats, fun facts and how to connect with the players.
OFFENSE
Jordy Nelson, WR
Key stat: After missing all of the 2015 season with a torn ACL, he led the Packers last year in catches (97), touchdowns (14) and receiving yards (1,257), which ranked sixth in the NFL.
Fun fact: In Kansas, Nelson won 3A track titles in the 100, 200, 400 and long jump at the 2003 state meet.
Interact: @JordyRNelson
David Bakhtiari, LT
Key stat: Including all 16 last year, he's started 62 of a possible 64 regular-season games since being drafted in 2013, most on the offensive line over that span.
Fun fact: His given name is David Afrasiab Assad Bakhtiari.
Interact: @DBak69
Lane Taylor, LG
Key stat: Starting all 16 regular-season games in his first year as the No. 1 left guard, Taylor missed only one snap in 2016.
Fun fact: One year after replacing former All-Pro guard Josh Sitton and becoming a starter for the first time, Taylor last month was given a three-year contract extension worth $16.5 million.
Interact: @lanetaylor65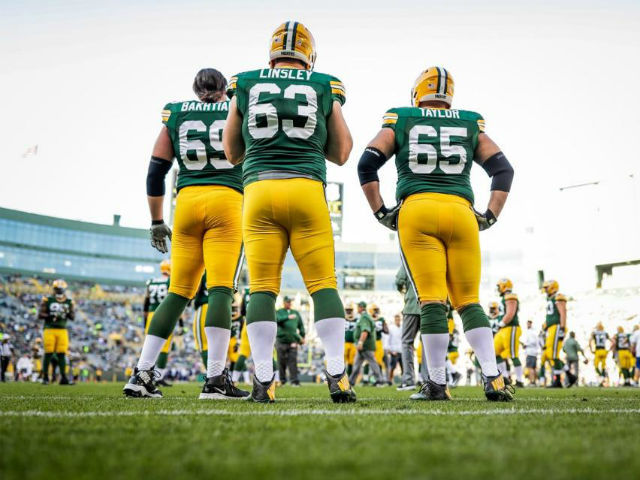 Corey Linsley, C
Key stat: Though he's battled injuries during his career – playing in 38 of a possible 48 total games – he has started at center in all 38 contests he has appeared in during his first three NFL seasons.
Fun fact: A four-year track and field standout in high school, Linsley was the regional and league champion and a state medalist in the shot put.
Interact: @Linsley71
Jahri Evans, RG
Key stat: Over 11 years in the NFL, he has only missed seven of a possible 176 career games, with his 169 games played and started since 2006 the most by an active NFL offensive lineman over that span.
Fun fact: In 2010, Evans signed a contract with the Saints (seven years, $56.7 million) that made him the highest-paid guard in NFL history at the time.
Interact: @J_7TRE_E
Bryan Bulaga, RT
Key stat: He started a career-high 16 games last season.
Fun fact: Bulaga is the youngest player to ever start a Super Bowl, when in 2010 he was 21 years and 322 days old in the Packers' win over the Steelers.
Interact: @BBulaga
Martellus Bennett, TE
Key stat: His seven touchdown catches last season would have been the most by a Packers tight end since 2011.
Fun fact: Bennett started a production company called Imagination Agency that makes kid-friendly content, and he has written a children's book, "Hey AJ, It's Saturday."
Interact: @MartysaurusRex
Randall Cobb, WR
Key stat: His 10.2 receiving average last year was the lowest yards per catch of his career.
Fun fact: Despite being recruited to Kentucky as a standout high school quarterback, he's only attempted one pass in his first six NFL seasons (it was incomplete).
Interact: @rcobb18
Aaron Rodgers, QB
Key stat: He threw the most pass attempts (610) and completions (401) of his career last year.
Fun fact: Rodgers pitched for his high school baseball team for one all-important season.
Interact: @AaronRodgers12
Ty Montgomery, RB
Key stat: Among NFL running backs with at least 75 carries in 2016, he ranked No. 1 with an average of 5.94 yards per carry, and he also was the only player in the league last season with 75-plus rushing attempts, 40-plus receptions and 15-plus kickoff returns.
Fun fact: In case you haven't heard, Montgomery was a wide receiver until he switched positions last year, and he still wears uniform No. 88.
Interact: @TyMontgomery2
Aaron Ripkowski, FB
Key stat: He was named a Pro Bowl alternate in 2016, after appearing in all 16 games, starting eight.
Fun fact: Ripkowski was one of only two Packers (with wide receiver Jeff Janis) to record a rushing and a receiving touchdown last season.
Interact: @AaronRipkowski
DEFENSE
Dean Lowry, DE
Key stat: He posted sacks in back-to-back games last year, recording one in Week 13 vs. Houston and another in Week 14 vs. Seattle.
Fun fact: At 6-foot-6, Lowry is tied for being the Packers' tallest player (and he's the tallest on defense).
Interact: @DeanLowry94
Kenny Clark, NT
Key stat: After playing a season-low seven snaps in Week 13 last year, the then-rookie averaged 24.6 snaps over the final seven games (including playoffs).
Fun fact: Clark won a California Interscholastic Federation wrestling title as a senior in high school.
Interact: @KCBoutThatLife
Mike Daniels, DT
Key stat: He was ranked 84th on NFL.com's Top 100 players of 2016 list.
Fun fact: Daniels is a fan of Japanese anime manga comics.
Interact: @Mike_Daniels76
Clay Matthews, OLB
Key stat: He's just one of six NFL players who has recorded five-plus sacks in each of his eight seasons in the league.
Fun fact: He originally was a walk-on at Southern California.
Interact: @ClayMatthews52
Jake Ryan, ILB
Key stat: He ranked No. 2 on the team with 84 tackles last year, including eight for loss.
Fun fact: His grandfather, Francis Sweeney, was a defensive tackle at Xavier University and for the Saskatchewan Roughriders of the Canadian Football League.
Interact: @JakeRyan_47
Blake Martinez, ILB
Key stat: He led Stanford in tackles as both a junior (102) and senior (141), ranking first in the Pac-12 and seventh nationally in tackles in 2015.
Fun fact: "Machinez" earned his degree in management science and engineering at Stanford.
Interact: @Big__Blake50
Nick Perry, OLB
Key stat: In 14 games (12 starts), he led the Packers with a career-high 11 sacks, which was tied for eighth in the NFL.
Fun fact: Since entering the league in 2012, Perry's seven postseason sacks are the most in the NFL over that span.
Interact: @NickTheGreat8
Davon House, CB
Key stat: He started a career-best 15 of 16 games for the Jaguars in 2015, setting career highs in tackles (60), solo tackles (49), passes defensed (23) and interceptions (four).
Fun fact: Drafted by Green Bay in 2011, House played four seasons for the Packers before leaving to sign with Jacksonville in 2015, and then returning to Lambeau this season.
Interact: @DavonHouse
Damarious Randall, CB
Key stat: In 2016, his overall grade of 39.6 ranked 108th out of 111 cornerbacks, according to Pro Football Focus, and he also tied for the most touchdowns given up with eight.
Fun fact: Randall played baseball at Butler Community College (Kansas) in 2010 and has two older brothers who were minor-leaguers.
Interact: @RandallTime
Morgan Burnett, SS
Key stat: He led the Packers last year with 92 tackles, finished second on the team with 13 passes defensed and his career-best three sacks ranked No. 2 in the NFL among safeties.
Fun fact: Burnett's nickname is "Uno."
Interact: @MoBetta_42
Ha Ha Clinton-Dix, FS
Key stat: He was named to his first career Pro Bowl and earned second-team All-Pro recognition from The Associated Press in 2016 after leading Green Bay with a career-high five interceptions, the most by a Packers safety in a single season since Charles Woodson (seven) and Charlie Peprah (five) in 2011.
Fun fact: His given name is Ha'Sean Treshon Clinton-Dix.
Interact: @haha_cd6
SPECIALISTS
Mason Crosby, K
Stat: With 1,267 career points, he ranks No. 1 on the all-time franchise scoring list.
Fun fact: Crosby once speared a 35-inch grouper.
Interact: @crosbykicks2
Jacob Schum, P
Stat: The undrafted rookie was named second-team All-ACC in 2016, after posting a career-high 43.8-yard gross average, which was good for No. 2 in the Atlantic Coast Conference.
Fun fact: Schum's father, Paul, played LB for the Houston Oilers in 1987 after a collegiate career at South Carolina.
Interact: @JustinVogel_16
Brett Goode, long snapper
Stat: He was one of only two Packers, along with Crosby, to appear in all 112 regular-season games from 2008-14.
Fun fact: This is the second straight year that Green Bay tried to move on from Goode, before ultimately re-signing and bringing him back.
Interact: @BGoode61
Born in Milwaukee but a product of Shorewood High School (go 'Hounds!) and Northwestern University (go 'Cats!), Jimmy never knew the schoolboy bliss of cheering for a winning football, basketball or baseball team. So he ditched being a fan in order to cover sports professionally - occasionally objectively, always passionately. He's lived in Chicago, New York and Dallas, but now resides again in his beloved Brew City and is an ardent attacker of the notorious Milwaukee Inferiority Complex.
After interning at print publications like Birds and Blooms (official motto: "America's #1 backyard birding and gardening magazine!"), Sports Illustrated (unofficial motto: "Subscribe and save up to 90% off the cover price!") and The Dallas Morning News (a newspaper!), Jimmy worked for web outlets like CBSSports.com, where he was a Packers beat reporter, and FOX Sports Wisconsin, where he managed digital content. He's a proponent and frequent user of em dashes, parenthetical asides, descriptive appositives and, really, anything that makes his sentences longer and more needlessly complex.
Jimmy appreciates references to late '90s Brewers and Bucks players and is the curator of the unofficial John Jaha Hall of Fame. He also enjoys running, biking and soccer, but isn't too annoying about them. He writes about sports - both mainstream and unconventional - and non-sports, including history, music, food, art and even golf (just kidding!), and welcomes reader suggestions for off-the-beaten-path story ideas.