Watching a contestant on Bravo's "Top Chef" come up with a brand new recipe during a Quickfire Challenge. Observing every member of Team USA doing anything remotely athletic during the 2018 Winter Olympics. Witnessing my sister knit a scarf in the time it takes me to shower every morning.
What do these things have in common? Whenever I'm watching them, I lose count of the number of times I say, "How are they doing that?!"
Another task I can add to this list: playing a musical instrument. That's why it was such a pleasure recently to speak to trombone-player extraordinaire Megumi Kanda.
You've likely seen her grace the stage during countless Milwaukee Symphony Orchestra concerts, but you may not know just how remarkable her place is on that stage. Kanda has earned the incredible distinction of being the only female principal trombone player in a major orchestra in the United States. That's an accomplishment countless aspiring musicians can only dream of – and one that failed middle school band members like me recognize as truly exceptional.
Here is a conversation with someone who's had a much more successful musical career post-sixth-grade band than myself.
OnMilwaukee: What first got you interested in playing the trombone?
Megumi Kanda: Actually, I was really never interested in the trombone! I joined my grade school band because my best friend played the clarinet, which means I wanted to play the clarinet, too. But the clarinet was a very popular instrument, so my band teacher encouraged me to go to the storage room and pick whatever instrument was left. All that was left was the trombone.
Luckily, I fell in love with it right away. Not only had I never seen a trombone before, but I just loved the deep sound and I enjoyed the fact that me, a girl, was playing an instrument like this.
Who are your musical inspirations?
I really had a wonderful music teacher in the sixth grade. She was a young teacher, probably straight out of college, and she just loved music so sincerely. She is my musical inspiration and the reason why I am a musician today. I'm happy to say that her and I also still keep in touch! We exchange Christmas cards, and every time I come back home to Tokyo, we try to get together.
Do you play any other instruments besides the trombone?
Well, I started playing the piano when I was 6 years old – and I was horrible. I really didn't like the piano, probably because I practiced for maybe three minutes a week. In fact, every time my piano teacher would come to our house for lessons, I would hide in the closet. According to her, I was a horrible student – in fact, the worst student she'd ever had. She even told me I had no musical talent!
What does it feel like to be the only female principal trombone player in a major U.S. orchestra?
While there have been some female principal musicians in major orchestras, those women have lost their positions – solely because of the fact that they are female. It's because of those wonderful women that I am where I am today. The reason I'm able to hold this distinction is because of all of the women that tried out before me. There have been so many talented ladies who have really paved my way. Because of them, I can do what I do now, and I'm so honored to be a source of encouragement for future generations.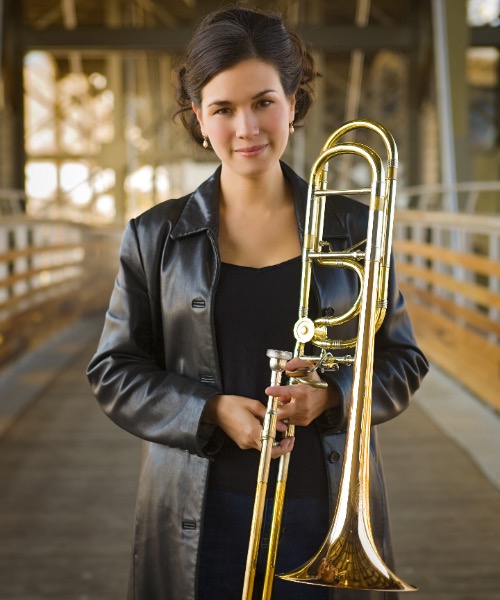 Walk me through your journey to achieve to this accomplishment.
My studies at the Cleveland Institute of Music were a truly defining moment in my career. While I have always been a hard worker, that is the place where I finally got excited about practicing my instrument. But unfortunately, I over-practiced to the point where I had seriously injured myself. The doctors thought that I'd never play again. I had to change the way I had taught myself to play to become a more efficient player. That's what put me on the path to my current success: I lost everything, and I was forced to restart and become better.
After graduation, I immediately auditioned for the principal trombone position in Albany Symphony Orchestra. I played with them for three years until I next auditioned for the Rochester Philharmonic. It was there that I met a very nice horn player within the orchestra, and that horn player is now my husband! We performed together in Rochester before moving to Milwaukee, where I auditioned for the Milwaukee Symphony Orchestra in 2002 and he auditioned for in 2006. We've both been playing with the MSO ever since!
What makes playing with the Milwaukee Symphony Orchestra so special?
In Milwaukee, my colleagues are not only great musicians, but they are also wonderful people. The entire company works as a team both on and off the stage.
Not only that, but the audience in Milwaukee is so special. As soon as my husband and I moved here, I immediately felt their support in every performance. It's that support that really makes you not only enjoy your job, but appreciate how incredible the Milwaukee Symphony Orchestra is.
What have been your favorite recent Milwaukee Symphony Orchestra concerts to participate in?
One of the concerts that I'll remember for the rest of my life is performing Mahler's Third Symphony in June 2017. Audiences may remember that this was the final concert led by former MSO music director, Maestro Edo de Waart.
There are some concerts where you, as a musician, really feel a deep connection with the conductor, where it's almost like you are having a deep conversation with them during the performance. That for me was certainly one of those moments, and for that reason, the music in Mahler's symphony became especially moving for me that night.
When you're not performing, how do you enjoy spending time in the Brew City?
Gardening is another one of my passions – I just love planning what I'm going to do throughout the winter season and then working in your garden throughout spring, summer and even fall.
Apart from that, I never complain about visiting the lakefront, and I enjoy going to Brewers and Bucks games with my husband and our three sons – they are really into sports.
If you had to give any advice to aspiring musicians, what would it be?
Music is like a window that shows what's inside your heart. A lot of times, musicians just work on the technique, but it's also so important to work on yourself on the inside. That's not only what the audience is going to see, but that's also what your music becomes.
A proud Wisconsin native, Caitlin Elftman is always up for a night on the town in the Brew City. If you ever need someone to catch a play or a concert with, or a friend to check out the latest Milwaukee restaurant opening, she's your gal!
Caitlin is also a lover of international travel, makes a mean risotto and knows every Neil Diamond and Celine Dion song you could throw at her.