If a bar or restaurant is going to have a theme, it's really gotta be a balls-to-the-walls, full-throttle effort. Otherwise, why bother?
Recently, we visited Jack Rabbit Slims – named after the quirky diner in the movie "Pulp Fiction" – and were disappointed by the lack of film references. There is a "Royale with Cheese" on the menu, but other than that, there was virtually no trace of Vincent Vaga (John Travolta's character in the movie). Where was the $5 shake? Where was the Buddy Holly waiter?
Last week, we spontaneously stopped in The Metal Grill, 5026 S. Packard Ave. in Cudahy, and had the reverse experience. The appearance and overall experience epitomized both the words "metal" and "grill" – thanks to the incredibly tasty burgers and the raucous head-banging on the stage.
Aptly, at the Metal Grill, there's both a drink and a burger called the Lemmy, named for Lemmy Kilmister, the founder and frontman of Motorhead who passed away in December.
We sampled both versions of the Lemmy and found the drink to be a generous pour of Jack Daniels splashed with Coke and the burger to be one of the best we've had in a while. It was thick, flavorful and sloppy – topped with bacon, cheese, barbecue sauce and onion petals.
We also ordered the Throat Slayer Burger, which we admit we picked mostly because of the name. However, it did not disappoint, either, as a 100-percent Angus burger stacked with jalapeno peppers, bourbon bacon, pepper jack cheese and a tangy "secret" sauce.
Equally as appealing as Metal Grill's burgers are the ample potato choices. All of the sandwiches are served with potato wedges, onion petals, twisted fries or – most exciting for us – potato pancakes (not just for South Side fish fries anymore!). With one of the burgers, we got a side of fries and wished there were a few more.
"A lot of the menu was built around bacon," says Neil Borkowski, who co-owns the Metal Grill with partner Theresa Borkowski. "Because bacon makes everything better."
Pork-alicious menu items include bacon-wrapped mozzarella sticks, steak and bacon bites, bacon-wrapped jalapeño poppers, numerous bacon-topped burgers and a bourbon bacon and Swiss chicken sandwich.
"It was important to us that we had really good pub food and a lot of different options," says Theresa.
Other notable drink specials include the Angel of Death, the Beetlejuice, The Wet Dream (ahem) and the signature Metal Mayhem, which is an arguably dangerous mix of Island Blue Pucker, Black Haus, Blue Curacao and Sprite. There's also a signature beer on tap called Metal Grill Brew that was described by a bartender as "a good ol' yellow beer." And it was.
Theresa and Neil Borkowski opened The Metal Grill – a bar, restaurant and music venue – three years ago in the space that formerly housed The Blue Pig. The couple didn't initially settle on a particular music genre and experimented with country and blues bands. However, it was clear that the customers wanted metal, and so it's metal they get – with a fair share of punk bands tossed in for good measure.
"I love all kinds of music," says Neil. "I grew up listening to my brother's records while he was at work, but we morphed into a metal bar and I'm cool with that. It is a niche market in Milwaukee that wasn't being served."
Theresa has a background in the service industry. She was a bartender at Potawatomi Hotel & Casino and a manager of Mader's restaurant.
"My husband loves music, and so he handles that aspect of the business and I handle operations," says Theresa.
The Metal Grill hosts live metal bands many nights of the week, from local favorites like The Metal Men to national acts like last Saturday's sold-out Metal Church show. The venue is solid, with a medium-sized stage and good acoustics, and tickets to all of the events can be purchased online.
Neil invited us to see the Metal Grill's green room, which was particularly nice and yet very rock-n-roll with a spread of food, comfortable seating, signed posters from previous shows and a large burning candle.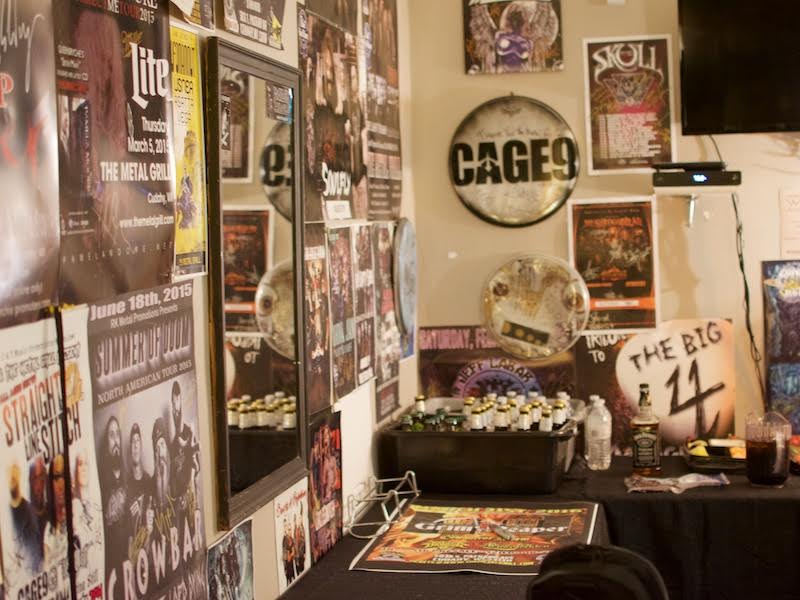 The Borkowskis – who live 45 minutes away from Metal Grill near Union Grove and both hold down other full-time jobs – learned that owning such a business is a load of work. However, the important question is, are they still having fun?
"I am," says Theresa. "It's like a second full-time job, but I really am."

Molly Snyder started writing and publishing her work at the age 10, when her community newspaper printed her poem, "The Unicorn." Since then, she's expanded beyond the subject of mythical creatures and written in many different mediums but, nearest and dearest to her heart, thousands of articles for OnMilwaukee.

Molly is a regular contributor to FOX6 News and numerous radio stations as well as the co-host of "Dandelions: A Podcast For Women." She's received five Milwaukee Press Club Awards, served as the Pfister Narrator and is the Wisconsin State Fair's Celebrity Cream Puff Eating Champion of 2019.