This article is in a series by emerging creatives at Milwaukee Institute of Art and Design (MIAD) that explores both the apparent and hidden influences of professional art and design in the Milwaukee area.
Art is created to challenge the viewer's limitations and thought processes, causing them to think about what is being presented to them. Creative expression can cause controversy due to artists pushing perceptive boundaries, much like Andres von Chrzanowski's mural of "The Unsung Hero" in Milwaukee's Third Ward.
Von Chrzanowski, AKA Case Maclaim, painted the controversial piece on the north side of the Dye House building, 320 E. Buffalo St., this summer.
"Throughout history, there have been many examples of female working-class heroes," says Maclaim in his Instagram post. "The positive impact of their actions, words and ever-changing ingenuity hasn't always received the respect and love it deserves."
Karen Bell, owner and chef at Bavette in Milwaukee, was chosen to be the woman in Maclaim's mural for her courage, curiosity and creativity. Bell is a Milwaukee native with over 15 years of culinary experience around the world.
Chef Karen Bell.
This mural was created not only to pay tribute to past female working-class heroes but also to celebrate the present ones, just like Bell. Her strong personality and work ethic are what Maclaim presented to Milwaukee.
"The Unsung Hero" has received very mixed reviews due to the woman in the mural not having a head. In contrast to Maclaim's statement that the work is a tribute to the female working-class, many people think it's a reminder of how women are poorly treated around the world.
There are numerous controversial murals around Milwaukee, but "The Unsung Hero" is the most prominently placed. Not only is it right in the middle of the Third Ward facing Downtown, it was painted on a large, historic building.
Another local mural controversy occurred in Milwaukee in 2017, but in a different way. When OnMilwaukee's Molly Snyder wrote about the Selena mural painted by Mauricio Ramirez on a 5th Street facade, Snyder referred to Selena as "the Madonna of Milwaukee" in her otherwise-positive review. She was quickly called out on the unfairness of comparing Selena to Madonna and she made a correction to the article and apologized for her error.
"This was a learning experience through art for me," says Snyder. "I want to do better."
Artistic controversy comes in many forms and exists in Milwaukee as well as around the world and throughout history. In 1917, French-American artist Marcel Duchamp created a piece called "Fountain" that is still one of the most controversial art pieces today.
Duchamp's "Fountain." (PHOTO: Wikimedia Commons)
"I was drawing people's attention to the fact that art is a mirage. A mirage, exactly like an oasis appears in the desert. It is very beautiful until, of course, you are dying of thirst. But you don't die in the field of art. The mirage is solid," says Duchamp in his interview with The Paris Express in 1964.
Heather Minogue is a graphic designer with Best Version Media in Brookfield. She deals with a lot controversy, most recently when she and her team worked on a campaign called "Every Freedom Needs a Fighter" which addresses censorship in Hong Kong.
"There certainly are more controversial pieces than others. I believe that it all has to do with the subject matter and how far the client wants to push the piece," says Minogue.
Something that is controversial today may not have been controversial in the past. Pubic opinion changes with time and trends.
"As a society our ideals have changed since the 1950s and advertisements and art has changed with it," says Amy Lunde, senior at Milwaukee Institute of Art and Design.
In her work, Lunde uses text and textiles to show the health problems she experiences. This can be very controversial to some due to the way she uses the text. One of her pieces contains the word "I haven't had hope for a pain-free life for 10 years." This can not only be taken negatively, but could cause controversy because people from a different culture may think Lunde still has it better than they do.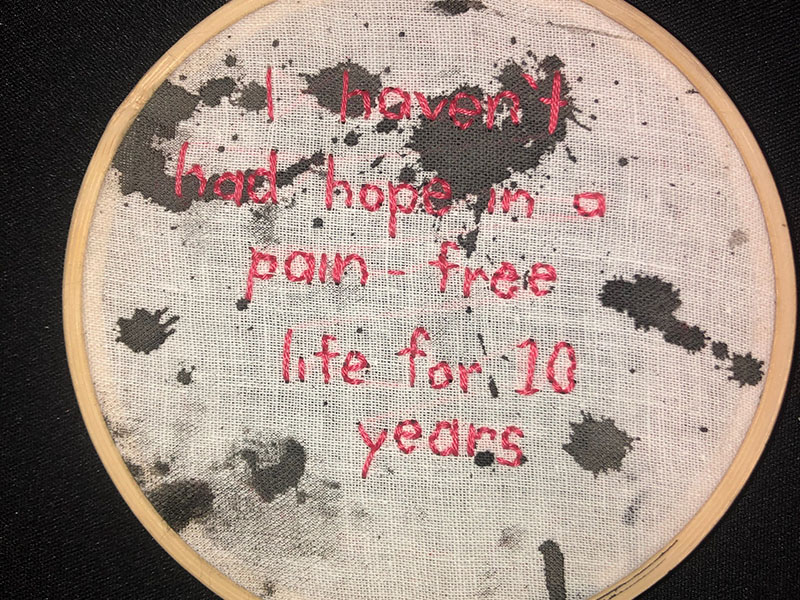 Amy Lunde, "I haven't had hope for a pain free life for 10 years." (PHOTO: Amy Lunde)
One of the roles of the artist is to change society with the work they make and this, inevitably, will cause some controversy.
"I believe art can change a society," says Minogue. "Although sometimes it can be very gradual and maybe not even be noticeable until several years later, other art has an impact right away."