This article is in a series by emerging creatives at Milwaukee Institute of Art and Design (MIAD) that explores both the apparent and hidden influences of professional art and design in the Milwaukee area.
Milwaukee has an abundance of well-designed spaces with handcrafted furniture. These handcrafted custom furniture pieces are designed specifically with the space in mind. Yet there is a tendency to overlook the furniture that makes these Milwaukee spaces unique.
Milwaukee Institute of Art and Design (MIAD) alumni are creating some of these stunning pieces of furniture. MIAD alumni's work can be found across the Milwaukee area in art galleries, coffee shops and on street corners. You may have sat in a chair or walked past a flower bed without noticing the unique craftsmanship that went into the piece. Their work is gaining a lot of traction for being some of the most innovative pieces out there.
Ben Husnick is a MIAD alumnus and Milwaukee business owner. As part owner of the Good Land Studio located in Walker's Point he creates custom furniture pieces for clients in the greater Milwaukee area.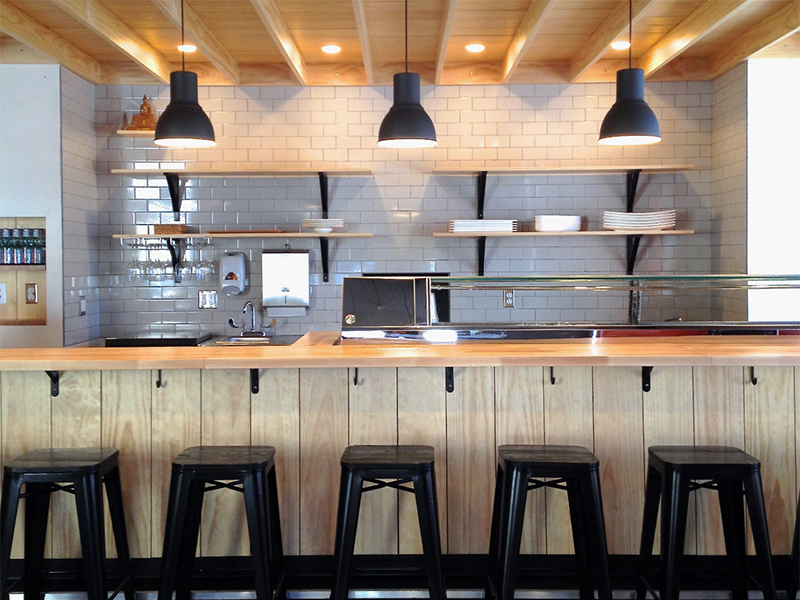 (PHOTO: The Good Land Studio)
In the photo pictured above is Rice & Roll Bistro, 1952 N. Farwell Ave. Husnick and his partner Arthur Talayko designed the bar, shelving and chairs in the restaurant. This is a beautiful example of custom furniture pieces that are hidden in plain sight.
The Good Land Studio is helping to create jobs for MIAD alumni and help former students gain the skill set to hone their craft. Husnick is hoping to work more with students still in the program by working in the MIAD wood lab. He hopes to teach them tricks of the trade so they can better their practice as professional furniture makers.
"There's a risk in the furniture build business because you don't see the money right away, but it's rewarding doing something you love," says Husnick.
(PHOTO: The Good Land Studio)
The Good Land Studio has created custom furniture pieces for commercial and residential spaces, and on top of filling their own furniture commissions they look for ways to support other craftspeople.
Donovan Hill, a MIAD graduate with a degree in Interior Architectural Design (IAD) and a minor in the Furniture Build Program, is currently working at The Good Land Studio. His passion for furniture design draws influence from simplistic and minimalistic pieces of furniture that account for the space they reside in.
Hill looks at the whole picture and designs each piece for the space it will reside in once completed. He takes into account the landscape, light, direction and meaning behind the piece.
Hill is currently working on creating custom pieces for his own clients as well. One piece in particular that he is passionate about is a center console for a client's truck. He is constructing the piece of hard walnut wood that has sharp, sleek edges. The top of the console will feature a custom design and cup holders and it features a false bottom to put more valuable belongings.
Hill continues to learn more about the art of furniture design and hopes to continue to grow his clientele.
Greg Martin taught Interiors at University of Wisconsin-Milwaukee (UWM) and works with students in the community and encourages them to pursue every available opportunity. Martin owns a wood shop in Walker's Point near Good Land Studio. He works with Good Land to fill commission requests because he's always interested to see what other people are working on and loves to help out.
Currently, Martin is renovating an old train switch tower into an Airbnb rental in the Third Ward. He loves working on small projects like this because it allows him to create custom furniture pieces that are unique to the space.
Maggie Sanderson is a MIAD alumna with a degree in Interior Architectural Design and a minor in the Furniture Build Program. She took home the Best in Show award at The International Woodworking Fair for her version of a modern school desk.
Sanderson recently had her desk featured at the Museum of Wisconsin Art (MOWA) in a show "Handmade for Home: The Craft of Contemporary Design."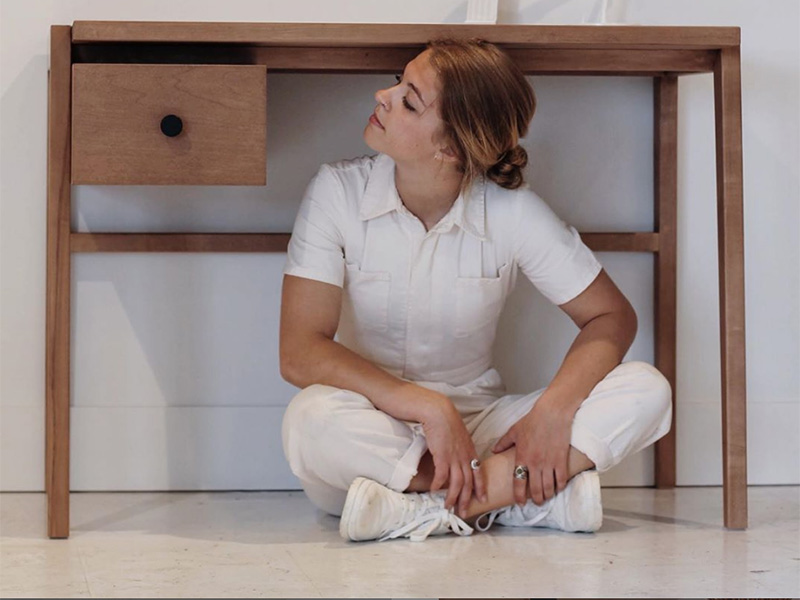 Maggie Jo Design. (PHOTO: Maggie Sanderson)
Recently she was commissioned to enter another piece of furniture, her Conversation Chair, in the MOWA permanent collection.
The Milwaukee Institute of Art and Design's Interior Architecture Program works to create a network of furniture designers who take risks while working with the space where the piece will reside.