This article is in a series by emerging creatives at Milwaukee Institute of Art and Design (MIAD) that explores both the apparent and hidden influences of professional art and design in the Milwaukee area.
If you are of a certain age, you probably grew up watching the adventures of giant robots on TV such as in "Transformers" and "Power Rangers," and proceeded to beg your parents for the toys. These robots are called "mecha" after the Japanese word for "mechanical." Now that this "robot generation" is grown up, there is a growing number of robot collectors looking for new toys in familiar yet unique styles.
Both David "Mecha Zone" White, an illustrator from Easthampton, Massachusetts, and Michael Herm, an animator from Berlin, Germany, are self-taught toy makers who are independently creating new characters for the robot generation to enjoy.
Let's explore their toy design processes and compare them to my own as an industrial design student at MIAD.
The hum of miniature gearboxes fill White's "Mecha Zone" studio; they lift extruder heads along cartesian gantries; buzzing like bees in an almost musical harmony. In the Mecha Zone, it may appear that robots are creating robots, but in truth White is actually behind every step of the process. Under his watchful eye, these 3D printers forge his detailed characters into reality. He has evolved his practice to master these amazing tools and now can share his passions with mecha fans all over the world, better than ever before.
White graduated from the Columbus College of Art and Design with a BFA in Illustration. Originally doing animation work for Lookout World game studio, he has since gone on to illustrate books for Lego, Hot Wheels and "Teenage Mutant Ninja Turtles" and concept art for video games such as MechWarrior 4 on PC and Transformers War for Cybertron on Nintendo DS.
"As the print industry has greatly downsized it has been harder to find work," says White.
White had to get creative in supplementing work, which led to him creating his own action figures.
As a child, White was fascinated by the mecha action figures by toy manufacturer Tomy, such as Starriors, Zoids and Microman/Micronauts. Many of his Mecha Zone offerings are direct homage to these classics.
For instance, one of his newest creations, Chimera, is part of a line called "Mechanauts." Its design is reminiscent of a Zoids figure but White sculpted it in such a way that his own style shines through.
"Chimera," a 3D printed action figure designed by White for his Mechanauts
toy line. (PHOTO: David White)
Collectors can form Chimera to many exciting poses with its 27 points of articulation. Its glossy plating shines from his detailed acetone vapor finishing, and the translucent plates even glow in the dark. Chimera can even swap pieces such as torsos and limbs with other Mechanaut figures because of their modular system. Chimera, like many of Whites' toys, are produced in a limited run. The Chimera figure was so popular that it has already sold out of its first run.
Various figures from White's Mechanauts and Predanauts lines. (PHOTO: David White)
Aside from Mechanauts, White also created a supporting line called Predanauts, which feature more sinister designs. White has created one-off figures as well, either as collaborations with other designers (such with Toy Pizza's "Knights of the Slice" Regen Chamber, and with Drew Wise on "Mechaboy") or on his own (such as "Slugger," taking inspiration from the vehicles of SNK's "Metal Slug" series).
In addition to his 3D printed action figures, White sells many of his illustrations as prints, stickers and in compilation books.
On the other side of the Atlantic, Michael Herm of Tecco Toys is busy preparing his toy line "Age of Mecha" for a Kickstarter campaign launch. Herm lives in Berlin, Germany, and works as a 3D modeler and character modeler for animation. He has been in this business since 2009, but before that worked in the game industry.
As to why he started the Age of Mecha line, Herm says he's "not a huge collector myself, but I have an affinity towards toys, going back to my childhood of course, and have always been watching the market since."
Like White, Herm was also inspired by the toys of his childhood, specifically the line Starcom by Coleco. This science fiction line featured spaceships and tanks with many sliding mechanisms that open compartments inside.
There are a few very apparent similarities with Age of Mecha and Starcom, particularly the small pilot figures.
"It was one of my favorite toy lines as a kid. Starcom was a great inspiration for the size, functionality and playability of Age of Mecha," says Herm.
There are five different figures in the Age of Mecha line. Each have their own theme (one is police themed, another is bounty hunter themed, etc.), and differentiating characteristics in the cockpit design (one is spherical, one is split in two segments, etc.). Yet, the armor plating on the arms and legs for each figure are modular and can be switched around between figures, similar to White's Mechanauts.
On top of this, they still have considerable articulation. Additionally, arms can be switched out with large cannons. The amount of sculpting detail is very impressive, but the customization adds another layer of value.
White and Herm have comparable processes of crafting action figures, but have some unique differences as well. As an industrial design student at MIAD, I was interested in these similarities and differences between their processes and my own.
White starts with a "core idea," a basic version of what he wants to accomplish, and then "does a lot of sketching" to figure out how all of the parts will fit together, usually by "drawing each part individually, eventually bringing them together into a single construct."
White's sketches of Mechanauts "Explorer." (PHOTO: David White)
White says this process helps him think about how to "break down each part for 3D printing," essentially juggling how not to compromise his vision while still being able to print correctly.
White does all of this problem solving before he goes into digital sculpting software. I found this to be a similar process to how I work. I usually do CAD models last, after I have done many iterations of hand models in addition to sketches.
White uses Blender for sculpting mechanical parts, while for more organic parts he uses Zbrush. He is interested in learning CAD programs but has found it hard to find time to learn. I feel the same way as I would like to learn programs like Blender and Zbrush, but currently I only know traditional CAD programs, mainly Solidworks.
White's assembly process of Chimera's 3D printed parts. (PHOTO: David White)
As for 3D printers, White uses Afinia FDM printers for prototypes and for the Mechanauts and Predanauts figures, which he prints with ABS filament. He also has an Anycubic Photon LCD resin printer for detailed parts and even client jobs. At MIAD, we also have similar 3D printers, just of different brands.
I found that the main difference between White's practice and my own is the way he considers design problems.
In my industrial design classes, we do user research to find problems that can be solved with a product, before we start anything. White is still solving problems, but is solving different kinds of problems as he already has a very niche user group and has crafted his own corner of this small, custom "art-toy" segment.
White considers how his work is unique from others in this category, a strong value proposition to complement the craftsmanship of his action figures.
"Too much work out there is derivative," says White. "My work might be retro and fueled by nostalgia, but at least it doesn't look like everything else."
Herm's approach is a bit different. He rarely does sketches or concept art, and goes into 3D computer design right away (typically, designers do at least some sketching first).
He quickly makes primitive models in Maya until he likes the profiles. This practice is actually a bit more common than one would think, especially for those who need a quick 3D form to work with right away. At MIAD, we would call this "sketch modeling."
Herm then exports to Zbrush to "further refine the shape of each part" and "determine the overall design language" for each figure individually.
Herm's assembly process of the "Age of Mecha" 3D printed prototypes. (PHOTO: Michael Herm)

"After that it's all about functionality," says Herm. "Cutting up shapes to individual parts, designed for assembly/tooling, i.e. hollowing out parts."
After this, he adds all of the details such as insets, grids, screw holes, exhausts and fits them to the shapes using custom detailing brushes.
"To have a consistent design feel throughout the line, I use the same detail brushes with all the models, but in different arrangements and amounts for each design," Herm says.
For 3D printing, Hern exports the models to Maya for preparation for printing, mainly to line up support structure in an ideal position so they will not be a hassle to sand off and paint later. He 3D prints using a Formlabs Form2 resin SLA printer. Afterwards he cleans the model and airbrushes each part.
However, unlike White, Herm's 3D prints are just prototypes, not finished products. He intends the finished products to be injection molded which, if the Kickstarter is funded, "will be handled by a commissioned toy factory."
Herm specifically designed the "Age of Mecha" figures "to bridge the gap between collectors and their kids." Herm believes there is a need for a toy that "is highly detailed and can be collected" while at the same time "is also sturdy enough to be practically used without the constant fear that it might break apart."
Herm got this idea from observing the toy industry as a fan for many years.
"I noticed that there are a lot of mecha toys on the market," Herm says, "but most of them lack a sort of playability and often serve as collectors' items only, displayed on a shelf. So the hobby is kind of one-sided in this area."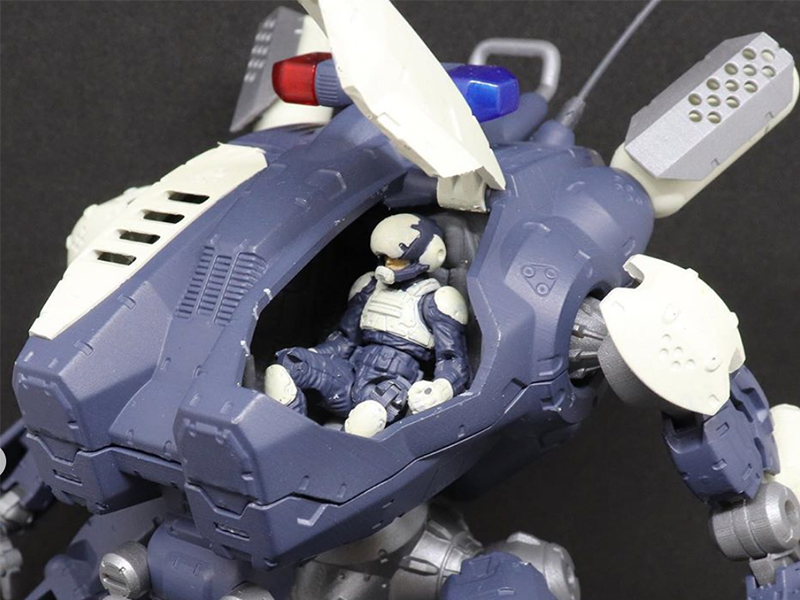 Showcasing the cockpit play feature of Herm's police themed "Age of Mecha" prototype. (PHOTO: Michael Herm)
In addition to this Herm also designed the Age of Mecha figures in a 1/35 scale to bridge the gap between toy collectors and scale modelers.
"A 1/35 scale is rare with toys, but very popular with hobby model builders," says Herm.
Herm believes that his figures should be appealing to both communities rather than just catering to one.
Herm says the parts can be exchanged and mixed between the five different figures, while "keeping its full range of motion and playability," a feature which Herm believes not only "directly appeals to the customization community," but also gives an "additional creative value to younger customers and kids."
I find the way Herm uses his market analysis to justify his design choices to be very similar to what I am learning at MIAD.
White's action figures bring a fresh take to Tomy's (and others) arguably overlooked aesthetics, and presents them in high quality products. Hern's action figures take the best aspects of model kits and collectable figures and make them accessible to the children of collector parents, giving them an experience to share together.
To the right toy connoisseur (of the "robot generation" or not) this gives their toys extra value, but I think anyone can appreciate the quality of their work.