Former First Lady Michelle Obama brought her "Becoming" book tour to The Miller High Life Theatre Thursday night and provided everything the sold-out crowd was hoping for: wisdom, warmth, humor and, most importantly, a feeling of human connection.
Conan O'Brien did a really good job as the special guest moderator – Obama is closing out her tour with different moderators for each of the remaining dates – and early in the conversation he stated that the core of the book's mass appeal came from the fact everyone, including himself, could see traces of themselves in her story. It was refreshing to hear this from a man, especially a man who is usually all jokes like O'Brien.
Obama, who dressed almost entirely in black but wore blue nail polish the color of her book jacket, described the concept of "Becoming" as "a way to reach continuously for a better self." She shared stories and insights directly from the pages of her book, all of which were just as hard-hitting, honest and/or hilarious when spoken.
High points included an anecdote about Obama's embarrassment when her youngest daughter, Sasha, wrote a school assignment about what she did over the summer that simply read, "I met the Pope this summer. A piece of his thumb was missing."
Like all of Obama's stories, this one is funny, family-oriented and a way for her to talk about something deeper like the fact that kids often don't act or look or say what parents wish they would. And then she goes to another level with the story, acknowledging her adult expectations of her daughter in wishing she had written something more pleasant, but then realizing that because her young daughter was eye level with the pope's thumb, this detail was actually a window into her life at age 8. It was a gift.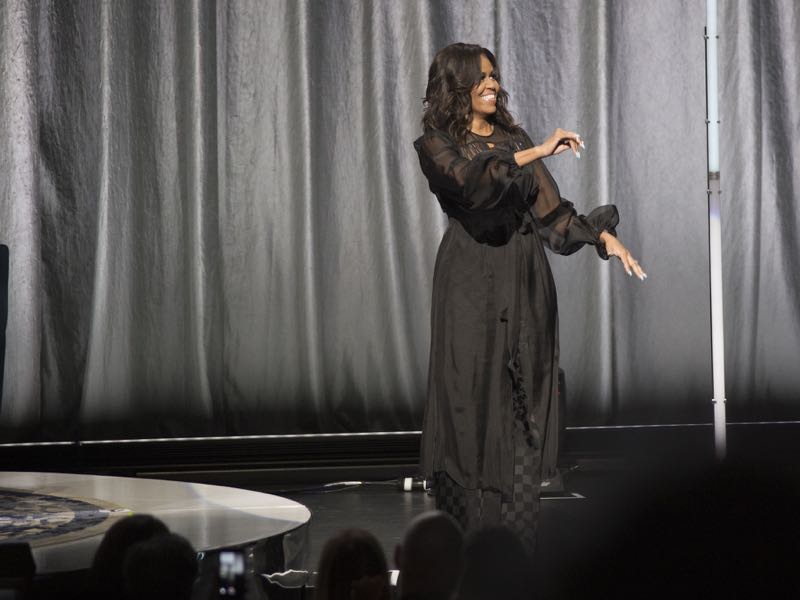 Obama also shared parts from her book through casual conversation with O'Brien about her marriage to Barack and how they are perceived as the perfect couple but in reality have had the same challenges as most and even went to marriage counseling.
"I'm a 'box-checker' and he's a 'swerving optimist' and sometimes that can be maddening for both of us," she said. "We are the epitome of opposites attract."
Obama's commitment to herself and her family before work was perhaps the bravest commentary she made during the conversation. She proudly admitted she prioritizes her marriage, daughters, nights out with girlfriends and working out over the expectations of her job. She puts life before work when filling out her personal calendar.
"And I still have plenty of time to work," she said.
A reoccurring theme in the book and conversation is the need for people to sincerely share their stories. She encouraged people – particularly women – to "dig down and say, 'I will show you who I am even though …'" and then follow that "even though" with the truth of who we are because when we share these vulnerable aspects of ourselves we become human to others.
"It's harder to hate up close," she said, which inspired thunderous applause from the audience.
She also stressed the importance of the "little moments" in our lives to remember who we are and how we got to our current state. Although meeting Nelson Mandela was an incredible joy and privilege for Obama, interactions with family members while growing up on Chicago's South Side had much more of an impact on her as a person.
Overall, the hour and 45 minute conversation flew by. It was an elegantly raw peek into a woman's life, exactly what those of us who are becoming – now and for the rest of our lives – really need to experience on the regular.
Molly Snyder grew up on Milwaukee's East Side and today, she lives in the Walker's Point neighborhood with her partner and two sons.
As a full time senior writer, editorial manager and self-described experience junkie, Molly has written thousands of articles about Milwaukee (and a few about New Orleans, Detroit, Indianapolis, Boston and various vacation spots in Wisconsin) that range in subject from where to get the best cup of coffee to an in-depth profile on the survivors of the iconic Norman apartment building that burned down in the '90s.
She also once got a colonic just to report on it, but that's enough on that.
Always told she had a "radio voice," Molly found herself as a regular contributor on FM102, 97WMYX and 1130WISN with her childhood radio favorite, Gene Mueller.
Molly's poetry, essays and articles appeared in many publications including USA Today, The Writer, The Sun Magazine and more. She has a collection of poetry, "Topless," and is slowly writing a memoir.
In 2009, Molly won a Milwaukee Press Club Award. She served as the Narrator / writer-in-residence at the Pfister Hotel from 2013-2014. She is also a story slam-winning storyteller who has performed with The Moth, Ex Fabula and Risk!
When she's not writing, interviewing or mom-ing, Molly teaches tarot card classes, gardens, sits in bars drinking Miller products and dreams of being in a punk band again.