After a widespread and highly debated search, the Milwaukee Bucks last week found the coach to lead the team into its new arena and into its much-promoted future: Mike Budenholzer, the former head coach of the Atlanta Hawks and popular assistant under future hall of fame NBA coach Gregg Popovich with the San Antonio Spurs.
Today, Budenholzer made his landing in Milwaukee truly official, making his first appearance as Bucks head coach at an introductory press conference held this afternoon inside the upcoming Bucks arena.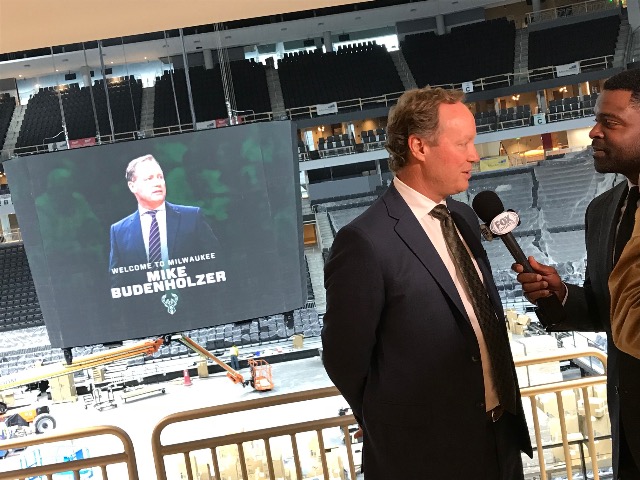 Joined by Bucks GM Jon Horst, Budenholzer took questions from the media about why he chose the Bucks over the other coaching vacancies (namely the Toronto Raptors, the top seed in the Eastern Conference last season), his ballyhooed breakfast meeting with Bucks stars Giannis Antetokounmpo and Khris Middleton, his early impressions on what he's looking for from the team, where he'd like to see it improve and, in a later reporter gathering, how thankful he is that he no longer has to see the Greek Freak on the opposing team.
"It was miserable to coach against him," Budenholzer laughed, "and I'm so happy now that I'm going to say, '34, he's on my team? That's, like, really cool!' He's a nightmare to coach against and game plan for. ... I couldn't be more excited about coaching him."
Here's the entirety of Budenholzer's first words as the new head coach of the Milwaukee Bucks.
Up next for Budenholzer? Finalizing his staff of coaching assistants and the NBA Draft next month, where the Bucks have the 17th pick.
Budenholzer and Bucks GM Jon Horst.

As much as it is a gigantic cliché to say that one has always had a passion for film, Matt Mueller has always had a passion for film. Whether it was bringing in the latest movie reviews for his first grade show-and-tell or writing film reviews for the St. Norbert College Times as a high school student, Matt is way too obsessed with movies for his own good.
When he's not writing about the latest blockbuster or talking much too glowingly about "Piranha 3D," Matt can probably be found watching literally any sport (minus cricket) or working at - get this - a local movie theater. Or watching a movie. Yeah, he's probably watching a movie.