Milk Can Hamburgers & Frozen Custard has done a great job introducing customers to their tasty burgers, chicken sandwiches and sides over the past year via food truck. In fact, the mobile operation has made the rounds from its home base at Bass Bay Brewhouse in Muskego to Downtown Milwaukee, Bay View and countless stops in between.
But soon the Milk Can concept will have a burger and custard stand to call its own, thanks to the acquisition of the former Arby's restaurant at S73 W16770 Janesville Rd. in Muskego.
The building itself has housed a variety of businesses, including a Dairy Queen, since the 1970s, says co-owner Ryan Oschmann. He and his team will be presenting plans for the new restaurant to the Muskego Plan Commission on Nov. 9, with hope for approval and an opening sometime in December.
"Having been born and raised in Muskego, it's great to be able to take over a space that's been a staple for a long time and really put our own spin on it," he says. "It's been really cool to have built such a loyal following with the truck and we're excited for the next step."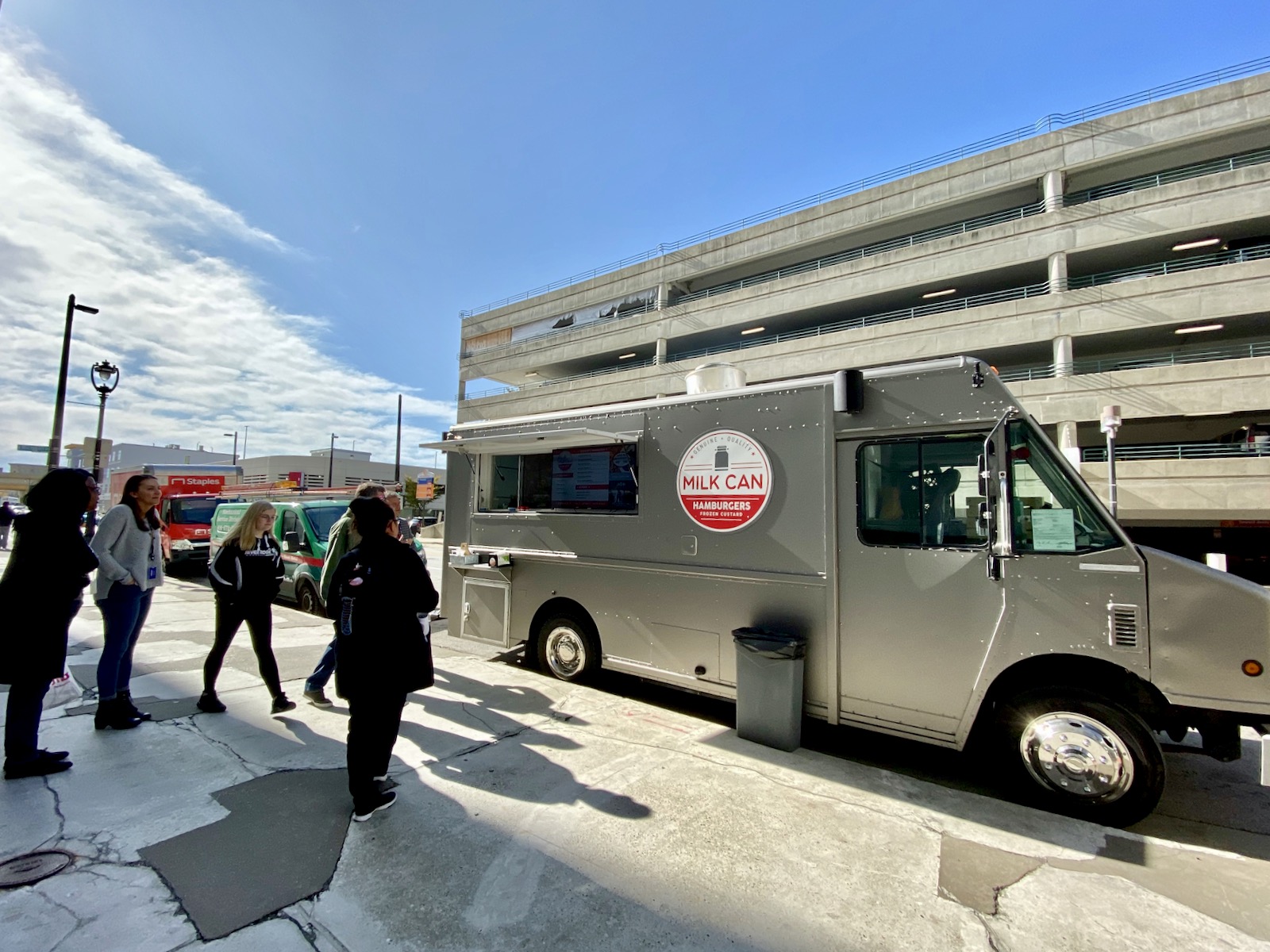 Oschmann, along with partners Lori Oschmann and Andy Meinen will be moving the project forward with the help of a new operating partner, Jared Eggener, an industry veteran and financial professional who most recently worked in finance for Trek Bicycles.
"I met Ryan over a decade ago when we both opened AJ Bombers, so it's really exciting to get to work with him again," says Eggener. "Milk Can is a great brand that resonates with a lot of people, and I'm happy to help move it forward."
Eggener, who grew up in Marinette, Wisconsin, says he grew up enjoying burgers from Mickey-Lu's, a vintage fast-food joint which had served up charcoal-grilled burgers, hot dogs, malts and sundaes since the 1940's. In fact, part of what he loves about Milk Can are the feelings of nostalgia that it incites for customers.
"That nostalgia is powerful," he says. "And with Milk Can, part of what will be compelling about the new location is the overall dining experience, which will include a diner-style counter and an environment and service that goes above and beyond what's expected at a fast casual restaurant."
On the menu
Oschmann says that, if all goes well, the drive-thru for the new restaurant will open fairly quickly and will operate while the full dining room is being renovated.
The menu, he says, will continue to include burgers, fries and cheese curds along with fried and grilled chicken sandwiches, grilled cheese and a variety of bakery items. But there will also be new additions, including hot dogs, soup and salads, plus a full complement of frozen custard offerings including vanilla, chocolate, the flavor of the day and a variety of sundaes.
"We'll start with lunch and dinner," he says, "But breakfast will be rolled out later as well. And we'll have plenty of room to grow with things like daily or weekly specials."
As for the truck, Oschmann says it will remain in use for the time being, but will take a break over the winter and return when the weather warms. Next season, guests will also be treated to a new roving custard trailer that will make rounds alongside (and separately from) the Milk Can truck.
Lori Fredrich (Lo) is an eater, writer, wonderer, bon vivante, traveler, cook, gardener and girlwonder. Born and raised in the Milwaukee area, she has tried to leave many times, but seems to be drawn to this quirky city that smells of beer and alewives.
Some might say that she is a little obsessed with food. Lo would say she is A LOT obsessed with food. After all, she has been cooking, eating and enjoying food for decades and has no plans to retire anytime soon.
Lo's recipes and writing have been featured in a variety of publications including GO: Airtran Inflight Magazine, Cheese Connoisseur, Cooking Light, Edible Milwaukee, Milwaukee Magazine and the Milwaukee Journal Sentinel, as well as on the blog Go Bold with Butter, the web site Wisconsin Cheese Talk, and in the quarterly online magazine Grate. Pair. Share.