For the third time, Miller Park hosted a club soccer game, and C.F. Pachuca defeated Club Leon, 3-1, on a beautiful Wednesday night in front of 18,321 flag-waving futbol fans.
While the attendance was fewer than those of the two previous Miller Park matches – 31,237 for Chivas Guadalajara-Swansea City in 2014 and 21,256 for Atlas FC-Newcastle in 2015 – the crowd was festive, the field was in great shape and the game entertained.
Pachuca created some chances in the first half, but neither team scored and the first half ended 0-0. In the second half, though, the action picked up. Erick Aguirre scored an upper-90 golazo to give Pachuca a 1-0 lead, but Leon equalized in the 66th minute when Walter Gonzalez punished a Pachuca defensive mistake. The tie didn't last long, though, as Franco Jara put Pachuca back up a few minutes later, and Christian Gimenez clinched the 3-1 win with a wonder-strike free kick goal at the 90th minute.
"It was a good field," Pachuca midfielder Victor Guzman said through a translator. "You could play any type of game. Great pitch."
The environment at Miller Park was excellent, starting a couple hours ahead of game time, with Mexican soccer supporters carrying on the Brew Crew tradition of tailgating in the parking lot. Just before kickoff, a parade of Leon fans marched through the lower concourse waving flags, and that side's contingent beat drums, sang songs and chanted "Leon!" to the tune of "Ole!" throughout and after the game.
"We are so impressed with the stadium and the way the guys look after positioning the (field)," Pachuca manager Pako Ayestarán said. "Top class. Great atmosphere, the way they looked after us."
Brewers COO Rick Schlesinger spoke before the game about the importance of the Brewers "family" embracing Milwaukee's Hispanic community, mentioning its recent Cerveceros Day event and suggesting this wouldn't be the last time Miller Park hosts soccer.

Here are 15 photos from Wednesday's match: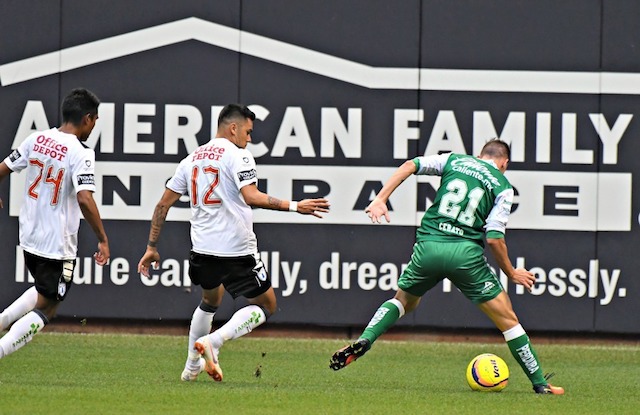 Born in Milwaukee but a product of Shorewood High School (go 'Hounds!) and Northwestern University (go 'Cats!), Jimmy never knew the schoolboy bliss of cheering for a winning football, basketball or baseball team. So he ditched being a fan in order to cover sports professionally - occasionally objectively, always passionately. He's lived in Chicago, New York and Dallas, but now resides again in his beloved Brew City and is an ardent attacker of the notorious Milwaukee Inferiority Complex.
After interning at print publications like Birds and Blooms (official motto: "America's #1 backyard birding and gardening magazine!"), Sports Illustrated (unofficial motto: "Subscribe and save up to 90% off the cover price!") and The Dallas Morning News (a newspaper!), Jimmy worked for web outlets like CBSSports.com, where he was a Packers beat reporter, and FOX Sports Wisconsin, where he managed digital content. He's a proponent and frequent user of em dashes, parenthetical asides, descriptive appositives and, really, anything that makes his sentences longer and more needlessly complex.
Jimmy appreciates references to late '90s Brewers and Bucks players and is the curator of the unofficial John Jaha Hall of Fame. He also enjoys running, biking and soccer, but isn't too annoying about them. He writes about sports - both mainstream and unconventional - and non-sports, including history, music, food, art and even golf (just kidding!), and welcomes reader suggestions for off-the-beaten-path story ideas.