Eight years ago, Laurie Marks and her wife, Lori Sieckert, became parents to a son and three years later, they welcomed a daughter. Although conceiving was relatively easy for the women, the time that followed the birth of their children was more challenging.
Most new parents finds themselves in need of guidance, information and support, but for LGBTQ+ families, it's not as easy to connect with same-sex moms and dads who are knowledgeable about issues specific to their households.
Plus, like many parents, Marks and Sieckert became engrossed in their children – especially once they became school aged. Their dedication, although blissful, also left them slightly less connected to the LGBTQ+ community as well as lacking in resources or advice for their family.
"It's very complex for LGBTQ+ families," says Marks.
Hetero couples don't face the same obstacles as same-sex parents and there are very few online offerings providing helpful materials about how to choose a supportive school, ways to build a family, how to navigate the complex legal issues surrounding LGBTQ+ parents and more.
"There aren't compiled resources on the Internet and it can be really difficult to find the information you and your spouse need," says Jennifer Murray, the director of the LGBTQ+ Resource Center at the University of Wisconsin-Milwaukee.
With this in mind, Marks – along with her friend Joseph Brooks – decided to start a Facebook page for local LGBTQ+ families. They had no idea how much interest there was in this type of page, but in February of this year, they created the Miltown LGBT Families page with few expectations.
"I offhandedly started the page one night and added four people to it," says Marks. "By the next morning, there were 78 requests to join the group, and a few days later, there were 150."
Today, there are 268 members on the page. In order to become a member, Marks and Brooks require people to answer three questions revealing their interest in joining the group in order to weed out people without the right intentions. In just a few months, the page has already made a positive impact on many of the members.
"The Miltown LGBT families group creates a sense of home for all of us," says Murray.
Through the page, LGBTQ+ parents are able to receive the online – and sometimes in person – support they need on subjects that are specific to their families, but also everyday information that all parents need. They also get to celebrate the joys of parenting and share anecdotes or photos that reflect the health and happiness of their kids.
"I just like having two moms. It's special and fun," says Marks' and Sickert's son, River.
Laurie Marks and Lori Sieckert with their children, Violet and River.

Angie Harris and her wife, Kimberly Salas Harris, have found Miltown LGBT Families to be extremely helpful since the birth of their 5-month-old daughter. Harris, an associate professor of sociology and the director of the Center for Gender and Sexualities Studies at Marquette, has taught courses on families for years and still, now that she has her own, is full of questions.
"The page provides a lot of feedback," says Harris. "Sometimes someone will ask the same question you have, which is great, and creates an incredibly helpful dialogue."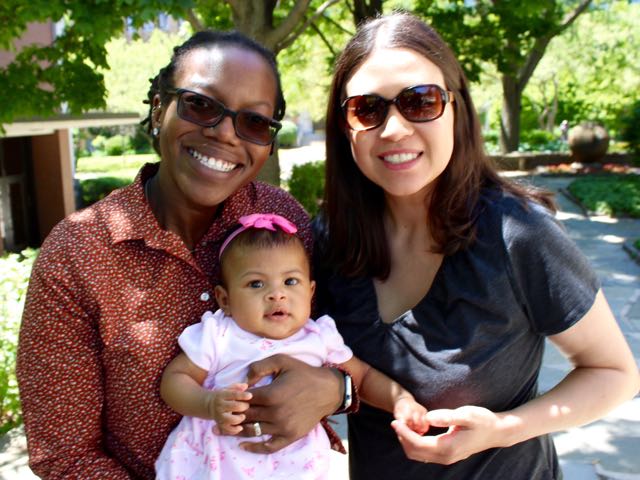 Angie Harris and Kimberly Salas Harris with their daughter, Casey.
Many posts on the page revolve around schools. According to Marks, even the most welcoming schools or day care centers can lack a cultural understanding of LGBTQ+ families and it's up to parents to educate teachers and administrative staff.
"No matter how supportive my community is, most likely my kids will always be the only kids with two moms – or two dads – in their class," says Marks.
Marks says school-based family sensitivity is not only an issue that needs to improve for LGBTQ+ families, but for all families who are not a reflection of the dad-mom-kid stereotype. Although at times, Marks' kids' school can be very understanding – in May her daughter was encouraged by a teacher to create two Mother's Day cards – it can also use outdated language or forms that ask specifically for a mother's and a father's name.
"Families are very diverse now," says Marks. "There's an ongoing need to try to get everyone in the mainstream out of the 1970s."
When an LGBTQ+ couple decide to build a family, there are many options from surrogacy to adoption to, if the couple is biologically female, sperm donation. However, despite the options, finances and opportunity dictate the process for many same-sex partners who wish to be parents.
Regardless of how the child comes into an LGBTQ+ family, the union will be unconventional. Marks inseminated Sickert with a syringe purchased from a medical supplies store filled with her brother's donor sperm which means that both she and her wife are biologically related to their children. Brooks and his husband, Bradley Ewerdt, adopted their 4-year-old son, Miles, from Appleton and are practicing an "open adoption" which means they have a relationship and visitation with the birth mom.
Joseph Brooks and Bradley Ewerdt with their son, Miles.

The Miltown LGBT Families page provides an important forum for these parents and others with scenarios and information that isn't available anywhere else.
Other posts on the Miltown LGBT Families page range from choosing the right doctor to gender identity / pronoun usage. The page also organizes events that have brought up to 100 people together, including recent outings to Bounce Milwaukee and an afternoon at the Estabrook Beer Garden.
"At these events, our kids get to see other families like their own – and not just one or two other families – many, many families like their own," says Brooks. "It shows them it's totally normal and he doesn't feel like an outlier."
Brooks says because of the Facebook-organized events kids get a healthy perspective and kids as well as parents are able to make important and meaningful friendships.
"Recently, we met two guys in the group who were going through the adoption process like we had four years ago," says Brooks. "Adoption is super stressful and emotional and full of legal issues and you need to have people you can talk to other than your spouse, people who can cheer you on, people who 'get it.' Whether it's in person or on Facebook, being there for one another is huge."
There are more same-sex female couples than male couples in the Miltown LGBT Families page, but the group overall is very diverse and includes members of different races, religions and political beliefs.
"That's a gift to me and my kids," says Marks. "My kids get to know other kids with same-sex parents, which is good for their self esteem, but they also get to experience diversity and we all get to have a much more diverse group of friends now."
Murray says the diversity of the group helps to create empowered, justice-oriented, compassionate children.
"We want to raise children who are going to change our world, are not going to sit quietly and are going to transform the school systems on their own because they've been empowered by the love of their families," says Murray.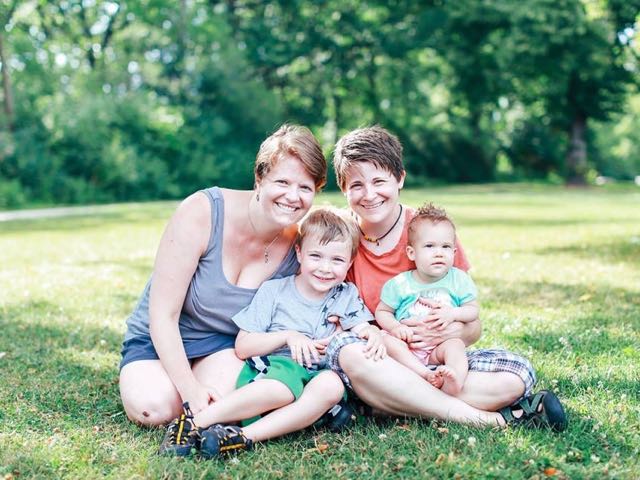 Jennifer Murray, Meighan Bentz and family.

The administrators of the page hope the online support of the group is integral to all of the members, but might provide an extra needed service to those living in rural or less inclusive communities. This was made clear to Marks after a recent hospital visit with her family that resulted in an uncomfortable and disrespectful exchange with the hospital staff.
"I went to the director and told them what happened and I got an apology," says Marks. "Here I am a person who is well connected in the city, fortunate to have a great education and has a lot of self-confidence and support. But what about people who don't have all of that and they're treated like sh-t but don't have the personal strength or connections or community to support them?"
Last week, The Cream City Foundation agreed to serve as the Miltown LGBT Families' first fiscal agent and is giving the group a large grant. (Anyone who would like to support this group should contact the Foundation here.)
"As our LGBTQ+ communities evolve, both in Milwaukee and around the country, so does our work," says Peter Holbrook, president and CEO of Cream City Foundation. "Cream City Foundation is proud to support Miltown LGBT Families and the 500 children and adults who comprise these beautiful and diverse families."

Molly Snyder started writing and publishing her work at the age 10, when her community newspaper printed her poem, "The Unicorn." Since then, she's expanded beyond the subject of mythical creatures and written in many different mediums but, nearest and dearest to her heart, thousands of articles for OnMilwaukee.

Molly is a regular contributor to FOX6 News and numerous radio stations as well as the co-host of "Dandelions: A Podcast For Women." She's received five Milwaukee Press Club Awards, served as the Pfister Narrator and is the Wisconsin State Fair's Celebrity Cream Puff Eating Champion of 2019.