As primarily a wedding photographer, Brian Slawson is used to capturing the happiest days of people's lives. Obviously, there are few of those to come by in the midst of a pandemic – but Slawson, rendered out of work as an unessential business due to the shutdown and uncertain of the future, still wanted to put his eye and his art to use.
"I was just so heartbroken, and I was trying to make art through my grief and what we're all kind of feeling right now," Slawson recalled.
The result is a two-minute video montage posted to his studio's Facebook page, a haunting yet inspirational clip of Milwaukee's once-bustling streets and iconic locales left dark and desolate during these desperate times, an unsettled moment in human history captured by Slawson and fellow videographer Stephen Vincent Anderson. Intersections and bridges left vacant. Stop signs in the mist with no traffic to direct. Murals beaming for no audience. Bars and businesses with little life save for the dim hazy glow of neon.
"Before the shutdown of all non-essential businesses, I went out filming in Milwaukee," Slawson said. "And after that first night in Milwaukee – there were no cars, no people – I realized this affects more than I thought, actually seeing it in person."
Slawson put together his images into a four-minute clip and sent it to Jens Rhude, a friend and editor, to help trim the video down, kill his darlings and hone its message. A part of clarifying its vision was adding narration in the form of clips from 20th century writer, speaker and philosopher Alan Watts, speaking in lectures like "Phenomenon of Worry" about stress, quieting one's mind and finding the comfort in silence.
"We were discussing that it needed something more: We needed audio," Slawson said. "(Watts') words just seemed really fitting for whatever you're going through in life."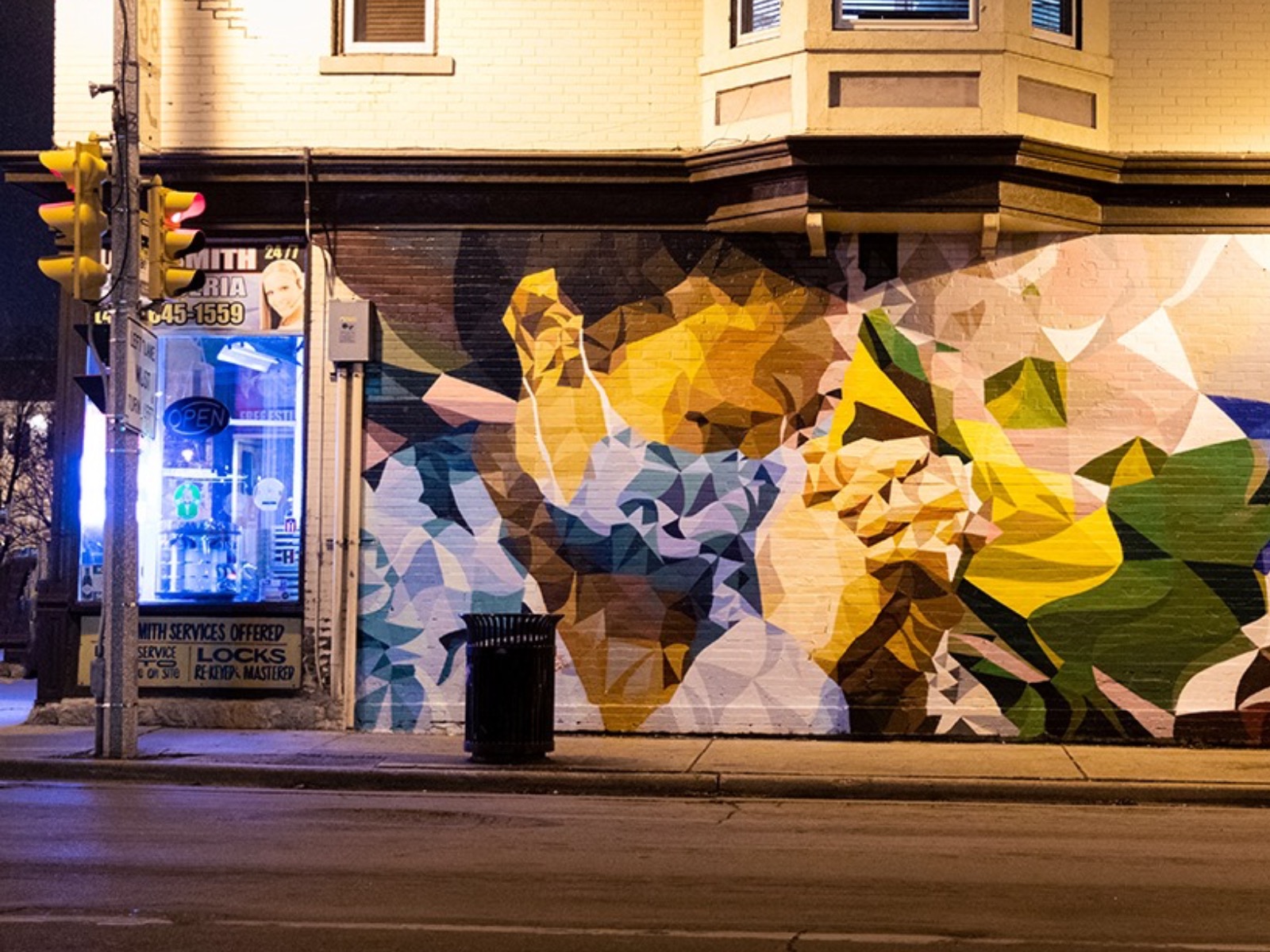 Mural by Mauricio Ramirez
It's a mournful clip – but at the same time, scored by melancholy strings and warmly narrated by Watts' therapeutic words on coping with quiet, it's a beautiful tribute to a city we miss and a reminder of what we're all fighting to protect by staying safe separate and inside. It's a message that's resonated as well, as the short clip, posted to Facebook on Friday, April 17, has now gathered over 16,000 views and more than 300 shares.
"I'm really hoping it helps people realize we are all in this together, and it seems pretty apparent that we have to work together in order to beat a global pandemic," Slawson said. "It's not going to work if we don't all care about this."
To support local photographers and videographers, like Slawson, currently out of work or struggling due to the coronavirus outbreak, see if you can book a session for a future date, or order prints of a previously taken portrait or photo.
As much as it is a gigantic cliché to say that one has always had a passion for film, Matt Mueller has always had a passion for film. Whether it was bringing in the latest movie reviews for his first grade show-and-tell or writing film reviews for the St. Norbert College Times as a high school student, Matt is way too obsessed with movies for his own good.
When he's not writing about the latest blockbuster or talking much too glowingly about "Piranha 3D," Matt can probably be found watching literally any sport (minus cricket) or working at - get this - a local movie theater. Or watching a movie. Yeah, he's probably watching a movie.