One might assume that the move from the bustling, blockbusting commotion of Hollywood, rubbing shoulders with the likes of Steven Spielberg, to the mild, friendly streets of Milwaukee, rubbing your hands to stay warm three-fourths of the year, would come as a brutal blow to a filmmaker. But that wasn't the case for Suzanne Jurva.
"I came up here during the film festival, and I was at Colectivo Coffee, sitting there by myself – I was supposed to be house hunting, quite frankly – and I picked up the program book and spent way too much time devouring it," Jurva recalls. "I probably missed a house appointment, but I realized that I was going to be OK. I had people up here, people who understood film."
As it turns out, there are a lot of those kind of people – filmmakers, producers, screenwriters, editors, just general film fans and more – in the Milwaukee area, even more than anyone could've expected. In fact, according to a recent ICF International study commissioned by Milwaukee Film, there were approximately 14,600 film industry jobs in the Greater Milwaukee area in 2015 – five times more than the city's beloved and ballyhooed beer industry.
Apparently, Milwaukee is more Production Crew than Brew Crew, not just an exciting diversion for two weeks in the fall but an actual, thriving industry generating $1.55 billion in annual sales and $530 million in labor income in 2014 as well as growing 10 percent from 2010 to 2015, double the rate of overall employment in the area.
And now it's time for this quietly teeming industry to officially know, like Jurva did in that that Colectivo years ago, that they have people here – as well as resources and support.
That's where Milwaukee Filmmaker Alliance comes into the frame.
After plenty of teasers during this past film festival – mainly the glimmering, multi-colored preview that played before certain selections – the MFA will officially launch tonight at the Milwaukee Art Museum from 5:30 to 7:30 p.m., featuring additional statements and announcements from Milwaukee Film, County Executive Chris Abele, Oscar-winner and Milwaukee Film board member John Ridley ("12 Years a Slave," "Let It Fall") as well as more enlightening and encouraging statistics from the ICF International study about Milwaukee's now-provably thriving cinema scene.
"With 15,000 people working here, we have a lot of power," says Jurva, who serves as director of the MFA.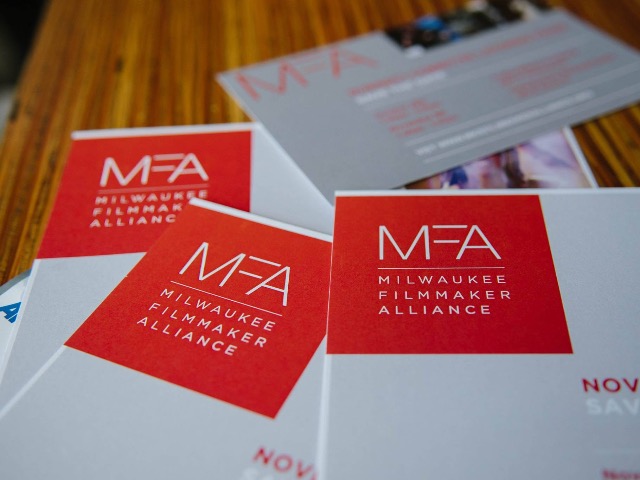 The alliance's role, then, will be helping unite and harness that power toward further building the Milwaukee film industry and community through four main ways: advocacy, education, networking and funding for filmmakers. Some of that will be through networking events – notoriously necessary for the film business. Some of that will be through workshops and panel discussions, helping to guide filmmakers – amateur and advanced – and enhance their skills and industry knowledge. And some of that will be finding new branches of funding to support more projects and Milwaukee professionals.
"Milwaukee Film did provide support to filmmakers here, but this will allow more support," Jurva explains. "All these different sectors within filmmaking have been identified and people identified, and people are on committees and we're each growing what we need for each committee.
"The mission is that we grow the film industry here, grow it organically in that we, through finding more funding, can sit here and do more films through the independent filmmaker route. And also that corporations understand that they don't have to take their commercial money somewhere else. We have very good people sitting here; you don't have to be in New York or L.A. to make your commercial."
Of course, one of the assumed components of a growing film scene – especially on a national scale – is the inclusion of tax credits or incentives for productions, much of the reason for the boom in projects in New Orleans and Georgia. Milwaukee briefly had incentives beginning in 2007, but just six years and a few high-profile productions later ("Public Enemies," "Transformers 3"), the state eliminated them from the budget.
"We can look to different film hubs around the United States – for example Austin," Jurva notes. "I don't know what the state of Texas's tax credits are, but they never come up as big tax credits. But Austin is a huge film hub with tons of filmmakers, South By Southwest, the Austin Film Festival, the Austin Film Society. That's what we can model ourselves after – and that comes with growing talent here, keeping talent here and advocating for talent here."
The lack of tax credits is far from the only challenge, with Jurva noting that the cuts in funding for the arts have affected filmmakers across the board. "It's just as hard to make a movie anywhere," she says. But the Milwaukee Filmmaker Alliance aims to make Milwaukee a place where it can be at least a little easier, especially for its growing homegrown creative talent.
"You can be anywhere and work right now, so (Milwaukee) is an easier place to live and work with the lower cost of living – and I can get anywhere in Milwaukee in 15 minutes. I can book multiple meetings in a day, and the people here are fabulous," Jurva explains.
"I went to the Tech Summit last week at Northwestern Mutual, and a woman from Texas said the only problem here in Milwaukee is that we're not like Texans: A Texan walks in the room and promotes, promotes, promotes. A Milwaukee person is like, 'Well … yeah.' So we're going to promote – promote the sector, promote our people, grow the industry organically and show the government how much impact we have."
The Milwaukee Filmmaker Alliance is open to all people, from filmmakers to simply film enthusiasts, those who want to learn and make leaps in the industry with the organization's help to those who just want to provide their support. All can join as a member by signing up either at tonight's launch party or at the MFA's website and choosing a donation amount. Jurva notes they're aiming to register 300 members by the end of 2017.
As much as it is a gigantic cliché to say that one has always had a passion for film, Matt Mueller has always had a passion for film. Whether it was bringing in the latest movie reviews for his first grade show-and-tell or writing film reviews for the St. Norbert College Times as a high school student, Matt is way too obsessed with movies for his own good.
When he's not writing about the latest blockbuster or talking much too glowingly about "Piranha 3D," Matt can probably be found watching literally any sport (minus cricket) or working at - get this - a local movie theater. Or watching a movie. Yeah, he's probably watching a movie.