While the fame of Gilles, Leon's, Kopp's and Culver's endures – and their legendary status continues to be further cemented in the Milwaukee psyche – through the years, dozens of other custard stands have come and gone.
While some shimmered ever so briefly, others were pioneers that endured for decades, searing themselves into the memories of those who experienced them.
On the eve of National Frozen Custard Day, celebrated annually on Aug. 8, here is a sampling of some of those places, adapted from the book, "Milwaukee Frozen Custard," written by Kathleen McCann and me and published by The History Press and available from all booksellers.
1. Al's/Jessica's Frozen Custard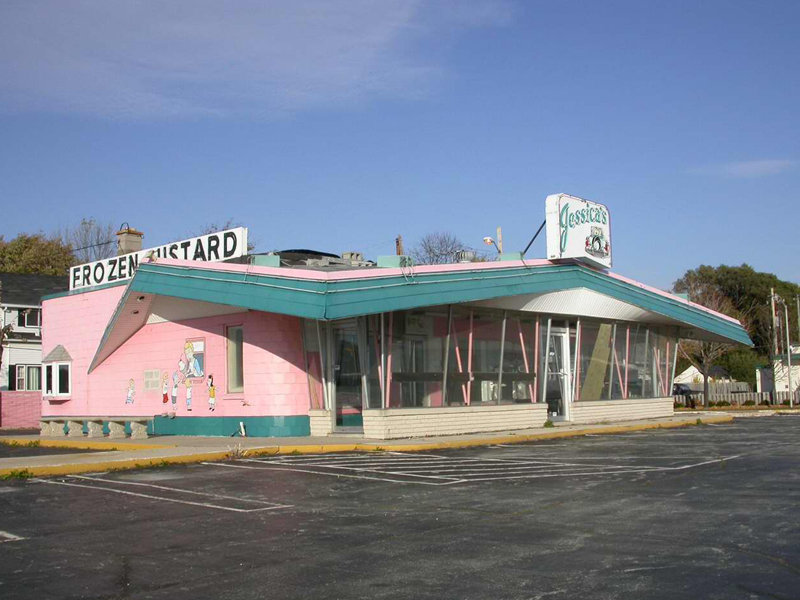 Al Lach, who got his start working at Leon's, opened Al's Frozen Custard at 524 E. Layton Ave., across from the airport on Aug. 3, 1946. Sometimes in advertisements, Al's would claim to be the "Home of the Original Butter Burger," but that's hard to verify, considering the number of long-lived Milwaukee institutions that serve butter-slathered hamburgers.
A classic drive-in, Al's boasted carhops and a variety of sandwiches, including cheese steak and the Starkey Special. Named in honor of 42-year South Milwaukee High School teacher Archie Starkey, it was a cheeseburger topped with a fried egg.
Although t it had remained popular for decades, renowned for its focus on creating a delectable vanilla custard, Al's was renamed Jessica's when Lach's wife took over in 1990. Jessica's – which called itself the "Wizard of Ahhs" – closed at the dawn of the 21st century and was replaced by a used car dealership and, later, a staffing service.
2. Bella's Fat Cat

(PHOTO: Andy Tarnoff)
Kim and Michael Schmidt – who learned the business during two stints working at Kalt's – opened Bella's Fat Cat at 1233 E. Brady St. at the start of the new millennium, and the sleek new custard and burger stand quickly grew in popularity. Within a few years, the Schmidts had opened new locations on Kinnickinnic Avenue in Bay View (2004) and on Oakland Avenue, near the University of Wisconsin-Milwaukee (2005).
In addition to classic burger fare, the Schmidts also catered to more health-conscious diners. "The stuff we use is fresh and not processed," Mike told OnMilwaukee. "We do offer healthful selections like whole wheat bread, veggie dogs and veggie burgers. We don't try to slather on a pound of butter, just use fresh ingredients to make it [as] tasty as possible without overdoing it."
The Schmidts also worked to create their own custard style. "We put a lot of pride in our food and try to be unique with our custard flavors. Custard tastes a little different everywhere you go. That's what makes it so great, and that's why Wisconsinites love it."
Sadly, the Brady Street location closed in 2008, and within a couple years, the other stands were gone, too.
3. Clark's Frozen Custard/Dutchland Dairy
(PHOTO: Dutchland Dairy Facebook)
Legend says that Joe Clark tasted frozen custard at the A Century of Progress world's fair in Chicago in 1933-34. From there, he opened his first Clark's Frozen Custard Stand at 2020 W. Capitol Dr. in 1935. Clark was among the earliest and surely the most influential of the early custard purveyors here.
By 1938, a second Clark's location was open at 6032 W. Bluemound Rd. Clark was soon joined in the custard game by his former employee Paul Gilles, who opened Gilles Frozen Custard at 75th and Bluemound, and by Eat Mohr Frozen Custard Stand at 18th Street and Forest Home Avenue on the South Side.
Within two years, Clark opened a short-lived third location at 5408 W. Center St., which was closed by 1942. But by then, Clark had also opened a dairy store at 3905 W. National Ave. that, within a few years, would be renamed Dutchland Dairy. By 1949, a second Dutchland location was open at 208 E. Capitol Dr.
Dutchland also operated the Fiesta Drive-In on Highway 100 at Wisconsin Avenue in the 1950s and '60s (another Fiesta later operated for about five years out west on Bluemound Road), which was known for its innovative features. In 1955, Fiesta was the first in the country to install heat lamps over its 50 drive-in bays, allowing it to operate year-round. A decade later, Fiesta toyed with the idea of going fully automated, with machines for automatic ordering and conveyor belts to deliver orders directly to customers.
It is for the beloved Dutchland Dairy chain of sit-down and carry-out restaurants – with attached dairy stores – that Clark is best remembered. But Dutchland Dairy also sold its own branded dairy products, including milk in distinctive brown bottles, eggs, ice cream and even goat's milk, along with a variety of foods, most notably buckets of fried chicken. Advertisements boasted that Dutchland's chicken was "so good and so tender you can even EAT THE BONES!"
In 1968, Clark sold Dutchland Dairy to B-G Foods Inc., of Chicago, and the following year he and his son, Jay, launched Little Angus Restaurants – which a company classified ad described as a "self-service restaurant specializing in sandwich menu and carry-out foods."
In 1970, B-G Foods' Dutchland Dairy tried a carry-out only location on 16th Street and Forest Home Avenue on the South Side. But the chain had entered its waning years, and the stores, indebted and in financial straits, were closed by the beginning of 1977.
On an interesting side note: Clark was married to Lenore Normoyle, whose younger brother Bob opened the Pig'n Whistle!
4. Kalt's
During the 1980s and '90s, Steve Kalt operated his own eponymous custard stand in a former Boy Blue on the city's northwest side – at 5653 N. 76th St. – after having learned the business from nearly two decades working at Kopp's.
Kalt's continued the tradition of training other stand owners when he employed Michael Schmidt, who would go on to open Bella's Fat Cat. Schmidt – whose wife and business partner, Kim, grew up patronizing Kalt's – even hired four fellow Kalt's alumni to work at Bella's.
In 1998, Kalt sold the stand, which was reopened as Dave's Frozen Custard. After a few years, however, Dave's moved up 76th Street into the former Sweets Frozen Custard stand at 6309 N. 76th St. The old Kalt's place is still recognizable as a custard stand and is home to a fried fish and chicken restaurant called Shark's.
5. Larry's Lunch-ette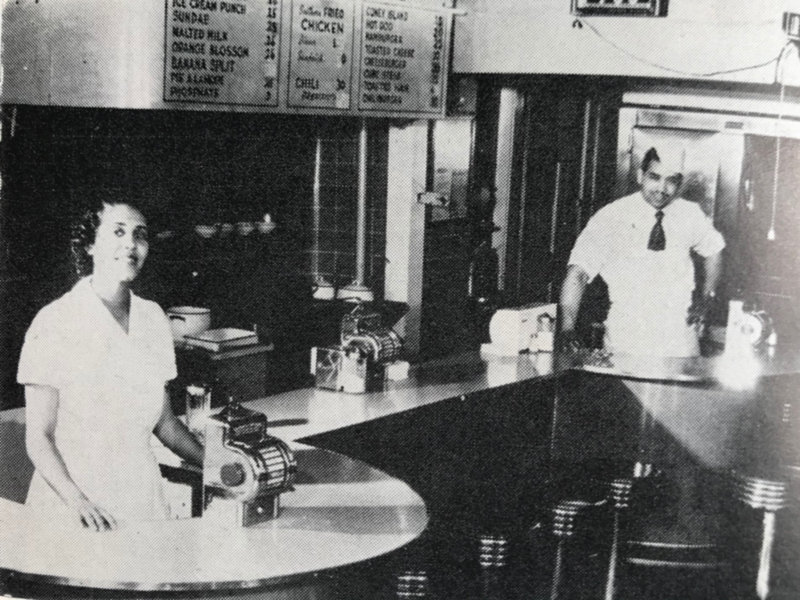 Specializing in southern fried chicken, jumbo burgers and hot lunches, Larry's Lunch-ette was, as an ad proclaimed, "Where chicken is king and frozen custard queen."
Larry's, 619 W. Walnut St., as it was known in 1950, was one of many restaurants along the main street of the city's busy African-American Bronzeville neighborhood and one of a few places – along with Williamson's Frozen Custard – that sold frozen custard there.
Larry Hill's restaurant appears to have changed names a few times, later becoming perhaps best known as Larry's Chicken Shack, but it never stopped serving as a neighborhood anchor.
Raised in Des Moines, Hill arrived in Milwaukee fresh from the navy after World War II, and with $300 borrowed from a barber, he opened his restaurant with just four green-and-maroon vinyl-covered booths.
His food became so popular that, according to an obituary published when Hill died at age 90 in February 2002, "folks would line up for a block for his cooking, burgers and fixings, especially that chicken. 'It was tremendous,'" Hill told the Journal Sentinel in 1998. "'I had as many as six large cookers, and they were full all the time.'"
Veteran newspaperman Richard Carter remembered Larry's as the place to be for neighborhood teens.
"Moving on toward 7th [Street], there was Larry's Frozen Custard, home of the delicious Orange Blossom," Carter wrote in his Milwaukee Journal column in 1987. "Although Larry's offered a number of eating delights, it mainly served as a meeting place for teenagers and young adults seeking nonbinding, close relationships. And, as someone observed, you'd have to be a monk to strike out.
"The sidewalk outside Larry's was perhaps the spot to hang out on the set. Just about anybody was liable to show up. For example, I recall the night Joe Louis was there explaining how he demolished all those clowns in the ring. And then there was the time a vocal group called The Five Notes sang a cappella for hours, and you thought you were hearing the Moonglows."
Larry's Chicken Shack, the kingdom where custard was queen, fell – like so much of Bronzeville – to the wrecking ball when the freeway came through in 1959.
6. Lixx
Lixx, next to the Downer Theater at 2597 N. Downer Ave., was an East Side institution, drawing big crowds in summer, especially on weekend evenings, for frozen custard, ice cream and froyo. It was a popular meet-up place and after-film destination.
The shop was opened in 1990 by Daniel Katz, a real estate developer who owned a large portion of the commercial property on Downer Avenue at the time. In 2005, Lixx was denied a liquor license, and the following year, Katz sold a chunk of his holdings on the block, including the building in which the custard shop was located. In 2009, Lixx closed.
Jake Provan opened Jake's Big Dog Frozen Custard at the location in 2010, selling hot dogs and three kinds of custard: vanilla, chocolate and a flavor of the day, but it proved short-lived, and the space is now occupied by Pizza Man.
7. The Milky Way

(PHOTO: Courtesy of John Eastberg)
One of three Milky Way restaurants opened by Arthur Richter, the Port Washington Road Milky Way is the only one that has something of an international profile. That's because Tom Miller, who graduated from nearby Nicolet High School in 1958, was a regular at the drive-in. And when "Happy Days," the TV show that Miller created, launched on ABC-TV in January 1974, it brought Arnold's (later Al's) Drive-In into homes across the world.
Though some in Milwaukee claim Leon's was the inspiration for Arnold's, others say it was the Pig'n Whistle. Both are wrong. The Milwaukee Journal of Jan. 12, 1986, settled the matter:
"According to Miller, it was the Milky-Way (sic), and only the Milky-Way. And that's only logical, because the Milky-Way was the place where all the North Shore 'kaleeges' (high schoolers bound for college) congregated. Miller was one of them. Across the street next to the old Clark station was the Redwood, where the 'hoods,' the ducktailed, leather-jacketed guys, hung out."
That was the social atmosphere in which Miller spent his teen years, and it was those experiences that he drew upon when he concepted "Happy Days."
"Arnold's is really a compilation of everybody's recollections of the drive-in of the '50s," Miller told the Journal in 1977. "It's just that the Milky Way was closest to me when I grew up on Bay Ridge (Avenue)."
At the dawn of the 1940s, Richter was working as a machinist and living on West Capitol Drive. He also briefly ran a candy shop on 37th and Vliet called Richter's Marzipan and candy.
By 1943, he'd opened the Milky Way roadside stand next door to his home, at 6317 W. Capitol Dr., and within five years, he had added the location that would later inspire the Fonz's hangout. The original location appears to have closed by around 1956. Karl Kopp says his mom, Elsa, got her start in custard working at the Milky Way and, for a time, running the Capitol Drive shop, before she opened her own place in 1950.
A third location, at 418 N. Lovers Lane Rd. in Wauwatosa – now the intersection of Bluemound and Mayfair Roads – operated until about 1958.
One of the Milky Way's most beloved concoctions was the Dusty Twin, a double-barreled version of the malty dusty road: two scoops of vanilla custard in a reusable turquoise plastic boat, with hot fudge and malt powder, with two generous dollops of whipped cream and a pair of cherries (one atop each dollop).
In 1959, Richter's son-in-law, Dick Chiappa, took over the business. The Milky Way's run ended in November 1977, and immediately after, Kopp's moved in and started building a new custard legacy on the site that continues today.
8. The Pig'n Whistle
Few Milwaukee places had a more enduring reputation as a beloved youth hangout than the former Pig'n Whistle, at 1111 E. Capitol Dr. in Shorewood. Bob Normoyle opened it in 1938 (perhaps with the assistance or at the urging of his brother-in-law Joe Clark) as a drive-in, and in the early days, customers drove up, ordered through a speaker and a carhop delivered the food to the car.
The stand drew college kids from UWM, suburban kids from nearby Shorewood High and city kids from neighborhoods near and far. Distance wasn't a deterrent for many, including the many cruisers who flooded the parking lot in search of cheap food, girls and custard.
By the 1940s – when the dancing pig sign was atop a drive-in that still had no dining room – the Pig'n Whistle was known for its variety of trademark sundaes. The Campus Beauty had pineapple, marshmallow, crushed nuts and cherries; the College Favorite mixed fresh strawberries, cold fudge, sliced bananas, pecans and cherries; and the Clover-Leaf Special topped three dips of custard with fresh fruit salad, marshmallows, pecans and cherries.
Sam Kallas and Michael Weidenbaum bought the Pig'n Whistle from owner George Panos in 1988.
Within a few years of purchasing the restaurant, Weidenbaum and his wife – and by then co-owner – Marietta announced that the Pig'n Whistle would close on March 1, 1992, and reopen in Mequon on May 1.
The Weidenbaums had hoped to reopen the Pig'n Whistle in the vacant former home of the Nantucket Restaurant, 12800 N. Port Washington Rd., in Mequon, but were met with resistance from neighbors, who feared an accompanying increase in traffic. On June 15, 1992, the Mequon Planning Committee shot down the Weidenbaums' plan.
In the meantime, Panos renovated the old Pig'n Whistle space and opened the Riverbrook Family Restaurant, which was a popular breakfast spot that also offered Greek specialties in its broad breakfast, lunch and dinner menu. But Riverbrook closed a few years ago, and the building was demolished to make room for an assisted-living complex.
9. Town Pride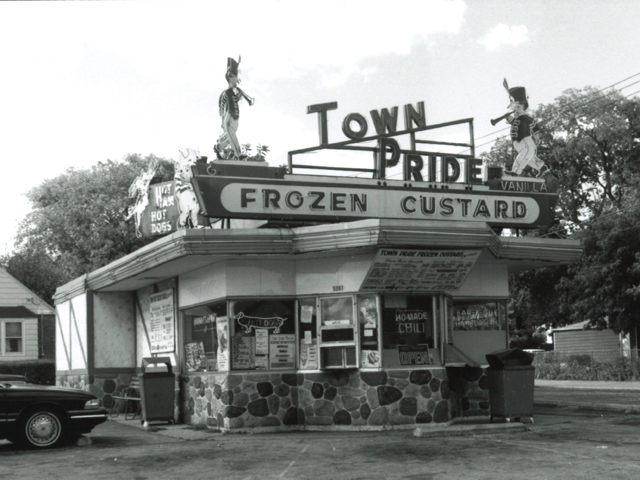 (PHOTO: Mr. Underhill's Photos)
Harry Schwemmer had a Town Pride custard stand at 5207 N. Teutonia Ave. – which had earlier operated as Winter's Frozen Custard – when, in 1952, 15-year-old Joe Bastian walked through the door. "I stopped in to buy a nickel cone and a nickel root beer," Bastian told the Milwaukee Journal in 1987. While he was there, Bastian asked Schwemmer for a job.
Later, Bastian opened a Town Pride stand at 6030 W. Villard Ave., and in 1964, he bought the Teutonia stand and ran it for decades.
In the meantime, the Villard stand changed hands a few times. Robert and Millie Grady ran it for a while in the 1960s, where her kids were part of the business. "How many people today know the difference between ice cream, ice milk and real frozen custard," she asked Buck Herzog of the Milwaukee Sentinel in 1968. "And how many youngsters ever had an old fashioned malt whipped up on a spindle instead of from a shake machine?" She went on to say that her 5-year-old son was raised on custard and knew the difference. The kid wouldn't eat ice cream because, she said. According to him, "it tastes funny."
In 1977, former grocer Rudolph Chop bought the Villard stand, telling the Journal that he got the inspiration to run a custard stand from the original Kopp's on Appleton Avenue, which was near his grocery store.
"I thought this was the sweetest business around," he said. "In the grocery business, everybody complained about the prices. In this business, people come in with a smile."
In 1980, Jim and Kathy Randall opened a Town Pride in the former Bakula/Red Onion stand at 5130 W. Hampton Ave. and operated it until 1988 when Best Gyros moved in.
In the early 1980s, Town Pride sold vanilla and chocolate and rotated a third flavor every four days. One of the highlights of the menu was the four-scoop Boomba sundae.
Born in Brooklyn, N.Y., where he lived until he was 17, Bobby received his BA-Mass Communications from UWM in 1989 and has lived in Walker's Point, Bay View, Enderis Park, South Milwaukee and on the East Side.
He has published three non-fiction books in Italy – including one about an event in Milwaukee history, which was published in the U.S. in autumn 2010. Four more books, all about Milwaukee, have been published by The History Press.
With his most recent band, The Yell Leaders, Bobby released four LPs and had a songs featured in episodes of TV's "Party of Five" and "Dawson's Creek," and films in Japan, South America and the U.S. The Yell Leaders were named the best unsigned band in their region by VH-1 as part of its Rock Across America 1998 Tour. Most recently, the band contributed tracks to a UK vinyl/CD tribute to the Redskins and collaborated on a track with Italian novelist Enrico Remmert.
He's produced three installments of the "OMCD" series of local music compilations for OnMilwaukee.com and in 2007 produced a CD of Italian music and poetry.
In 2005, he was awarded the City of Asti's (Italy) Journalism Prize for his work focusing on that area. He has also won awards from the Milwaukee Press Club.
He can be heard weekly on 88Nine Radio Milwaukee talking about his "Urban Spelunking" series of stories.