Cool, new things pop up every day in Brew City, but longtime players like Miller Brewing Company provide the original greatness (OG's) of this extraordinary place.
Since it rose on Milwaukee's horizon in 1982, the bright orange sunburst sculpture – titled "The Calling" – raised controversy and opposing opinions in Milwaukee. Generally, people either love it or hate.
"I love it," says artist Reggie Baylor. "It's a Milwaukee landmark. Its creator has an internationally relevant portfolio of work, and we are lucky to have one of his pieces."
New York-based artist Mark di Suvero created the 40-foot piece from 1981 to 1982 from steel I-beams painted orange. It sits on the end of Wisconsin Avenue in front of the bridge that leads to the Milwaukee Art Museum.
The Art Museum commissioned di Suvero and he was paid by an anonymous donor, which contributed to the controversy. Some community members expressed discomfort over not knowing who paid for the sculpture. Others disapproved of the abstractness of the piece and some were offended by the price – reportedly around $150,000 – even though it was funded by a private donation.
There were 11 hearings, but the sculpture was finally approved for public placement by the Common Council in January 1982. Di Suvero created the piece in New York, but then disassembled it and shipped it to Milwaukee where he rebuilt it. It was dedicated to the city in April 1982.
In 2001, a second controversy over The Calling surfaced when the Milwaukee Art Museum's new wing, designed by Santiago Calatrava, opened. Some people believed "The Calling," when viewed from Wisconsin Avenue, blocked the view of Calatrava's Burke Brise Soleil. This despite the fact that Calatrava reportedly designed his structure with the sculpture's placement in mind.
Baylor thinks about it in reverse: perhaps the Milwaukee Art Museum's "white wings" got in the way of the orange sunburst.
"Orange is complementary to the blue on the lake, but not as much since the art museum obstructed the composition. Even though Calatrava lined his work up to it perfectly," says Baylor.
Some demanded "The Calling" move to a new location, but despite many letters to editors and radio talk show callers' gripes, it remains in the spot where it was originally erected.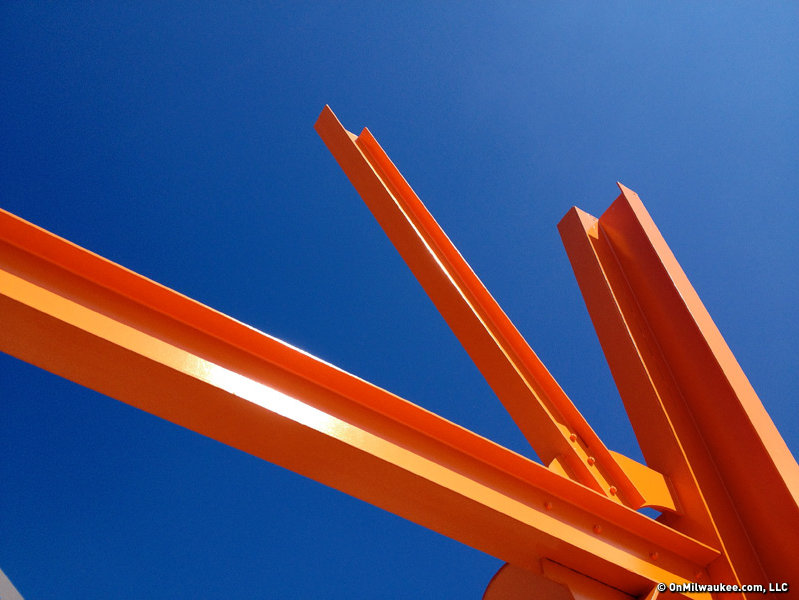 "It's really interesting that it became a problem when juxtaposed with the Calatrava, though I don't understand if the two are really at odds," says Rosy Petri, Artist in Residence at The Pfister Hotel. "These questions aren't being asked of the sculptures displayed for Sculpture Milwaukee, nor are they asked of architecture newly built or remodeled historic buildings, such as the news building on Mason Street, recently painted over in flat black."
Petri also sees The Calling as a historical tribute to the city.
"I think The Calling is a very cool testament to a Milwaukee that was. It's a beautiful sculpture that captures the feel of the city's former industrial glory," says Petri. "Nonrepresentational sculptures in cities can be really interesting, and The Calling is an industrial sunrise holding firm in a downtown where industry seems to be a thing of the past."
This perspective removes the controversy and allows us to remember a strong, productive era in Brew City, when industry and livable-wage jobs were plentiful. It anchors The Calling to – dare we say – a higher calling, one that celebrates and preserves the memory of Milwaukee's prosperous past.
Jessica Zalewski, marketing and PR director for the Racine Art Museum, experienced a change of heart about The Calling after she returned to Milwaukee and now sees it as a symbol for the city itself.
"I hated The Calling when I was a kid. I thought it was just a leftover bit of construction steel. But after 11 years away in Massachusetts, it instead came to represent iconic Milwaukee to me. Now, The Calling always makes me cheerful, a reminder of what Milwaukee can be: fun, industrial, modern, old-fashioned and a little weird," says Zalewski.

Molly Snyder started writing and publishing her work at the age 10, when her community newspaper printed her poem, "The Unicorn." Since then, she's expanded beyond the subject of mythical creatures and written in many different mediums but, nearest and dearest to her heart, thousands of articles for OnMilwaukee.

Molly is a regular contributor to FOX6 News and numerous radio stations as well as the co-host of "Dandelions: A Podcast For Women." She's received five Milwaukee Press Club Awards, served as the Pfister Narrator and is the Wisconsin State Fair's Celebrity Cream Puff Eating Champion of 2019.