Throwing a historic, record-breaking four-day weekend celebration for nearly 46,000 people would be a tremendous accomplishment for anyone.
For five fortunate Milwaukee Pride volunteers, PrideFest Milwaukee was only the beginning of a Pride Month experience that culminated at WorldPride 2019 in New York City. Over five million visitors traveled to Manhattan from June 27-30 to honor the 50th anniversary of the Stonewall Uprising, which included marches, concerts, presentations, reunions and a pride parade with over 150,000 participants. WorldPride 2019 has been recognized as the largest LGBTQ gathering in the history of the world.
"This is a remarkable moment," said New York City Mayor Bill de Blasio. "The whole world is coming to New York City for Pride weekend. There hasn't been anything like this since the Bicentennial."
This year, Luke Olson, Ryan Manning, Sarah Tybring, Tashina Singleton and myself were among them.
(PHOTO: Luke Olson)
Life before liberation
How far the world has come since gay people lived as sexual outlaws, often forced to leave their families and hometowns behind to live in the big-city anonymity that Greenwich Village provided. Homosexuality was still illegal in 49 states at the time of Stonewall. Countless lives were shattered forever simply by the accusation of being gay or lesbian.
At "clubs" like the Stonewall Inn, the Mafia created semi-safe havens for gay people at the win-win cost of police pay-offs. Living a gay life meant accepting a near-constant police presence in your life, as well as a high risk of harassment and violence.
The Stonewall was no paradise, even in 1969. Drinks were expensive, even though they were often made with stolen or diluted liquor; "queens" (including drag performers to people who might identify as transgender today) were not entirely welcome customers; the Mafia was racist and so were its bar operators; and if you were lucky enough to be a wealthy customer, you'd also be unlucky enough to be blackmailed by grifters, hustlers or even the bartenders. And, of course, the bar was likely to be raided, which meant a round-up and paddy wagon road trip to the nearest precinct for a pay-off.
By June 1969, bar raids were happening so often that they felt like a routine inconvenience. Since bars were often warned in advance, customers would leave quickly and quietly to avoid the hassle. On June 28, 1969, the raid came without any advance warning. If it had, we'd be living in a different world today.
Stonewall under siege
Nobody knows for sure who threw the first brick, punch, drink, shoe or Molotov cocktail at Stonewall. It's a narrative that's been framed and reframed many times since the events happened. Rightful credit is given to the group – mostly queer people of color – who formed a human chain outside, refusing to leave and mocking the police with chants of "Christopher Street belongs to the queens." If not for them, crowds wouldn't have gathered to see what was going on that night.
Beyond that, most eyewitnesses agree that the brutal police treatment of Storme DeLarverie, the often-mentioned "butch, cross-dressing lesbian," was the spark that ignited outrage.
"The cops were parading patrons out the front door," said Storme later. "A cop said to me, 'Move faggot,' thinking I was a gay guy. I said, 'I will not and don't you dare touch me.' With that, the cop shoved me, and I instinctively punched him in the face."
The officer tried to detain Storme, but she repeatedly escaped arrest. Four officers attacked her and handcuffed her. When she complained she was cuffed too tight, the officer bashed her in the face with a billy club.
"She yelled to the gathering crowds from the back of the police vehicle, blood running down her face, 'Why are you guys just standing there? Why don't you DO SOMETHING?'" remembered one survivor. "In that moment, everything seemed to come together at once, one of those moments in time when you realize this is it, this is what we've all been waiting for."
Within seconds, the crowds began throwing pennies, bottles, bricks, cobblestones and trashcans at the police line, forcing them to take refuge inside the bar. Within hours, they'd uprooted parking meters to use as battering rams and thrown Molotov cocktails at the building to burn out the police. Officers and reporters, trapped inside the bar, were convinced they would have been murdered by the angry mobs if anti-riot squads hadn't shown up to rescue them.
Despite being half destroyed, the Stonewall reopened for business the next night, and the uprising continued for five more nights outside it. The Gay Liberation Front was founded on the third night of riots. "There was no going back now," said survivor Danny Garvin. "We discovered a power we didn't even know we had."
"The riots would have done nothing if we hadn't organized afterwards," said Martha Shelley, who hosted a small rally and march one month after the uprising.
Many don't realize that the Stonewall Inn quickly closed after the six-night protest. Although it's been a spiritual landmark for 50 years, it's only been operating as the Stonewall continuously since 2007. Many news sources proclaimed Stonewall as the birthplace of gay pride, the gay rights movement or even LGBTQ history, but the fact is that Stonewall was just one of many eruptions of its era.
From Coopers Do-Nuts in Los Angeles in May 1959, to Miwaukee's own Black Nite Brawl of August 1961, to Dewey's Cafeteria in Philadelphia in April 1965, to San Francisco's Compton's Cafeteria in August 1966, the resistance was exploding all over the nation for years before Stonewall. In June 1969, the anger finally hit critical mass – and unlike those earlier protests, people who were there wrote about it.
The greatest show on Earth
What was it like to represent Milwaukee at such a remarkable moment in time?
Ryan Manning joined the PrideFest production team in 2007. Over the past 12 years, he's worked his way up to Operations Director. "As soon as the WorldPride event was announced, I was in," he said. "I was very excited and honored to be able to represent Milwaukee at this historic event."
Luke Olson, festival producer, agreed. "I could not pass up the chance to be a part of so many historic moments: the 50th anniversary of Stonewall, the first WorldPride event in the United States and the biggest pride parade in history. This was the opportunity of a lifetime."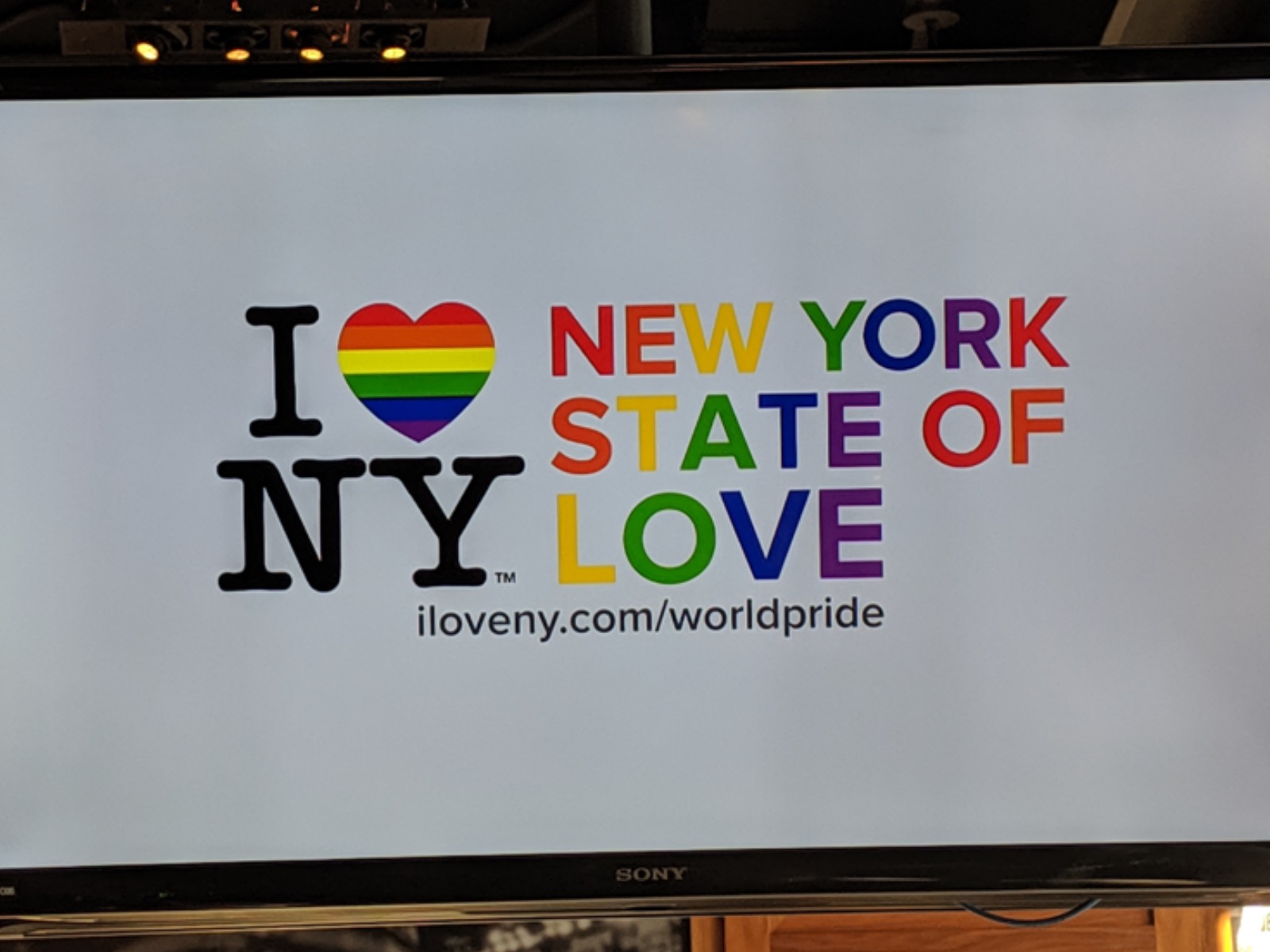 (PHOTO: Luke Olson)
As a historian and curator of Milwaukee Pride's Wisconsin LGBTQ History Project, it was incredible to be at the epicenter of history in the making, instead of following history that long-ago happened. I'd attended New York Pride for years, but I knew this year was going to be the pride event to end all pride events.
Interpride, an international non-profit organization, strives to promote LGBT pride, increase networking and communication between pride organizers, and encourages diverse communities to host pride events as a source of education. As longtime members of Interpride, Milwaukee Pride's delegates were invited to a full schedule of WorldPride events.
"One of my favorite moments was the boat cruise reception for Interpride members," Olson said. "Being able to network with Pride event organizers from all over the world, in such a beautiful setting, was just incredible."
(PHOTO: Luke Olson)
"We were lucky enough to get a hotel room in the middle of Times Square," Manning said. "That made our stay so much more exciting. We went to see a Broadway show, visited local gay bars and did as many touristy things as possible. And that was just in our free time. It's hard to say what my favorite part was, because the whole trip was so unbelievable."
(PHOTO: Luke Olson)
From opening ceremonies at Brooklyn's Barclay Center to closing ceremonies in Times Square, the weekend was filled with countless emotional moments.
"Matthew Shepard's murder happened at a pivotal moment in my life, and it affected me deeply," Olson said. "Hearing Matthew's parents speak at opening ceremonies reminded me why I'm committed to the work that we do and the importance of erasing hate. Even with numerous victories, the battle for LGBTQ rights, equality and acceptance is far from over."
(PHOTO: Luke Olson)
I found myself at a reunion of Stonewall survivors. To stand, face to face, with over a dozen people who were actually there, at that moment in time, was nothing short of stunning. These people weren't influencers, or community leaders, or activists. They were just kids living on the outskirts of society who had taken more than enough abuse, stood up and started fighting back.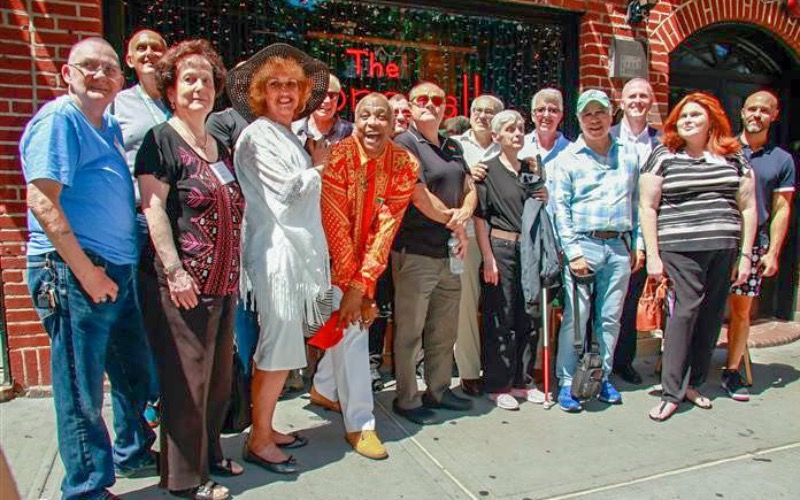 Someone asked Tree Sequoia, who was bartending at the Stonewall that night and still bartends there now, if he was scared during the uprising. He said, "Of course not. We were having the time of our lives. I'd never broken windows. I'd never shake a police car. It was so much fun being dangerous for a change. Gay men weren't supposed to be dangerous."
It was also shocking to learn how many Stonewall myths were created by the homophobic media. The Village Voice called the uprising the "Great Faggot Rebellion," "where little girls drink, dance and do whatever little girls do." For years, these myths have been repeated so often that people actually believe Judy Garland's death inspired the gay resistance movement. This isn't just a lame stereotype; it's fostering a false sense of LGBTQ history. Most of the rioters were actually queer youth who would have found Judy Garland painfully square.
This year's New York Pride March was over 12 hours long from start to finish. What was it like to march in the largest pride parade in human history?
"Reflecting on the 150,000 people walking in the parade, as well as the estimated two million spectators, is just overwhelming," Manning said. "Taking part in that movement and celebration was one of the proudest moments of my life."
"The march was overwhelming," Olson said. "I have never seen so many people gathered. The excitement was sky-high. The feelings of love and support were intense.
"Hearing shouts of 'Yay Milwaukee!' or cheers as we walked by was incredible. As we marched past the Stonewall Inn, a girl on the route shouted, 'Milwaukee! I've been to your Pride! It's great!' That was such validation for the work that our volunteers dedicate to make PrideFest Milwaukee possible."
I was really impressed that New York City supported not just the colossal Pride March, but a separate Queer Liberation March that felt more grass roots and neighborhood level. There were also separate Dyke March and Drag March events, and all were extremely well-attended.
In cities like New York, people aren't just complaining online about Pride being too corporate, or too mainstream, too white or too cisgender. People are really stepping up and making real and effective change happen.
PrideFest 2019, WorldPride 2019, #Stonewall50 and Pride Month might be behind us, but Milwaukee Pride is already preparing for next year's festival. What lessons were learned in New York City?
"Our festival is so different, because of the Henry W. Maier Festival Grounds," Manning said. "We are incredibly lucky to have PrideFest there every year, but we could look to other places throughout the city to host events beyond the festival. WorldPride had events spanning the entire city, which forced visitors to explore areas they might not otherwise have seen."
"Being immersed in the history of the movement, and really reflecting on the why, has helped me frame our event and its significance," Olson said. "I think it really helped me to recommit to our efforts, and to make Milwaukee Pride the best experience it can possibly be."
For me, it was fascinating to learn that the significance of Stonewall was not immediately known or felt – even by those who were there. So much happened, so fast, inside and outside the bar, that not one person actually saw everything. Stonewall survivors now say that they can't say who "threw the first brick," nor would they want to, because it would diminish the efforts of everyone who was there that night.
"Gay pride" was chosen as the name of the movement because "gay power" didn't work. People still felt powerless. It wasn't until a year later – at the Christopher Street Liberation Day March of June 28, 1970 – that people realized what might be possible.
People remember the anxieties of that day – being ridiculed as crazy for being gay in the daylight; walking really, really fast and never looking backwards out of fear of being recognized, attacked or pelted – but they also remember arriving at the Sheep's Meadow in Central Park, turning around and seeing the hundreds of people arriving behind them.
One survivor said, "I never knew there were that many gay people in the whole world, but here we were together, and more powerful than we ever dreamed we could be. I have to wonder what those same people would think, nearly 50 years later, to see how far the world has come."

Planning has already begun for PrideFest Milwaukee, returning in June 2020 for a 33rd consecutive year. Sponsors, entertainers, vendors and volunteers are encouraged to contact info@milwaukeepride.org to get involved in next year's festival.
Growing up in a time of great Downtown reinvention, Michail Takach became fascinated with Milwaukee's urban culture, landmarks and neighborhoods at a young age. He's been chasing ghosts ever since. Michail, a lifelong Milwaukeean, dreaGrowing up in a time of great Downtown reinvention, Michail Takach became fascinated with Milwaukee's urban culture, landmarks and neighborhoods at a young age. He's been chasing ghosts ever since. Michail, a lifelong Milwaukeean, dreams of the day when time travel will be possible as he's always felt born too late. Fearlessly exploring forbidden spaces and obsessively recording shameless stories, Michail brings local color to the often colorless topic of local history. As an author, archivist and communications professional, Michail works with community organizations (including Milwaukee Pride and Historic Milwaukee) to broaden the scope of historical appreciation beyond the "same old, same old."