The people of Walker's Point and the Third Ward are well cared for in general and now the pets of the area are, too. Dr. Shana Loomis hung the Milwaukee Vet Clinic sign last month at 107 E. Seeboth St. on the cusp of the two neighborhoods and she is officially open for business.
To celebrate, Milwaukee Vet Clinic will host a Grand Opening Open House on Friday, May 3 from 5 to 8 p.m. and Saturday, May 4 from 1 to 5 p.m. The event will feature tours, raffles, give-a-ways, local brew samples from Vennture Brewery, tasty treats for humans and animals and the chance to meet some of the clinic's partner groups.
"Getting to know the owners is as important to me as knowing their pets. I believe the animals make the people but the people make the animals, too," says Loomis.
Loomis grew up in Wauwatosa and graduated from the University of Wisconsin-Madison's veterinary medicine program. She lived and practiced in New York City for seven years before she and her husband and their 3-year-old daughter moved back to Milwaukee. Her husband, Matei Bulgar, handles the company's accounting and financial sides.
"This is where we wanted to raise a family," says Loomis, whose family also consists of three dogs and three cats, including this guy: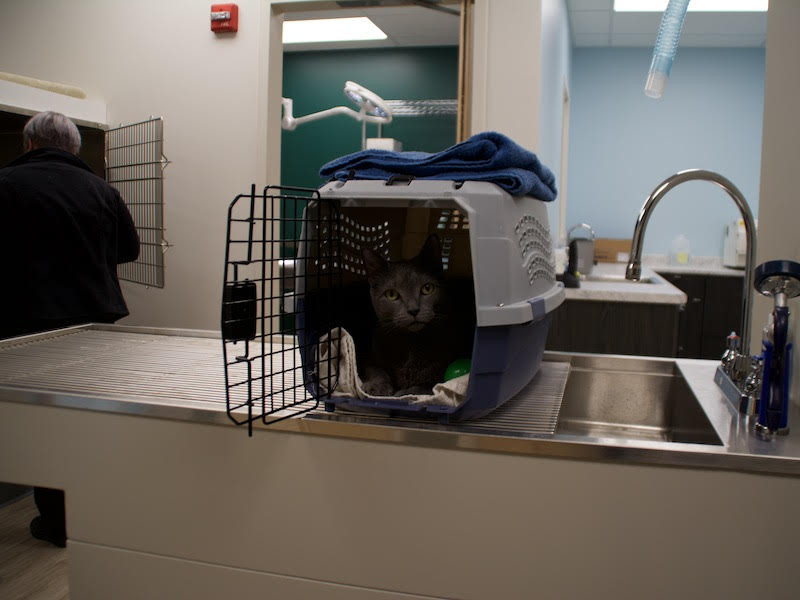 Milwaukee Vet Clinic is a full-service facility that offers pet wellness appointments, surgeries, dental work, training, packaged food and treats and serves as a pharmacy. The clinic has a "Fear Free" certification which means the decor and practices are designed to minimize the common fears some pets experience when visiting the vet.
To support the "fear free" concept, the space is light and cheerful, with pastel-painted walls, funny framed messaging (created by Milwaukee's Rev Pop, Inc.), lots of windows and plenty of treats. Loomis also encourages caregivers to bring their dogs in for a friendly visit in between appointments so they can get a treat and some positive attention and not always associate the vet with getting poked and prodded.
Loomis cares for primarily cats, dogs, rabbits, Guinea pigs and ferrets but she will most likely add chickens to the list because of the recent popularity of backyard fowl.
"I have loved animals and science since I was a kid and I decided in high school I wanted to be a veterinarian and that never changed," says Loomis. "We're really happy to be here."
Molly Snyder grew up on Milwaukee's East Side and today, she lives in the Walker's Point neighborhood with her partner and two sons.
As a full time senior writer, editorial manager and self-described experience junkie, Molly has written thousands of articles about Milwaukee (and a few about New Orleans, Detroit, Indianapolis, Boston and various vacation spots in Wisconsin) that range in subject from where to get the best cup of coffee to an in-depth profile on the survivors of the iconic Norman apartment building that burned down in the '90s.
She also once got a colonic just to report on it, but that's enough on that.
Always told she had a "radio voice," Molly found herself as a regular contributor on FM102, 97WMYX and 1130WISN with her childhood radio favorite, Gene Mueller.
Molly's poetry, essays and articles appeared in many publications including USA Today, The Writer, The Sun Magazine and more. She has a collection of poetry, "Topless," and is slowly writing a memoir.
In 2009, Molly won a Milwaukee Press Club Award. She served as the Narrator / writer-in-residence at the Pfister Hotel from 2013-2014. She is also a story slam-winning storyteller who has performed with The Moth, Ex Fabula and Risk!
When she's not writing, interviewing or mom-ing, Molly teaches tarot card classes, gardens, sits in bars drinking Miller products and dreams of being in a punk band again.