There's some buzz surrounding the Milwaukee Bucks this year, namely because of some exciting, athletic talent like Giannis Antetokounmpo and Brandon Knight (and now-injured rookie Jabari Parker).
Whenever the "kids" do something in a game – and they usually do something highlight-worthy – Bucks fans take to Twitter with Vines and GIFs of their exploits.
UPDATE: Just a day after posting this, Giannis went ahead and did this against Portland.
And, when these things happen, there tend to be hashtags spread across each player or highlight, and it got me thinking – are these guys due for a nickname?
I think so.
So, in the vein of Rip City (Portland) and Lob City (Los Angeles Clippers), as well as with a nod to the social media savviness of the team, its players, and its fan base, how about GIF City? (Or, #GIFCity, for those so inclined.)
OK. It's lame. But it lets me do this ...
And this ...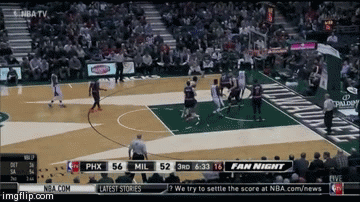 And add this one, too ...
Oh! Don't forget this dandy ...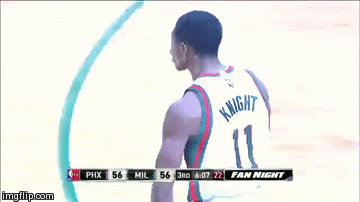 Or this one ...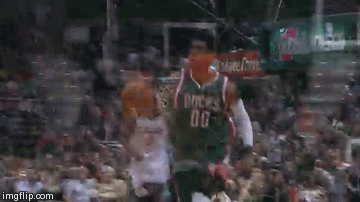 And, of course, my all-time favorite.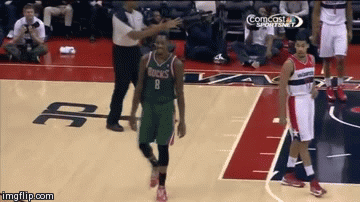 Jim Owczarski is an award-winning sports journalist and comes to Milwaukee by way of the Chicago Sun-Times Media Network.
A three-year Wisconsin resident who has considered Milwaukee a second home for the better part of seven years, he brings to the market experience covering nearly all major and college sports.
To this point in his career, he has been awarded six national Associated Press Sports Editors awards for investigative reporting, feature writing, breaking news and projects. He is also a four-time nominee for the prestigious Peter J. Lisagor Awards for Exemplary Journalism, presented by the Chicago Headline Club, and is a two-time winner for Best Sports Story. He has also won numerous other Illinois Press Association, Illinois Associated Press and Northern Illinois Newspaper Association awards.
Jim's career started in earnest as a North Central College (Naperville, Ill.) senior in 2002 when he received a Richter Fellowship to cover the Chicago White Sox in spring training. He was hired by the Naperville Sun in 2003 and moved on to the Aurora Beacon News in 2007 before joining OnMilwaukee.com.
In that time, he has covered the events, news and personalities that make up the PGA Tour, LPGA Tour, Major League Baseball, the National Football League, the National Hockey League, NCAA football, baseball and men's and women's basketball as well as boxing, mixed martial arts and various U.S. Olympic teams.
Golf aficionados who venture into Illinois have also read Jim in GOLF Chicago Magazine as well as the Chicago District Golfer and Illinois Golfer magazines.