I recently shared four delicious Milwaukee Cocktail Week events that I wouldn't miss. Last night's schedule wasn't on my must-do -- I've never been a big gin lover -- but lo and behold I ended up attending and had a gin-licious night.
The evening started off with Aviation Gin Happy Hour at Blue Jacket. You can never go wrong with the crew behind the bar at Blue Jacket. Ira Koplowitz (of Bittercube, who also consults with Blue Jacket) and team listened to me briefly whine about not being a gin fan before asking what I did like in a cocktail before mixing up some tasty libations with Aviation Gin for me to try.
Fruit forward? Spicy? Sweet? Whatever you prefer, I will say just trust them to make you a cocktail you will love. Indulgences at Blue Jacket included a "Riff on a Gimlet" which was my favorite.

Ira Koplowitz mixing up some goodies for us behind the bar at Blue Jacket. Photo: Paul Fredrich

After wrapping up the cocktails at Blue Jacket, I headed just a few blocks west to AP Bar & Kitchen for a four-course cocktail dinner partnered with Hendrick's Gin. After being personally greeted by Justin from AP we were quickly served up a cocktail of Hendrick's, cocchi, aperol, lemon and cava.
Passed starters for the night included a juniper chicken liver mousse crostini, smoked trout and lamb samosas.

I could have eaten those smoked trout bites all night long.
A bourbon molasses glazed quail and bacon polenta stuffing pair started out the courses -- paired with a Hendricks, cardamaro, suze cocktail. The petite quail paired nicely with the stuffing though the winner on the plate was the bourbon molasses sauce.
My aversion to gin long gone, I enjoyed the second course cocktail immensely. The Hendrick's, fino sherry, cucumber and lemon concoction was my favorite of the dinner and was paired with grilled octopus and soba noodles in a oolong tea brodo.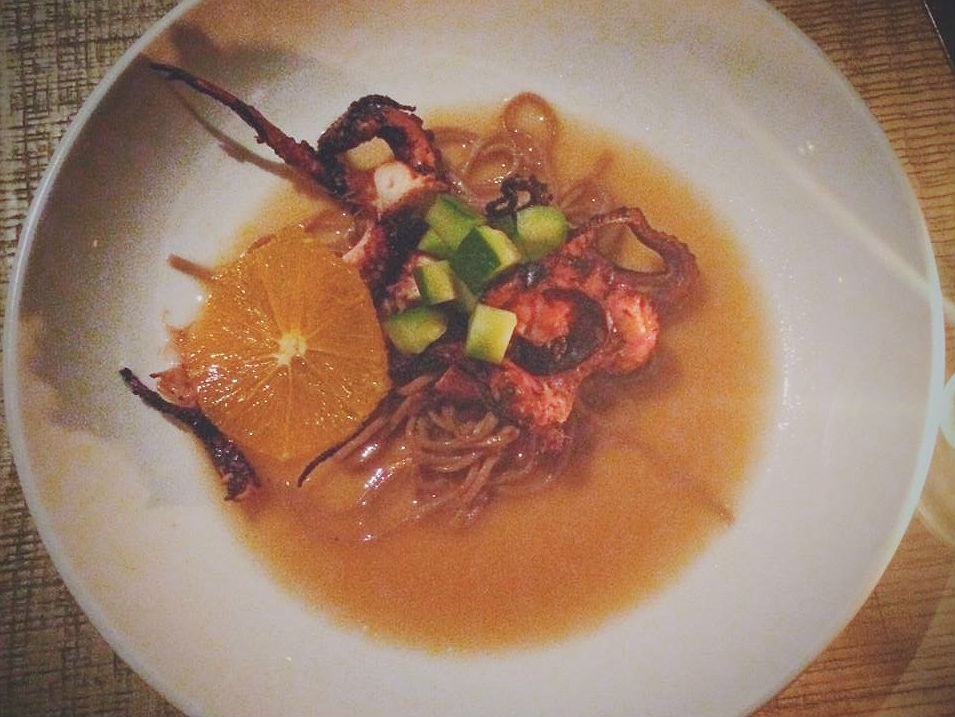 Photo: Paul Fredrich
Next came a venison course which was rubbed with juniper (an ode to gin, you think?) and served with artichoke puree, brussels sprouts leaves, garlic confit with a white wine gastrique. The gastrique was nothing short of amazing and though I enjoyed the venison I could have -- and would have -- eaten a whole plate of just the artichoke puree and brussels sprouts with that gastrique.

Photo: Paul Fredrich
Closing out the night was apple-lychee crostata with brown butter oats and rosewater ice cream. The final course had what I thought to be the best cocktail / food pairing with a Hendrick's, blueberry rooibos, lime and rosewater. Without the cocktail, the dessert wouldn't have been a stand-out for me -- and I usually prefer to eat dessert first, I love it that much! But the cocktail married so well with the crostata and ice cream that it closed the night on a high-note.
While I didn't feel the dinner fully showcased what AP Kitchen & Bar can do, the food and cocktails throughout the night did not disappoint. You will no doubt see me buying a bottle of Hendrick's or Aviation Gin soon to try my own concoctions. But I know they will not compare with what I drank on this gin-licious night.
Carolynn Buser is one of Milwaukee's loudest and most adamant cheerleaders (don't dare try to disagree). She's the primary voice behind much of OnMilwaukee's social media and content direction, and apologizes in advance if she can be too sarcastic at times.
What else? She's a wine lover, closet trashy novel reader, beauty supplies addict and devourer of cheese (shocker for a Wisconsin born and bred girl, right?). She's also a bit of a foodie, which is a word most of you hate, we know. She works as hard as she plays - and that includes in the gym! So, you've probably seen her at one of the area's newest restaurant openings (and yes, she will share her opinions good or bad) or enjoying a cold one at a local pub.
All in all, Carolynn's a believer in positive thinking and will do her best to smack down your negative ones while writing about her city, her loves, quests and more.