The U.S. Cellular Arena buzzed on Schools Day on Feb. 6 as Milwaukee Wave owner Jim Lindenberg took to the microphone and announced the hiring of Sue Black as the president and chief executive officer of the longest-running Major Indoor Soccer League franchise in the country.
Gathered at midfield, the men of the Milwaukee Wave soccer team formed a half circle around her, and she smiled as they threw arms around her shoulders.
As she climbed a set of platform stairs, the crowd and the team applauded. She spoke briefly before calling the players in front of her to share in the moment. They danced, laughed, celebrated.
It was what history looked like.
In all of the male professional sports organizations in the United States, Black became the first openly gay woman to hold a chief executive position.
She joins only Rick Welts, the president and CEO of the National Basketball Association's Golden State Warriors, as openly gay executives in any male professional organization.
"(Welts) was the first openly gay person in professional sports to come out while he was still an executive – that's how bad it has been," said Dr. Richard Lapchick, the Director of The Institute for Diversity and Ethics in Sport at the University of Central Florida. "Obviously to have a woman in a men's sport is even more remarkable.
"This is an important moment in the history of sports."
For all that is good about professional athletics, it is part of society that has long operated behind tarpaulins of testosterone and false assumptions about organizational chemistry.
Lindenberg, Black and the Wave pushed aside such shrouds with one simple act.
A move forward
When discussing Black's hire, Lapchick was nearly breathless.
He has published gender and diversity report cards for Major League Baseball, the National Football League, the National Hockey League, Major League Soccer, the NBA and the NCAA for over a decade. It wasn't more than two years ago when very little discussion was had on inclusion in male pro sports leagues, and he is surprised at how quickly the national discourse on the topic has reached a fever pitch.
"There has been, I think, a pretty remarkable change of attitude in the way this is now being regularly discussed in professional sports and college sports," Lapchick said. "I think this is one of the huge breakthroughs, like Rick Welts coming out about a year and a half ago."
Welts was the first chief executive in a male sports league to disclose his sexuality publicly, doing so to The New York Times in May 2011 when he was the president and CEO of the Phoenix Suns. He said one of the reasons it took him so long was because he would be the first and was unsure how the news would be received.
Nearly two years later, Black joins him as a beacon for change.
"It's just helpful to have yet another person out there in the world of sports who doesn't see this as the center of her universe but rather just one aspect of her life and got that job because she happens to be terrific at doing what she does, not because of her sexual preference one way or the other," said Welts, who was hired by Golden State four months after coming out.
Social change is slow – glacial to those fighting for it – but in sports that advancement can happen quickly once momentum builds.
That's how NBA commissioner David Stern sees it. He encouraged and supported Welts' decision, and the Women's National Basketball Association (WNBA) has had several openly gay executives and players.
Stern acknowledged that while the inclusion movement in American professional male sports is in its infancy, it's moving forward quickly – and will continue to do so – much like the last great social evolution in athletics.
"There was a time, even on the field, or on the court, where people didn't want to play with black athletes," Stern said. "And now we look back at that with some degree of dismay and disbelief. I believe this is heading in the same direction."
He said he hoped this would be the last time he would have to address such a topic but added, "We're not there yet."
The news of Black's hiring has clearly resonated, and while some would argue its importance is diminished due to the league she works in, it represents another progression in the national dialogue and is an important marker in the history of inclusion in professional male sports.
"Sports as a whole is kind of one of the last bastions for intolerance and bigotry," said Minnesota Vikings punter Chris Kluwe, one of many straight male athletes who have campaigned for inclusion in the National Football League and across other male sports. "I think any step that's taken, no matter how small, no matter how big, it's only going to help pave the way for the future."
Sue Black has broken barriers her entire career. (Photo: Royal Brevvaxling)
The Change Agent
Black has been a very public figure in Wisconsin for more than a decade because of her award-winning work in parks departments. Her sexuality, though not a secret, has had nothing to do with business.

"The female part of it, I think that's the big piece to the puzzle," she said of the importance of her position, which also includes the president and CEO roles with the Wave's charitable arm, the Wave of Hope. "My personal life is my personal life and I've never been closeted, or whatever the word is. I've always just been honest about who I am."

Breaking down barriers, however, is something Black is well versed in. Ken LePine, who hired her over a decade ago in the Dane County Parks system, called her a "change agent" as the first female supervisor in that department.

"It's been that way," Black said. "I was the first at a bunch of different things. I was the first woman state parks director. I was the youngest person. There were a whole bunch of different ceilings that I've kind of broke through, whether it be being a woman on the job or being younger. Then you also add that I'm out. That's somewhat irrelevant, but you know."

It's something Karen Bryant understands better than most.

In her long career in NBA and WNBA front offices, she joked she was the perfect human resources "trifecta" because she was a woman, often the youngest in the room, and a lesbian.

"I've always positioned myself on my business acumen first and foremost," said Bryant, currently the president and CEO of the Seattle Storm, a women's basketball team in the WNBA. "Personal life almost has no bearing on your competency in a position. People say, well, are you out? And I go well, I don't know what 'in' is. I've always been me and I've always told the truth and I'm not one to put my personal life out there. But if asked it wasn't something I ever denied or lied about."

When Bryant heard about Black's hiring, she poked around the Internet to find out more about it and noticed the parallels. She was impressed by Black's history of building relationships within the Milwaukee area and producing results within the parks department.

"I couldn't find any reference to her personal life or sexual orientation which I also find refreshing," Bryant said. "Kudos to the Wave – and really specifically to Jim – for making the decision to hire the best candidate. I think if we can get to the day when all hiring decisions are made based on candidate applications and competency and not things like sexual orientation or gender, boy, that will be a great day."

When he re-introduced her to the city, Lindenberg said that was exactly why Black was brought aboard. Her experience with the media, as well as with securing corporate sponsorships, made her a perfect fit for taking the organization to another level.

In the short time she has been with the Wave, members of the organization have become more visible than ever, appearing on Milwaukee radio and TV programs. There is a buzz about the team, beyond just the hum of the new electronic billboard ads promoting them.

"There is definitely a different feel with the team as far as that side of things, out in the public," said Wave goalkeeper Nick Vorberg. "You can feel it a little bit."

The team could see it, too.

The Wave's first home game after her hire was four days later, on Feb. 10. In just a month's time, Black and Vorberg said there was a dramatic increase in attendance from the season average through her hire to that first game on the 10th, and again by the end of the season. The Wave did not provide specific attendance information at the time of publication.

"You don't really get a whole lot of people that haven't heard of the Milwaukee Wave, but they are out there," Vorberg said. "I think she's reaching into that, which is great for us. We always get more fans toward the end of the year, but I think it was a little bit more this year, which is great. I think our attendance was up, which is fantastic for us and I hope it's a stepping stone into next year."

Black may downplay the unique aspect to her hiring, but what is undeniable is how influential a position it puts her and the organization in.

"Whether it's something she is actively doing or even wants to actively be a part of, there's no question that she is the leader in achieving this first and breaking down this barrier," Bryant said. "Whether we like it or not, those of us who work in sports to some degree are setting the tone for younger people and role models. I think it's incumbent on us to leverage that unique platform that sports has in a really unique, positive way that moves us forward. From my perspective, inclusion and celebrating diversity are an important part of that positive change.

"I've been in pro sports for 17 years and there's no question that the dialogue has evolved in that time frame. It all has to start with dialogue, and then it requires change agents and pioneers and people like Sue Black to continue the movement."
Minnesota Vikings punter Chris Kluwe believes there needs to be greater discussion about inclusion in pro sports. (Photo: Adam Bouska, Courtesy of NOH8 Campaign)
The last hurdle
The next, biggest step in the inclusion movement is for the first active, male professional athlete to come out – a difficult choice Lapchick feels will be made by at least one prominent player in the next year. It's the biggest topic when it comes to homosexuality in sports, one even Welts acknowledges will be the more courageous act.

That issue is perhaps why there is such interest in chief executives in male athletics like Black and Welts.

"There's outside emphasis placed on this subject, on the business side of the business, because of the field and court side of the business," Stern said. "When that sort of goes, then it'll move quickly. In other words, right now the protocol is that players wait until they retire to disclose their homosexuality, but there will be a game changer and we'll move on from there."

Hudson Taylor, founder of Athlete Ally – an organization that encourages straight athletes to speak out against homophobia and transphobia in athletics – believes this is where those men play an important role.

"It's the straight allies that are going to need to speak out, take a stand, that are really going to shift things forward," Taylor said. "Yes, having openly LGBT members in the athletic community are certainly integral to this – they give the entire conversation context – but at least 90 percent of the sports world is straight. So we need to make sure that the message is being heard loud and clear to our straight athletes that discrimination has no place in sports."

When the owners of male professional sports organizations make a hire like Black, or support the public acknowledgement of an incumbent executive like Welts, it only helps that cause.

"What it does is it shows that there is a tolerant environment," Kluwe said. "It doesn't matter whether you're a player or an executive you have that same opportunity to be who you are. You don't have to hide that."

"I agree – those are important steps," Stern added. "As a league – and I do mean the WNBA and the NBA – we consider ourselves to be progressive and inclusive. And that means that all are welcome – if they've got game. And if their game is on the court, that's one thing. And if their game is in the front office, that's another. But if you've got the right game: Come one, come all. It gives us an advantage in recruiting."

For Paul Fairchild, the President of the Cream City Foundation -- an organization that works to foster positive social change on behalf of Milwaukee's LGBT community -- this is an important part of the conversation regarding inclusion in male professional sports leagues.

He cited the homophobic comments made by Chris Culliver of the San Francisco 49ers on the eve of the Super Bowl, where the defensive back said he wouldn't accept a gay athlete on the team, and if there was one, would want him to leave the organization. Fairchild said if such words were uttered by an employee in the business community, he would have been fired immediately. Yet in sports, such language may not be encouraged, but it is rarely punished.

Culliver was not fined for his comments or prevented from playing in the Super Bowl, though he did apologize and reached out to the LGBT community in California after the season.

"While sports teams may have all of these anti-discrimination policies in place, the policies mean nothing without a culture change," Fairchild said. "You have to have leadership that understands that at the top for a culture to change."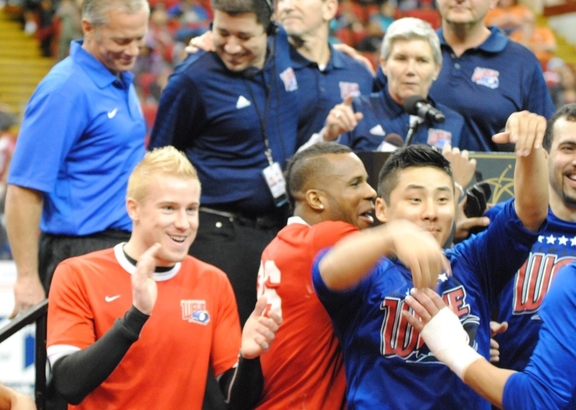 Milwaukee Wave players celebrate Black's hiring. (Photo: Royal Brevvaxling)
A united front
Following her controversial an still-unexplained dismissal from Milwaukee County Parks in August, Black hinted her next job would allow her to work on a global scale while making sure that "I contribute, that I work with people," she told the media in November. "I like to think of myself as more of a uniter than dividing people."

About four months later, she found herself in the tunnel of U.S. Cellular Arena amongst the Milwaukee Wave players as they readied to take the field. Thousands roared in anticipation, but before they ran out one of the players found Black over the din:

"You did your job," he said. "Now it's time for us to do ours."
Jim Owczarski is an award-winning sports journalist and comes to Milwaukee by way of the Chicago Sun-Times Media Network.
A three-year Wisconsin resident who has considered Milwaukee a second home for the better part of seven years, he brings to the market experience covering nearly all major and college sports.
To this point in his career, he has been awarded six national Associated Press Sports Editors awards for investigative reporting, feature writing, breaking news and projects. He is also a four-time nominee for the prestigious Peter J. Lisagor Awards for Exemplary Journalism, presented by the Chicago Headline Club, and is a two-time winner for Best Sports Story. He has also won numerous other Illinois Press Association, Illinois Associated Press and Northern Illinois Newspaper Association awards.
Jim's career started in earnest as a North Central College (Naperville, Ill.) senior in 2002 when he received a Richter Fellowship to cover the Chicago White Sox in spring training. He was hired by the Naperville Sun in 2003 and moved on to the Aurora Beacon News in 2007 before joining OnMilwaukee.com.
In that time, he has covered the events, news and personalities that make up the PGA Tour, LPGA Tour, Major League Baseball, the National Football League, the National Hockey League, NCAA football, baseball and men's and women's basketball as well as boxing, mixed martial arts and various U.S. Olympic teams.
Golf aficionados who venture into Illinois have also read Jim in GOLF Chicago Magazine as well as the Chicago District Golfer and Illinois Golfer magazines.