This Flashback Friday story originally ran in 2016. All of these establishments remain open today.
Once upon a bland existence, "weird" was not a complimentary word, but over time, this has changed and the word is now more synonymous with "unique" than "creepy."
In short, weird has become a good thing and cities strive to hold onto what makes their place truly special.
Even though Milwaukee does not officially have a "keep it weird" campaign like other cities, there's still enough weirdness to keep life interesting.
American Science & Surplus
Whether you need beakers, electrical gizmos, art supplies, zombie heads or telescopes, this is the place. Even if you need absolutely nothing, go anyway just to read the hand-scrawled signs describing the odds and ends. During a recent visit, we watched a worker melt a gummy bear in a test tube to demonstrate what happens when sugar is exposed to high temperatures. There was also a bin of legs.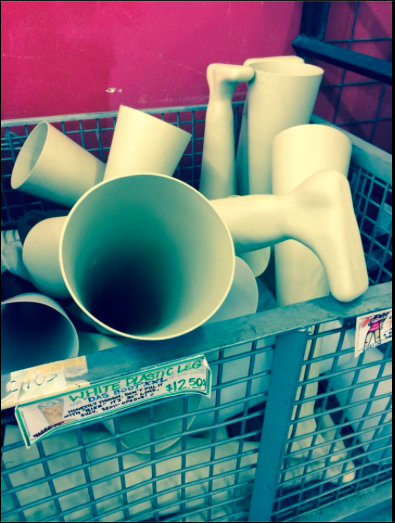 Maria's Pizza
This gem of a pizzeria is in the red. Literally. From the saucy dishes to the checkered table cloths to the snug dresses on the 60-something sister waitresses. (Don't expect any red wine, though, because Maria's does not have a liquor license. Get a big blue soda in a plastic cup instead.) The walls are adorned with paint-by-number religious paintings brushed by family and strands of Christmas lights twinkle all year 'round. The pizza is thin and greasy – many diners roll it up like a tortilla – but it doesn't matter. It's the experience of Maria's that matters. Any shred of nourishment is a bonus.
Art Smart's Dart Mart
Arguably, it's the highly visible sign on the Brady Street side of the building that is what's most iconic about this quirky shop, but for those who are actually in the market for juggling supplies, Frisbees, magic tricks or gag gifts, this is a one-stopper. My 11-year-old son would disagree, but I do not recommend the fart bombs, however. Those work a little too well.
Angelo's Lounge
Every Thursday night, this cozy lounge features an assortment of retired jazz singers sharing the small stage that's just an ice cube's throw from the plush seating. Strong cocktails and the ghost of Sinatra are in the mix any night of the week.
Koz's Mini Bowl
There are really two words that make this bar and bowling alley one of the shiniest jewels in Milwaukee's crown of weirdness: Human pinsetters. Also, if you are ever going to have a chance to break 200, these small duckpin lanes might be your only chance. Just be sure to call ahead before stopping by Koz's with your bowling shirt on because pinsetters don't just crawl out of the woodwork. They have to be phoned by the owner to see if they're done with their homework and able to work for a few hours.

Molly Snyder started writing and publishing her work at the age 10, when her community newspaper printed her poem, "The Unicorn." Since then, she's expanded beyond the subject of mythical creatures and written in many different mediums but, nearest and dearest to her heart, thousands of articles for OnMilwaukee.

Molly is a regular contributor to FOX6 News and numerous radio stations as well as the co-host of "Dandelions: A Podcast For Women." She's received five Milwaukee Press Club Awards, served as the Pfister Narrator and is the Wisconsin State Fair's Celebrity Cream Puff Eating Champion of 2019.