It's not a lost dog or cat – rather swans. Yep, swans.
Milwaukee philanthropist Michael Cudahy, 92, is searching for a family of swans that he owns. According to Andy Nelson at the Pabst Theater, he's asking for your help locating them. Thus, this blog.
Swans aren't the most loving of animals. They can be vicious and, like many large birds, very protective of their young. At least that's my experience with the ones I've seen in Lake Country on lakes like Pewaukee, Okauchee and Nagawicka. So use caution, should you go hunting for Mr. Cudahy's birds.
There are three main species of swans in Wisconsin; Cudahy's are Trumpeter swans: all white, black bill with a narrow, salmon-red stripe along the base of the lower bill.
The missing family is a dad, mom and three kids. The kids tip the scales at about 30 pounds, while the mom and dad are around 60 pounds. All were last seen last night (Wednesday), according to Nelson, "south of Grafton in the Milwaukee River."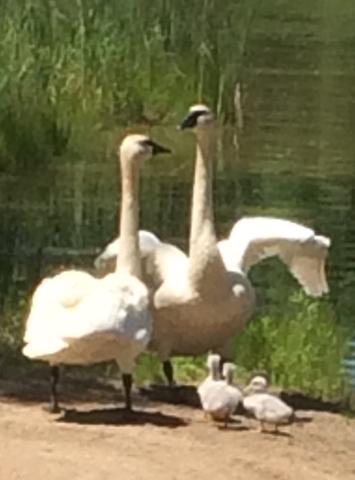 Swans can move from body of water to body of water, but chances are they are still floating near Grafton on the Milwaukee River.
If you know anything about the whereabouts of theses swans please contact the Pabst Theater at talkback@pabsttheater.org or via phone (414) 286-3164. They'll pass the messages along to Mr. Cudahy.
There you have it. My good deed for the day is done, now go do yours. Find these swans! And, if you want, read my 2002 interview with Cudahy here. Old school.
A life-long and passionate community leader and Milwaukeean, Jeff Sherman is a co-founder of OnMilwaukee.
He grew up in Wauwatosa and graduated from Marquette University, as a Warrior. He holds an MBA from Cardinal Stritch University, and is the founding president of Young Professionals of Milwaukee (YPM)/Fuel Milwaukee.
Early in his career, Sherman was one of youngest members of the Greater Milwaukee Committee, and currently is involved in numerous civic and community groups - including board positions at The Wisconsin Center District, Wisconsin Club and Marcus Center for the Performing Arts. He's honored to have been named to The Business Journal's "30 under 30" and Milwaukee Magazine's "35 under 35" lists.
He owns a condo in Downtown and lives in greater Milwaukee with his wife Stephanie, his son, Jake, and daughter Pierce. He's a political, music, sports and news junkie and thinks, for what it's worth, that all new movies should be released in theaters, on demand, online and on DVD simultaneously.
He also thinks you should read OnMilwaukee each and every day.