In 2009, the world lost a legend, and it left fans mourning greatly. However, tonight at the Riverside Theater, that legend was very much alive and well.
Las Vegas MJ Live brought the spirit of Michael Jackson back to Milwaukee Friday night at the Riverside. The audience came prepared, dressing in the pop star's iconic attire. Everywhere one looked, crowd members wore anything from his signature jackets to his famous white glove and fedora. Judging by the outfits on display, his fans definitely came out prepared to celebrate MJ's life.
Before the house lights dimmed down, the crowed squealed with excitement, sensing the show was about to begin. Eventually, the lights darkened, the curtains parted and a group of dancers already boogie-ed down on stage. This, at first, caused confusion. Michael Jackson music played as they danced, but there was no sight of a singer. Disappointment briefly started to set in as the audience thought only dancers were making an appearance tonight.
But then suddenly, a man appeared at the top of the stairs, and jaws dropped as the crowd stared at seemingly an exact clone of Michael Jackson. Did they use a strand of hair from MJ's corpse to clone him? Or did he just actually not die?
Of course, both of those theories were very wrong. A man named Jalles Franca transforms himself to look exactly like the King of Pop. He impressed us all – and even seemed to fool some people in the crowd. At several points, fans yelled, "We love you, Michael," making me worried they actually didn't know he was a impersonator (gratefully, Franca helped out by introducing himself). His introduction, however, could have been about ten minutes shorter. It would have been much more appreciated if he went straight to singing, but he kept talking for way too long.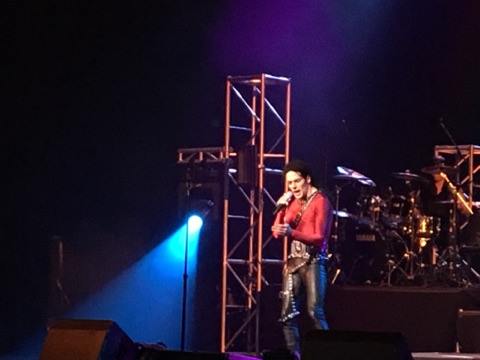 Once he finally started performing, though, the audience got to enjoy any and every song you could possibly think of from MJ's legendary setlist. From "Wanna Be the Start of Something" to "Dirty Diana" to "Bad" and more, MJ and the dancers performed with blazingly high energy and kept the audience hyped up.
The show definitely felt like something straight out of Vegas; it was over the top and flashy, and MJ and his dancers changed costumes and looked the part every song. No matter what the song was, Franca's MJ had something that matched what was originally worn. For "Thriller," for instance, he dressed in the signature red jacket while his dancers costumed themselves as creepy characters to fit the song and famous music video. They even did the full dance. His dancing matched Jackson's breathtaking original moves to a T, performing many moon walks, pelvic thrusts and crotch grabs and giving the audience the full experience of the gone-too-soon legend. By the end, you could've easily convinced yourself you just saw an actual MJ concert.
Later, when the dancers came out dressed in afros and flared pants, the crowd's excitement only grew. The group busted out a medley of Jackson 5 songs, getting the audience on its feet, belting out the lyrics and dancing like crazy. It easily became the highlight of the concert.
As the concert went on, Franca continued to sing the classics like "Smooth Criminal," "Black and White" and, of course, "Beat It." Once he did his own thing to "Beat It," he handed over the stage to others to show off. He brought up kids that were dressed as MJ. His plan probably involved having only like three or five kids on stage, but crazy parents started to put their kids on stage, making the group of them closer to 10.
The kids introduced themselves and then did their dance moves – some of them so impressible, you wound up feeling pretty bad about yourself for having worse dance moves than a 10-year-old. Still, it was cute – but went on extremely long. By the end, it was relief when they finally got sent off the stage and back to their seats.
Franca got everyone's attention back and energy up with the showstopper tune, "Man in the Mirror." People waved their hands in the air and sang the lyrics at the top of their lungs. After some quick introductions and thanks, he closed out with "Shake Your Body (Down to the Ground)." Until the end, the crowd screamed and cheered.
With spirited performers and a robust setlist, MJ Live put on quite show – and left the Milwaukee crowd pleased it got an opportunity to pay tribute to a beloved legend without having to fly out to Las Vegas.