It's impossible to live in Milwaukee and not see the famous "I CLOSED WOLSKI'S" bumper stickers. They have a simple design, and they're everywhere, a label of pride for staying at Wolski's Tavern until closing time. I too, wanted to be a part of this tradition, and so I went to Wolski's on Saturday night for my first time.
The building, located just off Brady Street, has been a bar since 1907 and looks like an old house, which contributes to its cozy, relaxed feel. The place has long been family-owned and offers free popcorn, a pool table, darts and, of course, booze.
Once inside, my friend and I ordered two pints of Guinness, which were delightfully foamy.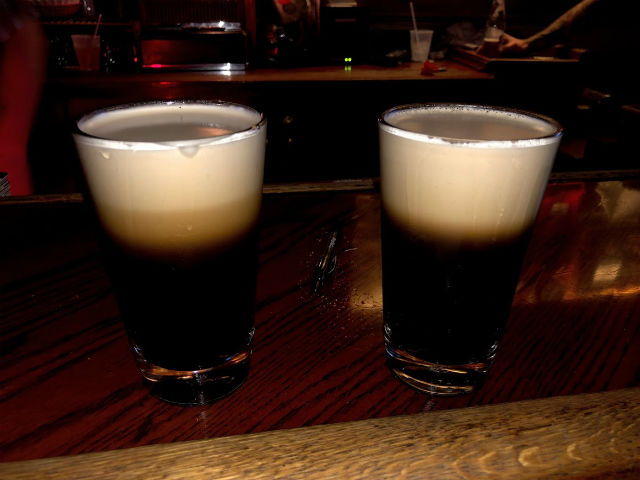 There definitely was a friendly vibe in the packed room. People were everywhere and everyone seemed to be having fun. I was greeted by one of the other customers, who was a complete stranger and told me she went to the same college as me. Despite the loud music, it was still possible to have a brief conversation (with a bit of yelling), and later I ran into two other people I knew. Wolski's proved to be something of a community gathering place.
I appreciated the decor of the bar, as well. Flags hung from the ceiling and old-fashioned posters, license plates and plaques adorned the walls.
With deals like $7 Moscow mules, $3 Hamm's tall boys, $9 Old Milwaukee pitchers and $2.50 mugs of beer, it's easy to drink affordably at Wolski's.
The night flew by quicker than I anticipated and it wasn't difficult at all to stay out until 2:30 a.m. I thought I'd be getting tired too soon and have to head home before closing time hit, but I persisted and my perseverance paid off. I was handed my long-awaited free sticker on the way out the door. The real question now is where I'm going to put it.
Wolski's wasn't anything super special compared to other bars. The main difference might be the vibe, as people are willing to stay until closing time, so the hype doesn't die down. And, of course, you get free stickers at this bar, which is fun.
Not only does Wolski's offer the famous bumper stickers, but they also have other merchandise. You can boast your love for a bar built around staying out until 2:30 a.m. on a T-shirt or tank top, too. With all the "I closed Wolski's" options, this century-old tavern really has excellent branding.