Bad news, dads: If there's a movie buff in your family, Father's Day dropped to Sunday's second-biggest cause for celebration, thanks to the announcement that two Milwaukee movie icons – one of the past, the Oriental Theatre, and one of the present, Milwaukee Film – will join in beautiful cinematic matrimony.
Thanks to a 31-year lease signed with Tim Gohkman and New Land Enterprises, the local film organization will take over operation of the 90-year-old landmark beginning July 2018, turning pretty much everyday into a film festival day.
Of course, when one of our favorite groups assumes control of one of our favorite buildings, we need to find out more. So we chatted with Milwaukee Film Executive and Artistic Director Jonathan Jackson to learn when and why the organization decided to expand, its plans for the Oriental – on screen and off – and, most importantly, if "Rocky Horror" will survive the swap.
OnMilwaukee: When did you realize this was what you wanted Milwaukee Film to move toward?
Jonathan Jackson: I had, since honestly day one of this organization, thought about the potential for having a cinema and a film festival. We even have a founders letter appeal that we sent out in 2009 that I have a copy of – and can't wait to put up on the wall at the Oriental when we're there – that talks about the four goals of our organization, which were top-flight film festival, year-round education programs, commitment to growing and serving filmmakers and, finally, a year-round cultural institution dedicated to cinema.
It's been something in the background forever. My personal background is I started programming by programming the UWM Union Cinema for three years from 2000 to 2003, so I always had a passion there. And over the years, there's been some challenges – principally among them never having long-term contracts on the film festival itself for any of the venues, let alone our key venue for revenue: the Oriental Theatre. We wouldn't get that until four or five months before the film festival every year, and that's just not a healthy way to run an event with major sponsors and donors and big complexity.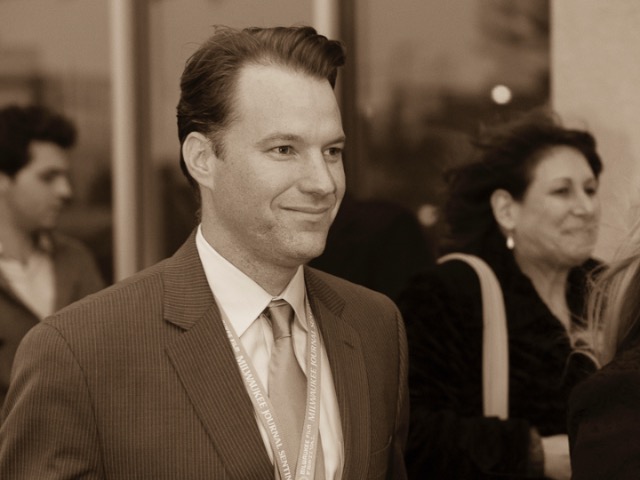 So long story short, I'd been pushing this about year four or year five of the organization and pushing the board on it, saying we need more security. So we developed a strategic planning committee that lasted a year. We adopted a new mission and vision, and launched something we called the Space Needs Task Force, which was to determine if we thought Milwaukee Film could sustain a cinema year-round, if it would threaten the existence of the film festival – which was paramount to the board.
I was grilled so many times on, "Why would you do this and risk this film festival that has become an important cultural event in Milwaukee?" If you see all the numbers and look at how we prepared for this, I think it's more of a risk for us not to pursue this. This gives us a way to have more revenue sources, more relevance throughout the year while ridiculously expanding our cultural impact.
Was it always going to be the Oriental?
We did consider options such as do we want to build something brand new or do we want to pursue a different opportunity, but it all became centered on the jewel that is the Oriental Theatre. Our organization has become, I think in some ways, identified with that. It's so amazing to bring filmmakers from around the world to premiere their films in the main house and change their perception on what they might have thought about Milwaukee before they came here.
How is the film festival going to coexist with this year-round theater, this year-round cinema?
I believe the film festival will grow significantly. One of my dreams has been to have five screens on the East Side during the film festival. Previously, we'd only been allowed to rent three – two at the Oriental and one at the Downer. Having a five-screen hub gives us a density that I think will attract more people from out of town to the festival, because it'll be like film festival village for those two weeks.
We do intend to keep the additional venues as part of the festival, but it's more like single screen cinemas and neighborhoods throughout Milwaukee – and long-term, maybe even beyond. I don't want us to get ahead of ourselves; that wouldn't be a plan until we're successfully running the Oriental on a year-round basis. But while we'll be doing more and showing more throughout the year, the goal is still focused on making the Milwaukee Film Festival the best possible film festival it can be.
What were some of the theaters you were looking at throughout the country as exemplars of what you want to do with the Oriental?
Our biggest aspirational peer and sort of benchmark for several years has been SIFF, the Seattle International Film Festival. They operate the largest film festival in the country, and they operate five screens year-round in three different cinemas. And they told us very clearly that their organization became more sustainable when they launched the cinema screens. That was a big opportunity for them; it grew their membership base significantly.
In addition to Seattle, two other organizations that we will closely mirror are the Denver Film Society and CFI, which is the California Film Institute. Those are organizations that have a big festival and run year-round cinema. I could run off a list of 10 or 15 just pure movie houses that we're in love with that we would aspire to one day be considered among.
What about those theaters do you want to recreate with the Oriental?
They're all different and unique and excel in different ways. But I would love to be able to have a mix of first-run documentary, independent, foreign and art films, and a calendar that does a mix of specialty programming – mini film festivals or themed series throughout the year – and classic films on the big screen as well. I really believe that there's still an audience for this, if programmed and marketed and developed in a really savvy way.
Now that you guys are getting into the year-round programming business, how do you think you would handle stuff like Netflix original releases, which has been a hot topic recently? Is that something you would bring to the big screen?
The only thing that would annoy me is if they wouldn't let us show it. Some of the movies, they won't allow festivals or theaters to play, and that's frustrating.
But I actually have developed a philosophy, and seen it in the numbers, that honestly I don't really care. What I'm building, and what I'm trying to build with Milwaukee Film, is a great communal viewing experience on a big screen. That's the way I believe films are meant to be seen and experienced.
And sometimes – this is for the festival; we'll see if it happens for the cinema – we find films perform better if they're available on demand. Maybe they get more buzz because of that, or people recognize it when they're looking through the festival catalog because maybe it flashed before their eyes on Netflix or Amazon once when they were scrolling. But we have healthy attendance at the festival for films on demand.
I just really believe in seeing work on the big screen and showing the best content on the big screen – no matter how you can see it.
How will the cinema's offerings differ from the Oriental's current typical bookings?
Well, we won't show Hollywood blockbusters. We would probably show a lot of what they do, but we would veer more toward definitely more documentaries, definitely more foreign language films. We really think there's a need for these movies to be seen and screened. And it's frustrating for all of us on the staff as we're reading the reviews in the Friday New York Times or L.A. Times or Chicago Tribune and thinking why aren't these movies coming to Milwaukee? Well, we are going to try to bring more of that content to Milwaukee, to be a part of that film culture and conversation going on internationally.
Now, this is only three screens; it's not 20. (laughs) So there's a limit to how much we'll be able to do because of that. But we do want to try to bring more of the films that are out there, that are of high quality. I think a sign of success would be people saying to me, "I don't even know what's playing; I'm just going because I trust in that Milwaukee Film has programmed it." I feel like that brand establishing connection is something that could be exciting.
You've also talked about other projects and programs you were looking to initiate when you guys move into the Oriental – playing older films, playing mini-festivals.
I don't want to get too specific or ahead of ourselves right now. But this is a part of where movie-going is going.
At first, I was alarmed several years ago when cinemas started showing live Broadway or actual television events or sporting events and doing unique programming. But then I heard a talk from David Bordwell, probably three years ago, and it all dawned on me that cinema-going is actually returning more toward its roots, where it wasn't just going to see a movie and running away as soon as the credits were over. It's an atmosphere of maybe there's a short before the film, maybe there's a music show, maybe there's a vaudeville act, maybe there's a double bill and more entertainment and a newsreel.
When you think of the film festival atmosphere – and some of the film festivals that do it best – it is much more than just a film showing. So I want to try to create special event destination programming and surprise people every once in a while about what they see when they show up.
You also talked in the press release about fixes and renovations to the Oriental. Are there any projects in particular you're looking at?
We will be replacing all of the seats in the balcony. If you've ever sat in the balcony, it's not … comfortable. (laughs) And we would love more opportunities for women to go to the bathroom on the first floor.
And I will one hundred percent say that we are going to revamp the sound and projection, and our goal – and I want to be held accountable for it – is I want it to be state of the art for a historic movie palace. Our fundraising campaign is accounting for a significant investment in the sound and projection and aesthetic atmosphere for cinema viewing in each house.
I just want to make sure that people aren't expecting on July 1, 2018, that we're going to make all of these investments. We're probably not going to do it until 2019, to not jeopardize the dates in the 2018 festival. We probably won't make all of these improvements until 2019, and the theater will probably have to go dark for some time.
Finally: Is "The Rocky Horror Picture Show" going to stay?
We certainly hope so. We have not talked to the team at this point, but I wasn't kidding when I said event programming is what cinema houses need to do to survive. And there's no more event programming than "The Rocky Horror Picture Show."
As much as it is a gigantic cliché to say that one has always had a passion for film, Matt Mueller has always had a passion for film. Whether it was bringing in the latest movie reviews for his first grade show-and-tell or writing film reviews for the St. Norbert College Times as a high school student, Matt is way too obsessed with movies for his own good.
When he's not writing about the latest blockbuster or talking much too glowingly about "Piranha 3D," Matt can probably be found watching literally any sport (minus cricket) or working at - get this - a local movie theater. Or watching a movie. Yeah, he's probably watching a movie.