We asked retired Milwaukee firefighter Wayne Mutza – who has also authored books on the history of and his experiences with the Milwaukee Fire Dept. – about some of the most dramatic fires in Milwaukee history.
Here, Mutza – whose brother Dale Mutza also photographed many Milwaukee fire scenes – shares nine photos and recollections:
Humboldt Park Bandshell, 1975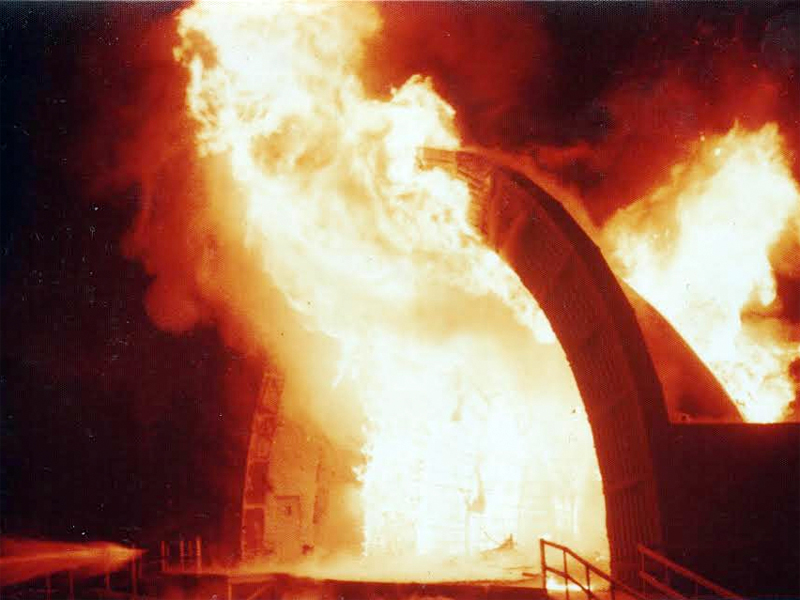 It was my birthday, 11 months before I actually got on the fire department; Oct. 4, 1975. We lived about a half block from Humboldt Park in Bay View. I was sitting on the front porch waiting for relatives to arrive for my birthday party, when my then-wife came outside and commented on the sunset at the end of the block. "Sunset?" I thought ... in the north? it was the Humboldt Park bandshell in flames. I grabbed my camera and ran the short distance and got this shot. It turned out that teens had lit the structure as a homecoming prank. If you look closely, at lower left, you'll see the first arriving engine company's hose stream starting on the fire.
29th Street School controlled burn, 1979
I believe 29th Street School was at 29th & Melvina. It was June 1979. Near the end of recruit training, for practice burns, we got a list of vacant buildings from the housing authority. When we saw the school, we said "Why not?" Everyone thought we were nuts. Maybe. So we set fires for our soon-to-be-firefighter graduates to fight, to taste the real thing. You can imagine the calls our dispatchers received. There are other photos, which I probably gave to our historical society. In this photo, the yellow-helmeted recruits were Milwaukee County firefighters, who we trained also. The only other photo I have of this event shows the entire class and instructors posing outside the school, with only a portion of the front of the building visible. That's in a frame in my office, attached to a T-shirt the class gave me. I recall other images showing us covering the building with foam as a training exercise. Those, I'm sure, are in the archives. I don't recall who shot these; probably a recruit, or one of the many people who came to watch the "crazy firemen." (Note: The school had been called Garden Acres until 1928. It was closed in 1978 and surplussed by MPS to the city in 1979.)
Sydney hih, 1976
Photo: Mark Hoeller
This wasn't the first major blaze at the unique Sydney hih complex on 3rd and Juneau, and it wouldn't be the last. This one occurred in October 1976. I relate in my memoir how I was nearly decapitated at one of the Sydney hih fires when I leaned out of a window and the plate glass pane above me slid loose and crashed to the ground.
Third Ward Fire, 1892
While skepticism surrounds this image, the fact remains that it was taken at the site of the origin of the famous Third Ward Fire, Milwaukee's worst in terms of property area lost. More than 440 buildings throughout 20 city blocks were destroyed. Among the seven dead were two firefighters. The fire's origin was never established; arson was suspected, but never proven. Blame for the fire's spread was even leveled at the fire department for not containing the blaze to one building, and for sparks from the boilers of steam engines blowing into buildings; it had happened before. The photo shows three steamers working, ladders raised, hoses being positioned and the department's single water tower playing away at upper floors. The "Great Fire" displaced the Irish community, and the area reconstructed some years later to be occupied by Italian immigrants.
Arson fire, 1987
Although far from spectacular, this fire is especially significant as it underscores the hazards of the profession. It also highlighted the bravery, selflessness and dedication of firefighters Richard Kaiser and Roger Semenske, who rescued Wayne Mutza when he hung by his fingertips in a shaft three stories above the roaring blaze. The roof collapsed just moments afterward. The arson fire, which occurred on Aug. 5, 1987 at 19th and Chambers, was captured in this photo by Chuck Liedtke.
Gasoline tanker fire, 1967
On May 2, 1967, when a gasoline tanker rounded the corner of 1st and Florida Streets and tipped over, it created this "Instant Fifth Alarm" inferno. A firehouse was only 100 yards away on 1st and Virginia, but they couldn't get out the door because the accident knocked out their electrical power. Throughout nearly 40 hours of firefighting, fire tornadoes were seen as flames consumed the six-story Jewett & Sherman Company building. More than half of the fire department was on hand for this one, using more than 50 hose lines to fight the blaze. Amazingly, the truck driver escaped and there were no serious injuries.
Flashover, 1970s
When everything in a confined space is super-heated and reaches ignition temperature, violent flashovers often occur. Firefighters had just made a hasty retreat down their aerial ladder seconds before this flashover occurred. The two-alarm fire during the 1970s destroyed seven buildings. Photo by Dale Mutza.
Half-block destroyed, 1981
A four-alarm fire that destroyed this half-block long section of 14th and Forest Home Avenue in January 1981 provided an interesting study in Milwaukee's aerial apparatus. The four types then in service are seen here: at far left, the aerialscope, then a midship-mount tractor trailer, the Snorkel, and a rear-mount straight frame truck. All are Mack trucks.
The Norman Apartments, 1991
Here's a shot of the Norman Building fire at 7th & Wisconsin, Jan. 12, 1991. Bitter day, in more ways than one, with the death of four occupants. I worked at this one. Ron Zabler took this photo. Read more about the Norman fire here.
Born in Brooklyn, N.Y., where he lived until he was 17, Bobby received his BA-Mass Communications from UWM in 1989 and has lived in Walker's Point, Bay View, Enderis Park, South Milwaukee and on the East Side.
He has published three non-fiction books in Italy – including one about an event in Milwaukee history, which was published in the U.S. in autumn 2010. Four more books, all about Milwaukee, have been published by The History Press.
With his most recent band, The Yell Leaders, Bobby released four LPs and had a songs featured in an episode of TV's "Party of Five," and films in Japan, South America and the U.S. The Yell Leaders were named the best unsigned band in their region by VH-1 as part of its Rock Across America 1998 Tour. Most recently, the band contributed tracks to a UK vinyl/CD tribute to the Redskins and collaborated on a track with Italian novelist Enrico Remmert.
He's produced three installments of the "OMCD" series of local music compilations for OnMilwaukee.com and in 2007 produced a CD of Italian music and poetry.
In 2005, he was awarded the City of Asti's (Italy) Journalism Prize for his work focusing on that area.
He can be heard weekly on 88Nine Radio Milwaukee talking about his "Urban Spelunking" series of stories.